A New Solution for Primary Wastewater Treatment
AquaPrime cloth media filtration is a viable technology for treating many different primary and primary effluent applications -- both municipal and industrial.
Sep 1st, 2018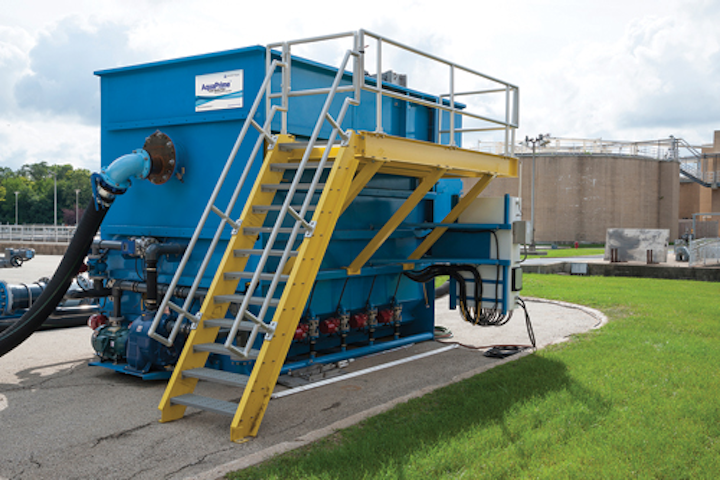 In 2013, the California Energy Commission (CEC) and Kennedy Jenks Consultants funded a primary effluent filtration study. A cloth media filter from Aqua-Aerobic Systems Inc. was among the five technologies selected to participate. Its performance exceeded expectations: the unit ran the entire two years, with 99 percent uptime and no cloth wear. The TSS was reduced by 50 to 60 percent to the aeration basin. By the end of the study, the Aqua MiniDisk® cloth media filter was one of only two technologies remaining.
Based on the success of the CEC study, independent testing of primary filtration was conducted at the Rock River Water Reclamation District (RRWRD) in Rockford, Ill., over a six-month period using water pumped from before the primary clarifier. The performance of the primary clarifier was compared to the performance of the cloth media filter. OptiFiber PA2-13® cloth filtration media and OptiFiber PES-14® cloth filtration media were tested utilizing the AquaPrime® configuration during this study with much success. Based on successful testing, several pilot units were subsequently developed.
Cloth Media Filtration Unit Design
Cloth media filtration has been used in tertiary applications for over 20 years. Its proven performance and operational advantages model a viable solution for primary filtration or wet weather treatment applications.
The outside-in flow path in cloth media filters, specifically the AquaPrime filter, allows for three zones of solids removal. These three zones become even more critical in wet weather applications due to the high solids environment in primary filtration and wet weather treatment applications.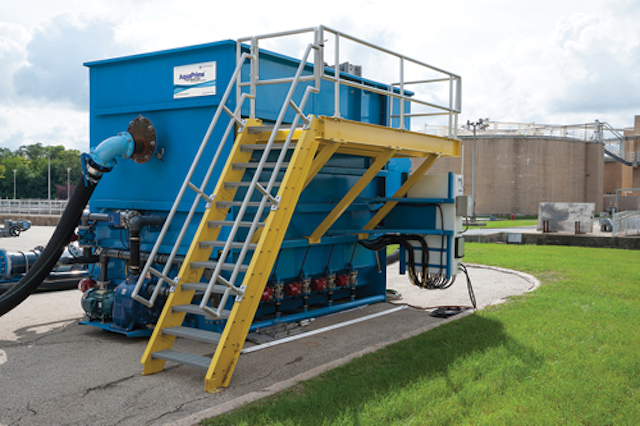 A full-scale AquaPrime unit at RRWRD, Rockford, Ill.
Pilot Testing and Case Studies
A pilot trailer and three stand-alone units specifically designed for primary filtration and wet weather filtration applications are currently traveling around the United States collecting data at various plants. These primary filtration studies show excellent removal efficiencies in both TSS and BOD across all pilot testing sites.
Full-Scale Testing
Following the success of the first CEC study, a second study has been approved to assess the full-scale impact of primary filtration over a three-year period in Linda County, Calif. The current plant has two trains designed for 1 million gallons per day (mgd) each. During the study, the primary clarifier in one of the two trains will be replaced with an AquaPrime cloth media filter. These two trains will be operated independently and carefully monitored for differences in performance and microorganism populations. The biological process has a Modified Ludzak-Ettinger (MLE) configuration for nitrogen removal, which will help evaluate how primary filtration impacts nutrient removal.
Conclusions
AquaPrime cloth media filtration is a viable technology for treating many different primary and primary effluent applications — both municipal and industrial. The technology provides a high-quality effluent, easy operation, and major operating savings in reduced energy consumption in the treatment facility because of carbon diversion principles.
Due to the high removal percentages demonstrated by cloth media filtration (typically, TSS from 75 to 85 percent removal; BOD — 45 to 60 percent removal), these numbers are generally 20 to 30 percent greater than conventional primary sedimentation.
The cloth media filtration process provides a number of benefits, including reduced electrical energy requirements for aeration in secondary treatment due to reduced organic loading; more biogas energy production in the anaerobic digestion process due to the high organic energy content of the volatile suspended solids (VSS) removed in cloth media filtration; potential to expand plant capacity by reducing the organic loading upstream of the secondary process; and reduction of footprint required for primary treatment to 10 to 20 percent of conventional sedimentation solutions. WW
Aqua-Aerobic is exhibiting at WEFTEC.18, Booth 6625. For more information, visit aqua-aerobic.com.
Circle No. 297 on Reader Service Card