Products & Services: Filtration
Collection of Filtration products and services.
Nov 1st, 2012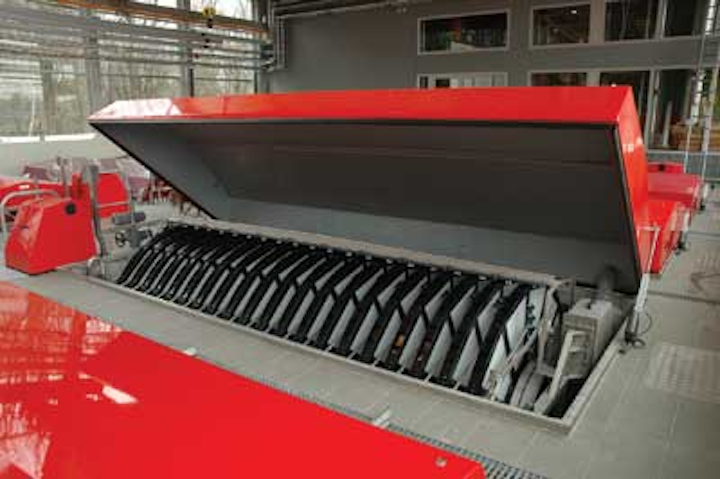 Disc filter
Hydrotech Discfilters from Kruger offer high filtration capacity, low energy usage, and a very small footprint. Woven cloth elements are installed vertically on multiple discs, allowing the filters to provide a large filtration area with footprint about 75% smaller than traditional sand filters. The filters are ideal for effluent polishing from a variety of process trains, including activated sludge, high rate clarification, MBBR, RBC, trickling filters, etc. The systems are used to produce reuse quality effluent and achieve phosphorus concentrations < 0.1 mg/L.
Kruger Inc.
www.krugerusa.com
---
Turbidity analyzers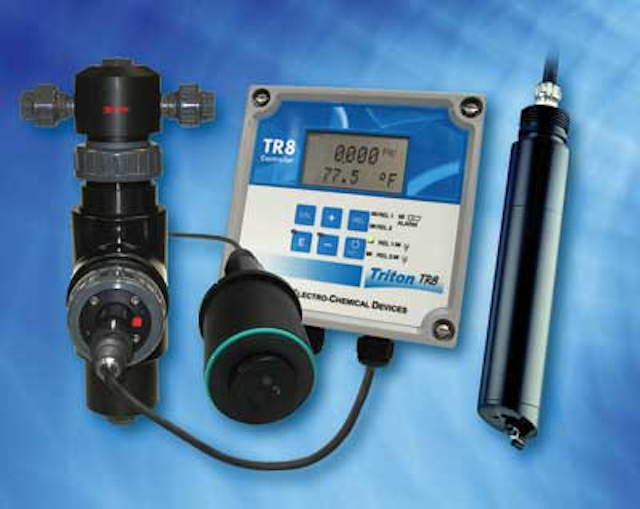 Triton TR8 Turbidity Analyzers from Electro-Chemical Devices can be used to monitor turbidity in filter backwash systems to optimize plant efficiency. Turbidity is used to monitor the progress of the cleaning, and when the turbidity returns to a value near the turbidity of the clear well water the backwash cycle is stopped. The analyzer operates over a wide measurement range with output available in multiple units: 0.000 to 9999 FNU, or 0.00 to 3000 ppm, or 0.0 to 3.0 g/l, or 0 to 20 percent.
Electro-Chemical Devices
www.ecdi.com
---
Skidded filter systems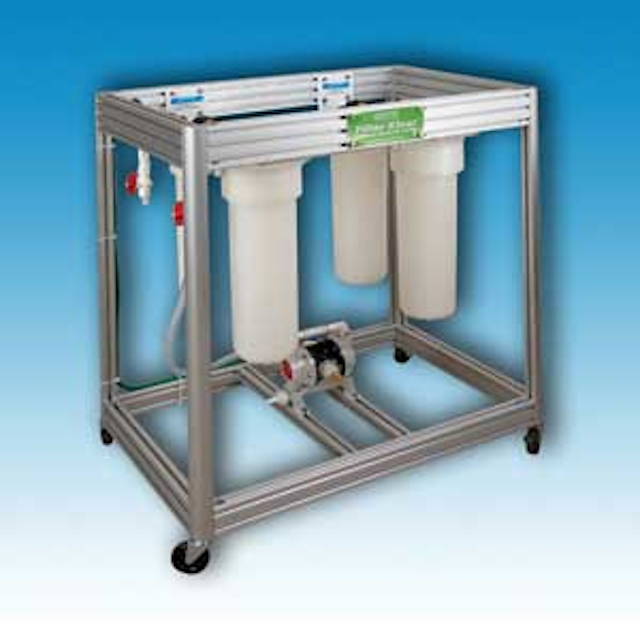 Keystone Filter offers small skid mounted systems combining nanofiber, polypropylene, polyester, microfiberglass, and/or cellulose filter cartridges and filter housings constructed of a variety of materials. These pre-packaged, skid mounted systems can incorporate multiple technologies including filtration, membrane purification, ion exchange, and disinfection provided by UV or ozone.
Keystone Filter, Met-Pro Corp.
www.keystonefilter.com
---
Tertiary filters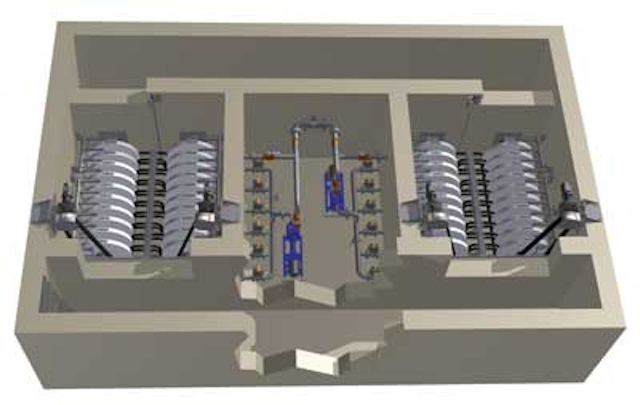 The Aqua MiniDisk tertiary filter features OptiFiber® pile cloth media and is designed to provide economical treatment of smaller flows with the added advantage of retrofitting existing traveling bridge sand filters. The modular design of the filter retrofits neatly into existing 9 ft. wide concrete traveling bridge filter basins, providing more than two times the hydraulic capacity of the original sand filters. The filters achieve low effluent TSS, NTU and phosphorus while offering high solids and hydraulic loading rates, minimal operating and maintenance costs, and a fully automatic PLC control system.
Aqua-Aerobic Systems
www.aqua-aerobic.com
---
Zeolite media
Genesis Water Technologies has released its new GWT series natural zeolite media for water/wastewater treatment applications. The media is an inorganic micro porous alumino-silicate material with many unique filtration properties including a high cation exchange capacity (CEC) versus comparative zeolite media products. This media is a cost effective, environmentally safe solution for removing a variety of water contaminants.
Genesis Water Technologies
www.genesiswatertech.com
---
Water filters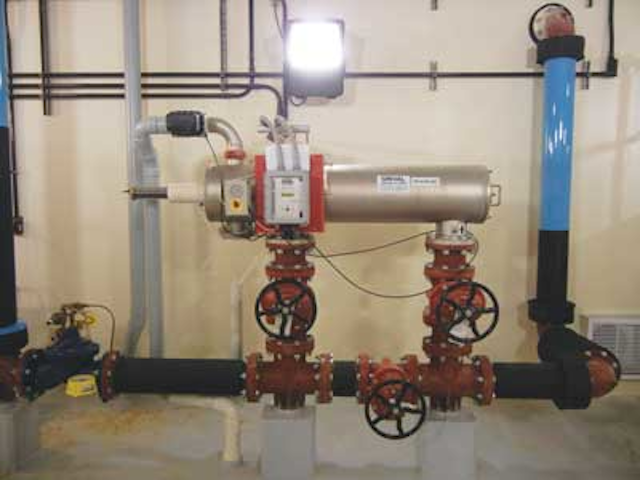 Orival automatic self-cleaning filters can be used to treat effluent for use in service water applications, including cleaning devices on primary bar screens, spray bars on sludge belt presses and seals on pumps. The company designs filtration systems for large or small flow rates to protect nozzles and seals at trickling filter and activated sludge treatment facilities.
Orival Inc.
www.orival.com
---
Filter cleaning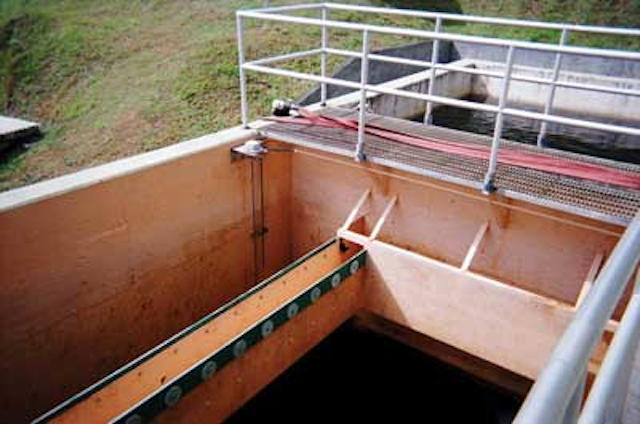 Blue Earth Labs' filter and trough cleaning product, Filter Fit®, is a low-corrosive, NSF 60 certified solution engineered to remove biofilm, scale, algae deposits and potassium permanganate stains from filtration basins, troughs, clarifiers and other water treatment plant surfaces. The cleaner is applied to surfaces off-line in a low-pressure spray-on/rinse-off process that is safe for virtually all painted and unpainted surfaces including steel, concrete and fiberglass.
Blue Earth Labs
www.blueearthlabs.com
---
Bag filters
Hayward Flow Control has launched its new FLV Series Bag Filters. The new filters feature a one-piece injection molded platinum GF PP (Glass Filled Polypropylene) body in sizes 1 (16") and 2 (32"). Unlike traditional metal and plastic filters, the series offers a true-union design for multiple end connections and sizes as well as quick installation or removal. They are available in the size range of 1-1/4" through 4" in socket, threaded and flanged connections, as well as optional drill and tap NPT (Offset) ports for interchangeability with existing installations.
Hayward Flow Control
www.haywardflowcontrol.com
---
Sand filtration
Parkson Corporation has redesigned the DynaSand® sand filtration system to reduce backwash water volume by as much as 90%, according to the results of a recent trial. The new DynaSand® EcoWash™ minimizes energy use and reject flow by triggering the backwash cycle only for short periods of time. The control system activates the backwash cycle for media washing only when it is required, based on time or the headloss in the filter's feed channel. When the filters are not backwashing, the level of turbidity drops because the filter is actually able to capture more solids in the existing bed when compared to continuous backwash operation.
Parkson Corp.
www.parkson.com
---
Disc filter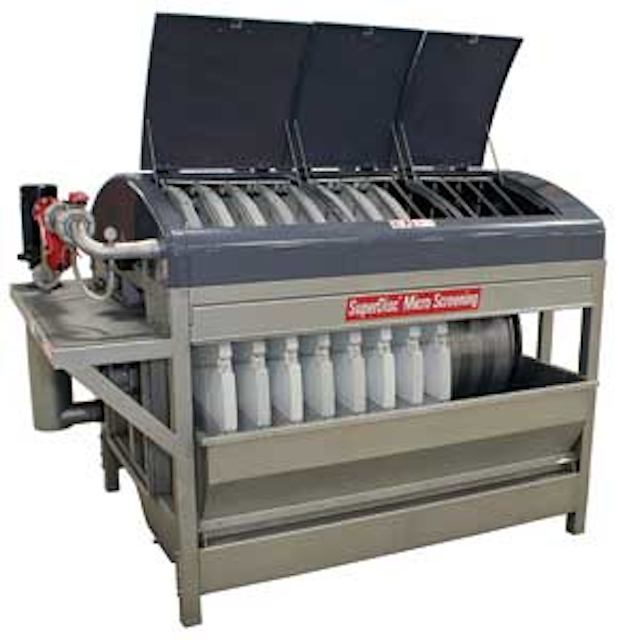 WesTech's SuperDisc Disc Filter from Nordic Water is a Title 22 approved inside-out disc filter. The filter provides easy access for maintenance and has an efficient high pressure cleaning system. The small footprint and low head required for the filter provides an excellent option for tertiary retrofits, such as travelling bridge sand filters. The disc filter system can produce reuse-quality effluent and total effluent phosphorus concentrations of less than 0.1 mg/L.
WesTech Inc.
www.westech-inc.com
---
Gravity sand filter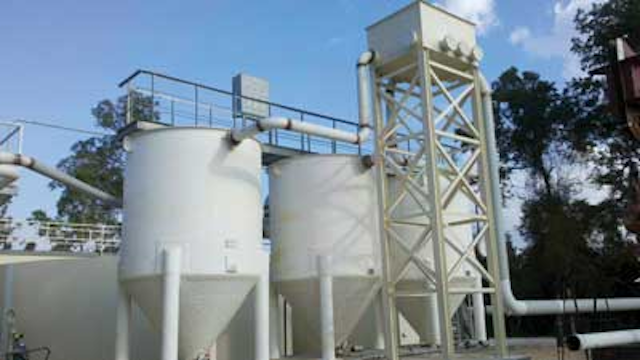 The Gravity Sand Filter from Headworks BIO is an upflow, continuous backwash, granular media filter that efficiently removes suspended and colloidal solids while providing a continuous supply of filtered water. The filter is available in various circular and rectangular models for different flows and applications.
Headworks BIO Inc.
www.headworksusa.com
---
Belt filter
Blue Water Technologies has launched its latest proprietary product line, the Eco MAT™ rotating belt filter (RBF). The filter is a clarification process with a small footprint that outperforms traditional primary systems for sewage treatment as well as screens and solids-separators in industrial facilities. Four unique models range in sizes suitable for small communities to large cities. There is no limitation in flow capacity designs. The RBF can be customized for varying flow and operational redundancy, facilitating the highest level of treatment for flows in excess of 3 mgd in a single unit.
Blue Water Technologies
www.blueh2o.net