Reuse Project Features Fixed Plate Tertiary Cloth Media Filtration
Aug 1st, 2012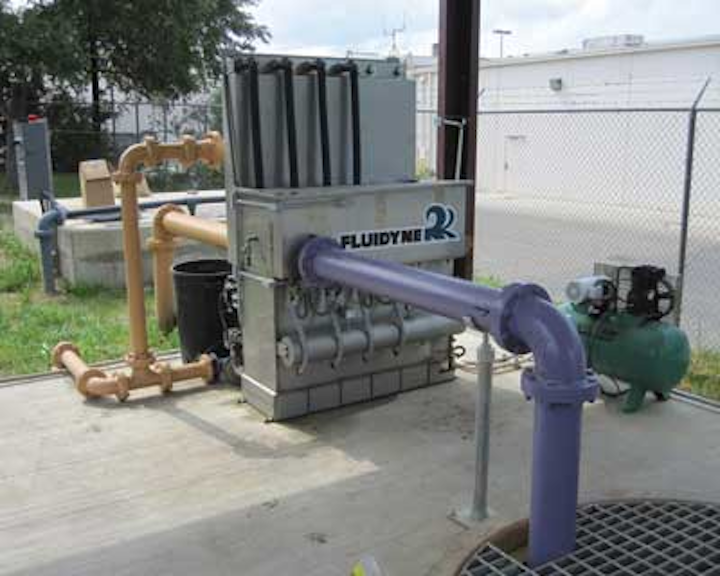 Kurt M. Lindsley
Central Texas has been under a historic and prolonged drought, with 2011 considered the worst single-year drought in the state's history. Although rains in the spring of 2012 have relieved extreme conditions in some areas, water levels in most of Texas' lakes and reservoirs have continued to drop, some to historic lows. Communities have had to make hard choices regarding water supplies, appropriate uses, restrictions, irrigation, conservation, and wastewater treatment systems for reuse.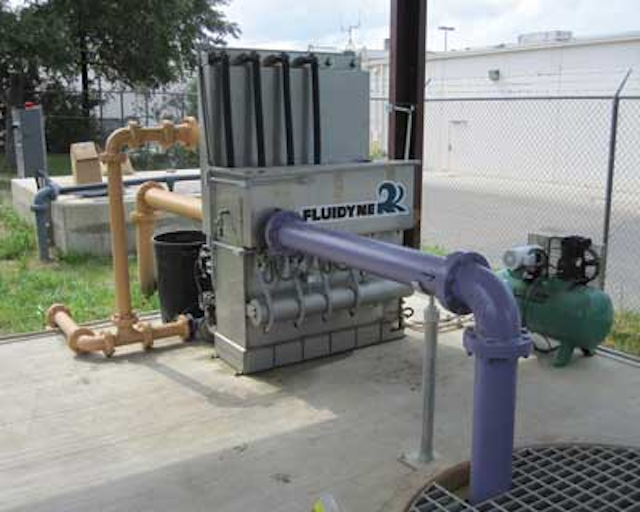 Bulverde's fixed plate cloth media filter installed on new concrete pad. Simple piping hookups and simplified electrical requirements helped reduce installed cost.
One such community is Bulverde, TX, roughly 30 miles north of San Antonio. Bulverde, and the surrounding area, has seen burgeoning housing, retail, and commercial developments in recent years. Part of the area's drought planning and development guidelines is to require reclaimed wastewater be used to irrigate grassy islands, landscaping, and green areas within all new development areas.
It was this increased awareness and regulation that prompted a local developer, who wanted to build a new grocery store, hardware store, and retail complex within a new mixed-use development, to include tertiary cloth media filtration as part of the new wastewater collection and treatment system in order to reuse the majority of its discharge for irrigation within the extensive, planned complex area.
The existing package system was not sized to handle the expected increase in flows and had reached its useful lifespan. The developer in Bulverde, in coordination with local regulators, the contract operators, and the new secondary treatment system supplier, decided a fully automated cloth media filtration system would best provide the required reuse quality filtration the owners desired with the reduced maintenance and attention the contract operators required.
Fluidyne's Fixed Plate (FFP™) cloth media filter system was selected because it offered several key advantages over existing rotating disk style cloth media filter options. First, rectangular media elements stay fixed in place during all operations (no moving parts), eliminating much of the internal mechanical complexity, maintenance and cost associated with typical disk type cloth filter.
Fixed filter plate systems use available differential head to produce forward and backwash flow. Simple open-close pneumatic valves – operated by a small air compressor and simple controls – control the filtering and backwash operations and determine the direction of flow, eliminating the need for pumps, manifolds, and rotating disks. Since elements do not rotate, they can be square or rectangular (vs. circular) easing manufacture, installation, removal, and maintenance. Element frames and tankage are 100% stainless steel, further reducing internal maintenance.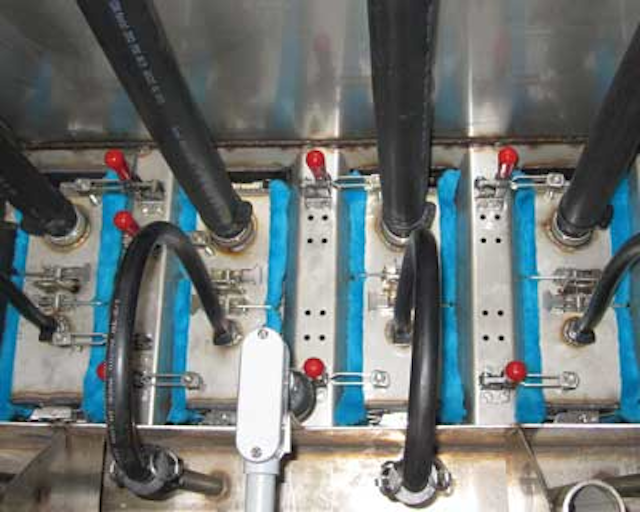 Internal view of the filter at Bulverde. Fixed plate cloth media elements do not move during normal filtering or backwash operations, limiting mechanical complexity, maintenance, and total life cycle costs.
Individual media elements in the system can be isolated from the incoming flow stream and removed from the system without disrupting flow to the remaining online elements. Incoming water is filtered through remaining on-line filter elements with treated water continually replenishing the clean water reservoir or main tank area. This liquid level is maintained while individual elements are gravity backwashed. Each element is backwashed in sequence, allowing complete system backwash without discontinuing or diverting flow during the process.
The filter at Bulverde has capacity for six media elements. By sizing the unit to handle design flows with five of the elements, one element can be removed from the flow stream without disruption to capacity, upstream processes, or influent treatment.
Individual media elements can be isolated from the remaining elements and removed from the filter system for periodic inspection and media replacement, all while flow continues to online elements. Elements can be removed, inspected and returned to service without decreasing system capacity or interrupting flow.
The fixed plate filter at Bulverde incorporates an "inside-out" flow pattern. The filters trap solids and biological material on the inside of the media elements, with cleaned effluent occupying the majority of the main tankage volume. This provides several benefits including allowing the operator to readily see the quality of the effluent, cleaner operation, and reduced operator contact with collected biological solids. Also, since heavier solids settle to the bottom of the filter (which are then removed without additional equipment or pumps during the normal backwash stage), heavy solids never contact the cloth media or need to be handled. This eliminates the need for hopper bottoms or sludge collection manifolds at the bottom of the main tank.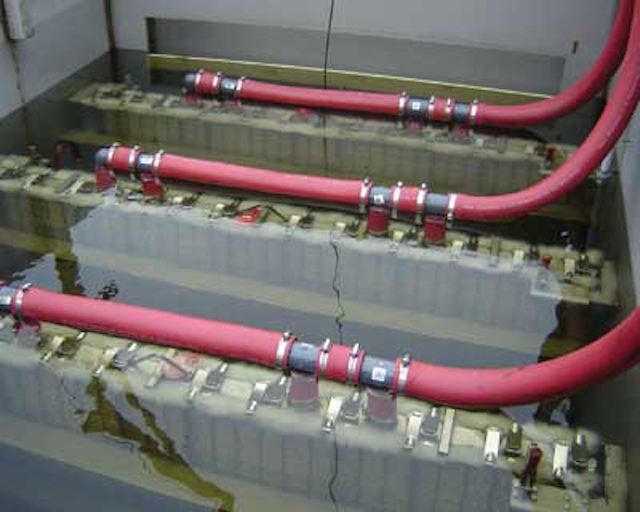 Typical reuse quality effluent from an FFP™ filter.
Since the fixed plate filter at Bulverde uses simple open-close pneumatic valves and compressed air to provide both fluid flow control and agitation of the media during the air scour assisted backwash, no other mechanical systems are necessary. This significantly limits the power input to the system (a small PLC to operate solenoids and a small 1-2 hp compressor which only runs during periodic backwash cycles) as well as mechanical wear items and required spare parts.
These advantages all combined to provide a tertiary treatment system that is easy to use, easy to maintain, was inexpensive to purchase and operate, and produces the reuse quality effluent treatment needed for full reclaimed water reuse within the new multi-use development at Bulverde, TX.
About the Author: Kurt M. Lindsley, PE, is Director of Filtration Technology at Fluidyne Corp. and the inventor of the fixed plate cloth media technology discussed in this paper. He has 20 years of experience designing, operating, and developing new filtration systems for municipal and industrial applications.