Products & Services: Filtration Systems
Collection of filtration systems products and services.
Nov 1st, 2015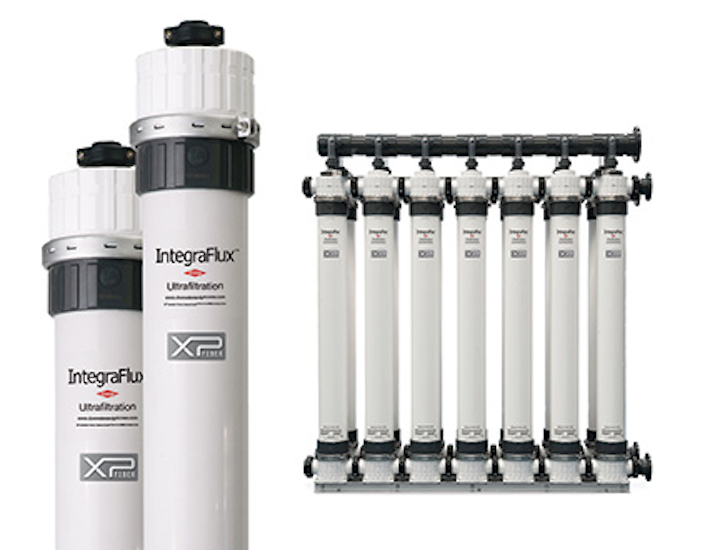 Ultrafiltration modules
The IntegraFlux™ Ultrafiltration Modules from Dow feature XP Fiber, a high-performance fiber that delivers high-quality water at a low cost. With up to 35-percent higher permeability than previous generation ultrafiltration fiber, XP Fiber provides higher flux, higher water recovery, lower waste, and reduced energy use. IntegraFlux Modules and IntegraPac™ Skids with XP Fiber are ideal for markets demanding higher productivity water filtration solutions. The modules can operate up to 40-percent higher flux while producing the same transmembrane pressure.
Dow Water & Process Solutions
Filtration system
The Up-Flo® Filter from Hydro-International is a high-rate fluidized bed filtration system that provides sedimentation, screening and filtration all under one lid. Developed with research funded by the EPA, the filter offers high removals of fine sediments, metals and phosphorus with long filter runs at loading rates higher than 10 times conventional surface and radial cartridge filters. Further, it is an efficient, high-rate stormwater filtration technology available for the removal of trash, sediments, nutrients, metals, and hydrocarbons from stormwater runoff.
Hydro International
Hollow fiber product line
Koch Membrane Systems' PURON® MP hollow fiber product line is an ultrafiltration cartridge designed for high-solids water and wastewater applications, including surface water treatment, reverse osmosis pretreatment and tertiary wastewater treatment. PURON MP simplifies operation, eliminates clarifier pretreatment in many applications, minimizes downtime, and reduces chemical usage to provide a lower total cost of ownership. It features an average continuous solids tolerance of up to 250 mg/L as well as an advanced cartridge design and a virtually unbreakable reinforced hollow fiber.
Koch Membrane Systems Inc.
RO feed spacers
Conwed manufactures a full line of feed spacers specifically designed for reverse osmosis (RO) applications. Frequently known as scrim, mesh, net, or netting, feed spacers act as one of the layers of wound materials in RO filters and provide vital separation between the membranes to achieve superior filter performance. Conwed is focusing on the RO feed spacer market following increasing demand for RO filters worldwide. Likewise, the company is continuing RO feed spacer research and working closely with customers to develop the technology.
Conwed
Ultrafiltration system
The AltaPac™ ultrafiltration package system from WesTech is designed as an economical ultrafiltration membrane treatment system that is both easy to use and simple to install. This versatile system can process flows up to 100 GPM on surface waters and 180 GPM on ground waters. The AltaPac can be upgraded by simply installing an additional module and changing the flow set point. The systems are fully functional, self-contained skids that have all of the features and benefits of the full-scale AltaFilter™, including automated operation and daily integrity tests.
WesTech Engineering Inc.
Cloth media filter
The new Aqua MegaDisk™ cloth media filter from Aqua-Aerobic features 30% larger diameter disks than the original AquaDisk® filter and is capable of treating up to 24 MGD in a single unit. This filter operates in 80% less space than sand filters with comparable hydraulic capacity and is an ideal solution for deep-bed sand filter retrofits. The Aqua MegaDisk tertiary filter "expands" on the reliability and exceptional performance of the original AquaDisk filter but on a larger scale.
Aqua-Aerobic Systems Inc.
Ultrafiltration booster module
The BMS booster module from Grundfos is designed for reverse osmosis, filtration and ultrafiltration, pressure boosting, and water supply for high-flow and pressure applications in industrial and wastewater systems. Its design focuses on simplicity by removing maintenance-heavy components and facilitating easy access to all vital parts. In addition, a permanent magnet motor has improved pump efficiency by up to 5%. The motor is capable of speeds between 4,000 and 5,500 rotations per minute, controlled by a variable frequency drive that consistently operates at the optimal duty point.
Grundfos Pumps Corporation
Filtration system
The Hydrotech 2200-1C "Compact" Discfilter from Veolia includes woven cloth media panels on multiple discs (2 to 12) within a stainless steel tank. Several pipe location options are available to make the design process easier. Moreover, improvements such as self-cleaning backwash nozzles reduce maintenance. The Hydrotech Compact reduces footprint, CAPEX and maintenance while offering more flexibility, making it ideal for capacities up to 5 MGD.
Veolia Water Technologies
More WaterWorld Current Issue Articles
More WaterWorld Archives Issue Articles