On-Site Piloting Ensures Media Meets Performance Goals
The use of ceramic filtration media can offer gravity water filtration systems improvements in efficiency and performance.
May 1st, 2010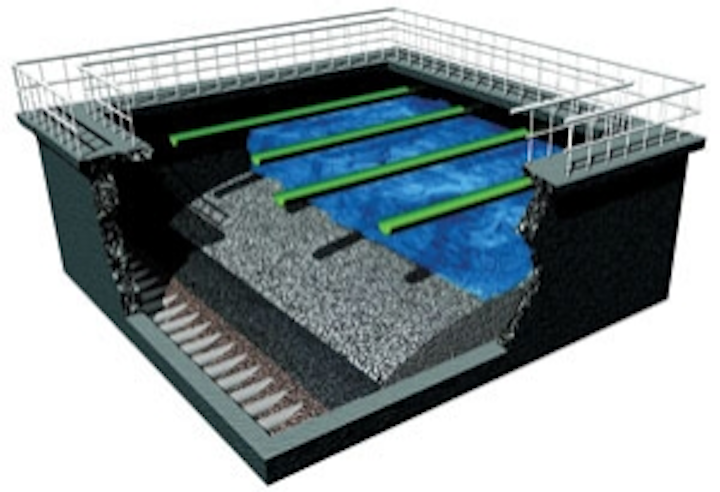 The use of ceramic filtration media can offer gravity water filtration systems improvements in efficiency and performance. Finer particulate filtration, greater capacity, reduced effluent turbidity and increased flow rates are all possible. And with proper engineering and thoughtful pilot testing, these potential benefits can be determined before any investment is made in a new filtration media.
Fairmount Water Solutions recently acquired the license for Macrolite® Engineered Ceramic Media, developed by Kinetico and used successfully in dozens of municipal water applications. The media will be featured at the company's booth at ACE'10. Compared to aggregates, the ceramic spheres exhibit high surface area combined with uniform composition, shape, size, sphericity and density. This typically allows a system to boost flow rates to 10 gpm/ft2 and can provide improvements in filtration performance and operating efficiency.
In new bed installations versus conventional media, Macrolite allowed users to minimize bed size, reduce equipment footprint and lower capital costs. Backwash energy requirements are also lower than those of conventional filtration.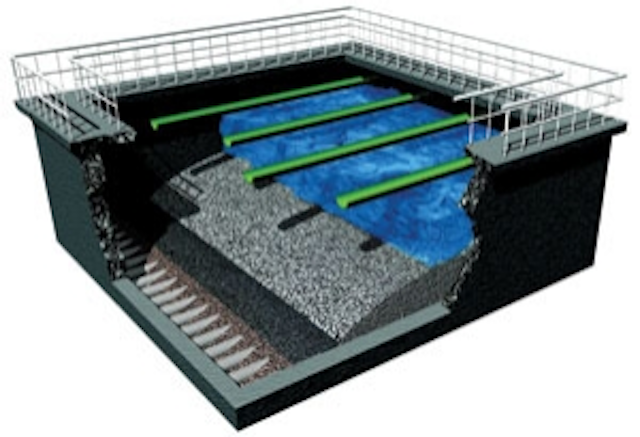 In most situations ceramic materials can be substituted for conventional filtration media without changing underdrains or other system components.
Improved uniformity can enhance the transport mechanisms within a filter bed to increase the probability of colloid-to-granule contact. When combined with a surface composition that promotes colloidal attachment, a bed of the ceramic media can filter down to the 3 micron level, compared to 10 microns for a conventional aggregate bed.
In a recent Kinetico installation, Macrolite media spheres were used at the new water filtration facility in Chardon, OH, where Fairmount Water Solutions is headquartered.
"The rate of flow through the media was three times higher than applicable rates in conventional filtration systems," wrote Daniel Sellitto, Chardon Water Superintendent, in the AWWA Ohio Section Newsletter. "The size of the filtration system was reduced to one third the size of a conventional sand filter."
At the new Chardon Water Treatment Facility, the average influent concentration of arsenic is between 12 mg/l and 15 mg/l; influent iron is 0.650 mg/l and influent manganese is 0.064 mg/l. The treated finished water has no detectable levels of arsenic, iron and manganese. Sellitto said only minimal chlorination was required to oxidize iron and manganese and cause the absorption of arsenic.
Other Kinetico installations have produced similar results with ceramic media spheres. The water system in Southwest Harbor, ME, achieved an effluent turbidity level of less than 0.1 NTU and removes more than 2 log of Giardia with only a small amount of direct chemical filter aid. Another Maine installation, the Brunswick and Topsham Water District, filters a water source with 4.1 ppm organically bound iron to below 0.3 ppm. The increased efficiency was especially helpful for the Sugarloaf Water Association, also in Maine, as it allowed the system to fit into the small footprint required for the new facility's mountainside location and cost.
Filtration Services, Piloting
Often times the upgrade to ceramic media is done as part of a larger investment in a new system, capacity expansion or efficiency features such as automation and telemetry.
The use of on-site piloting allows municipal water system management to evaluate the performance of ceramic media and determine whether it meets the facility's goals for water quality and efficiency. The most sophisticated of these systems can easily integrate into plant operations, allowing real-time studies of key parameters such as turbidity reduction, flux, filter run-time, backwash efficiency, and effluent quality.

Fairmount Water Solutions has introduced Macrolite® Engineered Ceramic Media, a material with remarkable surface area and particle consistency that can enhance filtering efficiency.
As one example, Kinetico used on-site piloting to evaluate the likely effectiveness of its Macrolite ceramic media in the Chardon Water Treatment Facility. A review of the Chardon raw water wells identified a specific well with the highest levels of arsenic and iron in its raw water. The pilot study was conducted on this well over the course of two weeks, using these objectives:
Meet SDWA limit for arsenic of 10 ppb in 95% of samples.
Demonstrate consistent arsenic levels in all filtered samples at < 8 ppb.
Demonstrate reduction of iron levels in the filtered water to below 0.3 mg/l.
Demonstrate reduction of manganese levels in the filtered water to below 0.05 mg/l.
The pilot system was operated at a 10 gpm/sf filtration rate, with a backwash rate of 8 gpm/sf for durations of 10 to 20 minutes. A 0.25% sodium hypochlorite solution was added to achieve 1.0 mg/l free chlorine in the filtered water.
Although the system Kinetico eventually installed improved upon the results of the pilot system, the pilot achieved all of the stated performance goals, proving the value of the ceramic media. The test produced the following results:
Influent arsenic ranged from 17 to 27 ppb. Effluent arsenic ranged from 3 to 5 ppb. All the filtered water samples met the goal of 8 ppb or less.
A total of 34 filtered water samples were tested for iron. Influent samples ranged between 0.87 mg/l and 2.39 mg/l with filtered water samples below 0.03 mg/l.
Manganese influent levels were recorded between 0.09 mg/l and 0.11 mg/l with filtered water levels between 0.02 and 0.05 mg/l.
The reaction between the raw water and applied chlorination/oxidation chemical was quick and required no reaction vessel.
Filter runs and backwash efficiency had an efficiency of 96.7% with an 8-hour filter run and 20-minute duration of backwash cycle.
These results persuaded the Ohio Environmental Protection Agency and the City of Chardon to select Macrolite media for its new filtration plant. The same piloting process can be used to evaluate media as a retrofit opportunity. Using these test procedures, a municipal water system can be ensured that an investment in ceramic filtration media will deliver the desired return on investment. On-site piloting is encouraged before making any investment in filtration media, regardless of whether considering ceramic or aggregates.
Fairmount Water Solutions will be exhibiting its full portfolio of municipal water filtration media and engineered services at the AWWA show in Booth 560, including Macrolite media and on-site piloting.
More WaterWorld Current Issue Articles
More WaterWorld Archives Issue Articles