Large-scale trials show clear benefits of glass as filtration medium
A report by the UK consultancy Aqua Enviro concluded that a two-filter system using recycled glass filtration media removed up to 90 per cent of suspended solids in independent, industrial-scale trials.
Jun 1st, 2006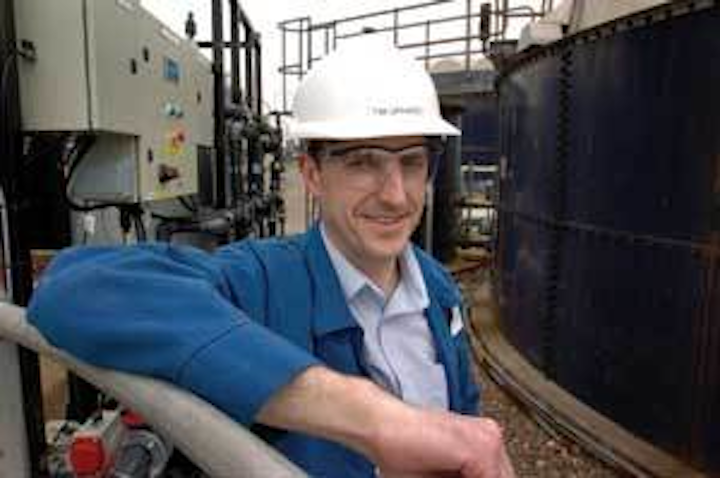 A report by the UK consultancy Aqua Enviro concluded that a two-filter system using recycled glass filtration media removed up to 90 per cent of suspended solids in independent, industrial-scale trials.
Final results of groundbreaking trials show that using recycled glass as a filtration medium offers numerous advantages over traditional mediums, including dramatically increased suspended solids removal from effluent and much lower costs.
The UK consultancy Aqua Enviro of Wakefield recently published their concluding report on the nine-month, independent industrial-scale trials of environmentally-friendly Recycled Glass Filtration Media (RGFM) at two sites in Yorkshire and Humber, UK.
The report highlights that the tests have identified that a two-filter system using RGFM, which is manufactured to BSI PAS 102 specifications, removed up to 90 per cent of suspended solids in trials on chemical plant and food processing effluent. RGFM can therefore be instrumental in treating effluent and helping companies to meet Environment Agency consent levels for discharge.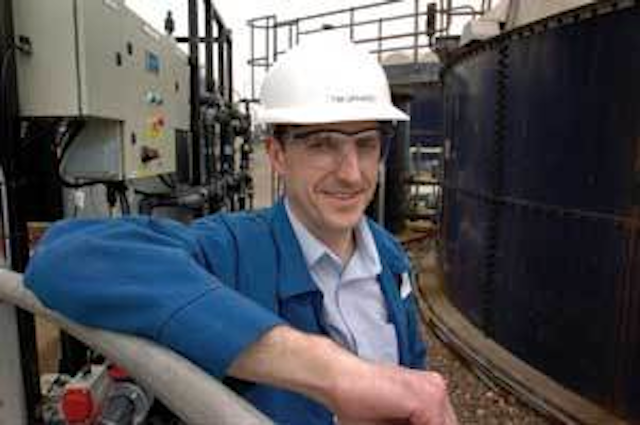 Tim Uppard, the process engineering section head at Croda Chemicals, one of the companies conducting trials of recycled glass.
Click here to enlarge image
Reduction of suspended solids is important because they negatively affect the environment by de-oxygenating water with a consequential detrimental effect on fish habitat. Excessive growth of blanket weed brought about by suspended solids can also affect river flow, as silt and other particles build up when they are caught in the weed.
Aqua Enviro Operators Director Mark Lowe explained: "The thinking behind the two filter system was that one would remove larger solid particles and the second would 'polish' the effluent by banishing smaller ones. This was what happened in practice and the method proved highly economic for removing suspended solids and reducing soluble chemical oxygen demand (COD) before water re-use, as it doesn't demand an initial chemical treatment phase, which is necessary when single-stage sand filters are used.
"The tests have also shown RGFM delivers more efficient backwash performance than other filtration media. This process - which involves clean water being pumped backwards through the filters to flush them clean of sludge - is required less often and is more energy-efficient with glass, because it has a lower specific density. Unlike sand, RGFM has also shown no marked tendency to clog up, or blind, when faced with high loadings of suspended material."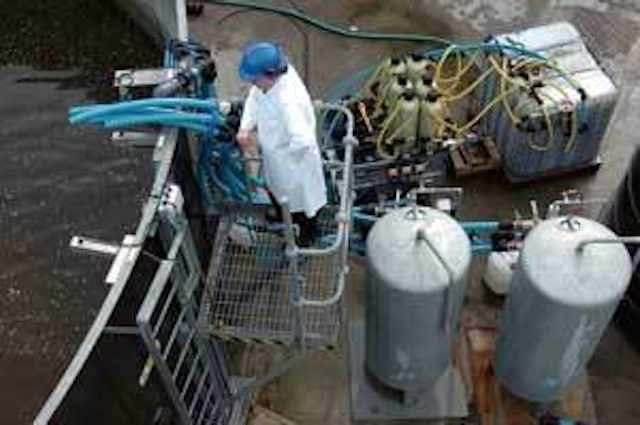 Filtration equipment at JE Hartley.
Click here to enlarge image
The Aqua Enviro report covers trials that took place at the sites of vegetable processor JE Hartley, at Thorganby, near York, and Croda Chemicals Europe, at Rawcliffe Bridge, near Goole, UK. Results from the two locations echo those obtained previously from similar tests at kitchen roll and toilet tissue producer Georgia Pacific GB, at Bury, near Manchester, and Yorkshire Water's Malton sewage treatment works, in the north of that county.
As a result of the latest tests, Hartley is considering upgrading its processes to include a two-filter, glass-based system. Croda has ordered a full-scale filter system to be commissioned in the spring, which will be monitored with a view to developing a stronger business case for the use of glass.
Yorkshire Water sewage treatment plant at Malton, UK
Click here to enlarge image
JE Hartley Site Manager John Pick explained: "The overall results of the trial are very encouraging. It's obvious the two-stage glass filter system produced a far higher quality effluent than that which our own onsite sand-based system can manage. There's now every chance we'll upgrade our current process to include recycled glass. We're always trying to improve our impact on the environment and see RGFM as a plus, because it will help us contribute further to sustainability."
Suspended solid removal during the trial at Croda Chemicals Europe reached 90 per cent, and was consistently at 45 to 55 per cent, with the COD figure reaching a high of more than 70 per cent.
Tim Uppard, process engineer at Croda, explained: "The trial has shown that using the two-stage glass system enables us to cope with very high levels of solids - the average before the test was 250 mg/l - without any costly pre-filtration process being necessary or the filters becoming fouled. In contrast, a sand filter would only be able to cope with 100 mg/l at most, so if we bought one, we'd also have to spend between £100,000 and £150,000 on a chemical pre-treatment process to reduce concentrations before filtration, and then pay the ongoing costs of operating it."
The Waste & Resources Action Programme (WRAP), a government-funded, not-for-profit company, funded the JE Hartley and Croda trials. WRAP was established to improve recycling performance and promote resource efficiency in the UK.
Author's Note
Andy Dawe, the materials section manager (glass) for WRAP, is located in Banbury, UK.