Leading Spain's Water Colonisation Efforts
Driven by a drought-stricken, sluggish domestic Spanish market, engineering company Acciona Agua is now winning and completing a string of projects internationally, from the largest wastewater treatment project in Mexico, to SWRO desalination plants in Qatar. Director general, José Díaz-Caneja speaks to WWi about his belief in Build-Operate-Transfer (BOT) private partnerships.
Nov 1st, 2015

Driven by a drought-stricken, sluggish domestic Spanish market, engineering company Acciona Agua is now winning and completing a string of projects internationally, from the largest wastewater treatment project in Mexico, to SWRO desalination plants in Qatar. Director general, José Díaz-Caneja speaks to WWi about his belief in Build-Operate-Transfer (BOT) private partnerships.
By Tom Freyberg
Funded by the Spanish monarchy, renowned Italian explorer Christopher Columbus set off from Spain in 1492 on a voyage that has been credited with opening up the Americas to European colonization. Over 500 years later and Spanish engineering company, Acciona Agua, could be seen as embarking on a similar colonization journey. Instead of being interested in the gold worn by natives in the Bahamas like Columbus, Acciona has instead been interested in blue gold; namely wastewater and desalination projects.
In the Americas, the company is responsible for four desalination and 10 wastewater projects. Although a small number compared to its Spanish footprint, Acciona has recently increased its project count in the Middle East, stopping off on route to deliver a brackish water desalination plant in East London, UK.
It was a double-string of contracts in Qatar in May that not only helped the company to enter the country for the first time, but could also change a desalination landscape from thermal to membrane-based water production.
We caught up with José Díaz-Caneja (JDC), director general, inbetween his busy travel schedule, to find out more.
Water & Wastewater International (WWi): How would you describe the domestic Spanish market from a public-private-partnership (PPP) point of view?
José Díaz-Caneja (JDC): It's true that the domestic Spanish market is down, especially the design and build part of it related to water infrastructure and utility sectors. The development of the water sector has been affected as a result of the economic situation the country has suffered over the last few years. Things are a little bit frozen in Spain. It's difficult to guess how long it will take to recover.
WWi: Drought has been a big challenge for the Spanish market. In terms of the utilities, Spain has often been labelled as decentralised and fragmented. What is the solution here to encourage more PPP or does the model not lend itself well to private sector involvement?
JDC: Spain has been a very strong market for PPP schemes and models in other types of infrastructure, from transport to social buildings, such as hospitals and schools. In the water sector, as you have mentioned, we haven't had that success.
We have not been able to develop these PPP schemes and I'm sure it's mainly because of the different authorities involved. In the utility sector, providing water to customers, we have quite a big privatised market in terms of the management and ownership of the services. There has been some reduction in the development of these activities.
WWi: Let's talk about the Middle Eastern market, specifically Qatar. Tell me about the partnership with Mitsubishi?
JDC: This year we have a secured a large scale RO (reverse osmosis) desalination plant contract, for which we are partnering with different companies. Mitsubishi Corporation is involved in both of them. It's the turning point from thermal desalination technologies to reverse osmosis in a country like Qatar. That consolidates our strategy of becoming the leader of RO desalination in the Middle East.
We already mentioned the Al Jubail RO for Marafiq [Saudi Arabia's Marafiq Power & Water Utility Company], and we are also commissioning the Fujairah 1 extension for ADWEA [Abu Dhabi Water & Electricity Authority], TAQA and Sembcorp in the UAE. Furthermore, we are also operating the Sohar RO plant in Oman, so it's a booming market.
WWi: As a Spanish company what was your business strategy to really enter the Middle Eastern market and Qatar?
JDC: It took some time to understand the market and environment, clients and the stakeholders and how to do things there. We studied in detail and once we saw that we have the knowledge to be able to be a player there we went hard on the tendering process and things went well. We are very happy about that and hopefully we can continue doing that in the long-term.
WWi: You mentioned this project being a significant milestone in Qatar's desalination history, helping to turn from thermal to RO. Why do you think this project helped to change the mind of the Qataris?
JDC: My view is that because we realised the difference that RO has versus thermal technologies, such as MSF [multi-stage flash] and MED [multiple-effect distillation] - the CAPEX and OPEX are lower and there is a sufficient proven track record in the Gulf area that can ensure the reliability of the plants. Up until now Qatar has relied on thermal processes for desalination, apart from some minor projects so these two plants will mark a change.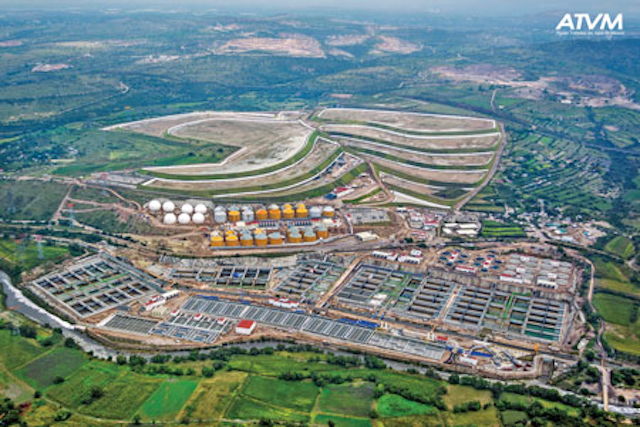 Going big: At 4,320,000 m3/day, the Atotonilco WWTP in Mexico will be the largest in the world. It's now 98% complete
WWi: The Atotonilco project (see box out) in Mexico will be the world's largest wastewater treatment plant, once opened. Tell me about the engineering challenges when building a project of this scale?
JDC: Atotonilco is currently the largest wastewater treatment plant in the world being developed. It will treat water from more than 10 million people. Our progress is in the range of 98%; we are in the commissioning stage of the plant and we are doing final improvements, along with fine-tuning. It will be operational next year.
There are a lot of challenges with a project of this size, with which you have to manage the technical side of this and everything related to the stake holders. For a BOT [build-operate-transfer], privately financed project there's a lot of things we have to put together. The project will be a success and a nice reference for us.
WWi: You mentioned the BOT form of the project but what benefits will the facility have on the economy in Mexico?
JDC: Like all projects of this type, being a BOT it will benefit from being privately financed, so it won't affect the public accounting and it also relies on the capability of Acciona and its partners. This includes financing, technical EPC [engineering, procurement, construction] capabilities and 20-year operation and maintenance we'll be undertaking. It's a very interesting tool. I always say that BOTs for PPPs are not the final and end solution for all problems that authorities are facing but it's a very, very interesting tool and should be used.
WWi: The Mexico project is on the wastewater side, and you've talked about the drinking water/desalination side in Qatar. Which of those two markets holds the most potential and which has been the more profitable in the past?
JDC: It depends on which period of time you look at. Roughly speaking, our company is half based on the design-build capabilities and the other on the operation, maintenance and utility markets.
Having this 50/50 approach going to the design-build capabilities, it depends on the year and projects we're involved in. Probably another half will be involved in desalination and the conventional drinking water and the other half in wastewater.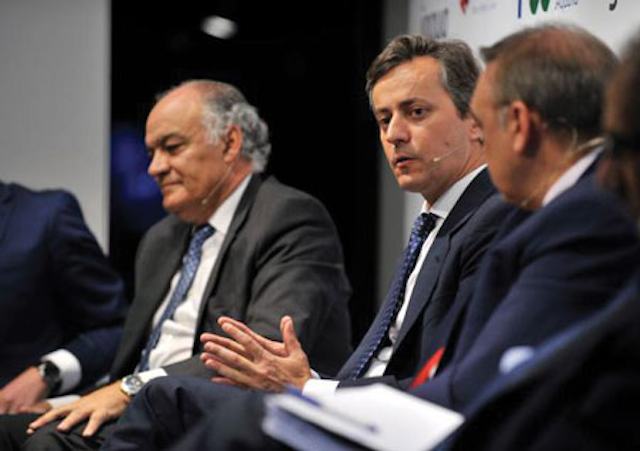 Partnerships: Jose Diaz Caneja (centre), says the build-operate-transfer model of PPP is interesting and should be used
WWi: With the rise of the Spanish companies - Acciona Agua, Abengoa Water, FCC's Aqualia - what can Spanish companies bring to the market that say other European companies can't?
JDC: It's true; there are a significant number of Spanish companies in the water industry. We have leveraged the needs of our country, mainly due to the scarcity we are facing in some parts of it. We have a long history of wastewater treatment in the utility sector and that has helped us a lot internationally over the last 10 years.
WWi: Being placed in both the desalination and wastewater engineering side positions you well for future growth. For example, if the desalination market continues to be a little slower, then you can commit to more projects on the wastewater side?
JDC: Absolutely. We're a global player and we need that in order to balance our different activities and demands and that's an upside. We have relied on from our domestic market several years ago and now we're capitalising, turning it into a competitive advantage.

---
Tom Freyberg is the chief editor of WWi magazine. The #WaterChat video interview is available to watch online at www.waterworld.com. For more information on the article, email: tomf@pennwell.com.
More Water & WasteWater International Current Issue Articles
More Water & WasteWater International Archives Issue Articles