Procuct & Services: Flow, Level
Ametek Drexelbrook's CCS4000™ Multi–Channel Sludge Blanket Level Monitor uses a field proven algorithm to keep track of effluent quality in up to four separate water and wastewater treatment clarifiers and thickeners.
Mar 1st, 2008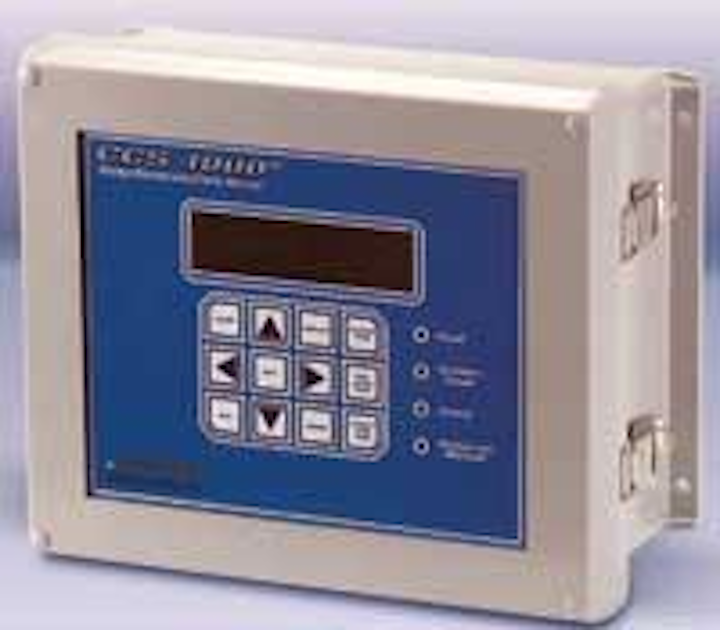 Sludge blanket level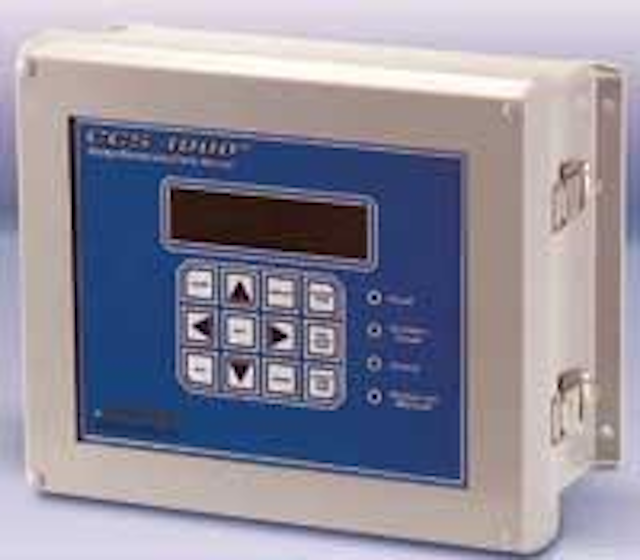 Click here to enlarge image
Ametek Drexelbrook's CCS4000™ Multi–Channel Sludge Blanket Level Monitor uses a field proven algorithm to keep track of effluent quality in up to four separate water and wastewater treatment clarifiers and thickeners. The system uses advanced ultrasonic technology to measure the compacted sludge level, the lighter rag material above the interface, and clarity loss in the water above the blanket and rag levels. It eliminates worry about the adverse effects of denitrification, septic sludge, washouts, and mechanical breakdown of a rake.
Ametek Drexelbrook
Horsham, PA
Tel: 215–674–1234
Web: www.drexelbrook.com
Circle No. 208 on Reader Service Card
Tank level sensor
Click here to enlarge image
Red Valve's Series 40TL Tank Level Sensors are specifically designed for sensing level in storage tanks. The sensors are not affected by foaming, ice and other conditions that can cause errors in ultrasonic and capacitance level sensors. They use a high–sensitivity, solid–state pressure transmitter that is completely isolated from the process fluid by an elastomer sleeve that transmits pressure through a fluid bill.
Red Valve Co.
Carnegie, PA
Tel: 412–279–0044
Web: www.redvalve.com
Circle No. 210 on Reader Service Card
Level monitoring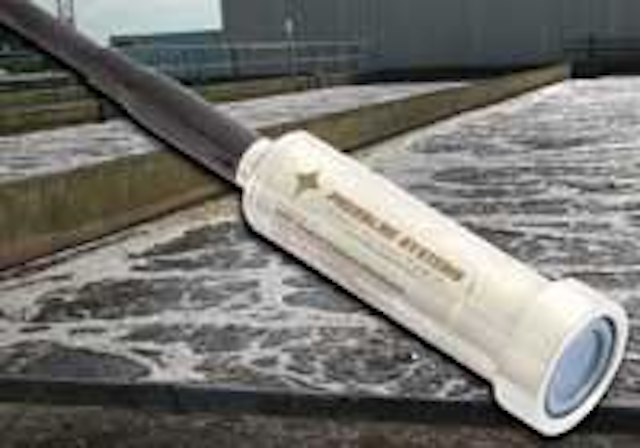 Click here to enlarge image
Pressure Systems has just introduced a new, enhanced KPSI Series 705 submersible level transducer with static accuracy of ± 0.25% FSO. This new specification is now standard for the series and is offered without a price increase over the earlier model. The company first introduced the Series 705 to the market in 2005 to address the harsh operating conditions found in wastewater lift station applications. With its wide sensing area and flush–mounted, Teflon® coated, elastomeric diaphragm, it is ideally suited to highly viscous or slurry environments.
Pressure Systems
Hampton, VA
Tel: 800–328–3665
Web: www.pressuresystems.com
Circle No. 213 on Reader Service Card
Clamp–on flowmeter

Click here to enlarge image
The Optisonic 6300 is a new time–of–flight clamp–on flowmeter for liquid applications. It has an extended temperature range and line size range, as well as numerous installation and product operation enhancements. The graphical display allows signal quality to be shown in real time during the set–up of the sensors, and allows technicians to optimize flowmeter performance while maximizing measurement accuracy.
Krohne Inc.
Peabody, MA
Tel: 978–535–6060
Web: www.krohne.com/northamerica
Circle No. 209 on Reader Service Card
Flow meter vaults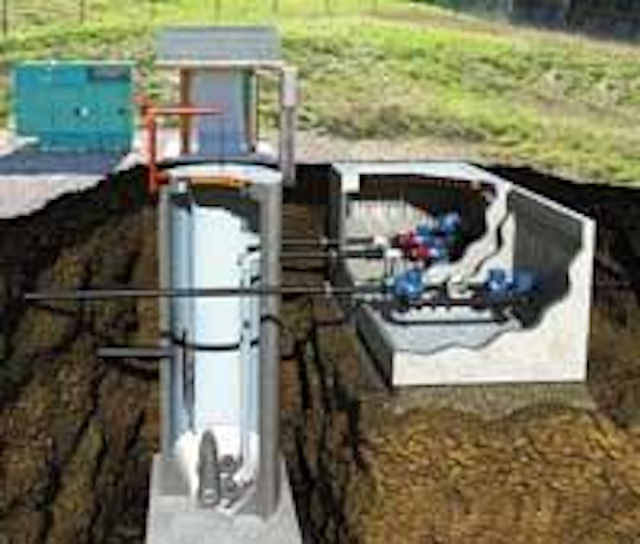 Click here to enlarge image
Romtec Utilities offers pre–assembled flow metering vaults in its line of pre–engineered lift stations for wastewater, stormwater and industrial water pumping. A range of designs are available with piping from 2" to 10" diameter. The wastewater lift station shown includes a complete flow metering vault (right foreground) to deliver volume and flow measurements accurate to within 0.5%.
Romtec Utilities
Roseburg, OR
Tel: 541–496–9678
Web: www.romtecutilities.com
Circle No. 216 on Reader Service Card
Transient pressure monitoring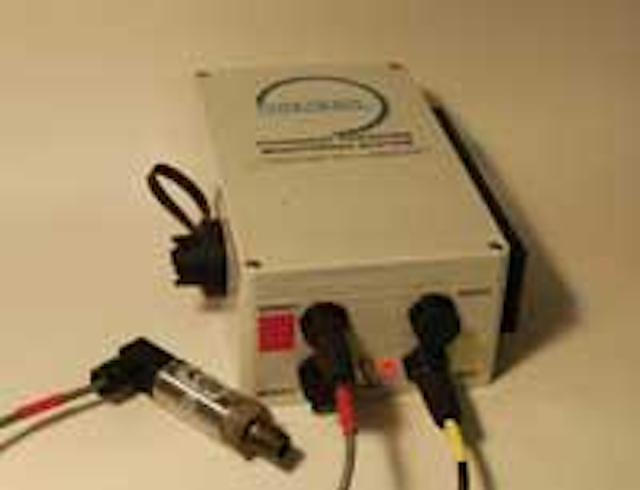 Click here to enlarge image
Pipetech International has announced the release of several improvements to the TP–1 Transient Pressure Monitoring System. The remote, portable system is designed to continuously monitor fluid filled pipelines, and to detect and record rapid pressure changes. The system can record pressure at a user–selectable time interval. When the unit detects a sudden, rapid change in pressure, it automatically switches to a patented high speed recording mode, recording at up to 100 times a second.
Pipetech International
Phoenix, AZ
Tel: 877–836–7702
Web: www.pipepressure.com
Circle No. 217 on Reader Service Card
Transit time flow meter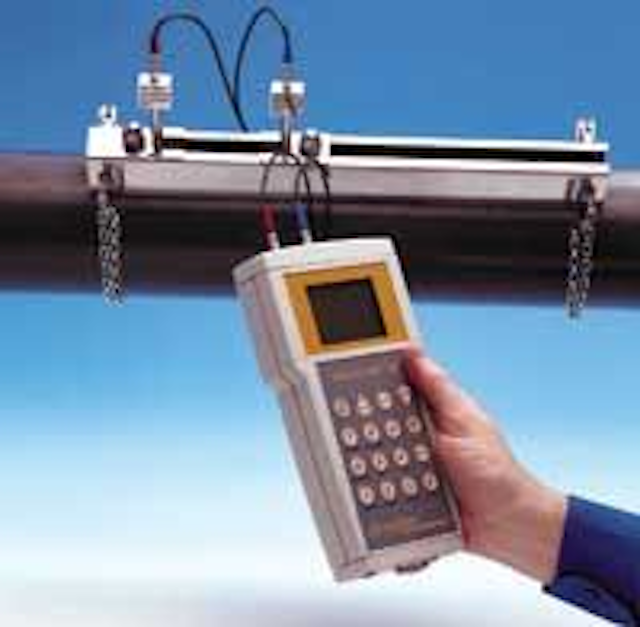 Click here to enlarge image
The new Portaflow Transit Time Flow Meter, available from Greyline Instruments, is designed for clean liquids like water, oils and most chemicals. It is suitable for troubleshooting, spot checks and balancing flow. Strap–on sensors mount on the outside of plastic or metal pipes and ultrasonic signals are injected through the pipe between the two sensors. It works on any pipe diameter from 2–40". Portaflow features include a large, backlit graphics display, 4–20mA output, data logger, RS232 output, and a user–friendly operating system with a "Quick Start" calibration menu, plus ability to store calibrations for up to 20 different sites.
Greyline Instruments Inc.
Massena, NY
Tel: 888–473–9546
Web: www.greyline.com
Circle No. 223 on Reader Service Card
Mass flow sensor

Click here to enlarge image
With its thermal dispersion mass flow sensor and digital electronics, the FlexMASSter® ST98 Flow Meter Series from Fluid Components International now meets the Profibus–DP/–PA standards and includes its own Device Type Manager (DTM) software for use in large scale process and plant automation systems. The meter provides gas and air flow measurement. It is fully compatible with Profile 3, and is now a drop–in network replacement instrument for any other Profibus–DP/–PA flow meter, providing process flow and totalized flow data in a matter of minutes.
FCI
San Marcos, CA
Tel: 800–854–1993
Web: www.fluidcomponents.com
Circle No. 222 on Reader Service Card
Pump flow monitor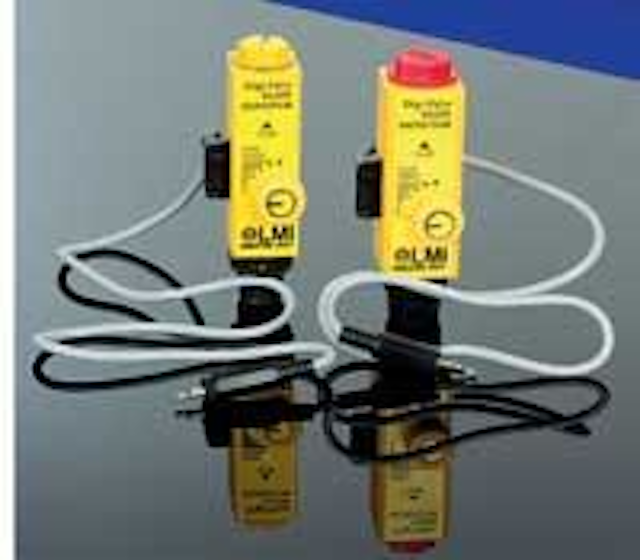 Click here to enlarge image
Digi–Pulse Flow Monitors are designed to be used with the LMI Milton Roy Type "9" Metering Pumps to provide the user with verification of pump performance. If the flow monitor detects output loss, it will shut the pump off and close a switch that may be tied to an alarm. The alarm signal may also be used to trigger a stand–by pump. This inexpensive device provides valuable data about the operating condition of the pumping system overall and the pump in particular.
LMI
Tel: 215–441–7883
Web: www.lmipumps.com
Circle No. 230 on Reader Service Card
Pressure switches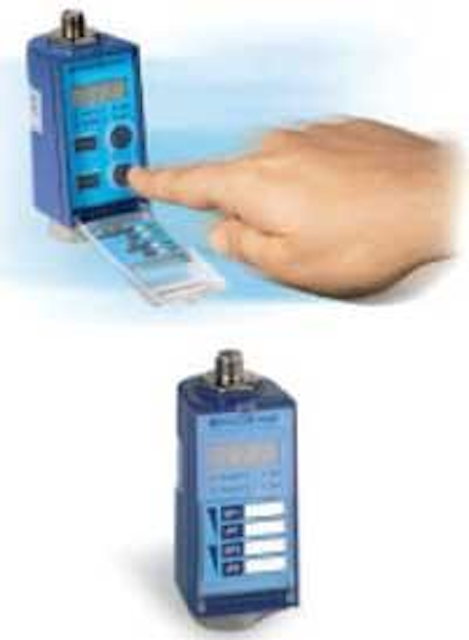 Click here to enlarge image
Telemecanique® Nautilus Pressure Switches offer a 4–digit readout and built–in diagnostics. Users can choose between analog or digital readout and either bar or PSI measurement. The stainless steel fluid connection and ceramic cell make it one of the more reliable pressure switches in the industry. The switches control or regulate pressure in fluid systems from –14.5 psi to 8,700 psi. Simple to configure, they allow for parameter readjustment during operation through tactile feedback keys.
Schneider Electric
Nashville, TN
Tel: 615–844–8545
Web: www.squared–water.com
Circle No. 227 on Reader Service Card
Ultrasonic level/flow meter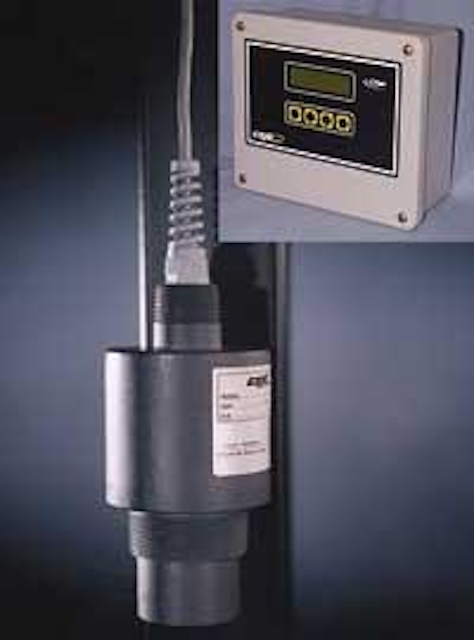 Click here to enlarge image
The new Eagle Microsystems USL– 1000 Ultrasonic Level Systems can be configured for accurate measurement of tank level (USL–1000) or open channel flow (USF–1000). The system uses an ultrasonic transducer coupled with a simple–to–use digital readout instrument. The instrument can be used for measurement and display of bulk storage tank level or volume, or open channel flow using any common head producer such as a rectangular or V–notch weir or Parshall flume.
Eagle Microsystems Inc.
Pottstown, PA
Tel: 800–780–8636
Web: www.eaglemicrosystems.com
Circle No. 224 on Reader Service Card
Tank level monitoring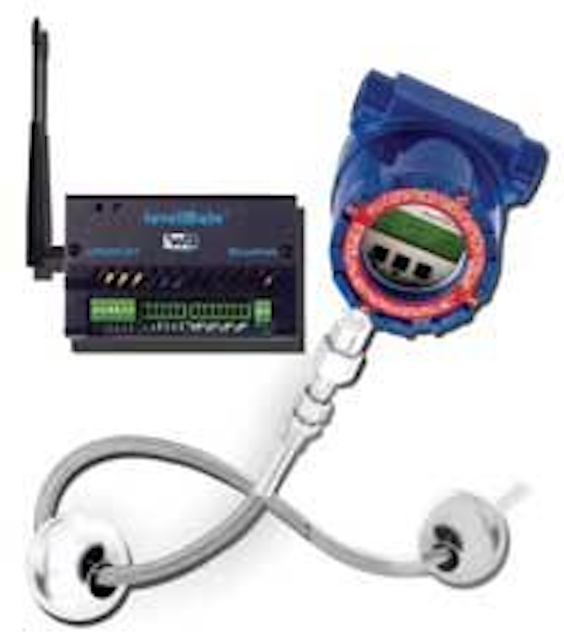 Click here to enlarge image
MTS Systems Corp. Sensors Division and OleumTech Corp. have partnered to provide customers with a system to monitor tank levels via the Web. MTS Sensors provides the tank measurements and the OleumTech wireless monitors transmit the data back to the control room, where a Modbus controller with Ethernet output passes the data to the Web. In the end, the customer is able to open a webpage and pull up the latest measurement at any time. The system uses the MTS Level Plus® model MG liquid level transmitter to measure the level in storage tanks.
MTS Sensors Division
Cary, NC
Tel: 919–677–2373
Web: www.mtssensors.com
Circle No. 231 on Reader Service Card
Liquid level indication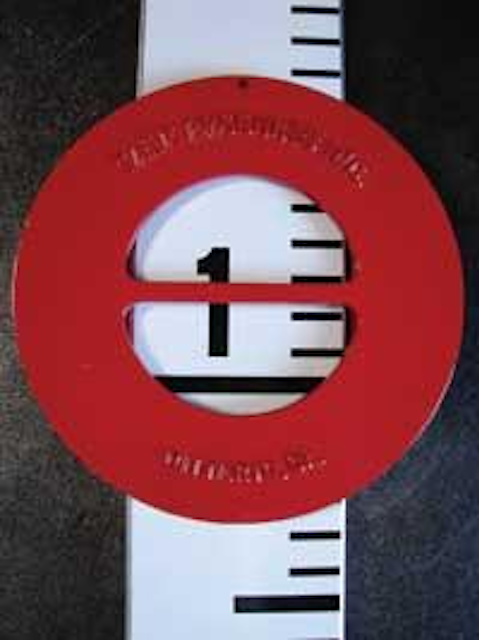 Click here to enlarge image
Tank Products offers WWA and API approved target style, float operated, liquid level indicators for use with storage tanks. The sight level indicators require no power, no maintenance, and are legible from long distances. They are used on both bolted and welded tanks and are available in full and half travel lengths from 4' to 140'. Each kit is custom assembled specific to your requirements and contains everything needed for a simple installation.
Tank Products Inc.
Ontario, Calif.
Tel: 909–923–3188
Web: www.tankproducts.com
Circle No. 226 on Reader Service Card
Ultrasonic level measurement
Emerson Process Management is offering a new version of its Mobrey® MSP900 ultrasonic level transmitter, optimized for use in open channel flow measurement. Used in the open air, conventional ultrasonic level transmitters are prone to suffer from inaccuracies caused by "solar gain" when the sun shines directly on them. The new transmitter has been designed to overcome this problem by using a remote temperature sensor wired directly into the transmitter.
Emerson Process Management
Austin, TX
Web: www.emersonprocess.com
Circle No. 225 on Reader Service Card
Level sensor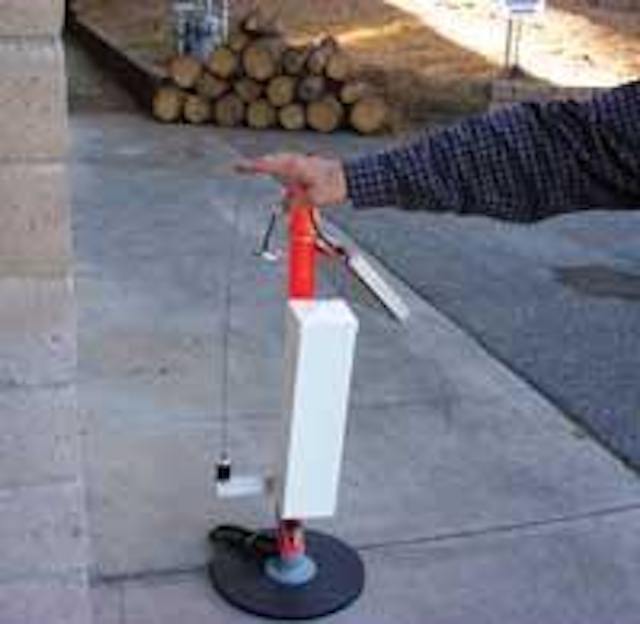 Click here to enlarge image
Automata's Laser Level–Watch sensor is a light beam time–of–travel device. Velocity of light is constant; not affected by temperature or any other environmental conditions. The accuracy is limited only by the quality of the electronics in the laser range finder. There are no moving parts to wear out so maintenance is kept at a minimum. A stilling well is needed to keep the travel path for the light beam unobstructed during inclement weather.
Automata Inc.
Nevada City, CA
Tel: 530–478–5882
Web: www.automata–inc.com
Circle No. 228 on Reader Service Card
Differential flow transmitter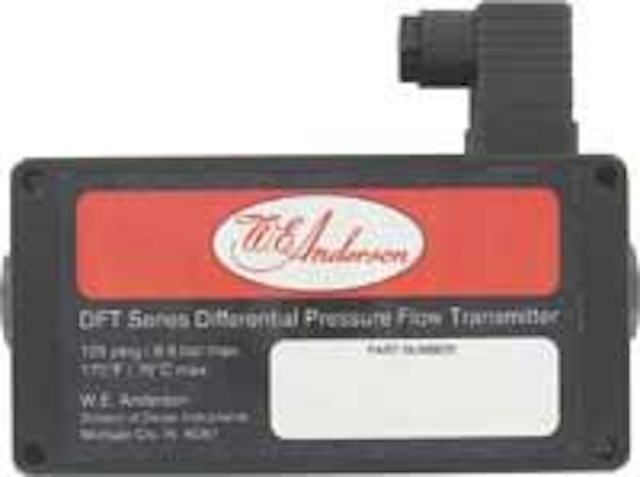 Click here to enlarge image
Dwyer Instruments has released the new series DFT differential flow transmitter. The series uses a segmented wedge differential producer to measure flow rates as related to pressure to monitor process fluids. The segmented wedge provides a simple and reliable restriction for sensing flow as related to pressure differential. The sensor can be mounted in any position and allows the designer to install it in any orientation: horizontal, vertical or inverted.
Dwyer Instruments, Inc.
Michigan City, IN
Tel: 800–872–9141
Web: www.dwyer–inst.com
Circle No. 229 on Reader Service Card
Sewer flow monitoring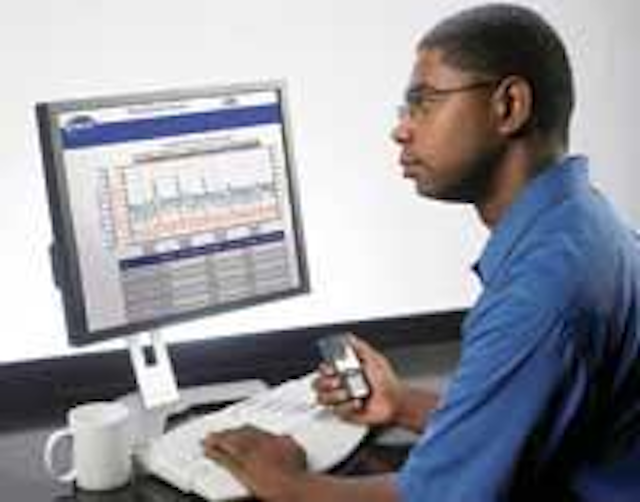 Click here to enlarge image
Marsh–McBirney has announced a new approach to sewer flow monitoring — Data Delivery Services (DDS). The fee–based service provides unlimited flow data from a web–enabled Flo–Dar flowmeter with no upfront capital expense. Customers have 24/7 access to their unedited flow data via a web browser without leaving the office to visit monitoring sites.
Marsh–McBirney
Tel: 800–368–2723
Web: www.marsh–mcbirney.com/dds
Circle No. 221 on Reader Service Card
Radar level sensors

Click here to enlarge image
Automation Products Group has introduced the PR Series Pulse Radar Level Sensors. Pulse radar sensors deliver accurate, reliable, non–contact level measurement in challenging environmental conditions that can reduce the reliability and accuracy of other types of sensors. Providing the process industry standard output of 4–20 mA, the sensors operate using a frequency burst at 6.3 GHz. The sensors provide a detection range up to 100 ft., resolution to 0.22 in. and accuracy to ¼% of maximum range.
Automation Products Group Inc.
Logan, UT
Tel: 888–525–7300
Web: www.apgsensors.com
Circle No. 212 on Reader Service Card
Pressure gauge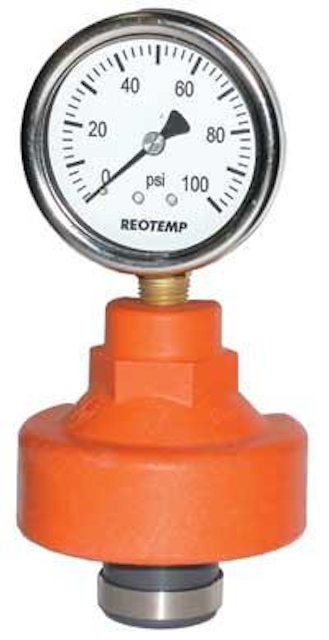 Click here to enlarge image
The Reotemp Series PLG combines a plastic diaphragm seal with an industrial pressure gauge, creating an isolated pressure sensing solution. This unit comes from the factory mounted, filled, and ready for installation. The plastic diaphragm seal is ideally suited for chlorine service and other corrosive environments. Applications include: plastic piping systems, wastewater treatment, seawater and chemical plants.
Reotemp Instruments
San Diego, CA
Tel: 800–648–7737
Web: www.reotemp.com
Circle No. 211 on Reader Service Card
Groundwater monitoring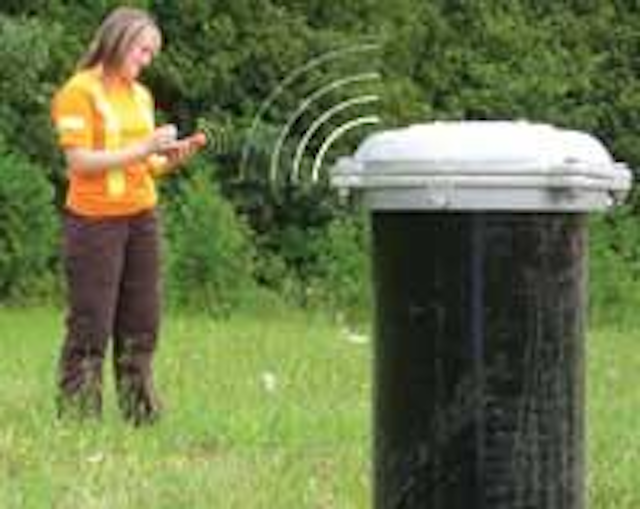 Click here to enlarge image
Schlumberger Water Services (SWS) has released the Diver–NETZ system, a complete package of tools that allow groundwater professionals to wirelessly connect their monitoring networks. The system is expandable and ready to work with existing Diver groundwater monitoring networks. All of the system components are designed to streamline project workflows, helping users manage groundwater resources. The system includes a suite of produce to provide groundwater levels, temperature and conductivity.
Schlumberger Water Services
Waterloo, Canada
Web: www.water.slb.com.
Circle No. 214 on Reader Service Card
Radar level monitoring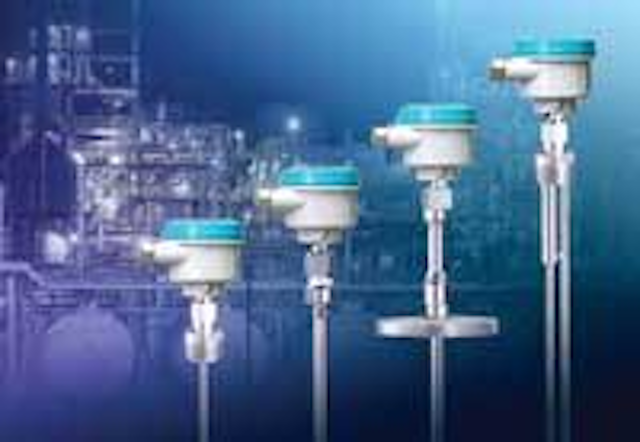 Click here to enlarge image
Siemens Energy & Automation has introduced the Sitrans LG200, a new line of guided wave radar level transmitters for liquids, slurries, interface, and bulk solids. The device is a two–wire, loop–powered HART® level transmitter that can measure materials with a dielectric range of 1.4 and higher, temperatures up to 800 degrees Fahrenheit, and pressures up to 6250 psig. The product line offers level and interface measurement in liquids with corrosive vapors, foam, steam, high viscosity, surface agitation, high fill/empty rates, low level, and varying dielectric or density.
Siemens Energy & Automation Inc.Alpharetta, GAWeb: www.sea.siemens.comCircle No. 215 on Reader Service Card
Interface level monitoring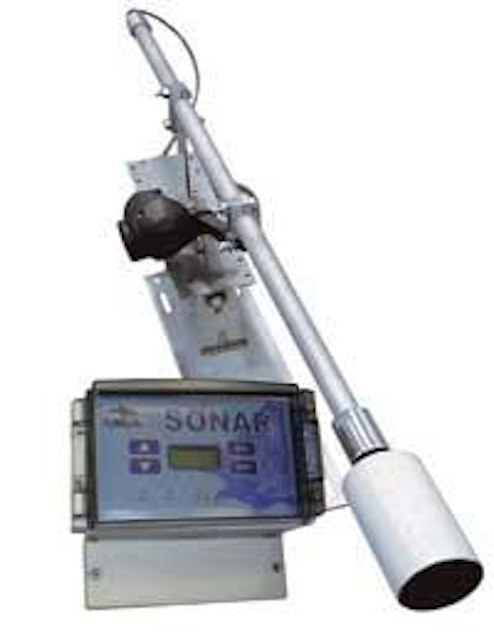 Click here to enlarge image
The ORCA Sonar Series of interface level transmitters from Hawk Measurement use seven different sonar transducer frequencies, so the appropriate frequency can be selected for the density of the interface that is being controlled and monitored. This flexibility allows for use of a different sonar transducer frequency for each of the main applications at a water and wastewater treatment plant. The system's sonar transmits a sound pulse through liquid toward the bottom of the tank accurately up to 100', which is then reflected back to the sonar transducer and interpreted via the sonar transmitter and compensated for temperature.
Hawk Measurement
Tel: 888–429–5538
Web: www.hawkmeasure.com
Circle No. 218 on Reader Service Card
Wet D/P transmitter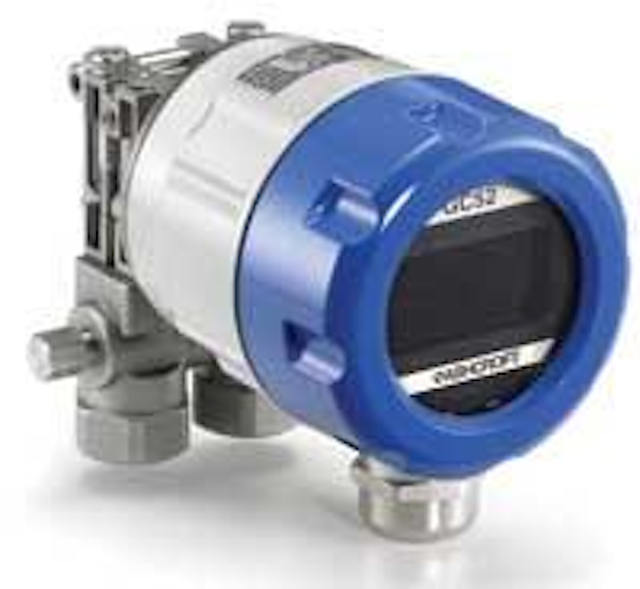 Click here to enlarge image
The new Ashcroft® Model GC52 is a uniquely compact wet–wet differential pressure transmitter, ideal for flow and tank level applications. Equipped with the patented SiGlas™ 316 stainless steel isolated sensor, the CG52 can monitor a wide variety of wet or dry media. Available in uni–directional ranges from 0–4 to 0–400 inches W.C. and bi–directional ranges up to ~200 inches W.C., the transmitter operates on line (static) pressures up to 300 psi.
Ashcroft Inc.
Stratford, CT
Tel: 800–328–8258
Circle No. 219 on Reader Service Card
Submersible level transmitter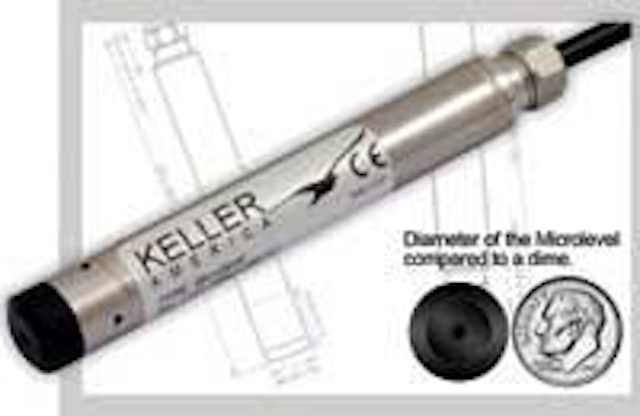 Click here to enlarge image
The New Microlevel by Keller America is the smallest level transmitter in its class, boasting a 0.63" diameter. It comes standard with ±0.25% FS (±0.1% optional) Total Error Band over the range of 0–50° C. The device is available in custom pressure ranges up to 375 ft WC. And, unique to this class of instrument are the Microlevel's dual outputs (4–20 mA analog + RS485 digital) that can both be used for level measurement.
Keller America Inc.
Newport News, VA
Tel: 800–253–5537
Web: www.kelleramerica.com
Circle No. 220 on Reader Service Card
Level logger

Click here to enlarge image
Ideal for recording water levels and temperatures in wells, streams, lakes, wetlands, and tidal areas, the Onset® HOBO Water Level Logger, available through Forestry Supplier, is a high–accuracy, pressure–based water level recording device. It operates as a stand–alone unit and does not rely on cumbersome vent tubes and desiccant packs for operation, simplifying deployment and eliminating many maintenance issues.
Forestry Suppliers Inc.
Jackson, MI Tel: 800–360–7788 Web: www.forestry–suppliers.com
Circle No. 264 on Reader Service Card
Ultrasonic flowmeters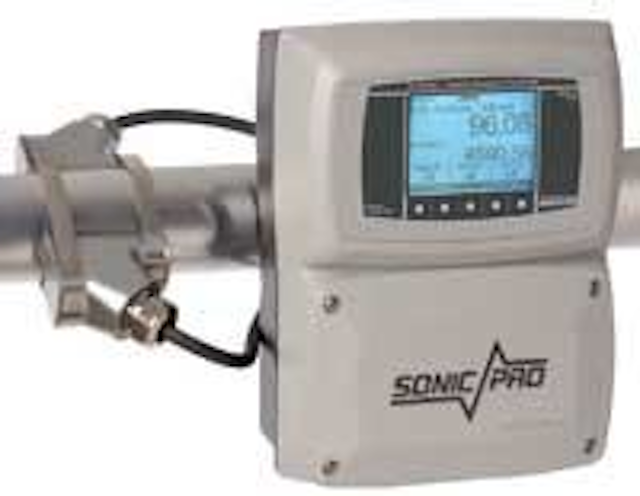 Click here to enlarge image
Blue–White Industries has introduced a new line of Hybrid Ultrasonic Flowmeters, the Sonic–Pro™ Series. The meters can measure fluid flow using either Doppler or Transit Time methods. Additional Sonic–Pro Model S3c features include: non–invasive clamp–on transducers; custom metric algorithms and DSP technology; easy reading QVGA display — 320 X 240 pixels with backlit LCD; data is logged to a standard SD card format, with up to 30,000 events on the 32 MB SD card supplied with each unit; isolated 4–20 mA output is fully configurable; 0 – 1,000Hz Pulse Output is fully configurable; a computer connection via RS–232, RS–485, USB or Ethernet permits remote access to, and control of, all functions including real–time display, system configuration, data logging, remote data capture and process control functions; the Sonic–Pro S3c is housed in a NEMA 4X (IP 66) wash down enclosure.
Blue–White Industries
Huntington Beach, CA
Tel: 714–893–8529
Web: www.bluwhite.com
Circle No. 266 on Reader Service Card
Guided wave radar transmitter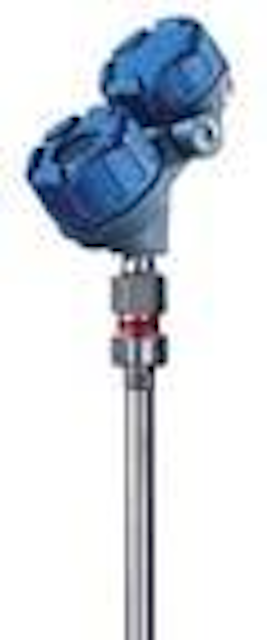 Click here to enlarge image
STI Controls has released the second generation of its market–leading Eclipse Model 705 Guided Wave Radar Transmitter. Since being introduced to the marketplace in 1998, tens of thousands of Eclipse Guided Wave Radar transmitters have been installed around the world. The Eclipse has provided solutions to the most challenging level measurement applications and conditions in the municipal marketplace, applications with process conditions that thwart competing level measurement technologies.
STI Controls L.P.
Downers Grove, IL
Tel: 630–969–4028
Web: www.sticontrols.com
Circle No. 267 on Reader Service Card
Ultrasonic level sensors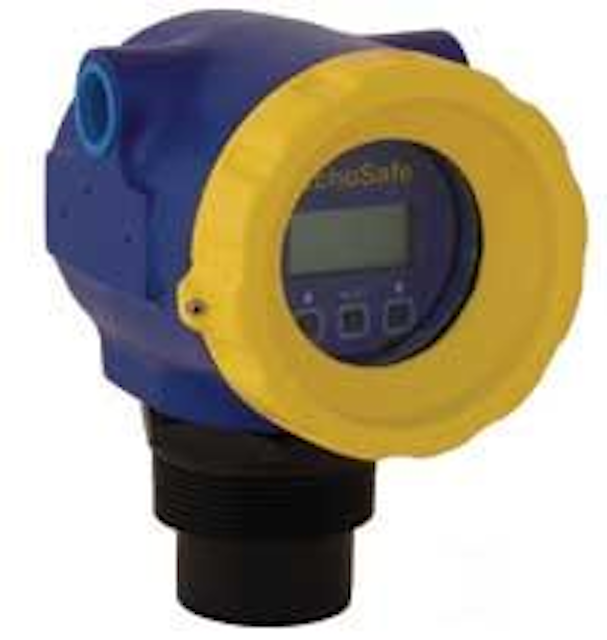 Click here to enlarge image
Flowline offers the EchoSafe series sensor, which was designed to provide a "safe" sensor that carries FM approval in Class 1, Div. 1, Groups A, B, C & D; Class II, Div. 2, Groups E, F & G approvals. The sensor combines the company's digital signal processing (DSP) technology with a simple menu driven push button configuration to provide measurement for bulk storage inventory, automation and safety.
Flowline Inc.
Los Alamitos, CA Tel: 562–598–3015 Web: www.flowline.com
Circle No. 265 on Reader Service Card