Consultant, Client Delighted with Flowmeter Choice
A large I&I reduction/nutrient loading study for two Pennsylvania counties required the consulting services of R.D. Zanke.
Dec 1st, 2006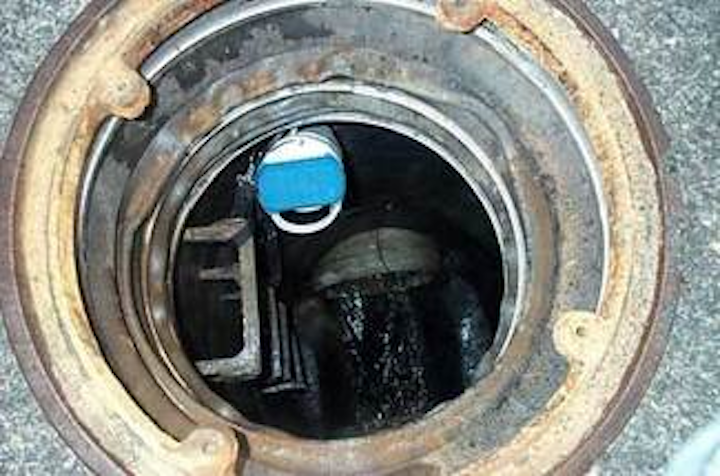 A large I&I reduction/nutrient loading study for two Pennsylvania counties required the consulting services of R.D. Zande. Read why both the consultant and their clients chose only Marsh-McBirney Flo-Tote 3 and Flo-Mate meters for this extensive project and their delight in the meters' performance...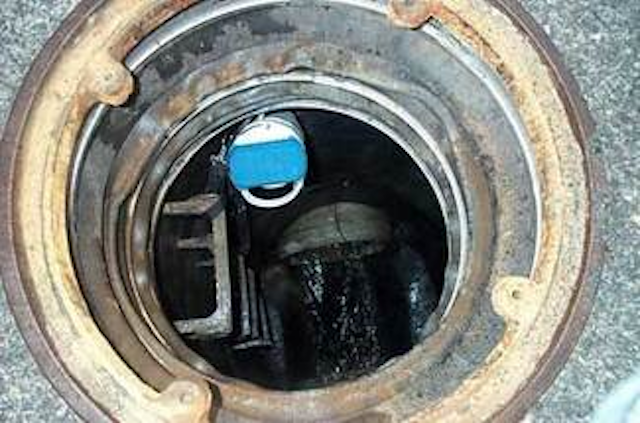 Flow data from the Tote 3 sensor is stored in a waterproof Flo-Logger.
Click here to enlarge image
Known as one of the top 500 design firms in the country, the consulting firm of R.D. Zande & Associates (Zande) has provided civil and environmental engineering services since 1968. From simple, short-term projects to multi-disciplinary, long-term projects, Zande provides a wide range of services through eight different divisions. Additionally, Zande has established itself as one of the largest and best trained flow monitoring authorities on the East Coast. Their outstanding reputation in the flow arena is based upon years of solid flow background and thousands of applications. In fact, unlike most consulting firms, Zande has developed their own in-house flow laboratory including a fabrication shop for custom work, as well as weirs and flumes for instrument calibration purposes. Their comprehensive fleet of monitoring equipment includes flowmeters, samplers, water quality instruments and many other flow related devices. All instruments are tested at their facility prior to on-site deployment to ensure optimum data collection performance.
At Zande, emphasis is placed on continuously updating their flow monitoring equipment inventory with the latest technology in an effort to keep pace with technological advances which in turn provides Zande with quality data upon which to develop their models.
According to John Barton, Zande Project Manager, "The most accurate model developed to date is only as good as the quality of data used to create it."
Recognizing the uniqueness of each flow monitoring application, Zande recognizes the importance of evaluating the individual site parameters for each monitoring location including computerized mapping and hydraulic modeling.
A sampling of their flow program services include:
Sanitary Sewer Evaluation Studies (SSES) and Solutions
Infiltration and Inflow (I/I) Studies and Remediation
Sanitary and Combined Sewer Design
Overflow Studies and Permitting
EPA CMOM Programs
SECAP Development
Inter-Community Billing and Flow Assessment
When two Ohio counties, Montgomery and Greene, needed to retain the services of a consulting firm for a vast flow monitoring project, Zande was the firm of choice. The scope of work spanned both counties and would include the monitoring of a large collection system that drained into a pump station located in Greene County. Because flows from Montgomery County were being processed by Greene County, a high degree of accuracy was necessary to reflect the flow contributions from both areas.
The pump station had been known to have some flow balance problems and for that reason there was uncertainly as to the accuracy of the data that was being provided by a previously installed flume. During both high and low flows, the flume was rendered useless and was unable to accurately record flow. The entire drainage basin would also be investigated in terms of nutrient loading and inflow and infiltration (I&I) reduction with emphasis on recommendations on the best way to handle any new incoming flow. Future development in the area was dependent upon the pump station's capacity to handle the flow volumes without exceeding their limitations.
Already familiar with Marsh-McBirney flow instrumentation, Zande was delighted when their clients mutually decided to utilize Marsh-McBirney Flo-Tote 3 Flowmeters for the project. Building on the success of thousands of installations worldwide, the Flo-Tote 3 is the new generation of the world's most popular sewer flowmeter. Marsh-McBirney's Flo-Tote 3 portable flowmeters are based on the original and unsurpassed velocity/area measurement sensors and techniques. Continuous product innovation has made it possible to combine proven sensor design with state-of-the art technology.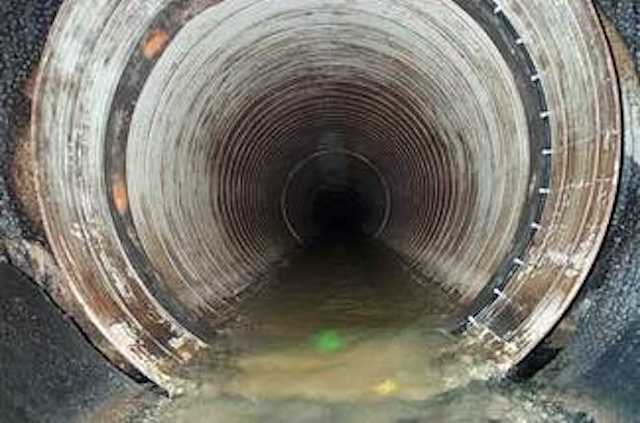 The flowmeters can capture flow data in both submerged and low-flow conditions.
Click here to enlarge image
In addition to the accuracy and ease-of-use, the Flo-Tote 3 offers some exciting new features:
Disconnectable sensor for quick and easy replacement
Interchangeable with Flo-Dar sensors
24 hour service turnaround to significantly reduce downtime
Room to store more data with a storage capacity increased to 64K
Extended battery life
Pocket PC compatible for data collection convenience
Unlike Acoustic Doppler meters, the Marsh-McBirney electromagnetic area/velocity flowmeters measure both velocity and level in the same cross-section (or slice of pipe), a requirement necessary for accurate flow rate measurement using the Continuity equation: Q = V x A.
Using measurements derived empirically over 10 years, MMI has bridged the gap between the performance of its velocity sensor in a tow tank and its ability to calculate the average velocity that exists in an open channel sewer pipe. The flow accuracy of the Flo-Tote 3 is based upon the accurate measures of both velocity and level in hydraulic flow labs, as well as under actual sewer conditions in the field.
"Both of these clients preferred the Marsh-McBirney Flo-Tote 3s over other available meters. Fifteen Flo-Tote 3 Open Channel Flowmeters were purchased," Barton said.
Additionally he states, "Zande was very familiar with Marsh-McBirney flow instrumentation and especially preferred to use the meters for applications that included extreme conditions such as low or submerged flows. We have Flo-Tote IIs and would still use them if there was a need on a project. We didn't use them on this job because of the large number of meters needed and we prefer not to mix equipment on a job."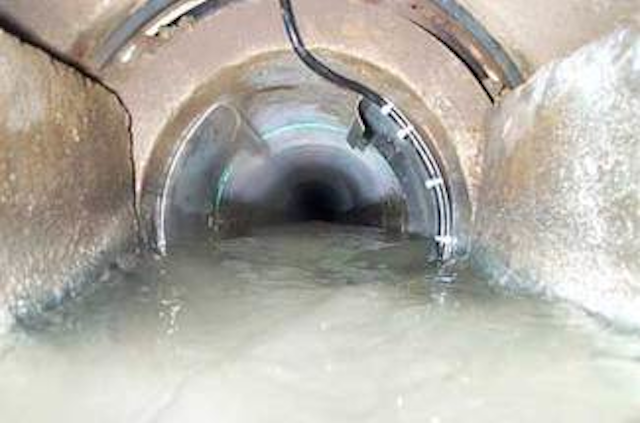 A Flo-Tote 3 Flowmeter installed in a pipe
Click here to enlarge image
Thirteen of the meters were installed in the drainage basin which was divided into 13 different areas to quantify I&I while one meter was installed upstream of the flume in question. One meter was ordered as a spare for the project. The meter that was installed upstream of the flume would be used for flow comparison purposes.
Barton comments, "We had a graph that showed the deviation between the two devices. The data provided by the Flo-Tote 3 showed us that the flumes was overestimating the flow during low flows and underestimating it during submerged conditions."
The Marsh-McBirney Flo-Mate Portable Velocity Flowmeters were also used by Zande operations and maintenance crews when performing flow profiles. Features of the meter including an electromagnetic sensor (no moving parts), compact size (just 7.5 lbs), rugged field design, as well as a handy data storage/recall feature.
Zande's fleet includes several Flo-Mates that are frequently used for flow profiling to identify optimum sites for meter installations.
Barton comments, "The process takes some care but we feel it is worth it. We always go out and perform an extensive site study prior to an instrument installation. We take lots of photographs before we install the meters as well. We definitely want to avoid sites that have silt build-ups and bends. We also evaluate things like traffic conditions, distance off of the road and hydraulic conditions. We then select the best manhole and go back to the chosen sites for installation. It takes us a while to do this but it helps us choose the best sites and definitely increases the data quality."
"We are very pleased with the performance of the Flo-Totes. By using the Flo-Totes we had a lot less drop outs and the reporting was very good. The field crews were definitely pleased. I feel that taking data readings for 30 seconds like your meter does really increases accuracy." Barton states.
From project to project, R.D. Zande's dedication to keep pace with technological advances by providing both practical and innovative services and solutions rings true with their use of innovative flowmeters manufactured by Marsh-McBirney. WW