Products & Services: Flow, Level & Pressure Monitoring
Collection of flow, level & pressure monitoring related equipment products and services.
Jul 1st, 2017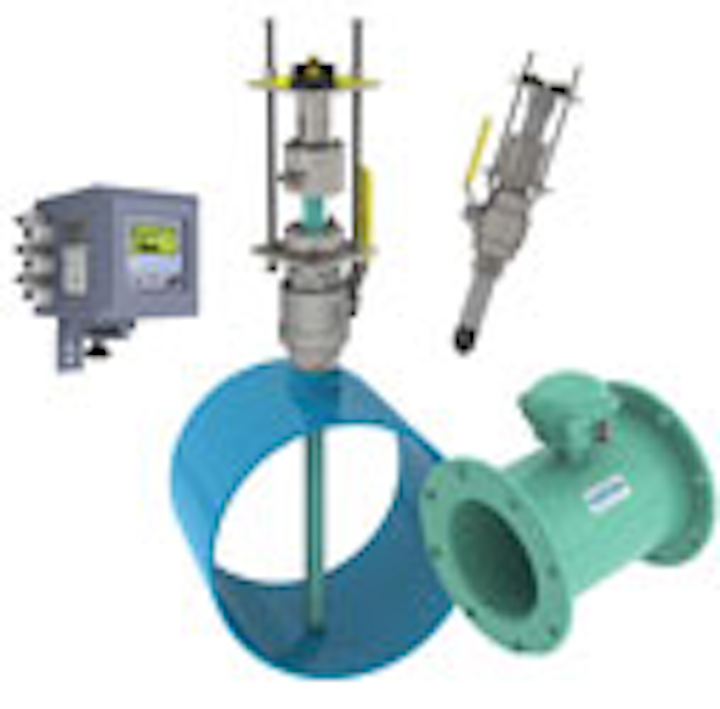 Transmitter for level measurement
The new Pulsar® Model R86 is the first industrial, 26 GHz Pulse Burst Non-Contact Radar transmitter offered by Magnetrol®. The Model R86 delivers reliable performance in clarifier level, sludge level and lime slurry level applications. The 26 GHz radar signal is immune to vapors and changing media characteristics and has a narrower wavelength allowing for smaller antennas and improved resolution. The transmitter also contains a variety of flumes and weirs for convenient measurement of open channel flow.
Magnetrol
Continuous diagnostic monitoring
Endress+Hauser adds Heartbeat Technology to its Micropilot FMR5X free-space radar and FMP5X Levelflex guided radar level transmitters. Heartbeat Technology is an on-board diagnostics and instrument verification system that continuously monitors the status of mechanical, electromechanical and electronic components in the sensor, and sends alerts when it detects a problem. Alerts are sent in accordance with NAMUR recommendation NE 107 and are displayed at the device. The built-in diagnostics can detect process problems such as build-up or foam before failure occurs. Verification information, reports, diagnostics alerts and instrument data can be viewed at the control and monitoring system.
Endress+Hauser
Hydrant pressure monitoring
The HPR-32 series is Telog's next generation of hydrant pressure recorders and incorporates wireless technology for hands-off data transfer straight to your desktop. The HPR-32 attaches to common fire hydrants and is ideal for fire flow testing, investigating customer complaints and hydraulic model calibration. Data is internally recorded and wirelessly transferred to your host computer on a schedule or in response to alarms.
Telog, A Trimble Company
Submersible level probe with ceramic diaphragm
KROHNE introduces the OPTIBAR LC 1010 submersible level probe with ceramic diaphragm. Aimed at water and wastewater, environmental engineering and OEM applications, it provides a simple and continuous hydrostatic level measurement solution for water wells, rainwater retaining/overflow basins, or tanks. It features a 316L stainless steel housing and a high overload-proof ceramic diaphragm for long operating life. For safe and easy cleaning on site, the diaphragm is flush mounted. It comes with pre-configured measuring ranges from 100 mbar/10 kPa/1.5 psi to up to 10 bar/1 MPa/150 psi, and customer-specific ranges are available on request.
KROHNE
Plug-and-play mag meters
Smart Output mag meters from McCrometer are compatible with Sensus and Itron systems, which makes these mag meters plug and play into larger AMI and AMR systems. McCrometer has an electromagnetic flow solution for nearly every application from line sizes 4 to 138 inches: hot tap insertion meters or full bore type, battery/solar or AC/DC powered. Designed with a highly intelligent module in their transmitters that is similar to a communication protocol, McCrometer mag meters can transmit data on a schedule or on demand, as well as receive diagnostic queries to ensure or update meter operation.
McCrometer
Water level dataloggers
Levelogger dataloggers from Solinst are SDI-12 compatible. Integrating accurate water level and temperature data into your monitoring network is easy. Simply connect the Levelogger using a Solinst SDI-12 Interface Cable to your datalogging device. Leveloggers can be programmed to record independently of the SDI-12 system, providing reliable back-up data. Features high accuracy, lifetime calibration and durable design for your monitoring needs.
Solinst Canada Ltd.
Remote level measurement
Massa unveils the SonAire® M3is, a compact, long-life, battery-powered wireless level sensor ideal for remote chemical tanks or where power infrastructure isn't accessible. SonAire is suitable for rapid deployment monitoring of liquid containment solutions such as stormwater runoff or temporary storage systems during environmental remediation. MassaSonic SonAire M3is PVDF housing models are FM C1D1 approved, IP67, range to 13 ft. and set up quickly with 3/4 mile range using a gateway. This economical, rugged and accurate sensor is designed for outdoor use where solar loading may be a concern for other devices.
Massa
Stormwater management app
Inspect2GO, a leader in mobile inspection apps and cloud reporting software, offers a new solution for public utilities and environmental agencies that includes specific applications for stormwater. Field inspection data is entered into the system on a native mobile app without the need for a data connection. Inspection checklists and workflows are customized to meet each agency's specific needs. Corrective actions are noted, and reinspection dates are automatically logged in the scheduling software.
Inspect2GO