PRODUCTS & SERVICES: FLOW, LEVEL
The Hach Sigma AV Flow and Level sensor was developed to withstand harsh environments and provides clean velocity signals across a wide range of flow situations.
Mar 1st, 2007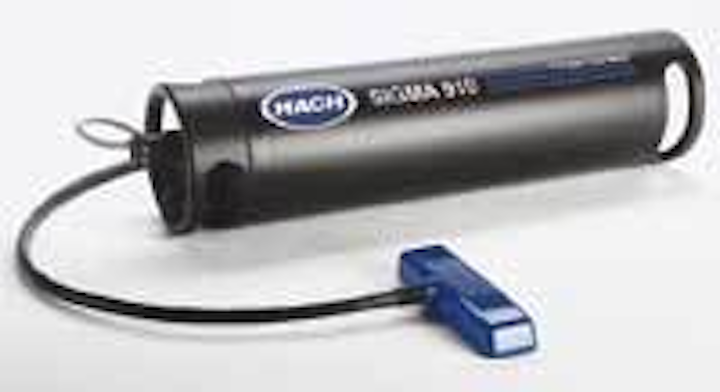 Flow, level sensor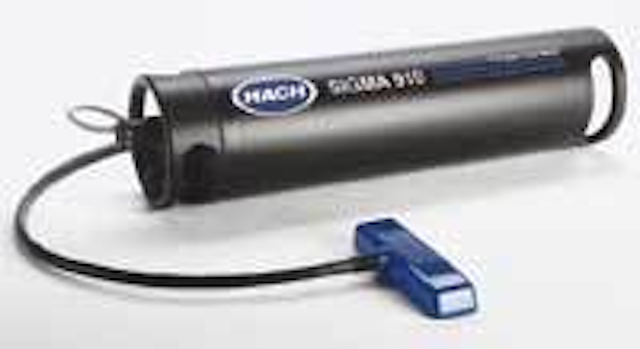 Click here to enlarge image
The Hach Sigma AV Flow and Level sensor was developed to withstand harsh environments and provides clean velocity signals across a wide range of flow situations. Large acoustic crystals provide strong echo signals and an improved pressure transducer provides better level performance. The shape of the probe minimizes flow disturbance.
Hach Co.
Loveland, CO
Tel: 800-227-4224
Web: www.hach.com
Encoder interface unit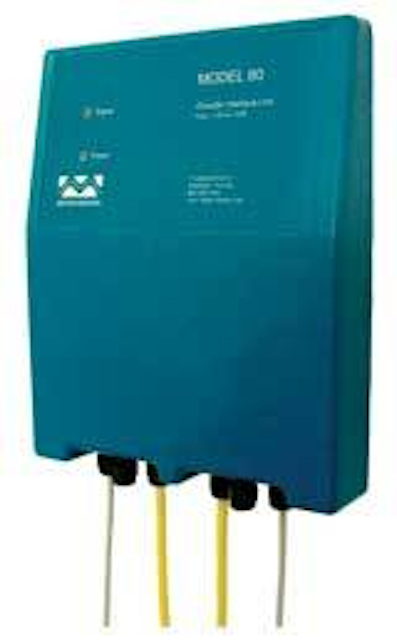 Click here to enlarge image
The new Meter-Master Model 80 Encoder Interface Unit from F.S. Brainard attaches to an encoder register and provides pulse, 4-20 mA, and AMR outputs. The unit is attached both to the 3-wire encoder register output and, if needed, to a touchpad. It optimizes digital and analog data accuracy by getting its information directly from the register. One Model 80 can provide up to two separate 4-20 mA outputs, a pulse output, and the current meter reading to a touchpad or touchcoupler when requested to do so by an AMR technology.
F.S. Brainard & Co.
Burlington, NJ
Tel: 888-388-3569
Web: www.meter-master.com
Submersible level transducer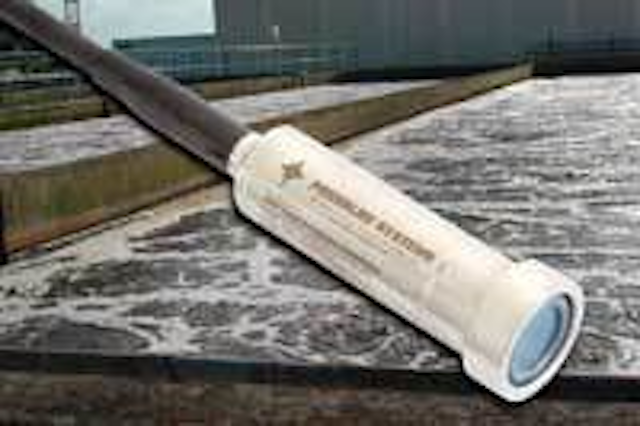 Click here to enlarge image
Pressure Systems has introduced a new, enhanced KPSI Series 705 submersible level transducer with static accuracy of ± 0.25% FSO. This new specification is now standard for the series and is offered without a price increase over the earlier model. The company first introduced the Series 705 to the market in 2005 to address the harsh operating conditions found in wastewater lift station applications. With its wide sensing area and flush-mounted, Teflon® coated, elastomeric diaphragm, it is ideally suited to highly viscous or slurry environments.
Pressure Systems
Hampton, VA
Tel: 800-328-3665
Web: www.pressuresystems.com
Titanium level transmitters
Click here to enlarge image
Keller America has introduced a titanium option for the AcculevelTM submersible liquid level transmitters. Titanium can provide resistance to corrosion superior to that of stainless steel in liquid media such as saltwater and certain chemicals. The titanium transmitter is available at a price only marginally higher than stainless steel. All the company's level and pressure transmitters, including those constructed from titanium, are available for shipment within three business days.
Keller America Inc.
Newport News, VA
Tel: 877-253-5537
Web: www.kelleramerica.com
Submersible pressure sensors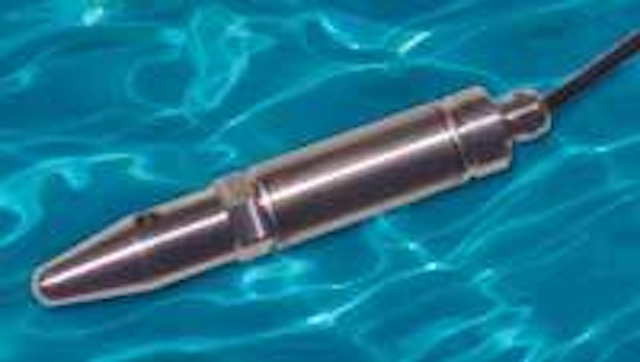 Click here to enlarge image
American Sensor Technologies has introduced a new line of Media Isolated Submersible Pressure Sensors - the Models AST4500 and AST4510. These units are intended for use in intrinsically safe IS areas when used with an approved entity barrier. Constructed of all stainless steel, the sensors are approved to UL/cUL 913 (CSA) Class 1 Div 1, Groups C and D. In addition, each sensor holds a CE Approval of EN 61326. The sensors are suited for submersible and level measurement applications including ground water level depth measurement.
American Sensor Technologies Inc.
Mount Olive, NJ
Tel: 973-448-1901
Web: www.astsensors.com
Measurement unit converter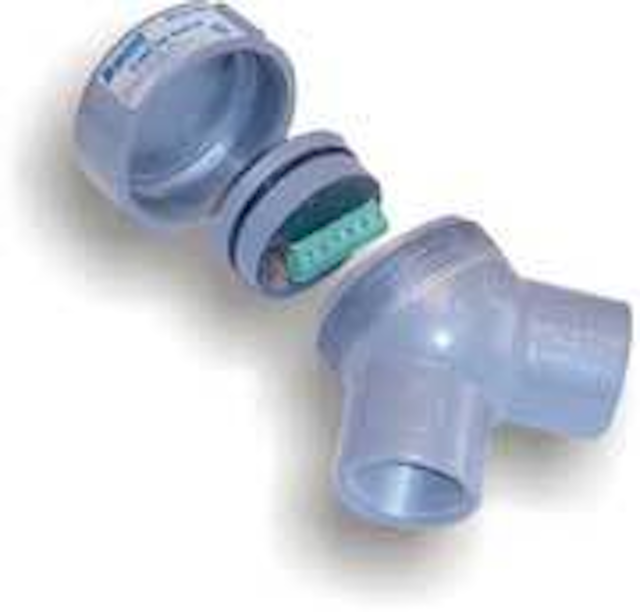 Click here to enlarge image
Turbine flow meters have a unique k-factor, or ratio of input pulses per unit of flow. The Blancett K-Factor Scaler provides a low cost method of converting the turbine output into a different unit of measure. The scaler converts a low level frequency output into a scaled square wave output signal. This adjustable frequency divider converts or scales the turbine meter output into desired units of measurement and is recognized by almost any data collection device. The signal is more immune to electrical noise and capable of transmission over longer distances than a raw turbine meter output.
Racine Federated Inc.
Racine, WI
Tel: 262-639-6770
Web: www.blancett.com
Insertion magmeter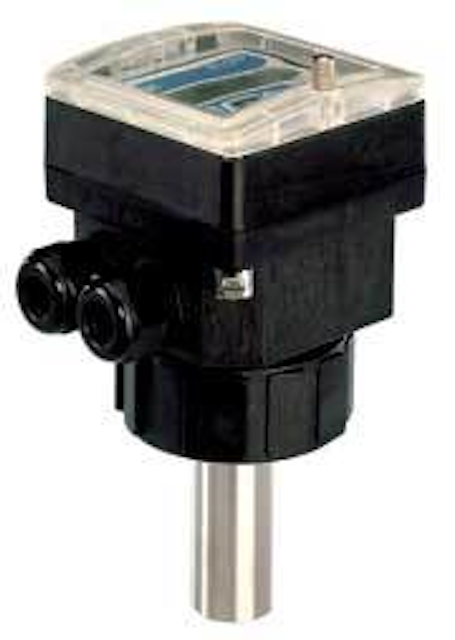 Click here to enlarge image
Burkert introduces the Type 8045HT Insertion Magflowmeter, featuring a stainless steel insertion sensor that allows it to meet the requirements of water treatment (e.g. drinking water, wastewater) and irrigation (e.g. flow control) markets. The solid-state sensor shows flow rate and volume. It handles temperatures up to 230°F and fluid pressures up to 230 psi. Measuring velocity range is 0.33 f/s to 32.8 f/s. Minimum conductivity is >20 μS/cm, while maximum viscosity capability is 2000 mm2/s (cSt).
Burkert
Irvine, CA
Tel: 949-223-3141
Web: www.burkert-usa.com
Paddlewheel flow sensor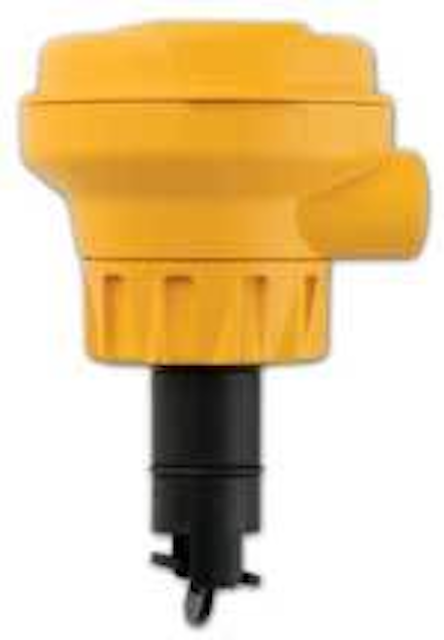 Click here to enlarge image
GF Piping Systems has added the Signet 2537 Paddlewheel Flow Sensor Series to its line of flow monitoring and process control instrumentation. These blind flow sensors combine the company's paddlewheel sensing technology with a variety of output options in a single unit that reduces overall system costs by eliminating the need for unnecessary components. Output options include 4-20mA, pulse divided, Signet S3L data link and several other output configurations.
George Fischer Inc.
Tustin, CA
Tel: 800-854-4090
Web: www.gfpiping.com
Data management
GEOtivity has announced an organization and operational focus on serving the municipal market. The company offers various wireless flow monitoring and web based data management solutions, including Doppler rainfall forecasting and modeling. In addition, its environmental applications and real time tools can help municipalities manage their wastewater sewer systems, pump station performance, storm pond performance, EPA/MOE public notification and drinking water quality and flow.
GEOtivity
Tel: 866-722-3261
Web: www.geotivity.net
Flow logger
Click here to enlarge image
Global Water's FL16 Water Flow Logger is designed for applications such as inflow & infiltration studies, stormwater and wastewater collection systems, open channels, and a host of other gravity flow systems. No confined space entry is required for sensor deployment. The non-fouling water level sensor works in depths as little as ½" and allows for deployment in manholes and other difficult to access areas without the need to enter the confined space.
Global Water Instrumentation
Gold River, CA
Tel: 800-876-1172
Web: www.globalw.com
Differential transmitter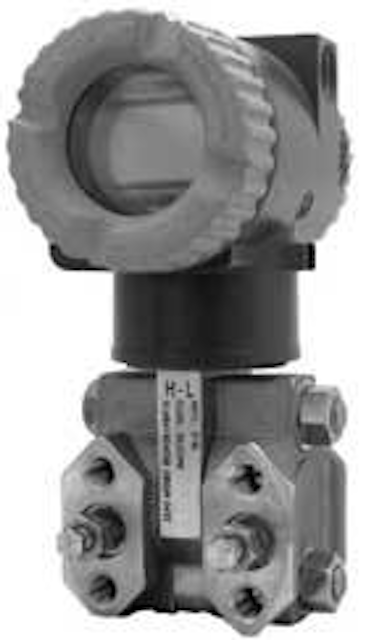 Click here to enlarge image
GP:50 offers a Model GPIDP "Smart" Differential Transmitter for flow, level or pressure measurement. The transmitter offers flow measurement when used in conjunction with an Orifice plate or Venturi for either blower air flow for aeration or water flow through a pipeline. The front accessible pushbutton adjust allows for zero suppression or elevation in applications such as bowl level on a water tower.
GP:50
Tel: 877-774-4751
Web: www.GP50.com
Flow, level sensor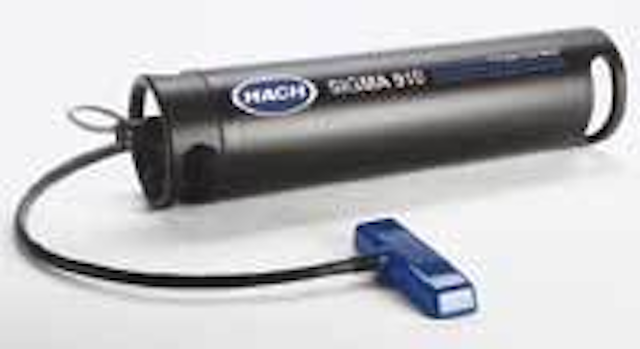 Click here to enlarge image
The new Hach Sigma AV Flow and Level sensor was developed to withstand harsh environments typical of collection systems. The sensor provides clean velocity signals across a wide range of flow situations. Large acoustic crystals provide strong echo signals and an improved pressure transducer provides better level performance. The shape of the probe minimizes flow disturbance. Two interchangeable cover plates make it adaptable to site conditions.
Hach Co.
Loveland, CO
Tel: 800-227-4224
Web: www.hach.com
Submersible transmitters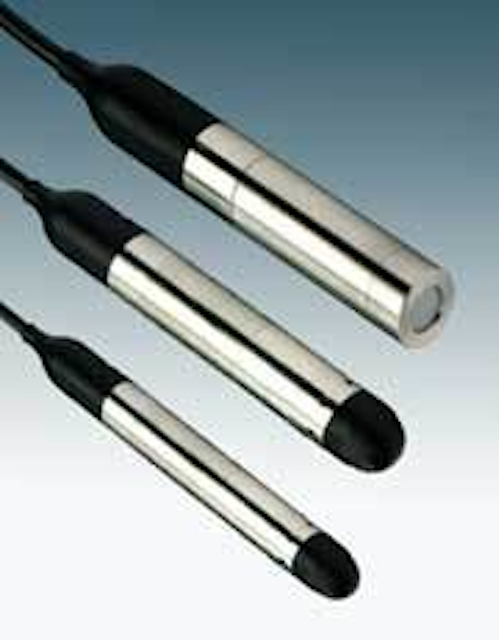 Click here to enlarge image
PMC VersaLine Series submersible transmitters are specifically designed for depth and level measurements of groundwater, wastewater, and sea water. Typical applications are wells, dams, irrigation, sewage lift stations, rivers and oceanography. Available in ¾" and 1" diameter configurations, the titanium construction is ideal in brackish, sea water, or other chemical environments unsuitable for stainless steel.
Process Measurement & Controls Inc.
Danbury, CT
Tel: 203-792-8686
Web: www.pmc1.com
Vortex shedding flowmeters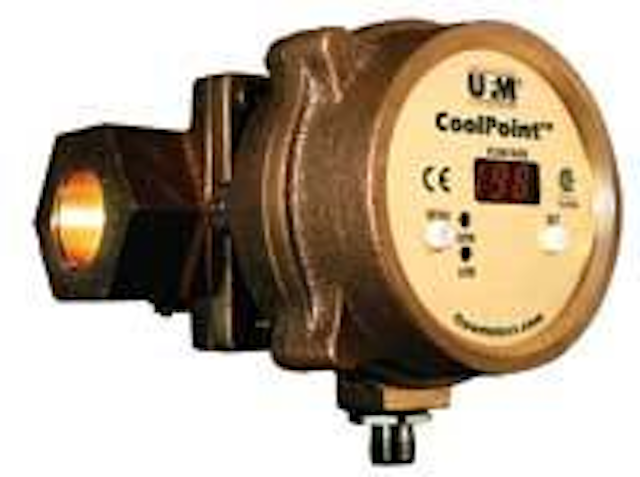 Click here to enlarge image
Universal Flow Monitors offers CoolPointTM vortex shedding flowmeters for measuring and monitoring flow rates of drinking water in municipal "water add" applications. The flowmeters are designed for water flow consistency in applications requiring addition of chemicals to the water. Consistency is provided by the meters' high repeatability (±1 percent of actual flow) and accuracy (±2 percent of actual flow). Using the meters to monitor the water flow rate helps determine the correct rate for adding the chemicals.
Universal Flow Monitors Inc.
Hazel Park, MI
Tel: 248-542-9635
Web: www.flowmeters.com
Submersible pressure transducer
Setra Systems has introduced its new Model 595 digitally compensated submersible pressure transducer. The transducer's integral specific gravity compensation gives a true level reading even when subjected to media temperature changes over the range of +23°F to +113°F, making this unit ideal for groundwater monitoring, sewer flow monitoring, storm water studies, stream flow monitoring, infiltration/inflow studies, pump tests, irrigation, flood warning, sea level, tide and wave monitoring applications.
Setra Systems Inc.
Boxborough, MA
Tel: 800-257-3872
Web: www.setra.com
Multifunction hybrid flowmeter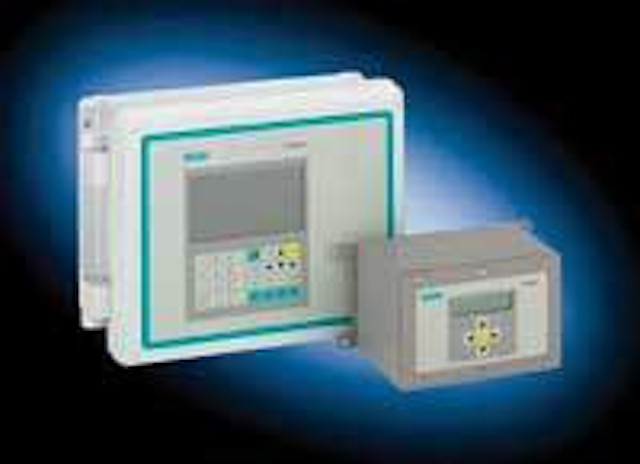 Click here to enlarge image
The SITRANS FUS1010, available from Siemens, provides non-intrusive mass and volumetric flow measurement in full pipes. It is simple to install; no pipes are cut or operations interrupted. The unit is field programmable for two modes of operation: Wide-BeamTM Transit-Time or Reflexor (Fast Fourier Transform Doppler) for quick adaptation to changing conditions.
Siemens Energy & Automation
Hauppauge, NY
Tel: 800-275-8479
Web: www.siemens.com
Level switches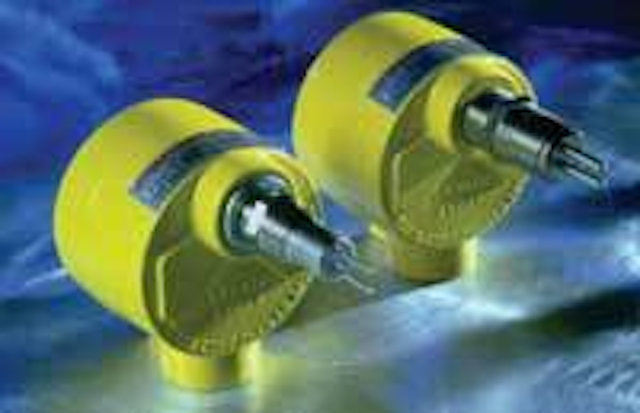 Click here to enlarge image
Two level interface configurations for high pressure and/or fast response water and wastewater applications are available with the multifunction Flow/Level/Temperature (FLT) Switch Series from Fluid Components Intl. The FlexSwitch FLT Series features a unique design that monitors flow, level or temperature and can perform flow or level sensing along with temperature measurement simultaneously.
Fluid Components International
San Marcos, CA
Tel: 800-854-1993
Web: www.fluidcomponents.com
Flow meter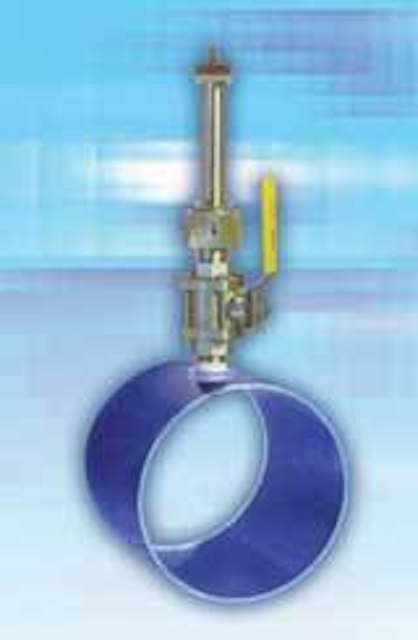 Click here to enlarge image
McCrometer's Marsh Single-MagTM Flow Meter is a solution for measuring liquid flows in closed conduits in municipal water and wastewater applications. The meter, with its unique electromagnetic technology, serves in pressurized line applications from 2" to 96". It provides a flow accuracy of ±2% of reading, ± zero stability at -3 to +10 feet per second and operates over a flow range of -5 to +20 feet per second.
McCrometer
Hemet, CA
Tel: 951-652-6811
Web: www.mccrometer.com
Differential pressure flow meter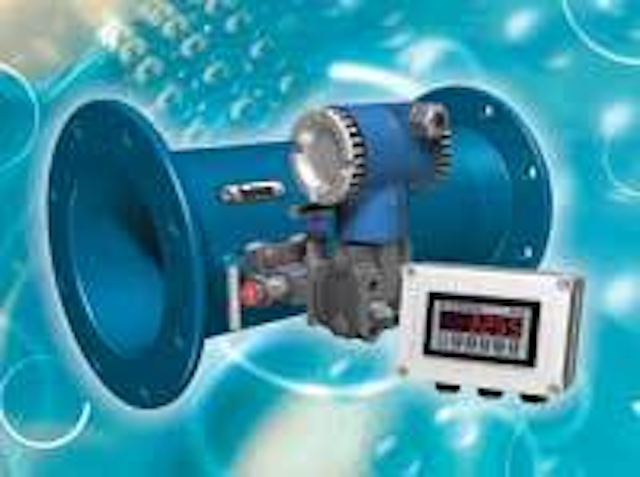 Click here to enlarge image
With its advanced differential pressure flow technology the new V2 SystemTM Flow Meter from McCrometer features built-in flow conditioning and requires minimum upstream/downstream straight-run piping when installed. The meter is suited for a wide range of clean water and wastewater treatment applications. The system shines in line sizes from 4" to 18"
McCrometer Inc.
Hemet, CA
Tel: 800-220-2279
Web: www.mccrometer.com
Level logger

Click here to enlarge image
Designed for recording water levels and temperatures in wells, streams, lakes, wetlands, and tidal areas, the Onset® HOBO Water Level Logger is a pressure-based water level recording device. The logger operates as a stand-alone unit and does not rely on vent tubes and desiccant packs for operation, simplifying deployment and eliminating many maintenance issues.
Forestry Suppliers Inc.
Jackson, MI
Tel: 800-360-7788
Web: www.forestry-suppliers.com
Meter flow testing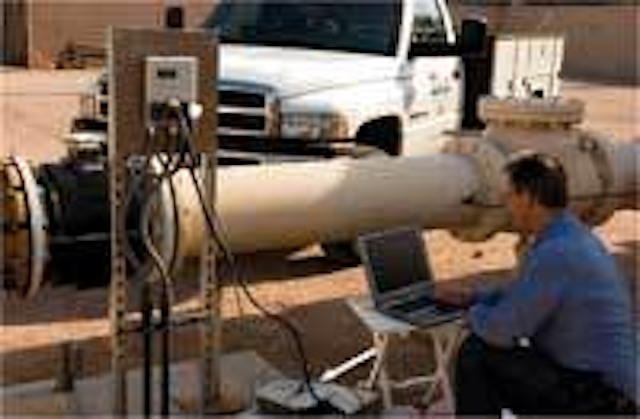 Click here to enlarge image
The CalMaster calibration system from ABB is designed to provide an in-situ check on magnetic flowmeter accuracy, comparing it to the original factory conditions. The technique does not require access to the flowmeter sensor or disruption of flow.
ABB Instrumentation
Warminster, PA
Tel: 800-922-2475
Web: www.abb.us/instrumentation
Pressure transducer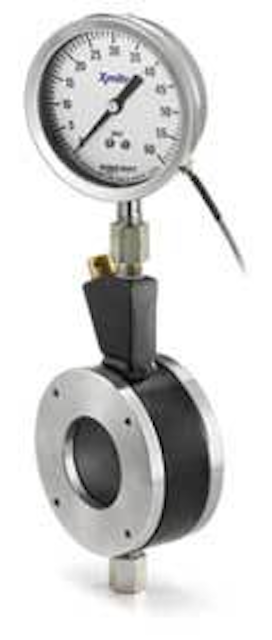 Click here to enlarge image
The new Ashcroft® XmitrTM combines the advantages of the company's PowerFlexTM pressure gauge with patented transducer technology to create a single, dual-function instrument. With only half the number of instruments to install, it reduces the cost of purchasing, installing and calibrating multiple instruments. Serving as "2 instruments in 1", the type X1009 provides traditional transducer features including 4-20 mA and voltage outputs, CE ratings, and 1% BFSL accuracy with electronic temperature compensation from -20°C to 85°C.
Ashcroft
Tel: 800-328-8258
Web: www.ashcroft.com
Acoustic wave transmitter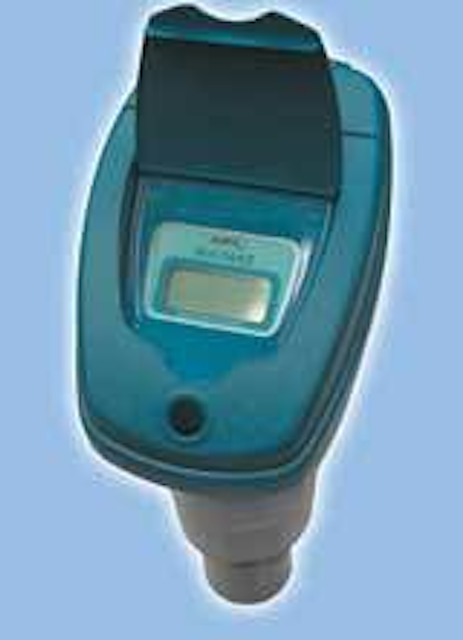 Click here to enlarge image
Hawk Measurement Systems, a provider of level and flow measurement technology, offers the new Sultan Series non-intrusive acoustic wave transmitter. Featuring non-contact measurement, the series is suited for level measurement in harsh environments. A combination of low frequency, high power and Adaptive Gain Technology allow it to measure vapors, dust, solids and liquids in a wide spectrum of industries, including water and wastewater.
Hawk Measurement Systems
Middleton, MA
Tel: 888-429-5538
Web: www.hawkmeasure.com
Level, flow measurement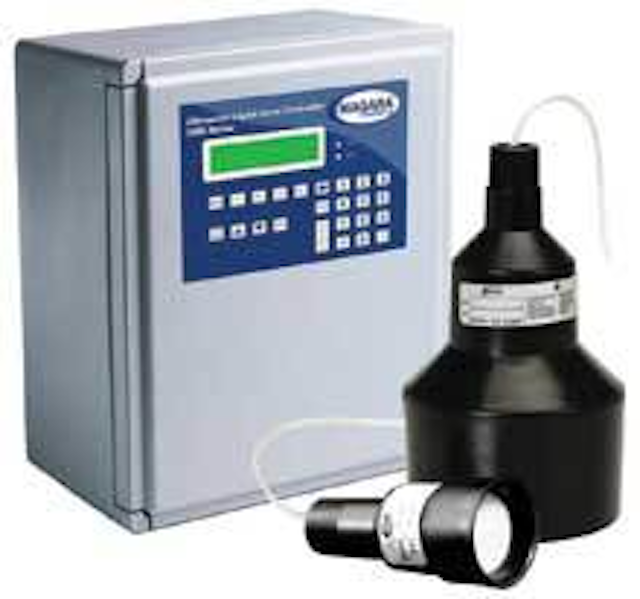 Click here to enlarge image
Niagara Meters has released its new 5600 Series, a duel use system that is an ultrasonic liquid level and an open-channel flow controller. The non-contact system is not affected by grease, suspended matter, silt or corrosive chemicals. It is easy to set up and can provide level and flow information within minutes.
Niagara Meters
Spartanburg, SC
Tel: 800-778-9251
Web: www.niagarameters.com
Depth, temperature sensors
Turner Designs' new submersible C6 Multi-Sensor Platform is designed for extended or short-term deployments. Each platform comes with a factory installed depth and temperature sensor at a depth rating of 600 meters. The C6 WindowsTM based user interface allows for calibration, data logging, and data management. The submersible battery pack and mechanical wiper allows for deployments longer than 85 days at 15-minute sampling intervals.
Turner Designs
Sunnyvale, CA
Tel: 408-212-4048
Web: www.turnerdesigns.com
Sludge blanket monitor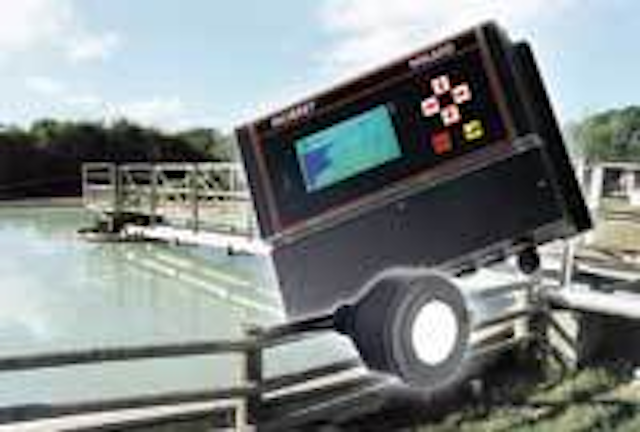 Click here to enlarge image
The Mobrey MSL600 Level Monitor from Emerson provides continuous monitoring of the sludge blanket in municipal water and industrial effluent settling tanks. The device combines a self-cleaning ultrasonic transducer and intelligent bridge-mounted control unit. The control unit mounts on the tank bridge using a provided bracket.
Emerson Process Management
Chanhassen, MN Tel: 800-999-9307 Web: www.mobrey.com
Insertion mag meter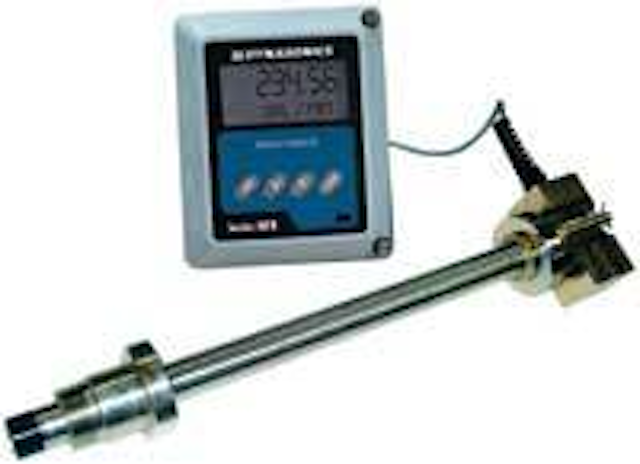 Click here to enlarge image
Dynasonics offers a redesigned probe tip on the DMP Insertion MagProbe series. The new "flat tip" design allows the use of larger conductors, which will reduce fouling in applications where suspended solids are present. This type of meter can be universally applied to a large range of pipe sizes without hardware changes, unlike the specific internal pipe dimension design of traditional magnetic meters.
Dynasonics
Racine, WI
Tel: 800-535-3569
Web: www.dynasonics.com
Transit-time flowmeter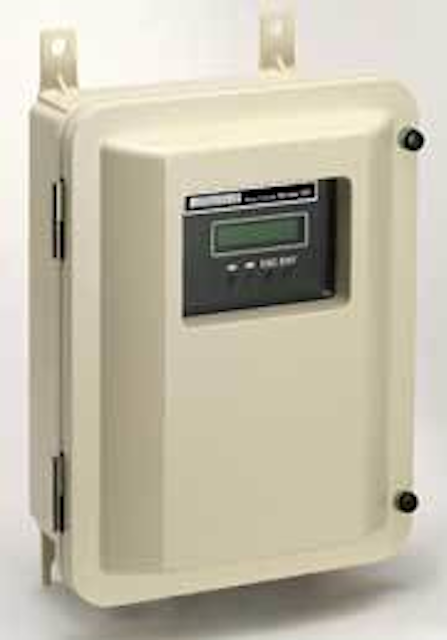 Click here to enlarge image
The Accusonic Model 797 is a permanent Clamp-on Transit-Time Flowmeter. The system measures flow rate and total flow in full pipes ranging from 1" to 236" without pipe disturbance or pressure loss. The meter is capable of 1-path, 2-path, or 4-path flow measurement to reduce the affects of distorted flow profiles and cross flow.
Accusonic Technologies, A Div. of ADS LLC
West Wareham, MA
Tel: 508-273-9600
Web: www.accusonic.com
Flow monitoring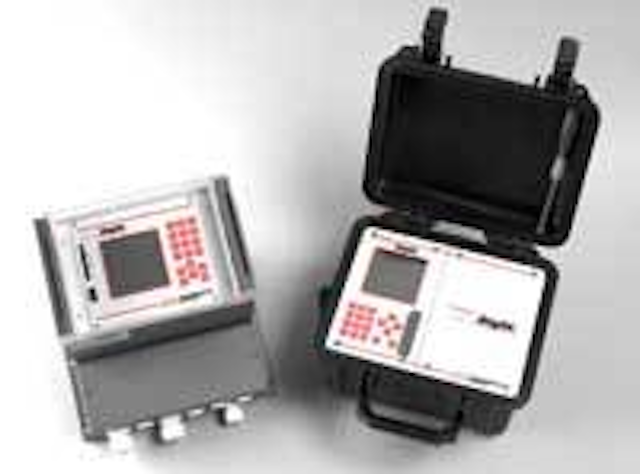 Click here to enlarge image
The FlowShark Pulse and Portable FlowShark Pulse are wastewater monitors featuring gated cross-correlation technology with digital pattern detection. Designed for ease of use, they are ideal for demanding monitoring applications where hydraulic conditions are not suited for general purpose technologies. Also included in the family of monitors from ADS is the single and dual channel area velocity flow monitors, FlowShark, and new handheld velocity monitors, the FlowShark HV.
ADS Environmental Services, A Div. of ADS LLC
Huntsville, AL
Tel: 256-430-6537
Web: www.adsenv.com