PRODUCT SHOWCASE
Thompson Pump & Manufacturing has released its Arctic KnightTM cold weather pump package.
Jan 1st, 2007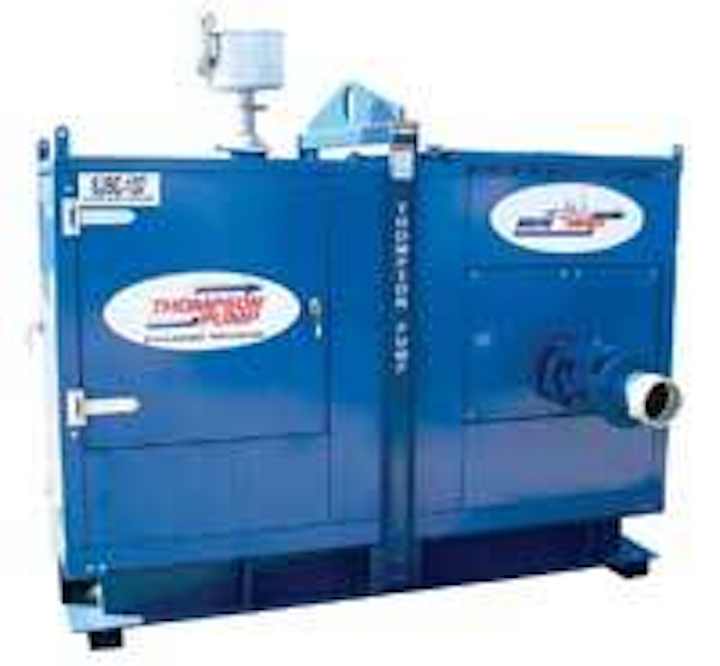 Cold weather pump package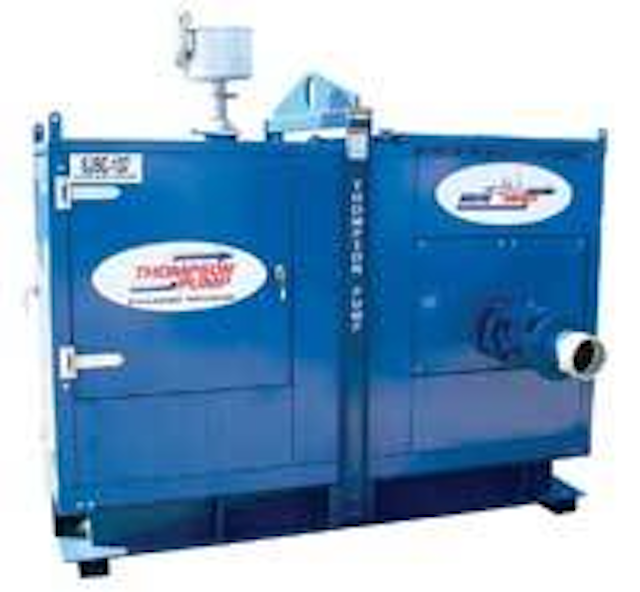 Click here to enlarge image
Thompson Pump & Manufacturing has released its Arctic KnightTM cold weather pump package. The system allows a diesel-driven pump to be used in climates as cold as 40 degrees below 0 Fahrenheit. The system eliminates the traditional problems of operating pumps in cold climates such as frozen liquids in the pump, cracked pump housings, and engine starting problems. The package also eliminates the need for accessory items such as block heaters, fuel heaters, and glow plugs. The system is completely independent and does not require other equipment such as generators or auxiliary heaters to operate. No modifications are needed for the pump to operate in temperatures ranging from 40 degree below 0 to 110 degrees Fahrenheit. In fact, the actual desired temperature inside the enclosure can be pre-set and locked to allow for the most efficient operation.
Thompson Pump & Manufacturing
Port Orange, FL
Tel: 386-944-4145 Web: www.thompsonpump.com
Water quality monitoring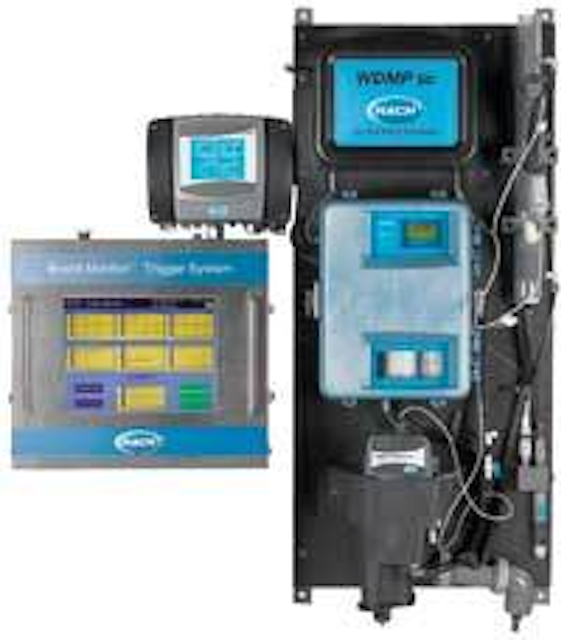 Click here to enlarge image
Hach Homeland Security Technologies has introduced its improved WDMP sc Water Distribution Monitoring Panel. The new panel is smaller, lighter, and easier to use then the previous version and can now fit down a manhole. The newly designed sensor manifold makes adjusting flow meters a thing of the past. The calibration shelf makes calibrations more convenient and comfortable for staff. The self-contained panel features field-proven instruments that can be used to identify the presence of unintentionally or intentionally introduced contaminants or operational failures which can be detected by significant deviations from a normal baseline.
Hach Inc.
Loveland, CO
Tel: 800-227-4224
Web: www.hach.com
Fluorescent vests
The Safety Flag Co. offers highly visible fluorescent and reflective Surveyor's Vests in five sizes. Multi-pocketed, the vests are suitable for use by utility workers, EMS and security personnel, and others who want side pockets with Velcro-tabbed flaps and breast pockets sectioned for pens, pads, radios, lights, flares, ordnance or other gear. The vests are made entirely of highly visible fluorescent green or fluorescent orange fabric, with maximally bright microprism light-reflecting stripes around the waist, across the chest and over the shoulders all the way down to the back hem. They zip up in the front with a non-corrosive zipper, and are entirely waterproof and mildew-resistant. They can be custom-imprinted.
Safety Flag Co.
Pawtucket, RI
Tel: 401-722-0900
Web: www.safetyflag.com
Multi-gas monitor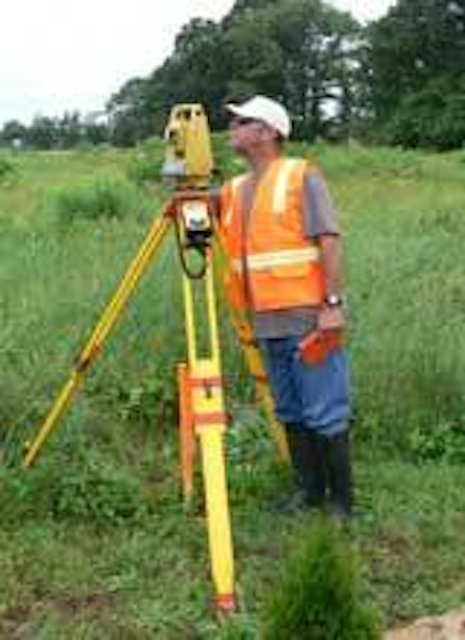 Click here to enlarge image
GfG Instrumentation's G450 multi-gas monitor is suited for use in confined space and open areas. It is compact and can detect O2, H2S, CO and combustible gases. It features AutoCal automatic calibration and a 103db alarm buzzer. It weighs only 10 ounces with its integral rubberized housing. The device's pre-calibrated sensors provide precise readings and have a long sensor life; decreasing the cost of ownership. They are warranted for a full three years. Operation time is up to 30 hours, depending on the frequency and duration of alarms. Batteries are fully recharged in four hours with the optional NiMH battery pack.
GfG Instrumentation Inc.
Ann Arbor, MI
Tel: 734-761-5168
Web: www.gfg-inc.com
Backup pumping system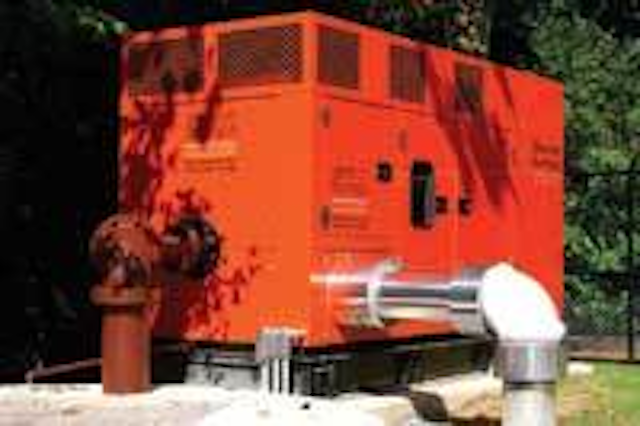 Click here to enlarge image
The Godwin Dri-Prime Backup System (DBS) for municipal lift stations provides independently powered pumping in one package. It goes into operation to prevent spills during an emergency which may be caused by primary power, switch gear, or sewage pump failures in the lift station. The backup pumping system also can be used for primary pumping needs when the lift station undergoes routine maintenance and repairs. The systems can be powered by diesel or natural gas engines. The Dri-Prime is an automatic self-priming pump capable of lifts to 28 feet of static suction. At no time is it necessary to add water to the pump to initiate priming.
Godwin Pumps
Bridgeport, NJ
Tel: 856-467-3636
Web: www.godwinpumps.com
Electronic locks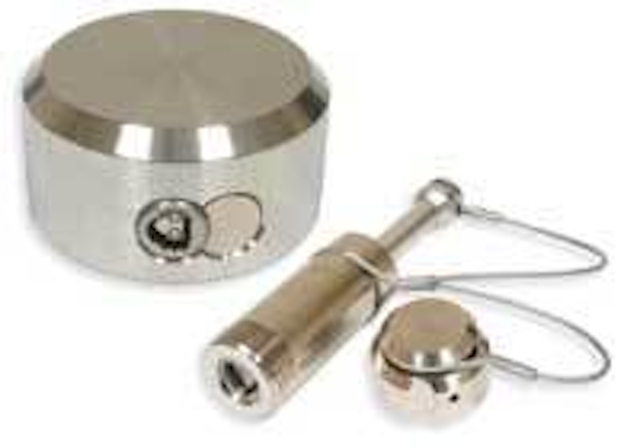 Click here to enlarge image
CyberLock® electronic access control technology from Videx has been incorporated into two new padlocks: the Hockey Puck and the Bar Bell. The electronic Hockey Puck Padlock has a stainless steel body that completely surrounds a stainless steel shackle when closed. Its buried shackle prevents attacks from bolt-cutters. The electronic Bar Bell Padlock has a stainless steel core and locking post. It is environmentally sealed with "O" rings to prevent water and dirt from reaching the inner core of the lock. The design of these intelligent padlocks allows them to perform in wet, corrosive environments. The Hockey Puck has anti-drilling features built into its core and the stainless steel construction makes it resistant to the harsh conditions experienced at water treatment facilities. The Bar Bell has a screw-on waterproof cap and stainless steel locking post.
Videx
Corvallis, OR
Tel: 541-758-0521
Web: www.videx.com
Flow meter

Click here to enlarge image
Racine has modernized its RNL insertion-style liquid vortex flow meter line with updated electronics and an onboard display. The new meter includes programmable software, 10-point linearization, and diagnostic tools, all accessible through an external keypad. The insertion-style flow meter is designed to provide accurate measurement in low-viscosity liquid applications. The meter has no moving parts and is virtually maintenance-free. It fits pipe sizes of 4" and higher. The meters are DC-powered with 4-20 mA output and may also be configured for 3-wire frequency pulse output.
Racine Federated Inc.
Racine, WI
Tel: 888-572-2463
Web: www.racinevortex.com
Valve shutoff system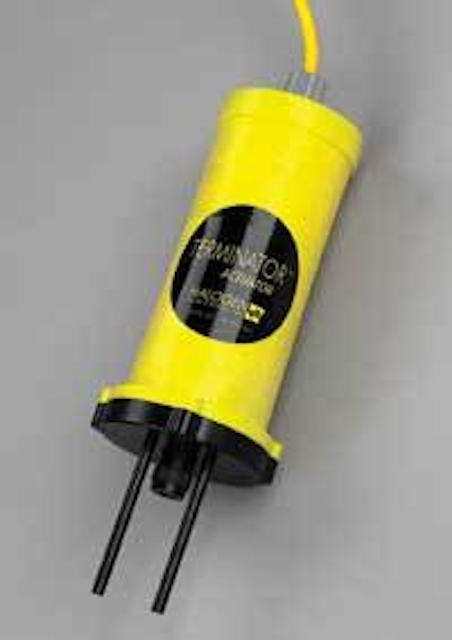 Click here to enlarge image
The Terminator emergency shutoff system sequentially closes 150 lb. cylinder valves containing toxic gas in less than three seconds when activated from remote sensors and switches. The Gemini controller has a self-contained battery system that guarantees the operation of the motorized closing mechanism even during a power failure. The latest Fire Codes recognize and approve the "automatic-closing fail-safe shutoff valve" system in lieu of scrubber treatment systems. The dual-torque microprocessor controlled system applies 40 foot-pounds of torque for test closures and 40 foot-pounds of torque for emergency closures of the cylinder valve.
Halogen Valve Systems
Irvine, CA
Tel: 877-476-4222
Web: www.halogenvalve.com