Guide helps consumers compare magnetic flowmeters
The Consumer Guide to Magnetic Flowmeters provides objective third-party assessment of specifications of flowmeters available in the international water equipment market.
Dec 1st, 2003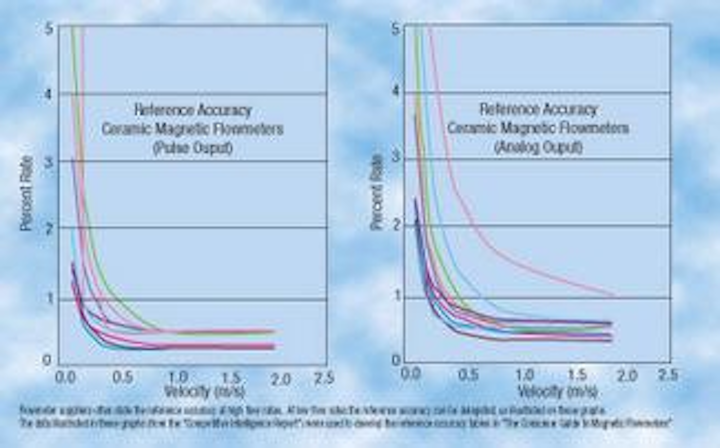 By David W. Spitzer
One problem that users and specifiers of flowmeters face is the difficulty in comparing the specifications and performance of different flowmeters. Specifications are often written to emphasize positive features and minimise negative features.
The Consumer Guide to Magnetic Flowmeters, now in its second edition, is the first in a series of guides that was written by David W. Spitzer and Walt Boyes to provide end users and specifiers of flowmeters with thorough, objective, third-party assessment of specifications of all flowmeters available on the global market.
A common perception within the instrumentation, systems, and automation industry is that magnetic flowmeters have become a commodity product; their specifications and performance are almost equal. This has made it difficult for users and manufacturers to differentiate magnetic flowmeters. Consequently, manufacturers have reduced prices and stifled new product development across the product niche in order to compete. High development costs cannot be justified to develop innovative products in a market where the only differentiation is on price.
Recent information developed in the course of doing research challenges the perception that magnetic flowmeters are, or should be considered, a commodity product. Originally, Spitzer & Boyes, LLC collected data on 43 companies worldwide that sell magnetic flowmeters. Twenty-six companies manufactured magnetic flowmeters, with the remainder private-labelling them from one or more manufacturers. When the study was complete, the list expanded to more than 60 companies worldwide, including companies in Eastern Europe, China, and India.
All but a few of the companies provided product specifications. Their raw information was tabulated on over 150 data sheets that were developed specifically for this purpose. The types of magnetic flowmeters were further organised into categories (see sidebar). Within each category, each model was compared on the basis of its published performance specifications. If there appeared to be an omission or inconsistency in a published specification, further clarification from the supplier was sought.
Tabulated and graphical performance data revealed significant differences between models and manufacturers of magnetic flowmeters. Some magnetic flowmeter performance was two to three times poorer than that of other flowmeters in the same category (see chart).
The calculations illustrate much of the reason why magnetic flowmeters might be perceived as a commodity product. Magnetic flowmeter performance specifications are often intricate, yet suppliers often simplify them to reflect performance only under the best operating conditions. So incredibly "simple" have things become that some suppliers cannot quantify the accuracy of the analog output signal. Yet this is important, since the analog output is the signal most commonly used to control the process.
End-users and consulting engineers who know that several suppliers offer identical equipment (except for nameplate) will be able to better control whose equipment they purchase, and at what price. To simplify these relationships, the flowmeter categories were tabulated by supplier along with country of origin and/or source of manufacture.
To help select the best equipment for an application, users would also like to know which models perform better in a given category of magnetic flowmeters. To this end, within each category, each model was ranked in order of its calculated performance.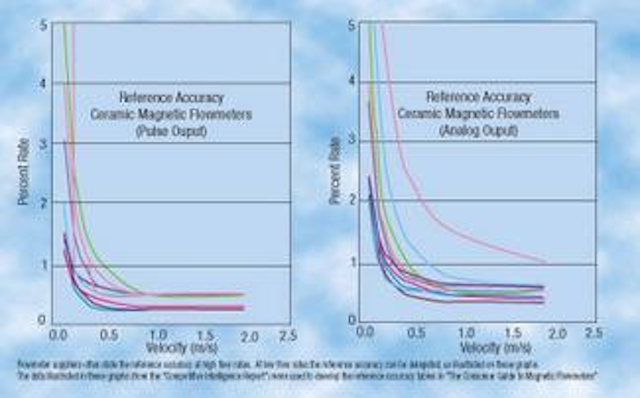 Click here to enlarge image
The guide concludes, "...while there are differences in the electronic features associated with different transmitters, flowmeter performance at reference conditions was found to vary widely. Differences were especially significant at low flow conditions that are commonly encountered in actual flowmeter operation."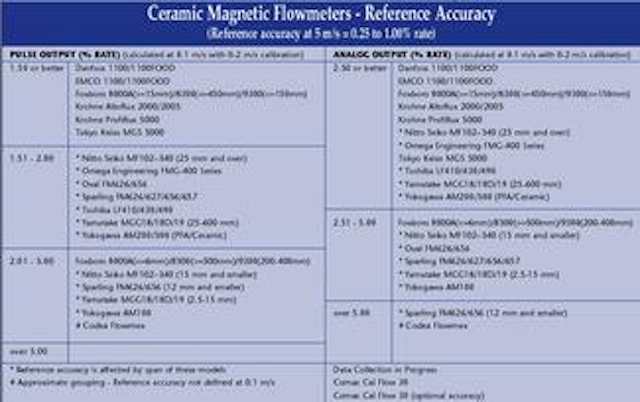 Click here to enlarge image
This book series is unique in providing this comparison data. Some buying patterns and marketing strategies may be altered as an outcome of the research. The report will be updated on a continuing basis because of dynamic changes in the flowmeter marketplace due to acquisitions, product additions and deletions.
---
Magnetic Flowmeter Categories
Ceramic-lined. Ceramic magnetic flowmeters have abrasion-resistant liners typically made of alumina ceramic instead of the typical elastomer linings usually found in magnetic flowmeters. They often permit higher temperature operation, and because their electrodes are typically part of the ceramic substrate, they tend not to offer a leak path between the electrode and liner.
Electrodeless. So-called "electrodeless" magnetic flowmeters employ electrodes that are not in direct contact with the fluid. These electrodes are either embedded in the liner or located behind the liner, and are usually capacitatively-coupled to the flowing liquid.
Low flow. Low flow magnetic flowmeters include sizes below 12 mm (0.5 inch) in diameter. Many have ceramic linings with embedded electrodes.
Medium flow. Medium flow magnetic flowmeters include flanged and wafer-style meters that are between 0.5 inch (12 mm) and 300-450 mm (12-18 inch) in diameter. A large number of magnetic flowmeter models fit into this category.
High flow. High flow (over 300-450 mm/12-18 inch) magnetic flowmeters are larger in size, ranging to over 2 meters in diameter.
High-noise. Many liquids, including slurries, produce signals that contain large amounts of noise. These magnetic flowmeters are designed to produce usable flow measurements even in high-noise environments.
Low-conductivity. Traditionally, magnetic flowmeters could not be used for liquids having an electrical conductivity of less than about 5-20 uS. Several designs permit measurement of fluids with conductivities far less than the traditional level.
Partially-full. Many conduits, especially in wastewater and storm water runoff applications, are only full part of the time. Partially-full magnetic flowmeters are designed to measure flow using both liquid velocity and liquid level to determine flow rate when the conduit is completely not full of liquid.
Fast response. While many applications find the response time of traditional magnetic flowmeters suitable to the service, other applications require measurement where flow changes rapidly, or where the duration of the flow may be on the order of only a few seconds. Fast response magnetic flowmeters are designed to quickly respond during these short time periods.
Sanitary. Sanitary magnetic flowmeters are designed and fabricated with materials and finishes that allow application in the food and pharmaceuticals industries where they may be cleaned in place (CIP) or steamed in place (SIP) to reduce or remove bacterial contamination.
Two-wire. Traditionally, to generate a sufficient magnetic field, magnetic flowmeters required separate wiring to a source of power in addition to analog signal wiring. Two-wire, or loop-powered magnetic flowmeters are designed to operate on the power available from the loop power supply. Most two-wire designs run on available 4-20 mADC loop power, but some designs require higher power levels to operate over two wires.
---
Books in the series:
The Consumer Guide to Coriolis Mass Flowmeters
The Consumer Guide to Differential Pressure Flow Transmitters
The Consumer Guide to Magnetic Flowmeters
The Consumer Guide to Ultrasonic Flowmeters (available early 2004)
The Consumer Guide to Vortex Shedding and Fluidic Flowmeters
All of these books are available at the ISA Bookstore (www.isa.org).
---
Author's Note
David W. Spitzer has more than 25 years of experience in specifying, building, installing, start-up and troubleshooting process control instrumentation. Mr. Spitzer is a member of ISA, and belongs to ASME MFC and ISO TC30 committees. He has published a number of books concerning the application and use of fluid handling technology, including "The Consumer Guide to..." series. Mr. Spitzer is currently a principal in Spitzer and Boyes, LLC, based in Chestnut Ridge, New York.