Product Focus: Instrumentation and Monitoring
Dec 1st, 2007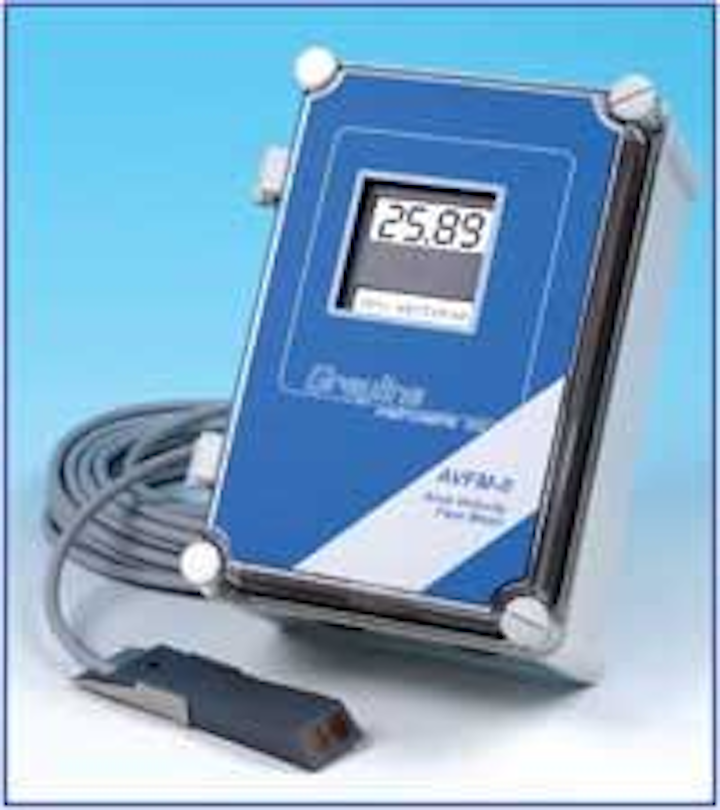 Flow monitoring
Greyline offers new flowmeters designed for municipal stormwater, combined effluent, raw sewage and irrigation water. The company's new AVFM-II uses a submerged ultrasonic sensor to continuously measure both velocity and level in a channel. The sensor is resistant to fouling and corrosion. It can be configured with the standard submerged velocity/level sensor, or with submerged velocity and a separate non-contacting ultrasonic level sensor. It includes flow rate display, totalizer, three 4-20 mA outputs and two control relays. Intrinsically safe sensors and built-in data logger are optional. The company's Stingray Level-Velocity Logger is designed for flow surveys, I&I studies or locations without power. It includes a submerged ultrasonic sensor to measure both velocity and level in the channel. No calibration is required. It operates up to 4 years powered by standard Alkaline D-cell batteries. Electronics are housed in a watertight IP67 enclosure and rated for operation from -4°F to 140°F.
Greyline Instruments Inc.
888-473-9546
www.greyline.com
Rainfall data logging
Onset Computer Corp. has introduced the Hobo® RG3, a new rainfall data logging system that combines a data logging rain gauge with a built-in data logger. The system enables stormwater managers and others to record rainfall data right out of the box without having to purchase and integrate multiple components. It records data with each tip of the rain gauge bucket - ideal in situations where peak rainfall rates need to be determined - and an internal temperature sensor enables the logger to be used in a solar radiation shield to measure temperature. The logger offloads data to a PC via an optical interface suitable for use in wet environments. It offers twice the memory of previous versions, enabling users to record up to 160" of rainfall data with a 0.01" rain gauge. Additionally, because rainfall data is stored as rain gauge "tips," memory is not used up during periods of no rain.
Onset Computer Corp.
800-564-4377
www.onsetcomp.com/hobo
Process gauge
Ashcroft® 1200 series (ASME grade 2A) pressure gauges each provide the distinct capabilities necessary to monitor pressures in nearly every type of process. In basic applications, the rugged Ashcroft® Type 1259 is the economical choice for years of dependable service. In more rigorous installations, the Type 1279 Duragauge® pressure gauge is designed for use in the presence of harsh pressure media, fire hazard or extreme cycle volumes. Add pulsation and vibration, and the Type 1279 Duragauge® PLUS! pressure gauge offers patented technology to dampen pointer flutter without the need for liquid fill.
Ashcroft
800-328-8258
www.ashcroft.com
Water quality measurement
Myron L's TechPro II instruments have all the functionality of the previous TechPro line but have been completely redesigned to include new and improved features with greater performance. The TP1, TPH1, and TH1 deliver the accurate, precise, repeatable results required in critical water quality parameter measurements of conductivity and TDS (TP1 and TPH1), pH (TPH1 and TH1) and temperature. All TechPro II models are waterproof, buoyant, easy-to-use, and easy-to-calibrate. The rugged exterior protects internal electronics and fits comfortably in your hand. Lightweight and completely portable, these instruments are ideal for use in the field, while the highly stable circuitry gives you the results you need in the lab. All instruments are backed by a Two-Year Limited Warranty and lifetime service and technical support.
Myron L Company
760-438-2021
www.myronl.com
Handheld instrument
YSI has launched its YSI Professional Plus handheld instrument, a compact handheld that offers multiple, compatible options in probes, cable lengths, and accessories. Users can instantly change probes and cables, leaving them to determine what they want the instrument to measure and display. Additional features include: measurements for ammonium, chloride, conductivity, DO, nitrate, ORP, pH, lab BOD, and temperature; 2,000 data-set memory with GLP event logging; interval, single-event, or real-time logging capability; user-selectable cable lengths and probes compatible on one instrument; easy-to-use software to manage data or set up your instrument; on-screen Help functionality; backlit display and keypad; and 3-year instrument warranty and 2-year rugged field cable warranty.
YSI Environmental, a division of YSI Incorporated
Yellow Springs, OH 800-897-4151
www.ysi.com/proplus
Ultrasonic flow meter
Sierra Instruments has developed the Innova-Sonic® In-Line Ultrasonic Flowmeter to counter limitations of magnetic flow meters, such as in measuring nonconductive liquids, distilled water and many nonaqueous solutions. Capable of accurately measuring (within 0.5% of reading) any clean liquid, Sierra's Innova-Sonic is a state-of-the-art Digital Correlation Transit-Time Ultrasonic flowmeter designed to give the end-user high performance at an affordable price. The instrument is designed specifically to compete head to head as an alternative choice or replacement for magnetic flowmeter applications.
Sierra Instruments
Monterey, CA
831-373-0200 www.sierrainstruments.com
Flow monitoring
The ADFM® Pro20, available from Teledyne Isco, is designed for use in large pipes and channels, delivering flow rate data within 2% of actual value, in flow depths up to 20 feet. Four piezoelectric ceramics in the sensor emit short pulses along narrow acoustic beams pointing in different directions to measure velocity. A fifth ceramic mounted in the center of the sensor assembly, and aimed vertically, is used to measure the depth. Each acoustic beam measures velocity at multiple points, known as bins, in the water column. The measured velocity data within each bin are very precise - to within 0.01 ft/s. This distribution of accurate velocity measurements is then used to determine the flow pattern over the entire cross-section of flow. Since the flow pattern and measured velocity distribution are dependent on each other, the ADFM's advanced flow algorithms automatically adapt to changing hydraulic conditions within the pipe. This removes the need for in-situ calibration and insures accurate flow rate measurement over a host of different measurement environments and hydraulic conditions. The monitor enclosure houses the signal processing, data logging, and data output electronics. The enclosure is available as a NEMA 4X Box housing, suitable for wall or console mounting in permanent applications, and a NEMA 6P cylindrical housing for use in manholes or other "wet" environments.
Teledyne Isco
800-228-4373
www.isco.com
Stormwater sampler for oil, grease sampling
Nalgene® has introduced a new Stormwater Sampler designed to collect stormwater samples containing organic analytes, including oil and grease. This unique, easy-to-use device enables unattended collection of first flush stormwater grab samples. Users position the Stormwater Sampler in a ditch, stream or storm grate and return after a rain event. The Stormwater Sampler for oil and grease features a glass sample container. It is equipped with a fluorinated plastic dome to which oil and grease will not adhere. The Stormwater Sampler is also available with a high-density polyethylene (HDPE) sample container specified for collecting inorganic analytes. Both models are disposable and eliminate the need for decontamination after use. The samplers collect a full liter of first flush stormwater into a sample bottle. A floating ball valve automatically closes the bottle when it is full, preventing sample dilution.
Nalgene Labware
800-625 4327
www.stormwatersampler.com
www.nalgenelabware.com
Stormwater management
GEOtivity's goal is to provide urban centers with proactive stormwater management tools that allow preventative action to be taken before the storm has even arrived. To this end, the company has developed its Virtual Rain Gauges. The gauges combine live weather surveillance radar data with site rain gauges to produce predictions of storm events. Alarms can be created based on these virtual rain gauges to warn of impending storms. Sewer flow can then be diverted to other routes, thereby preventing overflows.
GEOtivity
866-722-3261
www.geotivity.net
Water sampler
The I-CHEM sampler, available through Forestry Suppliers, collects a full one-liter sample of first flush stormwater within the first 30 minutes of a rain event in compliance with EPA sampling requirements. A floating ball valve seals off the sample collection port to prevent co-mingling with run-off water as well as volatile analyte loss. Water flows through the sampler's collection funnel directly into a Nalgene® sample bottle, so no sample transfer is necessary before transport to the lab. The sampler can be securely mounted in a stormwater ditch, stream, or storm grate outfall.
Forestry Suppliers Inc.
800-360-7788
www.forestry-suppliers.com
Electromagnetic flow transmitter
The Burkert Type 8041 Electromagnetic Flow Transmitter is designed to operate as a transmitter and/or on/off control. Able to function at high temperatures/pressures and compatible with pipe diameters from 1/2'' to 16'', the solid-state sensor Type 8041 is suitable for applications including wastewater treatment and irrigation. Accommodating liquids with a conductivity > 20 μS/cm, the Type 8041 features a -4°F to +302°F medium temperature range and 233 psi maximum fluid pressure capability (with a brass or stainless steel fitting).
Burkert Fluid Control Systems
Irvine, CA
949-223-3100
www.burkert-usa.com
Stormwater flow meter
Facility and infrastructure engineers responsible for pollution and flood control will find the advanced Marsh Multi-Mag™ Flow Meter from McCrometer provides a reliable, scalable and economical solution to measuring and monitoring highly variable flows of stormwater run-off. The Multi-Mag Flow Meter is an advanced multi-point measurement solution that provides unprecedented accuracy in the most difficult flow conditions, such as low flows, wide flow ranges, and flows containing sand and grit. It measures liquid volumetric flow rates in pipes sized from 4'' to 120'' (100 mm to 3000 mm) with a streamlined multi-point technology that creates only negligible pressure loss.
McCrometer
800-220-2279
www.mccrometer.com
Water level logger
The new Levelogger Gold from Solinst offers higher resolution and accuracy of 0.05% for a much reduced price. It features improved transducer, temperature, and clock accuracies. Altitude, water density, temperature and barometric compensations also add to increased accuracy. New user-selectable recording scheduling as well as the standard event-based and linear sampling is one of the added features. Battery life is 10 years, even with recordings every minute. Memory is 40,000 readings of pressure and temperature, displayed as temperature compensated level, with an on-board backup of the last 1200 logs. The stainless steel housing protects against lightning and power surges and the golden zirconium nitride coating gives extra corrosion resistance.
Solinst Canada Ltd.
905-873-2255
www.solinst.com