District Enhances Flow Monitoring to Increase System Efficiency
The Western Carolina Regional Sewer Authority, created in 1925 and known widely as WCRSA, is a special purpose district dedicated to the protection of public health and water resources while providing a valuable service to the area.
Sep 1st, 2008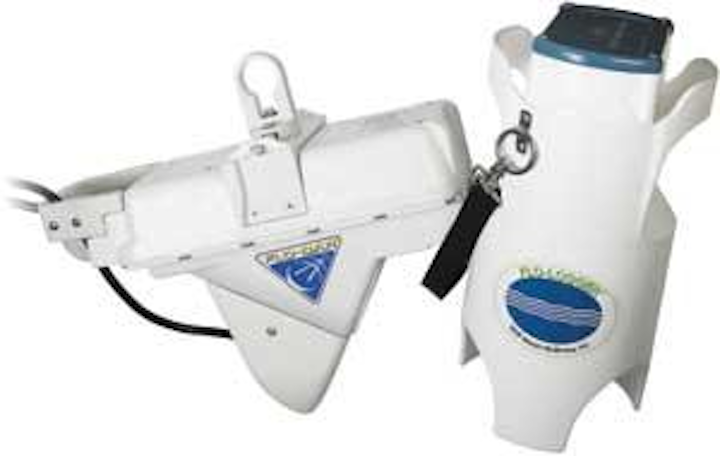 By Sue McHugh
The Western Carolina Regional Sewer Authority, created in 1925 and known widely as WCRSA, is a special purpose district dedicated to the protection of public health and water resources while providing a valuable service to the area. Its service area includes a large percentage of Greenville County, plus small portions of neighboring Anderson, Laurens and Spartanburg Counties. The Authority's over 300 miles of interceptor lines receive wastewater flowing to them through collector lines owned and maintained by 17 sewer sub-districts.
Small Sub-District Handles Flow Monitoring
Inflow and infiltration (I&I) is an issue with WCRSA and the sub-districts, and as a result, sub-districts need to implement plans for rehabilitation and I&I reduction. To operate a wastewater collection system efficiently, access to accurate information is the key component. Having reliable, timely data is vital for system managers if they are to make the best decisions regarding the long-term performance of the system. By having the best information available, managers can ensure they are putting their limited rehab dollars to the best possible use. One important tool available for system managers is flow-monitoring data.
Large amounts of water entering Parker Sewer & Fire District's sanitary sewer system raised flags as to the condition of the system lines. Portable flow monitoring tasks within the District included I&I work relating to maintenance and capacity issues.
In an effort to maintain its sewer lines, Parker Sewer & Fire District has for years been proactively monitoring its sewer flow, primarily as part of an ongoing Sewer System Evaluation Study (SSES). The District owned a small fleet of MarshMcBirney Flo-Totes, one of the original depth/velocity sewer flow meters, and over time found that the flows in a small system were such that they were losing data during times of low flow or especially low level.
The flow level in Parker's system is often at about 1.5 inches throughout the day but can drop below the 1-inch mark in the evening. The inherent problem with traditional area velocity flow sensors is that they must be covered with a minimum depth of flow, according to the manufacturer's specifications, in order to obtain the necessary readings for flow calculations. In addition to this challenge, traditional flow meter sensors that mount on a band in the flow stream require routine and regular maintenance in order to ensure the sensors are performing accurately and are not covered with debris or silt. All flow metering programs utilizing traditional "wetted" sensors face this challenge.
In the late nineties, Marsh-McBirney introduced the Flo-Dar non-contact open channel flow meter. Flo-Dar's uniqueness lies in its ability to monitor flow from above the moving fluid, eliminating maintenance fouling issues typically seen with submerged sensors. Confined space entry can also be significantly reduced since operators have no contact with the sewer flow stream.
Parker initially began ordering 2 to 4 instruments per year to build to their fleet of 16 temporary Flo-Dar flow meters. Since Parker Sewer District began using the meters, it has saved thousands of dollars in maintenance and repeated confined space entry costs at each flow monitoring site. The sensor can safely and easily be removed or re-installed from street level without the need for confined space entry after the initial install.
In 2006, as Parker Sewer District continued to make long-term plans for investing in more flow meters and expanded monitoring areas, it realized the challenges — in addition to regulatory enforcement — that face many small utilities, such as budget constraints, manpower constraints, and resource constraints. The associated costs for small to medium-sized municipalities, towns, and cities that need to perform long-term flow monitoring studies to analyze I&I, Master-Plan, and understand and correct capacity issues include:
Flow meter purchases
Data collection
Sensor cleaning
Meter maintenance
Repair
Confined space entry
One alternative to meter ownership is the turnkey approach provided by some consultants and sewer service firms. Although a viable approach for many utilities, the costs associated with the turnkey approach must be examined for compatibility with the collection system owners' budget. In addition, many firms that provide turnkey flow monitoring services will not mobilize for a small number of meters and prefer to contract for large-quantity metering projects.
Flow meter rentals or lease/purchase fees can quickly add up and are not cost-effective in a long-term monitoring situation. There exists some complexity to most pricing structures for turnkey solutions.
When discussing the Parker Sewer District's equipment requirements for the future, a sewer flow specialist from Heyward Incorporated felt a good alternative would be the MarshMcBirney Data Delivery Services (DDS) offering. The DDS program was specifically designed for utilities faced with challenges such as Parker's, and in exploring the options of either purchasing more meters or contracting for flow meter data, it appeared that DDS would be an ideal solution to meet the needs of a small utility's long-term collection system flowmonitoring goals. Although Parker had been ready to purchase more meters, it realized that properly managing a larger fleet of flow monitors would strain the District's manpower resources.
DDS is a new approach to sewer flow monitoring that provides customers with accurate, unedited data using Marsh-McBirney Flo-Dar flow meters. Flow data is collected by the web-enabled Flo-Dar and sent to operators wirelessly through the Web, and has the ability to send notifications via cell phones, pagers or Web-enabled devices on any parameter that is monitored.
Parker employees asked many questions regarding the cost effectiveness of purchase versus contract. Parker requested a cost analysis of the DDS contract option compared to the purchase of meters. When looking at the analysis results, it became clear that the long-term cost of ownership of purchased meters must be considered in addition to the initial capital outlay. The DDS contract services encompassed many of the "hidden costs" without the added capital outlay. The flat monthly per meter fee included or circumvented many of these expenses. Considering the long-term costs of ownership of purchased meters, the contract DDS option made both fiscal sense and solved Parker's issues for manpower and resources.
Inflow and infiltration work in several collection system basins in the Parker Sewer District would benefit from system-wide long-term flow monitoring in addition to the temporary metering it was already performing. Permanent, semi-permanent, or long-term meters provide a wide range of baseline data — one of the important hydrograph tools for analyzing the impact of I&I.
With DDS the meters are actually owned by Marsh-McBirney/Hach so the District is not responsible for the installation or the on-going maintenance, creating a hands-off flow monitoring experience. Attracted by the DDS approach to flow monitoring, the District is realizing that it's able to free up personnel for other tasks. Parker has found that it's been a cost-effective decision: the District doesn't have to buy all of the meters, doesn't have to pay for the maintenance on them, and doesn't have to provide labor for the metering program. With DDS, the District receives raw flow meter data that can indicate where to invest in repair of the infrastructure, making it an effective tool for asset and capacity management.
Parker Sewer District can now collect flow data from the website and create trend charts by charting the level, flow and velocity. When the District gets a rain event, it can see how much it spikes and the manner in which the flow increases. Parker's engineering department then utilizes the data to understand where further improvements can be made to the system to provide adequate capacity.
The District's flow data is backed-up in a redundant manner. Several months of data is always stored locally at the flow meter in addition to the data backups performed at Hach, which monitors the health and status of all networked flow meters 24/7. Parker Sewer District receives immediate alerts of system failure or any suspected problem.
With the use of Data Delivery Services, Parker Sewer District receives accurate and reliable flow data without the need to perform flow meter maintenance or perform confined space entry. Most importantly, the DDS program has freed up the collection system staff to do the myriad other tasks associated with proper collection system operation and maintenance. uwm
About the Author:
Sue McHugh is a flow meter product specialist with Heyward Incorporated. She is a member of the WEF Collection Systems Committee and a recipient of WEF's Golden Manhole Award.