New Products
Compilation of new products for the industrial water market.
Dec 1st, 2015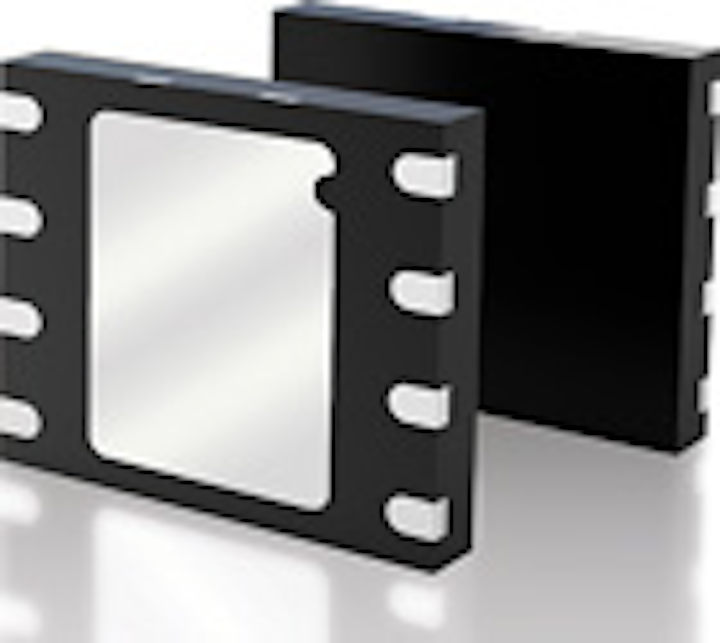 IoT component
Gemalto has introduced the Cinterion® Secure Element, a tamper-resistant component embedded in industrial Internet of Things (IoT) solutions to enable advanced digital security and lifecycle management. The security framework, named Secure Element, serves as the foundation of trust for building the IoT security architecture. The technology meets extreme environmental and longevity requirements from the automotive industry and benefits from smart card level security. This ensures that data is stored in a safe place and access is granted only to authorized applications.
Gemalto
Progressive cavity pump
NETZSCH has introduced a new FSIP (full service-in-place) version of its NEMO® progressive cavity pump. Ideal for wear-intensive applications, the maintenance-friendly FSIP™ design has been re-engineered to provide full access to all the pumps' rotating parts. Users can conveniently open the in-service pump housing, dismantle all rotating parts, and install them again without having to disconnect the pump from the piping or remove the motor. The NEMO's rotor-stator unit can be lifted out after opening the newly designed inspection cover on the pump housing.
NETZSCH Pumps & Systems
pumps.netzsch.com
Pump models
Wilden has announced the release of new Stallion® Original™ Metal AODD Pump models powered by the energy-efficient Pro-Flo® SHIFT Air Distribution System (ADS). Wilden Stallion Series pumps incorporate many unique design features that make the handling and transfer of fluids with high solid content more efficient and effective, including a shock-absorbing polyurethane screen base that absorbs the impact from constant assault by solid particles. The pumps also feature a large internal clearance and flow-through design, an integrated suction strainer, and an altered ball/seat check valve assembly.
Wilden Pump and Engineering
Energy-recovery devices
Danfoss High Pressure Pumps has begun production of its iSave 50 and iSave 70 ERDs. The latest additions to the Danfoss range boost ERD capacity by 75%, so that its highest capacity model now handles flow rates of up to 70 m3 per hour. The new iSaves have an efficiency rate of up to 92%, and just like other iSave ERDs, the new models integrate a highly efficient isobaric pressure exchanger, high-pressure booster pump and motor all in one compact design. They are ideal for plants where space is at a premium.
Danfoss High-Pressure Pumps
Face protection
The Allegro Browguard is lightweight and lenses provide full face and eye protection against spatters, small particles, and non-hazardous liquids. It provides a sleek wrap-around design that can be worn comfortably with impact-resistant safety glasses. The polycarbonate Browguard lenses are available in clear, dark green, IR3, and IR5 and meet ANSI Z87.1 standards. Further, they do not yellow over time, and the Browguard Hardhat Adapter allows users to connect a lens to a hardhat, with flip-up movement and functionality.
Allegro
Radio band receiver
Trimble has introduced the new TMR1 data link, a software-defined industrial, scientific and medical (ISM) radio band transceiver, providing license-free wireless communications around the world. The link offers dual-frequency operation with 902-928 and 865-870 MHz, available throughput up to 2.6 Mbps, and range as high as 70 miles. With the seamless integration of serial and Ethernet, coupled with the high throughput, video can easily be streamed across the data links, or sensors such as flowmeters or temperature/pressure gauges can be installed for continuous SCADA and monitoring applications.
Trimble
Detector tubes
Nextteq's complete line of Gastec Solution Detector Tubes provides fast, economical, on-the-spot measurement of trace chemicals in liquids. The tubes are easy to use and do not require mixing, calibration, equipment, or accessories. Simply place a tube in a sample of liquid to measure the target substance, and accurate results are available in 5 minutes or less. Substances that can be measured include sulfide ion, ozone, chlorine, and a variety of metals including mercury, chromium (VI) ion, iron ion, copper ion, zinc, and nickel.
Nextteq
Non-clog pumps
The SKX Shredder & SX non-clog pumps from BJM Pumps are ideal for food processing and beverage bottling plants, chemical wastes, poultry plants, and more. The Shredder pumps leave solids slightly larger than if passed through a grinder pump. The shredding action is caused by using a cutting impeller with a Tungsten Carbide Tip against a "spiral" shaped diffuser plate. They offer side discharge and non-clog single vane impellers for the passing of solids while delivering a high volume of liquids through 2- to 6-inch pipe.
BJM Pumps
Triple offset valve
Pentair has announced the expansion of its Vanessa Triple Offset Valves product line with the launch of the Series 30-RS. The new manual triple offset valve is uniquely designed to address the need for zero leakage isolation in non-critical applications in the oil and gas and process industries. By achieving tightness to API 598, the new Vanessa option provides a smarter solution for operators seeking premium performance, upgraded valve designs and reduced maintenance requirements. It handles temperatures up to 350° C and pressures up to ASME class 300.
Pentair
http://valves.pentair.com
Flow sensors
Clark Solutions has announced the availability of its expanded line of high-accuracy, low-cost liquid vortex flow sensors. Both the 200 and 210 Series sensors are designed for OEMs for system flow monitoring and control. Further, they are ideal for applications like water- and water/glycol-based heat exchange systems and similar fluids with flow ranges from 0.9 to 150 liters per minute. These meters determine flows using an obstruction/bluff in the flow meter body, and monitoring alternating vortices are formed on each side of the bluff body and travel downstream.
Clark Solutions
Pressure transducer
American Sensor Technologies (AST) has released a new analog voltage output signal to be used with battery-powered systems that consumes less than 3 mA of current during operation. This output is 0.5 V to 2.5 V full-scale output, powered with 3-5 V of unregulated power, including 3.3 V lithium batteries. This excitation range allows the use of these batteries without adding a DC-to-DC converter. In addition to low current consumption, AST's sensors can be "pulsed" on when a reading is needed, so there is no need to constantly power the sensor.
American Sensor Technologies
Turbo aerator
The Kinetic Turbo Aerator is the latest product designed and developed by Kinetic Traction Systems and offers efficient, compact, cost-effective aeration solutions for industries that require high-quality air processing, such as wastewater treatment, food and beverage, pharmaceutical, and chemical processing. Unlike conventional compressors with lubricated gearboxes, the aerator uses a single shaft coupling the impeller and direct drive high-speed permanent magnet motor eliminating oil carryover contaminates in the air compression process to comply with ISO 8573 and ISO 12500 quality standards.
Kinetic Traction Systems
Mass flow meters
Badger Meter has introduced the RCT1000 Coriolis mass flow meters, which provide the ability to simultaneously measure mass, volume, density, and temperature, ultimately providing control options to synchronize precision processes. Complementing the robust transmitter and sensor, every RCT1000 Coriolis mass flow meter comes with the RCT Console software package. The Badger Meter RCT1000 Coriolis mass flow meter identifies flow rates by directly measuring fluid mass over a wide range of fluid temperatures and viscosities with a high degree of accuracy.
Badger Meter
Water conditioning
SUEZ Environnement has introduced aqualead®, a complete water conditioning offer focused on the industrial water cycle. The offer ranges from the provision of water conditioning products for the treatment of all aspects of industrial water management to dedicated wastewater, cooling and boiler water conditioning services. It integrates the know-how and expertise of two recent acquisitions by SUEZ (IWM in France in 2013 and B&V Group in the UK in 2015). This new water conditioning activity, supplementing the historic business areas of construction, operation and provision of specialized solutions, gives SUEZ unique positioning in the industrial market.
SUEZ Environnement
Harmonic filters
Schaffner EMC has introduced ECOsine® 60 Hz Passive Harmonic Filters, which remove harmful harmonics of a pre-determined order to increase the reliability of supplied power, thus extending the service life of downstream components. With plug-and-play convenience and more compact dimensions than comparable products, they are easily installed and commissioned. Proven in industrial settings, Schaffner's passive harmonic filters are ideal for use with non-linear loads such as motor drives, equipment with front-end 6-pulse rectifiers, fans, pumps, HVAC equipment, DC fast chargers, and more.
Schaffner
Chlorine dioxide analyzer
GF Piping Systems has introduced the reagent-free Signet 4632 Chlorine Dioxide Analyzer System to augment the company's growing line of measurement and control products for disinfectant monitoring. It features amperometric sensing technology, a clear flow cell, flow regulator, sensors, filter, and variable area flow indicator. The fully integrated system provides a turnkey solution for accurately measuring residual chlorine dioxide levels up to 2 ppm/mg/L in a variety of water treatment applications. Typical uses include cooling towers, hospital/healthcare facilities, food and beverage processing, and more.
GF Piping Systems
Zero-liquid discharge solution
Thermal Purification Technologies (TPTec) has introduced a solution for zero-liquid discharge (ZLD) based on its patented LTDis® (Low Temperature Distillation) and LTDry® (Low Temperature Drying) technologies. LTDis and LTDry can be used either alone or in combination in a ZLD system, including full separation of water and solids. On its own, LTDis can achieve a conversion ratio of 75-88% depending on whether seawater or brine from existing desalinations plants is used. With an upgrade for isolating high-saline water and precipitation loops/centrifuges, the conversion can be brought up to 90-92%.
Thermal Purification Technologies
Membrane filtration
Alfa Laval PP spiral membranes are compact, delivering a larger filtration area to provide better performance. These membranes deliver sustainable benefits like reduction of water and chemical use as well as longer service life, meaning less maintenance and downtime. Alfa Laval PP membranes can withstand high numbers of Cleaning-in-Place (CIP) cycles, hot cleaning temperatures and high pH levels. Additionally, Alfa Laval membrane filtration equipment is designed on a modular basis. System designs can be customized and are easy to expand if production requirements increase.
Alfa Laval
UL-recognized components
Ashcroft® T2, G2 and G3 pressure transducers are now recognized under the Component Recognition Program of UL. Designed for outstanding performance in extreme operating environments, these rugged sensors are approved for installation into UL Listed systems and equipment.
Ashcroft
Drive solutions for mixing applications
NORD gearboxes are oil-tight, hygienic, and non-contaminating, which makes them ideal for mixing applications. Nord drives designed specifically for mixers and agitators use heavy-duty bearings supported in Nord's one-piece UNICASE™ housing to handle the substantial shaft loads typical of mixing viscous liquids, pastes, creams, suspensions, and powders. Nord gearboxes have high overload capacity and are designed and developed with optimal gear geometry, resulting in units that provide effective mixing for various substances at all speeds.
Nord
Pipeline connector range
Spirax Sarco's new PC3000 and PC4000 pipeline connector range has been developed to satisfy the needs of modern process industries, significantly simplifying installation and reducing maintenance time. The new connectors, with single or double isolation, allow steam traps to be installed without need for process shutdown. Some of the features and benefits include: ASME 600-rated forged body, suitable for use on lines up to 800°F; fully shrouded piston valve stem, reducing potential of corrosion; and strainer fitted as standard, protecting steam trap from debris entrained in the condensate.
Spirax Sarco Inc.
Evaporation/solidification system
GE's new evaporation/solidification technology for flue gas desulfurization (FGD) reduces chemical addition, sludge handling and energy costs. It reduces the long-term environmental risks associated with the discharge of FGD purge water and other liquid streams from power plants. The system produces high-quality water for recycle and reuse and provides power plants with maximum flexibility because it can treat FGD wastewater from any type of coal and removes the risk of meeting stringent discharge requirements by eliminating liquid discharge to waterways.
GE Water
Semi-structural epoxy
Concrete and steel in municipal and industrial wastewater treatment facilities face the constant threat of corrosion. To mitigate this threat, Sherwin-Williams Protective & Marine Coatings has launched Dura-Plate® 6100, a 100% solids high build, high physical performance, amine-cured epoxy. The product helps to extend the design life of a wide variety of coated structures, including manholes, basins, wet wells, pipes, and sumps. The semi-structural epoxy offers quick dry-to-touch times that reduce the potential for outgassing and pinhole formation on buried concrete structures. It also features a rapid return-to-service time of 12 hours to prevent downtime and increase productivity.
Sherwin-Williams Protective & Marine Coatings
http://protective.sherwin-williams.com
Ultrasonic level transmitter
The Sitrans LU150 from Siemens is a non-contacting ultrasonic transmitter with a range up to five meters (16 feet). The device incorporates the sensor and the electronics in a single compact unit and can be used for continuous level measurement of liquids and slurries in open or closed vessels. IP68 rated, the Sitrans LU150 has a rugged, fully encapsulated PVDF sensor that is resistant to corrosion, chemicals and extreme shock. The device is designed primarily for use in the water, wastewater and energy management industry.
Siemens