NEW LITERATURE
Stahlin Non-Metallic Enclosures, a manufacturer of fiberglass enclosure products, has published a Control Disconnect/ Circuit Breaker Enclosure Installation Instructions & Technical Information Guide.
Feb 1st, 2005
Circuit breaker enclosures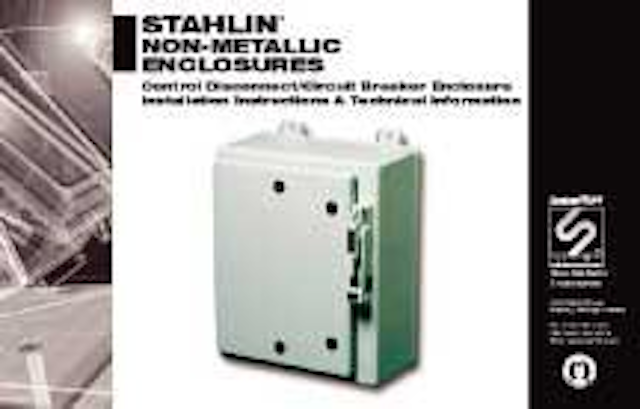 Click here to enlarge image
Stahlin Non-Metallic Enclosures, a manufacturer of fiberglass enclosure products, has published a Control Disconnect/ Circuit Breaker Enclosure Installation Instructions & Technical Information Guide. The guide provides corresponding technical information and illustrated drawings on GE, Square D, Allen-Bradley, and Westinghouse Control Disconnect/ Circuit Breaker Enclosures in order to ensure that all of the minimum required enclosure, disconnect sizes, and installation measurements are properly met.
Stahlin
Belding, MI
Tel: 616-794-0700
Web: www.stahlin.com
Pipe restraints
Sigma recently released a re-designed version of its One-Lok for DI brochure. The new updated brochure includes the newest "family member" of the product line, the Split One-Lok for all classes of DI pipe. This new model is for use on existing piping systems. As with the other models in the line, break-off bolts and contoured wedges are just two of the features. The brochures are available online and through regional sales offices.
Sigma Corp.
Cream Ridge, NJ
Tel: 800-999-2550
Web: www.sigmaco.com
Slurry pump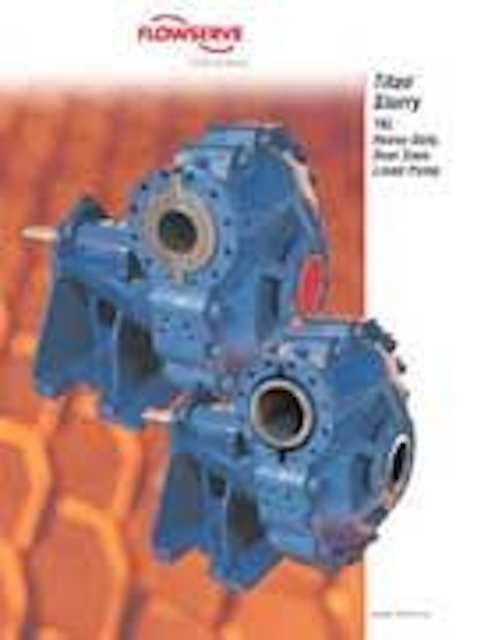 Click here to enlarge image
Flowserve Corp. has published a new brochure describing its Titan Slurry heavy-duty, dual case lined pump. This horizontal, single stage, end-suction pump features a tangential discharge and is engineered to handle high concentrations of coarse, abrasive solids in suspension. The pump features a unique dual case design that employs a replaceable liner system to maximize wear resistance.
Flowserve Corp.
Irving, TX
Tel: 972-443-6500
Web: www.flowserve.com
Analytical instrumentation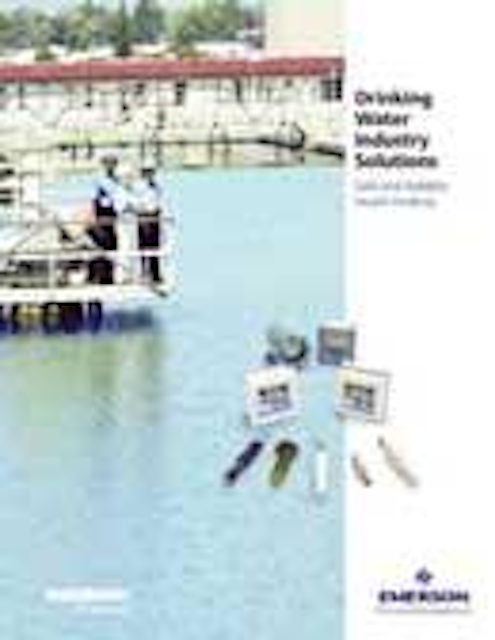 Click here to enlarge image
A new brochure from Emerson Process Management addresses the analytical requirements in the drinking water industry to ensure safe and high quality water. It details the needs of drinking water plants throughout the processing and disinfection processes and describes how the Rosemount Analytical real-world, customized, cost-effective analytical solutions from Emerson help plants ensure the highest water quality while minimizing total cost of ownership and maintenance requirements. The brochure features the complete line of Rosemount Analytical products for drinking water plants and includes analytical instrumentation for measuring turbidity, chlorine, monochloramine, ozone, pH/ORP, conductivity and dissolved oxygen, as well as complete water quality security solutions. In addition, the brochure describes Emerson Process Management's PlantWeb field-based architecture, which provides a scalable way to use open and interoperable devices and systems to build process solutions.
Emerson Process Management, Rosemount Analytical Inc.
Irvine, CA
Tel: 800-854-8257
Web: www.raihome.com
Pump selection software
Iwaki America has implemented Iwaki Pump Selector, a Pump-Flo Enterprise Software, to streamline the pump selection process for its distributors and customers. Users can select, evaluate, and analyze centrifugal pumps using the company's electronic pump catalogs. The pump selector uses a web-based search engine to select pumps that meet the user's specific criteria. Selections are based on a number of user inputs such as system design point, fluid properties, motor sizing, and NPSH calculations.
Iwaki America Corp.
Holliston, MA
Tel: 508-429-1440
Web: www.iwakiamerica.com
Submersible pump guide
The Submersible Wastewater Pump Association (SWPA) is offering free copies of its 2005 Membership Roster and Product Reference Guide. The 68-page guide includes member company listings by category. Each company's listing includes contact information as well as product and service codes listing the categories of pumps and component parts and accessories each company sells. The publication also includes information on the history and evolution of submersible wastewater pumps and how the systems approach optimizes performance.
Submersible Wastewater Pump Association
Highland Park, IL
Tel: 847-681-1868
E-mail: swpaexdir@netzero.net
Coating guide
The Society for Protective Coatings has published a new guide entitled Planning and Specifying Industrial Protective Coating Projects. The 246-page document contains chapters from SSPC publications, together with a collection of related SSPC standards, guides and specifications. The guide is intended to provide information and guidance to owners, specifiers, contractors and others responsible for planning and managing coating operations.
Society for Protective Coatings
Pittsburgh, PA
Tel: 877-281-7772
Web: www.sspc.org
Gas detection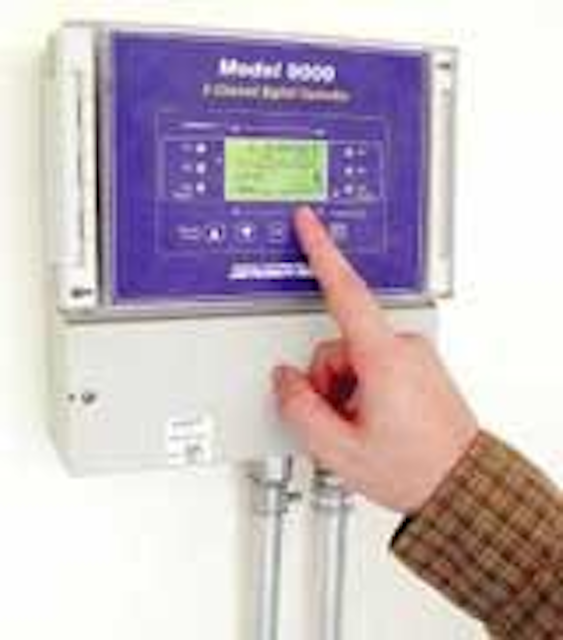 Click here to enlarge image
Sensidyne has just introduced a low cost Model 9000 Controller, for smaller, 2-point fixed gas detection systems. The controller is described in a new brochure, along with available transmitters and sensors. It is designed for use with any of the company's toxic and combustible gas sensors, as well as infrared and universal transmitters.
Sensidyne Inc.
Clearwater, FL
Tel: 800-451-9444
Web: www.sensidyne.com
Data communications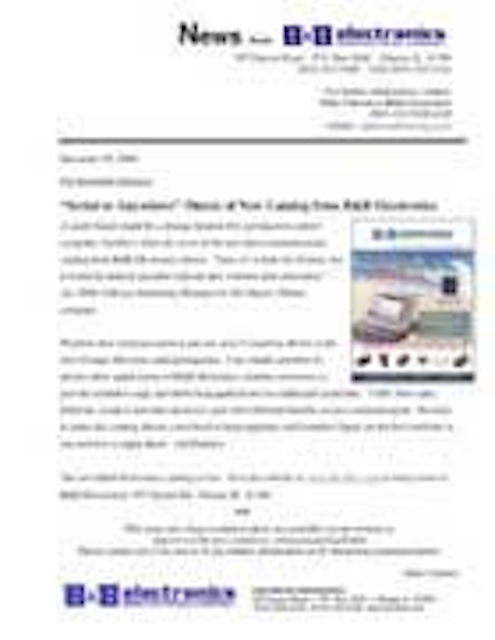 Click here to enlarge image
"Serial to Anywhere" is the theme of a new catalog from B&B Electronics. Wireless data communication is just one area of expertise shown in the new 64-page full-color catalog/magazine. Case studies and how-to articles show applications of the company's dataline converters, which provide extended range and multi-drop applications for traditional serial data. The information covers USB, fiber optic, Ethernet, wireless and other protocols.
B&B Electronics
Ottawa, IL
Tel: 815-433-5100
Web: www.bb-elec.com
DE filters
Westfall Manufacturing offers free literature on its line of vacuum diatomaceous earth (DE) filters that use low-cost fiberglass tanks. The tanks are fabricated from polyester fiberglass throughout and are supplied in segments that can be installed in tight spaces. Featuring open tank construction and vertically mounted flat leafs with filtering surfaces on both sides, they operate on the vacuum principle and provide filtration down to 2 um.
Westfall Manufacturing Co.
Bristol, RI
Tel: 888-928-3747
Web: www.westfallmfg.com
Pump information
An overview of the many ways pump design, material selection and management decision making can result in reductions in pump maintenance costs are spelled out in detail in a new reprint added to the Vanton Technical Library engtitled "Pump Maintenance Too High? Think Twice Before You Buy." Designated TL-166, the article reviews recnt industry answers to four major causes for high pump-related maintenance costs: wrong material selections, failture due to unexpected dry running conditions, mechanical seal leakage and impeller wear or clogging.
Vanton Pump & Equipment Corp.
Hillside, NJ
Tel: 908-688-4216
Web: www.vanton.com