PRODUCTS & SERVICES — LAB, SAMPLING & ANALYTICAL
Chemtrac Systems has introduced its laboratory Coagulant Charge Analyzer (CCA 3100), which is capable of determining the optimum coagulant/polymer dose in five minutes or less.
Jan 1st, 2006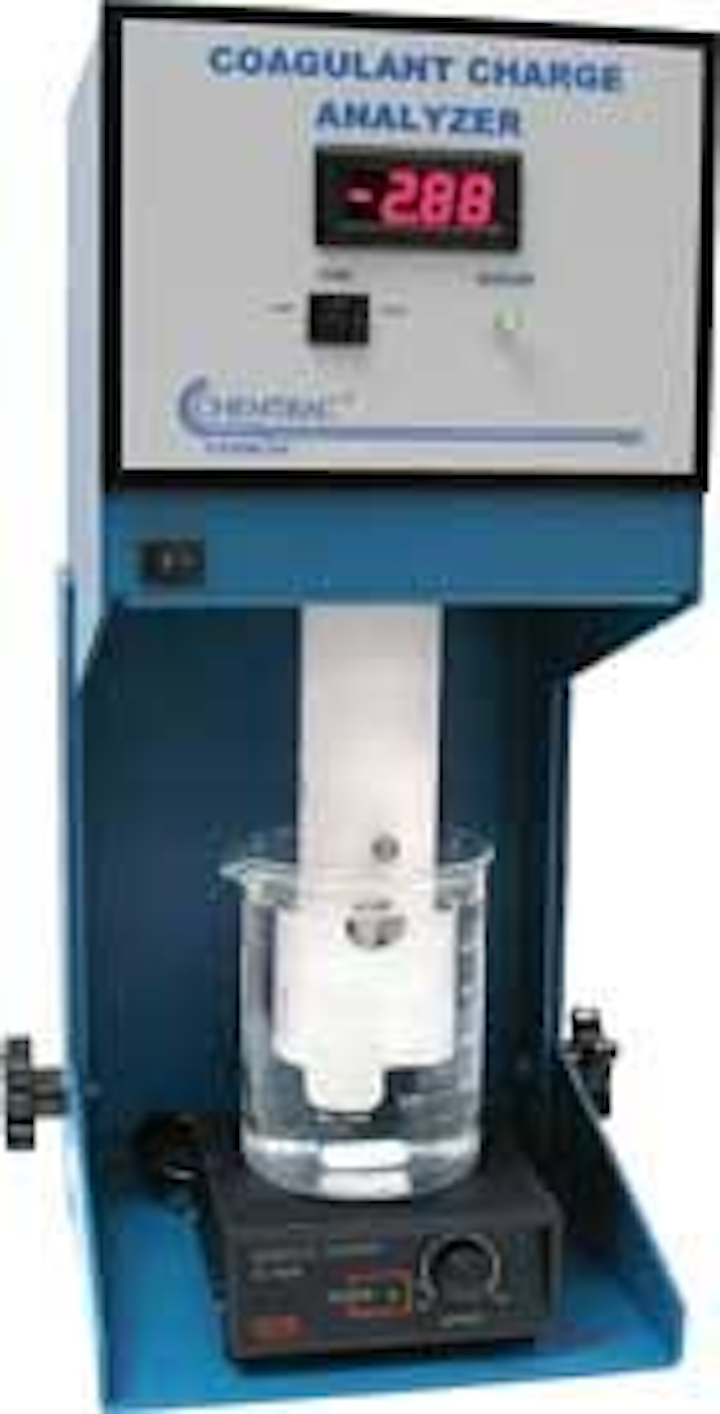 Coagulant charge analyzer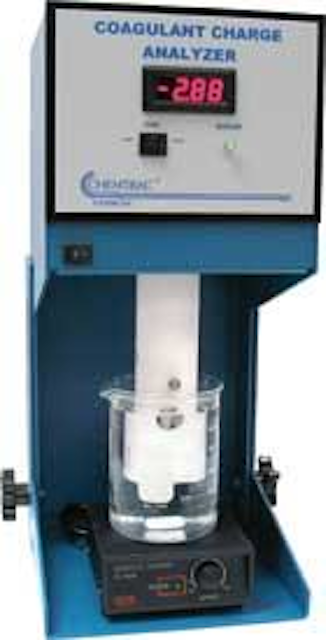 Click here to enlarge image
Chemtrac Systems has introduced its laboratory Coagulant Charge Analyzer (CCA 3100), which is capable of determining the optimum coagulant/polymer dose in five minutes or less. An operator can adapt more quickly to sudden quality changes in the raw water than with conventional jar test equipment, because results can be compared with actual plant performance. The analyzer also enables an operator to verify polymer strength, compare "competitive" coagulants or polymers, "Q.C." incoming shipments of coagulant or polymers, and troubleshoot process problems.
Chemtrac Systems Inc.
Norcross, GA
Tel: 800-442-8722
Web: www.chemtrac.com
Chlorine measurement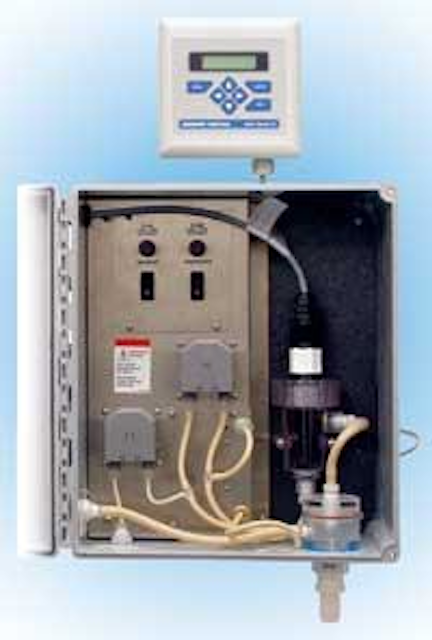 Click here to enlarge image
Emerson Process Management has introduced the Rosemount Analytical Model TCL, a complete system for the measurement of total chlorine in water, including seawater. The new model, comprised of a sample conditioning system, an analyzer and a sensor, significantly reduces cost of ownership over previous generation total chlorine systems by employing readily available, low-cost reagents, and reducing the frequency of reagent replacement by as much as eight times.
Emerson Process Management
St. Louis, MO
Web: www.emersonprocess.com
Conductivity, temp. measurement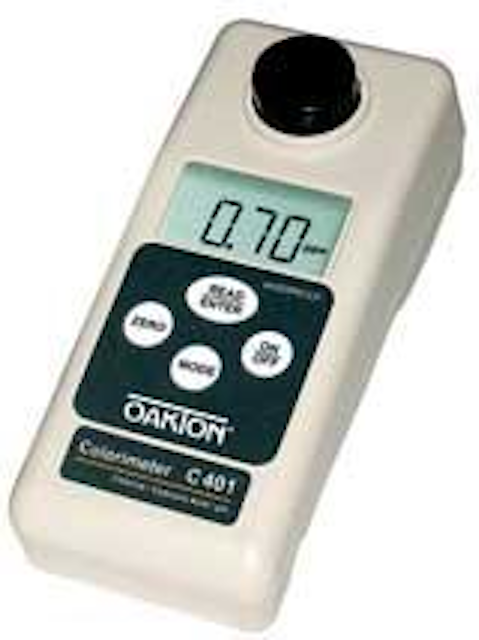 Click here to enlarge image
The new IP65-rated CON 550 monitor and CON 560 monitor/controller from Eutech Instruments, available through Cole-Parmer Instrument Co., display conductivity and temperature values and feature manual or automatic temperature compensation. Units accept two- or four-cell conductivity electrodes. The CON 550 is an inexpensive local monitor with display. The CON 560 controller/monitor features a backlit display and two relays with separately adjustable set points, hysteresis, and delay for on/off control.
Cole-Parmer Instrument Co.
Vernon Hills, IL
Tel: 800-323-4340
Web: www.coleparmer.com/1737.
pH/temperature pen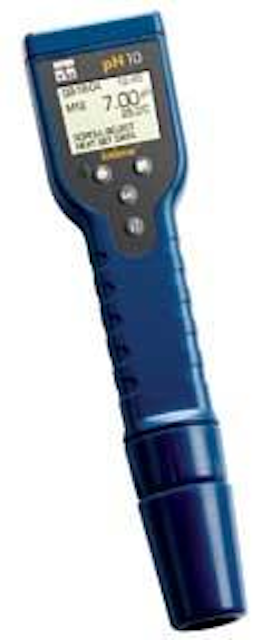 Click here to enlarge image
The YSI® EcoSense® pH 10 pH/temperature pen features a graphic display that provides simple on-screen instructions and a "hold" feature to lock readings on the display. Other features include a 50-set memory (pH, temperature, date and time stamp), automatic temperature compensation, automatic calibration (1-, 2-, or 3-point), buffer recognition, and IP-67 waterproof housing.
Forestry Suppliers Inc.
Jackson, MS
Tel: 601-354-3565
Web: www.forestry-suppliers.com
Sampling system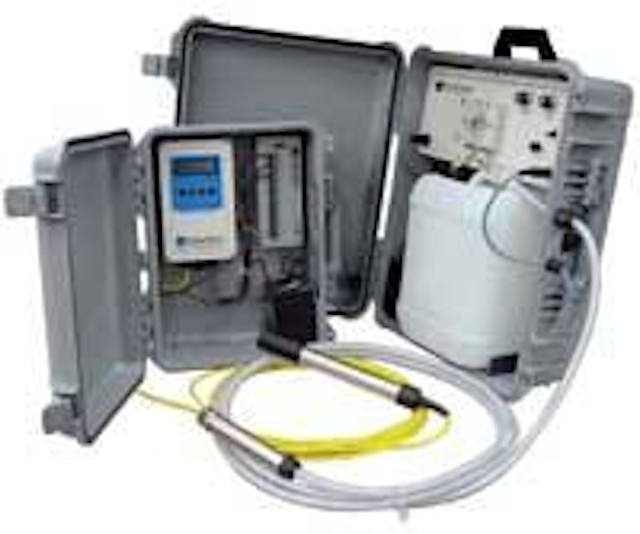 Click here to enlarge image
Global Water's Water Quality Sampling System includes a lightweight triggered composite water sampler, a water quality process controller, and a data recorder that is Windows compatible. This compact package is portable for field installation and fully customizable. The controller has two separate relays, one triggering the water quality sampler and the other for controlling all types of external devices.
Global Water Instrumentation
Gold River, CA
Tel: 800-876-1172
Web: www.globalw.com
Sampling station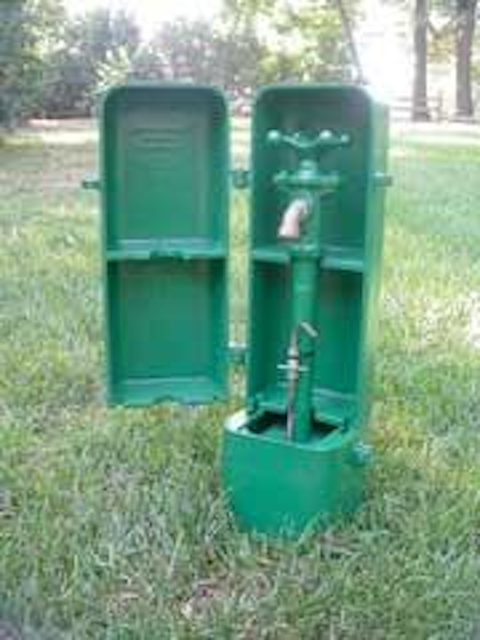 Click here to enlarge image
Safe and quick monitoring of water systems is a challenge for every water operator in the United States. The answer for many water quality professionals has been the selection of the Eclipse #88 Sampling Station for their dedicated sampling sites. Dedicated sampling sites have proven to deliver a secure place available 24 hours a day, a reduction in false-positives, and large man-hour savings. The standard station offers an all-brass waterway and cast aluminum enclosure.
Kupferle Foundry Co.
St. Louis, MO
Tel: 800-231-3990
Web: www.hydrants.com
Nitrogen, phosphorus tests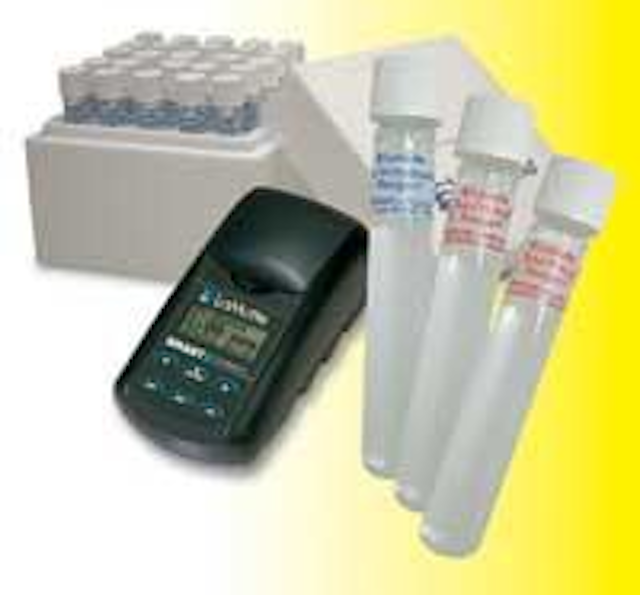 Click here to enlarge image
LaMotte, manufacturer of water analysis equipment, has introduced tests for Total Nitrogen (0-25 mg/L) and low (0-3.5 mg/L) and high (0-100 mg/L) Total Phosphorus. The tests are performed by reacting tubes in a heater block to a specified temperature for 30 minutes. Reagents (included) are then added to the tubes and the concentrations are read by a colorimeter or spectrophotometer.
LaMotte Co.
Chestertown, MD
Tel: 800-344-3100
Web: www.lamotte.com
Water quality testing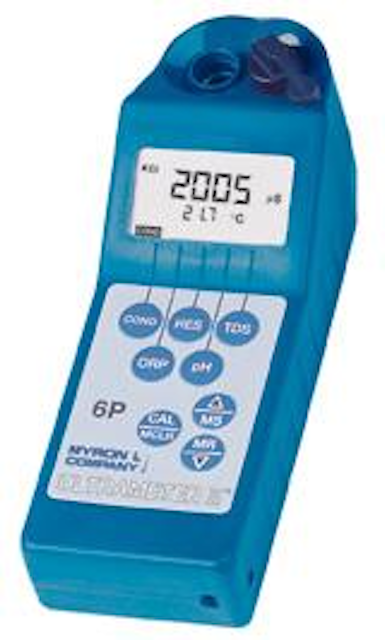 Click here to enlarge image
The Ultrameter II™ multi-parameter series of handheld instrumentation, available from Myron L, is designed for testing critical water quality parameters. The instrument uses advanced microprocessor-based circuitry that improves accuracy and simplifies use. Users simply rinse and fill the cell cup, push the desired parameter key and observe and store the reading. Temperature compensation and range selection are both rapid and automatic.
Myron L. Co.
Carlsbad, CA
Tel: 760-438-2021
Web: www.myronl.com
Chorine measurement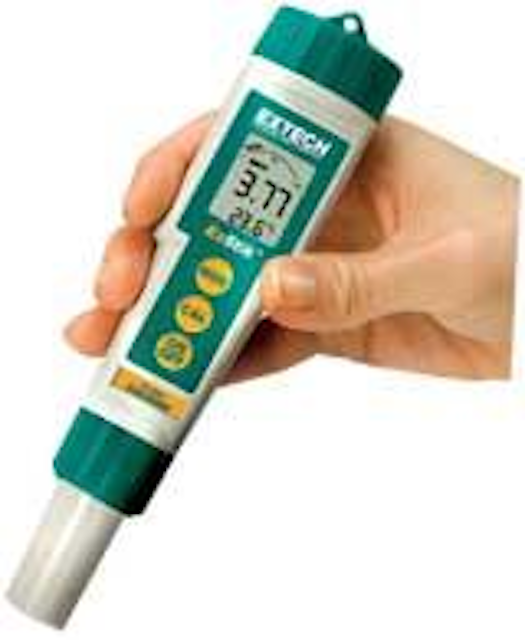 Click here to enlarge image
Extech Instruments has announced its patent pending direct measurement technique of total chlorine for its ExStik® Total Residual Chlorine meter, model CL200. The meter monitors residual chloramines and total chlorine including free chlorine, hypochlorite and chlorine bound to nitrogenous compounds. The "stick" meter uses a patent pending flat surface electrode for measurements in liquids, semi-solids and solids.
Extech Instruments
Waltham, MA
Tel: 781-890-7440
Web: www.extech.com
TOC analyzer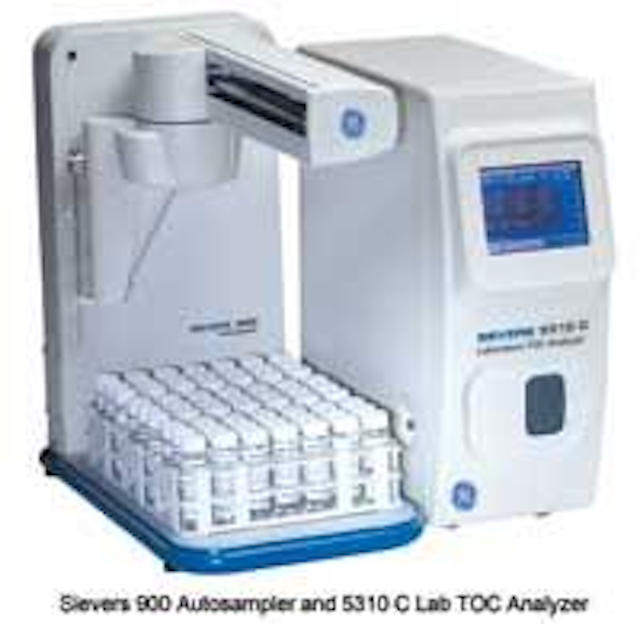 Click here to enlarge image
GE Analytical Instruments, division of GE Water and Process Technologies, designed the Sievers® 5310 C Laboratory Total Organic Carbon (TOC) Analyzer to simplify TOC monitoring of raw and finished drinking water for USEPA compliance reporting and plant optimization. The analyzer requires minimal operator training and can be set up and analyzing samples in less than one hour. Unlike other TOC analyzers using combustion oxidation or Non-Dispersive Infrared (NDIR) technology, the Sievers system requires no high-purity gases, toxic catalysts, external reagents, or ultrapure gas generators.
GE Analytical Instruments
Boulder, CO
Tel: 800-255-6964
Web: www.geinstruments.com
pH electrodes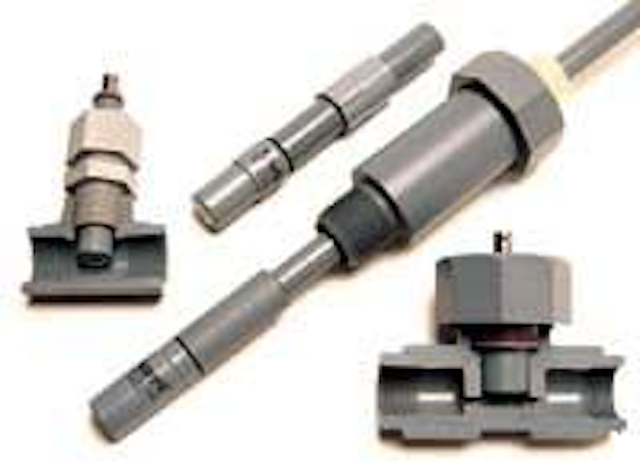 Click here to enlarge image
HF resistant pH electrodes from Sensorex increase electrode life for pH measurements in solutions containing acidic fluorides. There is no need to use antimony or other non-classic methods to measure pH in the presence of acidic fluoride. A special formulation flat surface pH glass enables these electrodes to resist etching due to HF attack. They work like conventional pH electrodes so calibration is accomplished with normal standard pH buffers.
Sensorex
Garden Grove, CA
Tel: 714-895-4344
Web: www.sensorex.com
Water analysis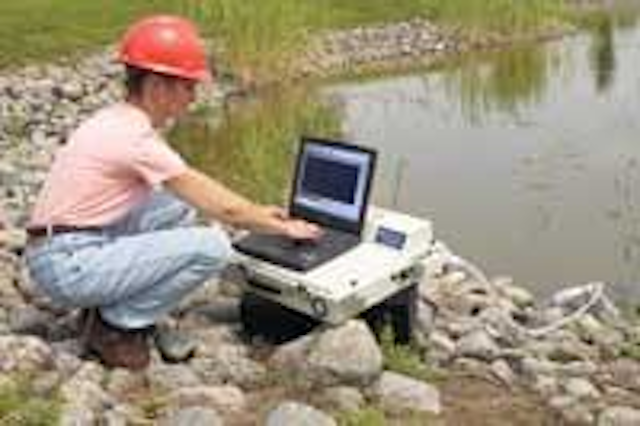 Click here to enlarge image
Inficon Scentograph on-site water analysis systems are designed for automated, unattended monitoring of volatile organic compounds (VOCs) in water. Scentograph CMS has a direct, automatic purge and trap technique that delivers immediate analysis, unlike conventional systems that require manual sample collection and preparation prior to analysis. It is available as a portable on-site system or as a stationary console providing continuous, on-line monitoring for VOCs in water.
Inficon
East Syracuse, NY
Tel: 315-434-1100
Web: www.inficon.com