New Products
New products involved in the water industry
Apr 1st, 2016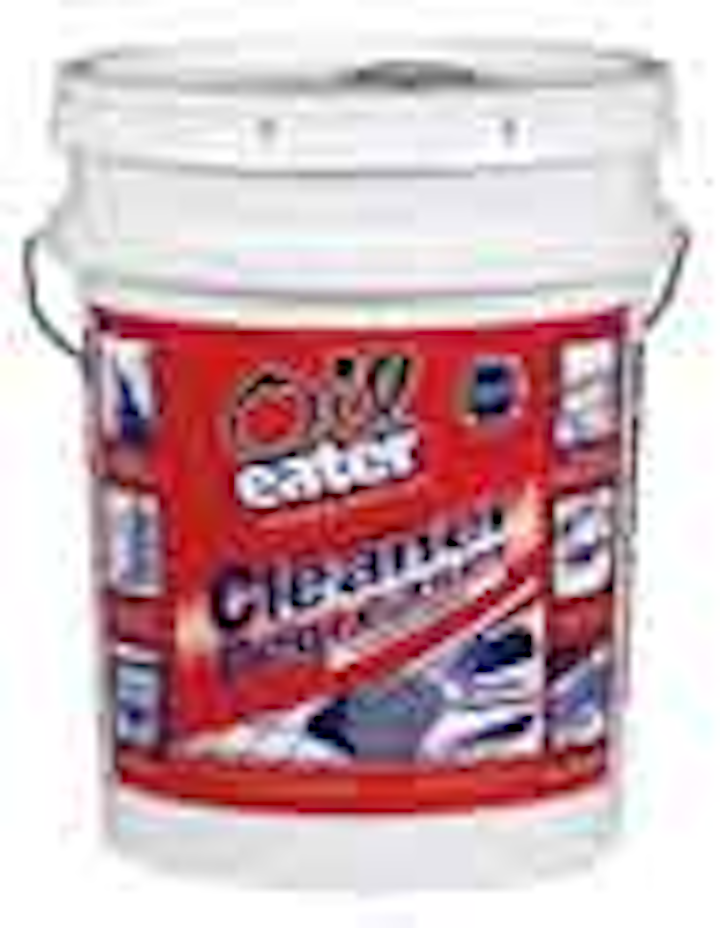 Eco-friendly cleaner
The Oil Eater Original cleaner/degreaser is uniquely formulated to eliminate the need for multiple cleaners. The water-based cleaner dissolves grease, grime and dirt from storage tanks, power equipment and more. The cleaner is biodegradable, non-corrosive, non-toxic and non-flammable and contains no acids, abrasives or petroleum solvents. Proprietary anti-corrosion chemistry eliminates concern about damaging surfaces. Available in 1-, 5-, 30-, and 55-gallon containers and a 275-gallon tote for high-volume users.
Kafko International
Compact AS-i module
The AS-i SlimLine compact modules from Siemens are extremely compact I/O modules for ASInterface, with widths of just 17.5 and 22.5 millimeters, saving space in the control cabinet and in distributed control boxes. They possess new, practice-oriented functions, such as device connectors and switchable sensor supply. The new modules supplement the product range of AS-i field modules and they are suitable for initial installation, servicing, or whenever a change or expansion is made. Available with 4DI/4DO in 22.5-mm design, and with 4DI or 2F-DI in the especially slim 17.5 mm enclosure, the digital outputs are available as solid-state and relay outputs.
Siemens AG
Chlorine analyzer
The new plug-n-play FC80 Panel Mount Free Chlorine Analyzer from Electro-Chemical Devices (ECD) simplifies water monitoring and treatment processes while installing easily and requiring less maintenance to lower cost of ownership. It monitors free chlorine in drinking water, rinse water, cooling water or other fresh water samples from 0.05 to 20 ppm chlorine as the standard range or 0.01 to 5 ppm with the low range sensor. The advanced panel mount design includes built-in flow control and automatic pH compensation.
Electro-Chemical Devices
Corrosion monitoring suite
The Cosasco® Bluetooth® Suite enables the user to configure and collect corrosion and erosion data wirelessly with Bluetooth-enabled dataloggers, readers, and a data transfer unit. The Cosasco Bluetooth Converter adapts legacy instruments to communicate wirelessly with a handheld Transfer Unit, the only tool needed to configure and collect data from any Cosasco Bluetooth-enabled monitoring technology, including Microcor® ER, Electrical Resistance (ER), Linear Polarization Resistance (LPR) and Ultracorr® (Ultrasonic).
Cosasco
Dewatering pump
Xylem's improved Flygt 2000 drainage pump range includes the new 25 kW (30 hp) Flygt 2190 mid-sized submersible dewatering pump built to handle tough, abrasives-laden liquids. Available with two impeller options: the signature 'Dura-Spin' safeguards against wear by sweeping abrasive particles away from the impeller neck, while the semi-open impeller increases uptime by preventing fibrous solids from obstructing the pump. The pump's conical trim sleeve, a quick and easy-to-use impeller-adjustment feature, restores clearances to near-original condition, boosting pump performance, while robust cable entry ensures safe, continuous operation.
Xylem Inc.
Web and mobile platform
Smart Customer Mobile (SCM®) is a real-time, utility customer web and mobile platform from Smart Utility Systems. SCM addresses the needs of both the consumer and the utility by empowering citizens to change usage behaviors and saves the utility overhead costs and inefficiencies of traditional phone, paper mail and reactive customer service procedures. The system is quick to deploy and simple to use.
Smart Utility Systems
Pump stations
The EVERLAST™ wet well mounted pump station from Smith & Loveless is the latest addition to the company's EVERLAST™ product line of above-grade pump station models and equipment options. EVERLAST™ pump stations are housed outside of and above the wet well, making operator maintenance dramatically safer, simpler and more economical.
Smith & Loveless
Alkalinity Analyzer
The ChemScan Alkalinity Analyzer from Applied Spectrometry Associates, Inc. provides consistent, reliable chemical analysis for process control and optimization in multiple stream process monitoring and/or difficult or dirty samples. The alkalinity analyzer is easy to operate and maintain, featuring a simple menu-driven, graphical display with instructions to guide the user every step of the way. A proprietary sample-capture and delivery system assures precise, repeatable sample volume. Wide-bore sample-inlet tubing minimizes blockages, allowing even high-turbidity samples to be handled readily.
Applied Spectrometry Associates
On-line THM analyzer
Parker Hannifin Corporation's on-line THM Analyzer is a new on-line analytical system enabling real-time control for water quality optimization by automatically measuring individual and total trihalomethane concentrations at ppb levels in real time without manual sampling or the use of reagents. It is an integrated purge-and-trap Gas Chromatograph (GC) that provides results without sample preparation. The fully automated, SCADA-interfaceable analyzer provides real-time data acquisition, facilitating remote operation and data trending capability. This allows operators to optimize treatment, identify/resolve water age issues, amend flushing to save water, and monitor water storage tanks, facilitating water quality.
Parker Hannifin
Updated software suite
ICONICS announced the latest version 10.9 of its 64-bit automation software suites, GENESIS64™ HMI/SCADA and building automation, AnalytiX® analytical tools, Hyper Historian™ data historian and MobileHMI™ data mobility suites. These solutions enable customers to visualize, analyze, mobilize and cloud-enable their data. All V10.9 products are Windows 10 compliant, and the new HTML5 version of WebHMI™ offers support for any HTML5-compliant browser.
ICONICS
Chlorine emergency shutoff
The Hexacon III Chlorine Emergency Shutoff System adds safety to chlorine feed systems. Stop a chlorine leak within seconds of detection by automatically closing the ton container or cylinder valve. The actuator quickly mounts to the valve without the use of any tools and still allows the valve to be manually opened or closed.
Halogen Valve Systems
Peracetic acid gas detection
Peracetic acid (PAA) gas detection is now available from Analytical Technology Inc. Both portable and fixed detectors can provide rapid and reliable detection of hazardous levels of PAA vapor in the workplace. The new PAA sensor provides sensitivity to 0.05 PPM while measuring selectively without interference from hydrogen peroxide, a component of PAA solutions. Sensors are compatible with ATI's PortaSens II portable leak detector as well as the series F12 fixed gas detector.
Analytical Technology Inc.
Chemical monitoring
The CHEM-SCALE™ and TOTE BIN SCALE™ from Force Flow allow operators to accurately monitor chemicals such as sodium hypochlorite, polymer and fluoride when stored and fed from day tanks and IBC type totes. Systems prevent over- and underfeed conditions and also enable the documentation of amount fed. Available with the Century® hydraulic dial, the advanced multi-channel Wizard 4000®, and other indicators.
Force Flow
Network management solution
Smart Water Network Management from Oracle Utilities enables water utilities to rapidly generate valve isolation plans for water main breaks, eliminating lag time between problem detection and response, which in turn minimizes customer impact and maximizes crew efficiency. This improved valve isolation planning can serve as a key tool for utilities to address distribution performance and conservation challenges. Starting from a real-time view, utilities can simulate water valving scenarios, exploring the potential impact of each operation before executing it in the field.
Oracle
Screw pumps
S Series Screw pumps from Blackmer®, part of PSG®, a Dover company, are available with or without external timing gears and bearings, and feature self-priming double-ended positive displacement fit for the most demanding applications. Blackmer's twin and triple screw designs provide complete axial balancing of the rotating screws and their timing technologies eliminate metal-to-metal contact with the pump. S Series pumps are ATEX-certified and offered in four distinct lines to fit multiple model configurations and sizes.
Blackmer
Upgraded HMI
IDEC Corporation's 5.7-inch Enhanced HMI, HG2G-5T series is an upgrade from the company's previous Basic 5.7-inch model. The Enhanced HG2G-5T Series color version TFT LCD HMI has a resolution of 65,536 colors and a brightness of 500 cd/m2. The monochrome TFT LCD model has a resolution of 16 shades and a brightness of 1,100 cd/m2. This level of resolution produces an improved viewing experience, and the increased brightness allows screens to be easily seen even in direct sunlight. A built-in web server allows for full remote monitoring and control via any web browser running on a PC, smartphone or tablet.
IDEC Corporation
Diaphragm metering pump
The solenoid diaphragm metering pump Beta b is now available with an 0/4 to 20 mA input. A magnet moves the solenoid shaft forward and backward by switching on and off. This stroke movement is transferred to the diaphragm in the dosing head. Two non-return valves prevent the feed chemical from flowing back during pumping; and the stroke length and stroke rate can be adjusted to alter the capacity of a ProMinent solenoid driven metering pump. Added to this are a virtually zero-wear drive and excellent continuous running characteristics; easily operated with voltages of 100 to 230 V.
ProMinent
Network management
Innovyze's InfoWater 2D is a geospatial water distribution network management solution for two-dimensional (2D) above-ground modeling of water spills from main breaks and large leaks, directly within the ArcGIS (Esri) environment. Users can predict the extent, duration, volume and impact of water spills from main breaks and large leaks for rapid response management; while also enabling water utilities and municipalities to proactively identify water mains with the potential for the worst damage and prepare effective emergency response plans.
Innovyze
Gas chlorinator
The all-vacuum REGAL™ Gas Chlorinator is used to disinfect drinking water, wastewater, industrial process water and more. It uses 100% chlorine, providing a consistent chlorine residual. It doesn't create bromates, chlorates, and perchlorates like sodium hypochlorite. The all-vacuum system virtually eliminates the problems associated with pressure-type manifold systems. It incorporates the very best materials with the latest technology in design and construction to reduce maintenance and improve operation.
REGAL Chlorinators
Mechanical joint restraint
EBAA Iron, Inc.'s 54 inch nominal pipe size MEGALUG® mechanical joint restraint for ductile iron pipe has a 200 PSI rating with a 2:1 safety factor. The 1100 Series MEGALUG is available for restraining the plain end or spigot end of 54-inch Ductile Iron Pipe (DIP) at Mechanical Joint (MJ) fittings or other MJ appurtenances with a 200 PSI pressure rating which includes a 2:1 safety factor.
EBAA Iron Engineering
CCFRPM pipe
Hobas pipe is suitable for virtually every installation method of new construction and rehab. The centrifugally cast, fiberglass-reinforced, polymer mortar pipe is inherently corrosion resistant and lasts 100 years or more. Leak-free, push-together joints reduce installation time and costs. It is widely used in corrosive environments such as industrial effluents, contaminated drainage and foul air as well as cooling and circulating water lines. It is also approved for potable water. Computer controlled manufacturing delivers a uniform, high stiffness pipe. Non-pressure and pressure classes are manufactured in diameters from 18 to 126 inches.
Hobas Pipe
More WaterWorld Current Issue Articles
More WaterWorld Archives Issue Articles