Products & Services: Pumps & Systems
Collection of pumps & systems products and services.
May 1st, 2016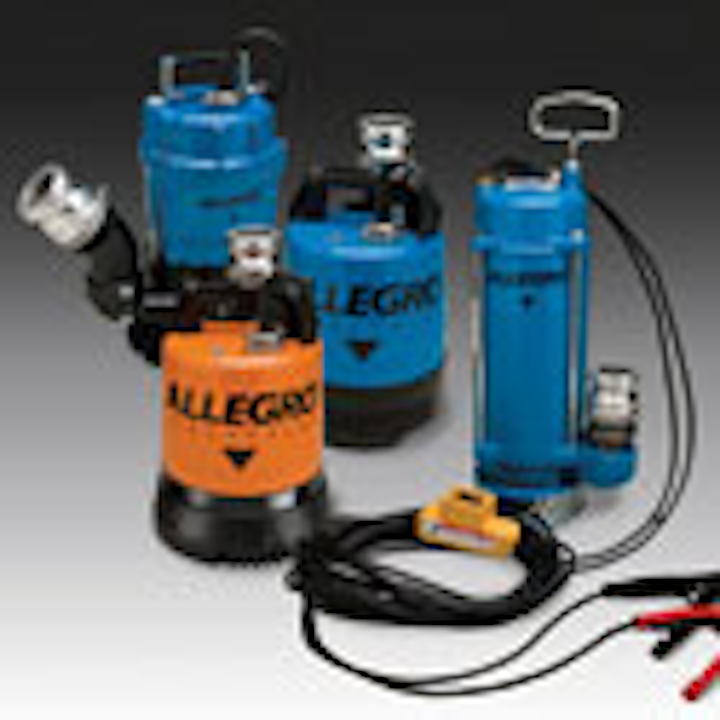 Portable dewatering and sludge pumps
Allegro Industries offers four models of dewatering and sludge pumps. The pumps offer continuous operation at low water levels and extended dry runs without overheating the motor. The DC Submersible Dewatering Pump is a totally enclosed, submersible dewatering unit. Watertight o-ring seals keep the pump's internal parts completely dry and deliver up to 43 gallons per minute (gpm) for rapid dewatering and instant prime. It can operate on any 12-volt truck or automobile battery, and the low 30 AMP draw allows for an hour of operation without starting the engine.
Allegro
Automatic grinder pump
Zoeller's Shark® Fractional Horsepower Grinder Series is designed to handle difficult residential and light commercial applications where sewage ejectors struggle. These 115-volt, 12-amp maximum circuit, all cast iron pumps are available in 1/2 HP, 3/4 HP, and 1 HP models. These pumps offer performance head up to 16.8 m (55') in automatic or non-automatic configuration. Each model utilizes Zoeller's patented Tri-Slice™ Cutter Technology, with three independent cutting channels, providing over 300,000 cuts per minute. Flushable wipes, sanitary napkins, diapers, and other debris in a modern household are no match for this energy-efficient series.
Zoeller Pumps
Accurate flow at high pressures
The LU Class Pump from Scientific Systems Inc. consists of dual-headed, positive displacement piston pumps delivering accurate flow rates at extremely high pressures. Available fluid path materials are stainless steel and titanium for standard and bio-compatible UHP chromatography applications. The LU Class is designed for fast, high-pressure analytical HPLC, with increased peak resolution and exceptional retention time repeatability. The SSI advanced solvent select feature provides very accurate flow rates at high pressures for a wide variety of solvents, particularly where compressibility is a major factor. Pressure capability is 18,000 psi, with a maximum flow of 5 mL/min.
Scientific Systems
Peristaltic cased pump
Watson-Marlow Fluid Technology Group has introduced its new 530 peristaltic cased pump. The cost-effective pump offers easier operation and greater versatility coupled with high levels of accuracy. The new models meet the demands of rugged and often remote environments and are built to operate 24/7 without interruption. Furthermore, it is possible to quickly check control parameters and avoid expensive errors with visual status through a bright color display, while an intuitive menu structure makes for confident and easy operator interaction. The 530 models' integrated PROFIBUS networking capabilities allow for two-way, real-time communications, with increased diagnostic capability and faster response, which helps to optimize process control and minimize plant downtime.
Watson-Marlow Fluid Technology Group
Submersible dewatering pump
Xylem's new 25 kilowatt (30 horsepower) Flygt 2190 mid-sized submersible dewatering pump is built to handle tough, abrasives-laden liquids. The pump is available with two impeller options: the signature "Dura-Spin" safeguards against wear by sweeping abrasive particles away from the impeller neck while the semi-open impeller increases uptime by preventing fibrous solids from obstructing the pump. The pump's conical trim sleeve restores clearances to near-original condition, boosting pump performance, while robust cable entry ensures safe, continuous operation.
Xylem
Vertical lineshaft turbine pumps
The BERKELEY 12VT series is part of a new line of vertical lineshaft turbine (VLST) pumps from Pentair Flow & Filtration Solutions. These new pumps focus on the 12" (nominal bowl diameter) product range, and feature increased performance in flow, efficiency, and head-per-stage, delivering an average 29% improvement in head-per-stage versus the company's current models. Along with improved performance, the new pumps' standardized component design gives customers more performance and options with less effort, simplifies business processes, and improves assembly and delivery times.
Pentair
More WaterWorld Current Issue Articles
More WaterWorld Archives Issue Articles