PRODUCTS & SERVICES: LAB, SAMPLING & ANALYTICAL
Global Water's new WS750 two-bottle wastewater/stormwater samplers combine features needed to meet a wide variety of sampling requirements...
Jan 1st, 2007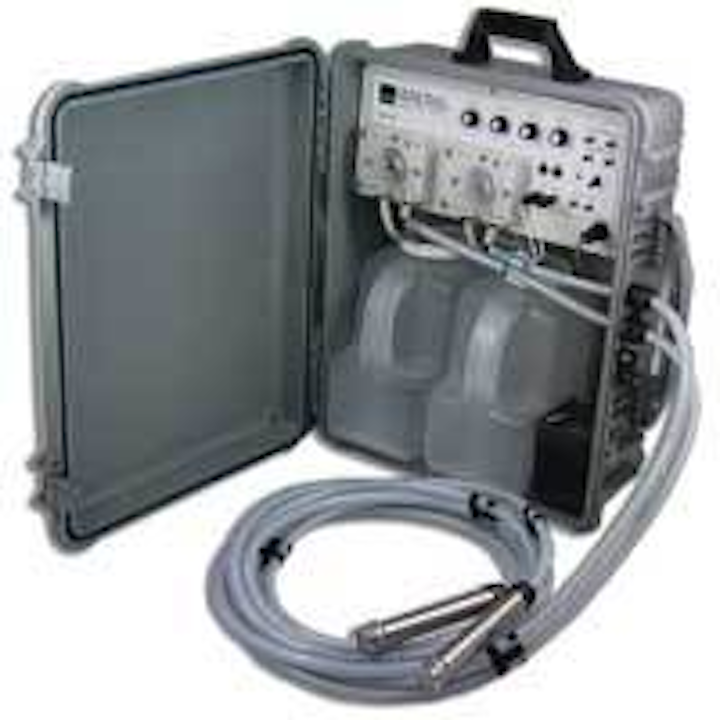 Wastewater/storm samplers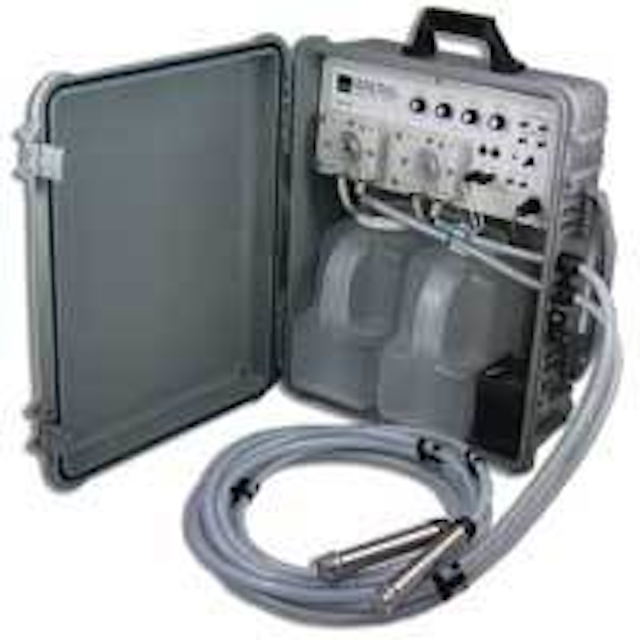 Click here to enlarge image
Global Water's new WS750 two-bottle wastewater/stormwater samplers combine features needed to meet a wide variety of sampling requirements, including those for stormwater, industrial discharge, water and wastewater treatment, waste collection systems, and rivers and streams. A unique feature of these samplers is the ability for users to set the sampling mode of each pump and bottle individually.
Global Water Instrumentation
Gold River, CA
Tel: 800-876-1172
Web: www.globalw.com
Spectrophotometer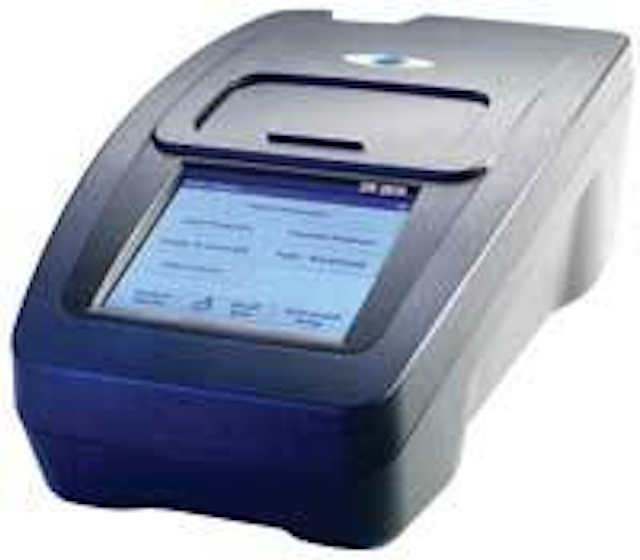 Click here to enlarge image
Hach's new DR 2800 Portable Spectrophotometer can run 240 analytical methods. Operators can use it together with over 30 additional new TNTplusTM ready-to-use reagent vials with integrated barcode labeling for automatic method identification. The new reagent vials provide streamlined laboratory and field analyses. This integration of instrument and chemistry results in automatic method detection that increases productivity and reduces errors.
Hach Inc.
Loveland, CO
Tel: 800-227-4224
Web: www.hach.com
Chlorine residual analyzer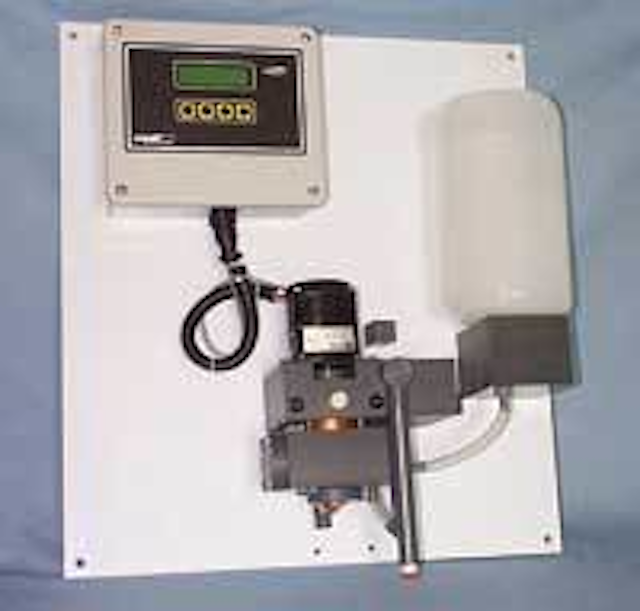 Click here to enlarge image
Eagle Microsystems' RA-1000 is an amperometric-type, precision, low maintenance instrument for analysis and control of chlorine residual in the water and wastewater processes. The unit is capable of measuring free or total residual chlorine using inexpensive white vinegar as the buffering agent. Alternatively a CO2 buffering system is available. The analyzer is available with either a gravity or peristaltic pump-fed reagent system. The digital electronics provide flexible monitoring and control of either direct residual measurement, residual control or compound loop control.
Eagle Microsystems Inc.
Pottstown, PA
Tel: 800-780-8636
Web: www.eaglemicrosystems.com
Water quality monitoring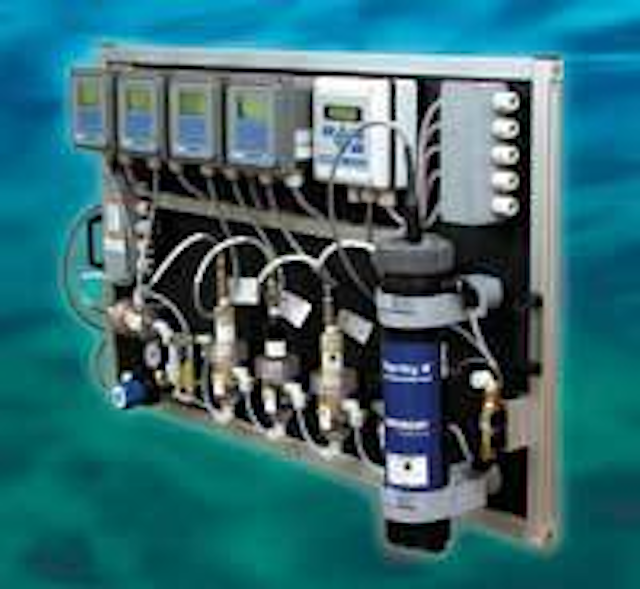 Click here to enlarge image
The Multiparameter Electrochemical/Optical Water Quality System from Emerson provides continuous on-line measurement of pH, ORP, conductivity, temperature, free chlorine or monochloramine, oxygen, turbidity, and particle index in fresh water. The performance of the Model WQS water quality monitoring system has been verified by the U.S. Environmental Protection Agency Environmental Technology Verification program.
Emerson Process Management, Rosemount Analytical Inc., Liquid Division
Irvine, CA
Tel: 800-854-8257
Web: www.raihome.com
Refrigerated autosamplers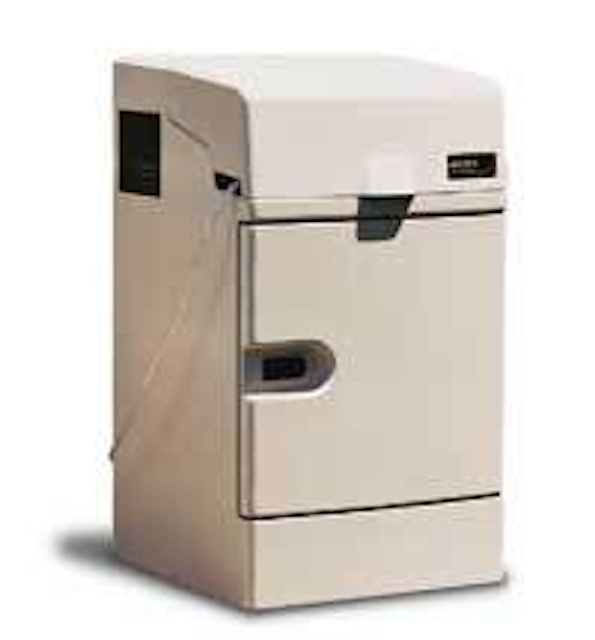 Click here to enlarge image
Sigma All Weather Refrigerated Autosamplers, field proven for reliable sample collection and preservation in all conditions, now can be ordered from the Hach Company web site. A patented design locates the sampler compressor at the top of the unit to minimize corrosion and keep heat away from the refrigeration unit. A sealed controller unit and thicker insulation assure efficient, low-maintenance operation and greater temperature stability in environments ranging from -40°F to 120°F, without a secondary enclosure.
Hach Inc.
Loveland, CO
Tel: 800-227-4224
Web: www.hach.com
pH meter

Click here to enlarge image
HM Digital's PH-200 pH meter is ideal for municipal drinking water or wastewater applications. It has a range of 0.00-14.00 pH, with a resolution of 0.01 pH and accuracy of ± 0.02 pH. It is waterproof and includes a clear cap for safe, easy viewing of probe moisture. The meter offers one-point digital calibration and includes on-screen temperature display, low battery indicator and more.
HM Digital Inc.
Culver City, CA
Tel: 800-383-2777
Web: www.hmdigital.com
Sampling station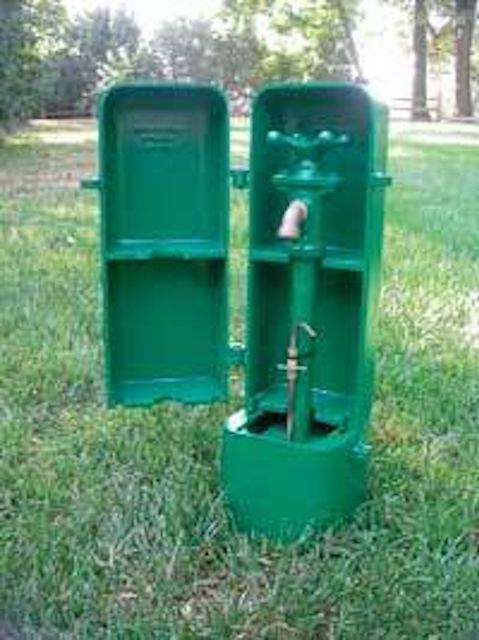 Click here to enlarge image
Safe and quick monitoring of water systems is a challenge for every water operator in the United States. The answer for many water quality professionals has been the selection of the Eclipse #88 Sampling Station for their dedicated sampling sites. Dedicated sampling sites have proven to deliver a secure place available 24 hours a day, a reduction in false-positives, and large man-hour savings.
Kupferle Foundry Co.
St. Louis, MO
Tel: 800-231-3990
Web: www.hydrants.com
Stormwater sampler
The I-Chem, available through Forestry Suppliers, collects a full one-liter sample of first flush storm water within the first 30 minutes of a rain event in compliance with EPA sampling requirements. A floating ball valve seals off the sample collection port to prevent co-mingling with run-off water as well as volatile analyte loss. Water flows through the sampler's collection funnel directly into a Nalgene® sample bottle, so no sample transfer is necessary before transport to the lab. The sampler can be securely mounted in a storm water ditch, stream, or storm grate outfall.
Forestry Suppliers Inc.
Jackson, MS
Tel: 800-360-7788
Web: www.forestry-suppliers.com
Agar replacement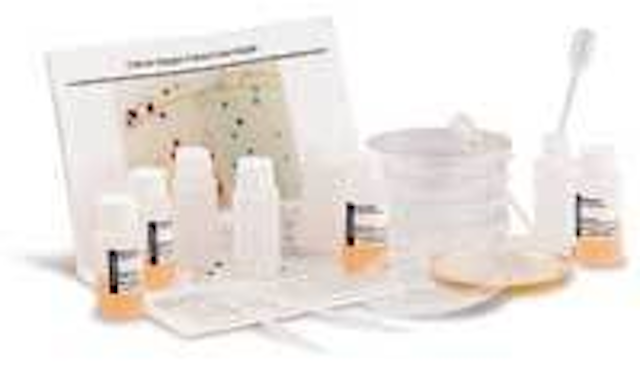 Click here to enlarge image
The patented Easygel agar replacement simplifies testing for coliforms and E. coli in environmental samples, drinking water or treated wastewater. Available through Forestry Suppliers, the pectin-gel testing method is sold as a sterile 2-part test unit consisting of a patented liquid medium and a pretreated petri dish. When the liquid medium is poured into the petri dish, ions diffuse from the pretreated layer into the liquid, causing it to gel in about 40 minutes. Easygel Coliscan samples up to 5 ml from environmental sources with high coliform or E. coli populations.
Forestry Suppliers Inc.
Jackson, MS
Tel: 800-360-7788
Web: www.forestry-suppliers.com
Instrument verification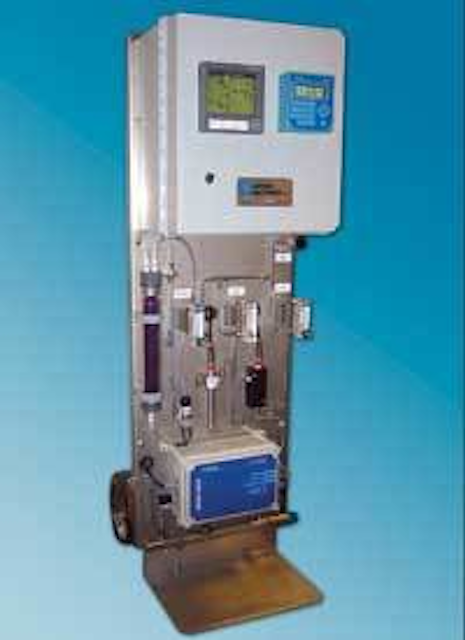 Click here to enlarge image
Waters Equipment's Portable QC Cart allows on-line verification of analytical instruments throughout the plant. When used with a conditioned sample, the cart eliminates sampling problems such as contamination, delays and temperature as well as phase changes in the sample within the transfer tubing. The cart can be used to measure on-line specific or cation conductivity, dissolved oxygen, pH and TOC. The unit is constructed of high-purity 316SS and plastic wetted parts and requires very little maintenance.
Waters Equipment Co.
Lansdale, PA
Tel: 215-699-8700
Web: www.watersequipment.com
TOC measurement
Rapid oxidation of gas samples for Total Organic Carbon (TOC) measurement can produce condensation which interferes with accurate readings. Perma Pure's MDTM-Series and MDHTM-Series Dryers remove excess water vapor to keep TOC analyzers free from damage and inaccurate results. Using patented Nafion® membrane technology, the dryers selectively remove only water vapor from gas samples, leaving the carbon dioxide concentration intact for TOC measurement. With this one step drying solution there is no need for a drip leg, peltier cooler, or desiccant canister.
Perma Pure LLC, a Halma Co.
Toms River, NJ
Tel: 800-337-3762
Web: www.permapure.com
Water quality testing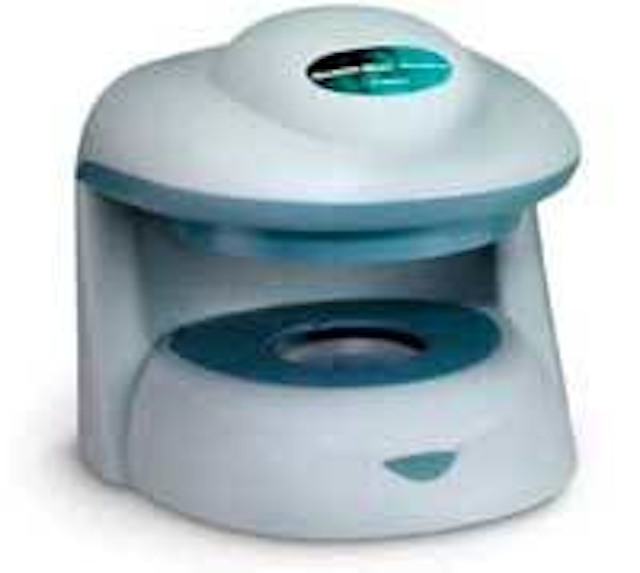 Click here to enlarge image
IDEXX Laboratories has launched the Quanti-Disc® Reader for the Quanti-Disc® test, a new method for testing Total Viable Counts (TVC) in water. The method produces results that correlate with the International Standard ISO 6222 Yeast Extract Agar pour plate method incubated at 36° ± 2°C for two days or at 22°C ± 2°C for three days. The new reader further simplifies testing by increasing ease-of-use and accuracy. With automated reading and recording of results, the reader eliminates any subjective results interpretation and allows laboratories to read a high number of samples in a short amount of time. It also improves accuracy by enabling sample bar coding, recording and storage of test results, and integration into a laboratory information management system (LIMS).
IDEXX Laboratories Inc.
Westbrook, ME
Tel: 800-321-0207
Web: www.idexx.com/water
Benchtop pH meter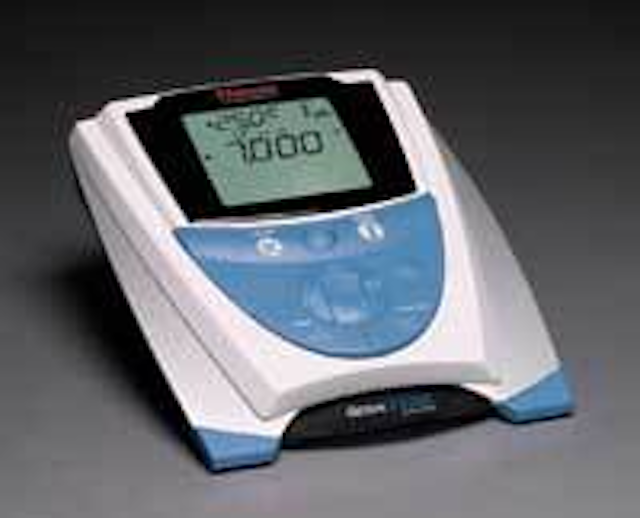 Click here to enlarge image
The new Orion 2-Star pH Benchtop meter offers simple three-button operation and is value priced for general purpose pH measurements in the laboratory. Specifically designed for environmental, industrial and educational applications, the meter is a significant upgrade from Thermo Electron's Orion 410A+/420A+ meters. The new meter provides an intuitive user interface with a pullout quick-start guide feature while offering up to three-point calibration and auto calibration compatible with NIST and DIN buffers.
Thermo Electron Corp.
Beverly, MA
Tel: 978-232-6000
Web: www.thermo.com
Data management tools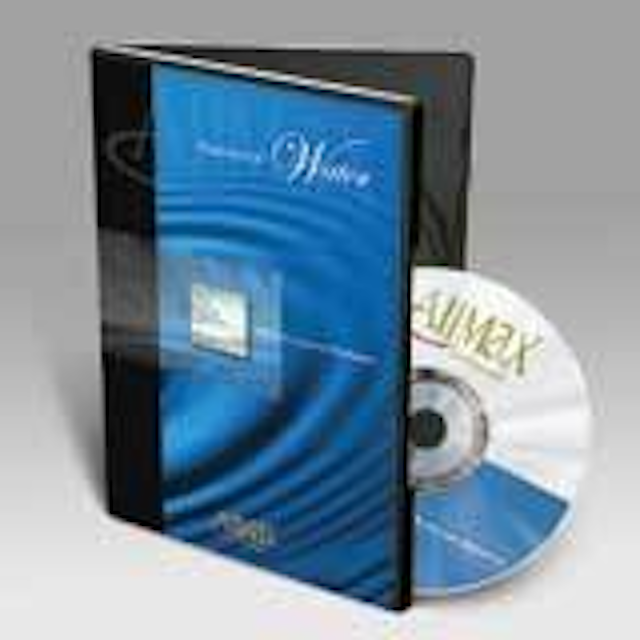 Click here to enlarge image
The new Operator10® v8.15 water, wastewater and pretreatment data management software is easier to use and can be set up for single, multi-user or client server, for any plant or facility. The software was designed to standardize company data and streamline processes. The applications are network ready using an SQL database. A new Sampling Event section tracks information that would appear on chain of custody and lab bench sheets, as well as location, sampler number, EPA method number, lab certification and analyst numbers.
AllMax Software Inc.
Tel: 800-670-1867 Web: www.allmaxsoftware.com
Water quality software
Schlumberger Water Services has released AquaChem, version 5.1, a software package designed for managing, analyzing and plotting water quality data. Part of the Waterloo Hydrogeologic Software (WHS) suite of products, it is now enhanced with a multitude of upgraded features including integrated tools and enhanced functionality to save time when working with vast amounts of water data.
Schlumberger Water Services
Waterloo, Ontario
Tel: 519-746-1798
Web: www.waterloohydrogeologic.com
DO monitoring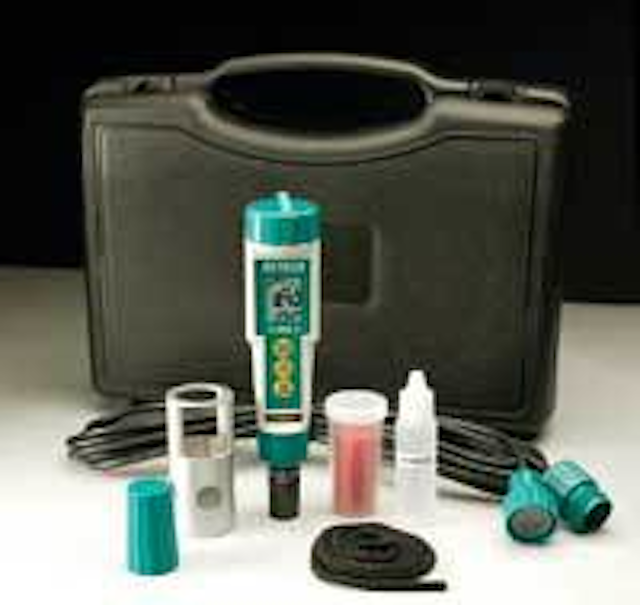 Click here to enlarge image
Extech Instruments offers the ExStik® II Waterproof Dissolved Oxygen Kit. This complete Kit, Model DO600-K, adds versatility for measuring DO in laboratories or out in the field with a 16 ft. extension cable and weighted probe guard for taking measurements in tanks, streams or bodies of water. The meter self calibrates on start-up and simultaneously displays dissolved oxygen, temperature and an analog bar graph to observe trends in sample testing.
Extech Instruments
Waltham, MA Tel: 781-890-7440 Web: www.extech.com
DO analyzer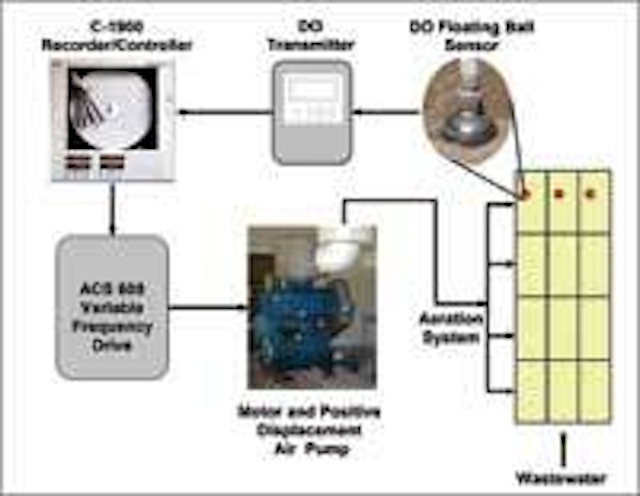 Click here to enlarge image
The ABB 4640 Series Dissolved Oxygen (DO) Analyzer accurately measures and transmits the DO value for aerated digester operations. The analyzer is simple to install and use, and requires minimal maintenance. Associated with the system, the ABB Model 9408 sensor takes the form of a relatively large ball floating on the wastewater surface.
ABB Instrumentation
Warminster, PA Tel: 800-922-2475
Web: www.abb.us/instrumentation
DO, suspended solids analyzers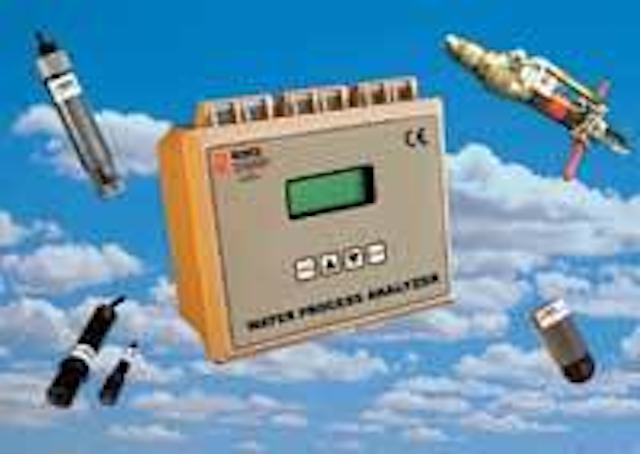 Click here to enlarge image
The Royce Series 8000 continuous Dissolved Oxygen/Suspended Solids Analyzers combine Royce's field proven technologies in a family of multi-channel and multi-parameter instruments. The combination of parameters provides the engineer and plant personnel with maximum application flexibility for monitoring and control of aeration basins. The analyzers are available with a self-cleaning option and multiple output capabilities.
Royce Technologies
Charlotte, NC
Tel: 800-347-3505
Laboratory software
Accelerated Technology Laboratories offers the Sample Master® Pro Laboratory Information Management System. The system's modules allow managers to address each area of the laboratory from sample log-in, tracking, data entry, QA/QC to web reporting with Sample Master® Result Point.
Accelerated Technology Laboratories, Inc.
West End, NC
Tel: 800-565-5467
Web: www.atlab.com
Photometer system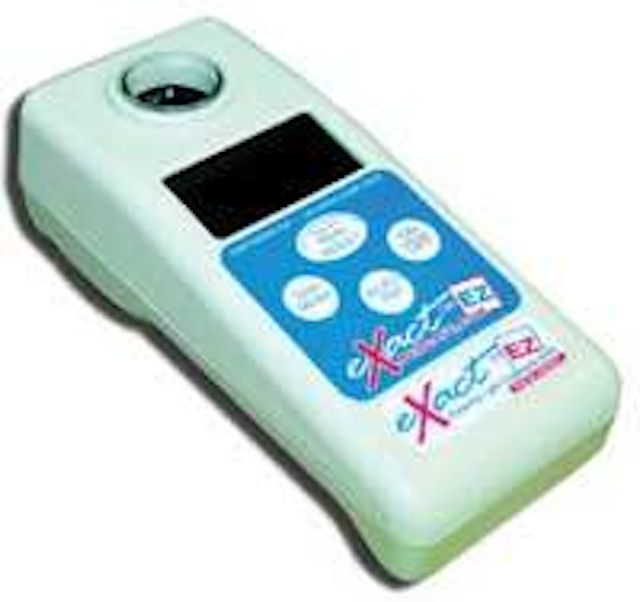 Click here to enlarge image
Industrial Test Systems offers the eXact EZ System for spectrophotometric measurement. The waterproof photometer has the sampling cell sealed/built into the meter, eliminating the task of handling cells or cuvettes. It is EPA-compliant for both Free and Total Chlorine testing, features 0.01 ppm resolution, measures 18 different parameters, and is ideal for all regulatory testing purposes.
Industrial Test Systems Inc.
Rock Hill, SC
Tel: 800-861-9712
Web: www.sensafe.com