Products & Services: Corrosion Control
Collection of corrosion control and related products and services.
Jan 1st, 2016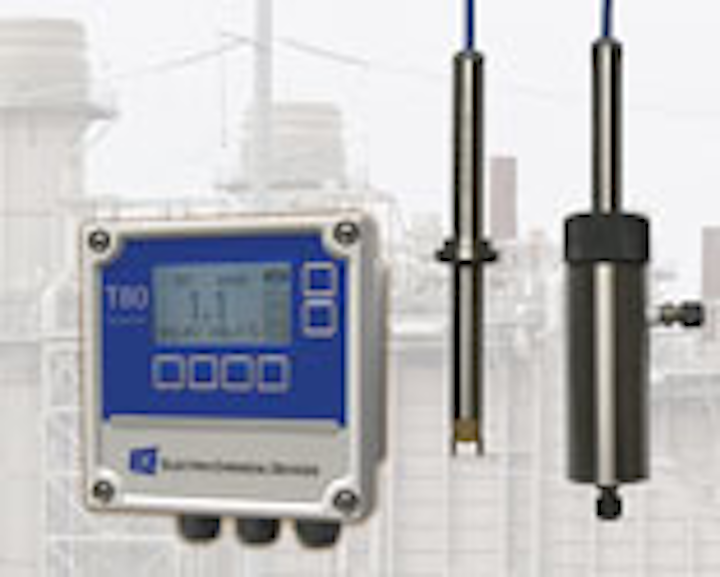 Dissolved oxygen analyzer
The new plug-n-play rack mount DO90 Trace DO2 Analyzer from Electro-Chemical Devices (ECD) provides continuous precision measurement and alarming of trace dissolved oxygen (DO2) levels in boiler feed water supporting electric power generation steam turbine systems. The analyzer features a lead silver, galvanic, dissolved oxygen sensor with a durable PFA Teflon® membrane. The sensor is combined with an intelligent universal transmitter designed for continuous service, housed in a rugged, 316L flanged stainless steel body for use in rugged industrial process environments. All data processing is internal to the sensor, and the calibration information is stored in the sensor's memory. It also provides integral temperature measurement.
Electro-Chemical Devices
Protective lining
Milliken Infrastructure Solutions LLC (MIS), a subsidiary of Milliken & Company, has added GeoSpray® 61 to its innovative line of geopolymer mortar system solutions. Building on the company's core geopolymer expertise, GeoSpray 61 is ideally suited for rehabilitation and protection of pipes and structures used in potable water systems. GeoSpray 61 is third-party tested and NSF/ANSI 61-2014 certified to allow asset owners and design engineers to extend the operating life of their existing assets, and can be used as a protective mortar lining for corrosion protection or as a structural enhancement in large-diameter pipes and structures.
Milliken Infrastructure Solutions
Solvent-free polyurethanes
Sherwin-Williams' new line of fast-drying, high-build, solvent-free polyurethanes are designed for corrosion protection in the water conveyance piping market. The chemical- and abrasion-resistant Poly-Cote™ 110 Fast Set, 110 Rapid Set, 115, and 115FR provide a smooth, glossy finish and offer the hydrophobic properties of an epoxy while maintaining the durability, flexibility and fast cure times of a urethane. All products are NSF certified up to 250 mils. The Poly-Cote line provides optimal film build and aesthetic properties and has a wide range of acceptable dry film thicknesses.
Sherwin-Williams
Peel-off coating
Cortec's MCI® Peel-off Coating is a corrosion-inhibiting, modified water-based acrylic peelable coating powered by MCI technology. This VOC-compliant coating provides mechanical protection against nicks, abrasion, scratches and over-spray to the surface that it covers. It can be used to protect non-porous walls, ceilings, floors, windows, and light fixtures. In addition, it enables cost savings and corrosion protection against atmospheric, salt and chemical-induced corrosion on metals. Migration Corrosion Inhibitors extend useful service life and can cut corrosion rates to one-fifth of previous corrosion. They are compatible with other materials for flexible and complete restoration and are certified for use in structures containing potable water.
Cortec® Corporation
Novolac epoxy
Sauereisen SewerGard® Industrial No. 210 is a novolac epoxy that is specifically formulated for industrial wastewater environments where plants and refineries treat water that they have contaminated before it is sent to a municipal wastewater treatment plant. All three formulations provide an impermeable, high-strength, corrosion-resistant lining resistant to sulfuric acid, elevated temperatures, aggressive chemicals, organic and inorganic acids, and caustics. SewerGard Industrial is available in Trowelable, Sprayable, and Glaze for ease of installation.
Sauereisen Inc.
Polyethylene sleeve
Polywrap from AA Thread Seal Tape is an extremely cost-effective and easy-to-install method for protecting ductile iron pipe in corrosive soils. Polywrap is a polyethylene sleeve that is pulled over the pipe during the installation. It requires no special tools or training to apply and can be pulled over each pipe section in just minutes. Best of all, it requires no maintenance, making Polywrap a smart choice for corrosion protection on ductile iron pipes.
AA Thread Seal Tape
Corrosion Control