Products & Services: Lab, Sampling Equipment
Collection of lab and sampling equipment related products and services.
Aug 1st, 2017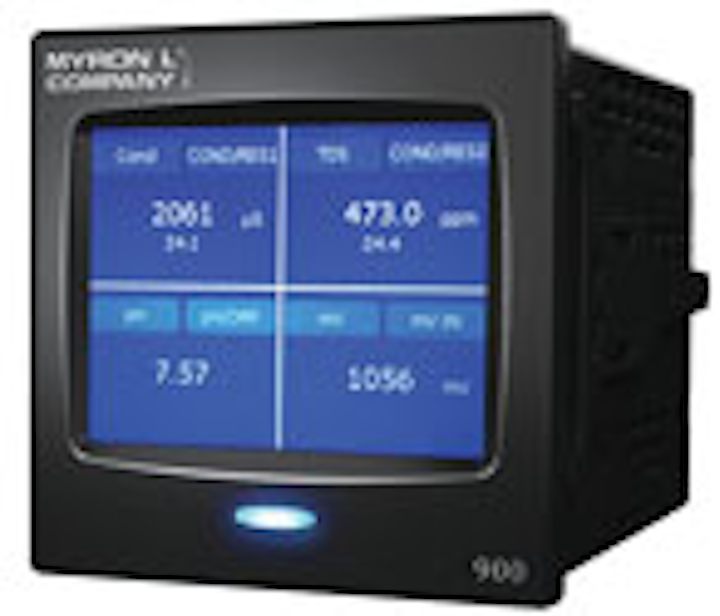 Water quality testing
Because no two applications are exactly the same, Myron L® Company's 900 Series Monitor/Controller's suite of signal inputs can be configured to display a variety of measurement types: conductivity, resistivity, salinity, TDS, pH, ORP, temperature, mVDC, flow, pulse and % rejection are all available. The 900 Series includes a 4-20 mA current loop, two-wire transmitter input that can be defined and scaled to display measurements how you need them displayed. A 3.5" resistive touchscreen can be configured to display information for up to four different inputs simultaneously, each displaying a different measurement type.
Myron L® Company
Handheld fluorimeter
Turner Designs' Ballast-Check™2 is a small, lightweight, highly durable handheld fluorimeter ideal for quick indicative compliance checks of ballast water. Factory set, it is ready for use right out of the box, no calibration necessary. Precision and accuracy of Ballast-Check 2 are optimized for the ballast water D2 regulations. Extremely simple one-button measurements display estimates of both algal abundance and algal activity, providing ship crew or port state control with an indication of risk for exceedance of the regulation. Small, battery-powered, waterproof, and easy to use.
Turner Designs
Intelligent sensors for analytical measurement
The DS80 Intelligent Sensor Series from Electro-Chemical Devices features a standard modular design, which can be customized for the accurate and reliable measurement of pH, ORP, DO, conductivity, resistivity and numerous specific ions. With their replaceable cartridge sensors, the instruments provide multi-parameter analytical measurement. They can be customized for a wide range of measurements in the most rugged environments to perform unique tasks unavailable with off-the-shelf analytical sensors. The sensors store and identify calibration information and communicate via MODBUS RTU with the ability to connect directly to a programmable logic controller (PLC) or a computer with a MODBUS RTU emulator.
Electro-Chemical Devices
Sample analysis
Asterion offers a new sample analysis submission process for the company's proprietary plating and pretreatment chemistries. Designed to ensure ease of use and quick customer response, the submission process meets growing customer requirements to optimize plating line efficiency and productivity at a low cost of ownership. Customers may submit up to ten sample requests per submission. Every sample is assigned an identifier number for testing at Asterion's advanced analytical laboratory. Free sample submission kits are offered to customers, including all required packing materials and shipping documentation. Testing includes chemical composition and trace analysis to determine composition, impurities and overall chemical quality.
Asterion LLC
Mass spectrometer
The new Thermo Scientific ISQ EC Single Quadrupole mass spectrometer seamlessly integrates with an existing ion chromatography (IC) or high performance liquid chromatography (HPLC) system and provides small molecule sensitivity and mass confirmation for users. The Chromeleon Chromatography Data Software (CDS) platform has embedded ISQ EC MS instrument control, which enables users to minimize time spent on new mass spectrometry (MS) user training. The instrument also enables users to analyze a range of simple and complex samples.
Thermo Fisher Scientific
Online analysis
Bürkert's Type 8905 Online Analysis System is a modular system for monitoring all important water parameters on one platform. The Type 8905 is a multichannel, multifunction unit for the Bürkert sensor cubes and electronic modules from the Efficient Device Integration Platform (EDIP). The EDIP allows high flexibility by using modularity in the hardware as well as in the software of the system. Type 8905 is the device for continuous measurement of high-priority water parameters such as: pH value, chlorine, conductivity, ORP value, turbidity, and temperature. Ideal for fresh water in industrial processes, the instrument requires minimal water for a sample.
Bürkert Fluid Control Systems