Flow, Level & Pressure Measurement: How to Select the Proper Instrument for the Process Application
Plant operators must constantly find new ways to improve operations, cut costs, increase productivity, maximize profitability, and reduce manpower requirements, while avoiding costly process interruptions and inefficiencies.
May 1st, 2008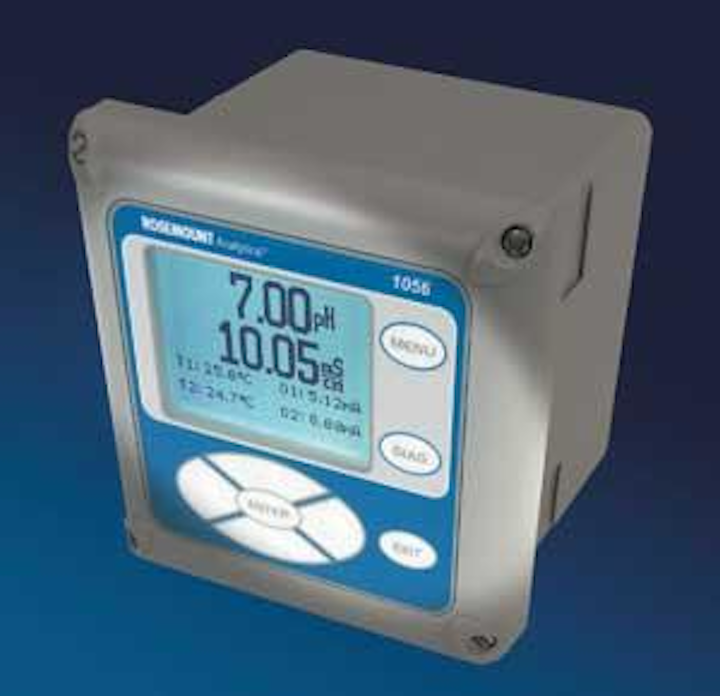 by Pete Anson
Plant operators must constantly find new ways to improve operations, cut costs, increase productivity, maximize profitability, and reduce manpower requirements, while avoiding costly process interruptions and inefficiencies. Whether for flow, level, pressure or other measurement, plant managers rely heavily on advanced instrumentation to maintain or improve productivity and identify potential problems before they occur. As such, they're paying increased attention to their liquid analysis instrumentation. Today's liquid process analyzers are advancing to a point where they begin to reduce the workload on plant personnel. Whether your plant is looking to expand operations, to upgrade systems for better performance and productivity, or to replace existing equipment that no longer serves your process management needs, there are several factors to keep in mind to select the best instrument for your specific requirements. Following is a four-step primer for determining which type of instrument and which features will best meet your specific application needs.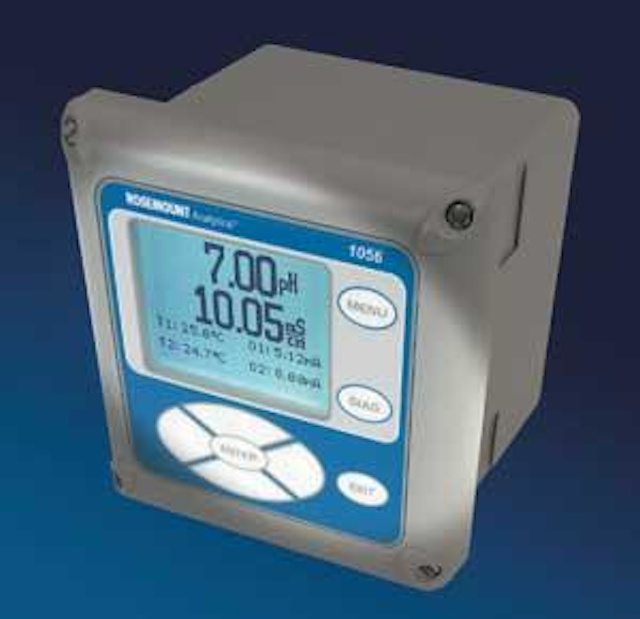 Rosemount Analytical Model 1056 Dual-Input Analyzer
Click here to enlarge image
Step 1
Determine your power and network needs – The initial decision is based on the plant's power infrastructure, network connectivity requirements and installation environment. The first point to determine is whether available power is AC or DC.
Four-wire instruments are for AC-powered installations, where two wires power the device and two are for communication. You might like the features or capabilities of a specific AC-powered instrument, but wish to power it over DC. Look for instruments that can be ordered in an AC- or DC configuration. Most four-wire instruments offer more features and capabilities than their two-wire counterparts.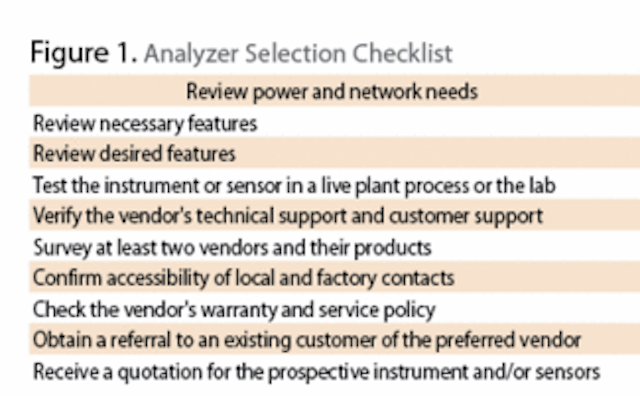 Click here to enlarge image
Some four-wire analyzers are available with a choice of a universal switching AC power supply or a 24VDC power supply. A universal AC-driven power supply can be used in both the U.S. and Europe with its auto-switching capabilities. Both technologies can also enable alarm relays with programmable timers or trigger alarms when programmed thresholds are reached.
Two-wire instruments are DC-loop powered and only require connection to positive and negative leads of a communications link for operation. If the instrument is installed in safety zones that require two-wire devices, make sure to specify that it's agency-approved for hazardous area installation (such as explosion-proof or non-incendiary). Not all devices are approved as Intrinsically Safe (for Class I, Division 1 areas) or Non-Incendive (for Class I, Division 2 areas), which may be a hard-and-fast requirement for plant liability protection.
If your plant uses digital communications in its monitoring or control network, look for an instrument that's compatible with your communications protocol. Some DC loop-powered instruments are available with either HART® or FOUNDATION™ Fieldbus. Check the specifications of the instruments you're considering for this.
Step 2
Specify necessary features – List your analytical requirements to identify the best instruments for your application. You may have some necessary features and some nice-to-have desired features. Review both of your feature lists against vendor product data sheets to determine your ideal device options. See Figure 2 for special considerations.
Step 3
Qualify the vendor – A careful review of the vendor can offer potential signs of how pleased or aggravated you may be in your relationship. Check the vendor's web site for easy navigation to product and support information. Here are some criteria you might consider in your vendor screening process:
Range of process sensors to serve all applications
Easy access to customer support
Technical resources available for special applications and troubleshooting
Timely vendor response to requests for quotes and information
Accessible sales people or field personnel for local support
Industry reputation
Overall value of product quality and service
Industry experience
Ability to offer customized solutions
Warranty and replacement policy
Time and attention during the qualification stage
Technology and innovation in the product line
Free equipment evaluations
Step 4
Test the instrument – Before selecting an instrument, it's critical you conduct a live test in the plant process or a run-time lab test that closely simulates the actual process. Here are some criteria to consider during an evaluation:
How easy or difficult is the installation process?
How easy or difficult is configuration and set-up?
How easy or difficult is calibration?
How user-friendly are display screens and prompts?
How reliable and accurate are readings?
What's required for maintenance and repair and how will these affect the total cost of ownership?
How easily can you access measurement status and diagnostics?
Conclusion
Budgets and personnel hours are tight and demands for greater efficiency, productivity and profitability are only growing, but selecting the proper analyzer can meet these requirements, help maintain high process quality and reduce maintenance costs.
About the Author: Pete Anson is senior product manager for Emerson Process Management, Rosemount Analytical, and has served in the process analytical industry for more than 20 years. Contact: 800-854-8257 or www.raihome.com
Figure 2. Special Considerations
Features to consider include the following:
1. Type of measurement: Oxygen, pH, conductivity, chlorine, turbidity, flow, level, ozone or temperature.
2. Range of measurement: Match process conditions to the measurement capabilities (range and accuracy) of the electronic instrument. For example, wastewater applications require a dissolved oxygen (DO) measurements in the parts per million (ppm) range, while the power industry requires a parts per billion (ppb) range for trace DO. .
3. Alarm relays: Specify relays if process requirements dictate the need to trigger process alarms for errant process conditions or when programmed thresholds are reached. For example, these alarms may be used in a water treatment plant where a high turbidity alarm may initiate backflushing of the filters. Another example is, based on the level of DO in the aeration basin, blowers may turn on to keep the optimal aeration level for a healthy aerobic process.
4. Diagnostics: Embedded predictive diagnostics provide warnings and faults when sensors or instruments aren't performing to specifications. This provides critical troubleshooting information on the condition of the instrument, sensor, overall loop and process. It's important to look for diagnostic solutions that provide maximum information in minimum time. For example, some displays can show multiple process variables or diagnostic parameters and the screen can be easily configured based on requirements.
5. Dual measurement: For some applications and to reduce instrument costs, some instruments are offered with dual- or multiple-sensor inputs. For example, in drinking water, it's important to simultaneously measure free chlorine and pH.
6. Communications: a) Digital - HART, PROFIBUS® and FOUNDATION Fieldbus provide communication network access to on-line status, configuration settings and diagnostics for all networked instruments; or b) 4-20mA analog outputs allow the transmission of live readings to the control room for real-time process evaluation, data logging and reporting.
7. Wireless: This new technology for monitoring plant processes is gaining popularity. For measurement points that are remote, difficult or unsafe to access, or too costly to install with wiring, a wireless solution should be considered. Several vendors offer wireless solutions. Consider solutions that offer high transmission reliability and long battery life. These networks should incorporate intelligent routing of wireless signals to ensure uninterrupted communications.
8. Ease-of-use: To reduce training costs, consider analyzers with simple, intuitive menus and help-screens for easy operation. For better field functionality, verify that screen displays are easy to read, even from a distance.
9. Calibration standards: Embedded commercial standards and buffer tables make calibration easier. Confirm preferred standards and calibration methods for pH measurements are in the instrument.
10. Local instrument access: IR (infrared) hand-held remotes or keypad access can allow calibration and configuration in-situ.
11. Set-up requirements: For efficient deployment, look for instruments that are set up and configured quickly and easily. Does the startup screen appear the first time the instrument is powered up? Does it auto-recognize each measurement board installed within the device and enable sensor configuration in a few quick steps for immediate deployment? The startup screens should be easy to navigate and quick to complete.
12. Reconfiguration: In addition to fast initial set-up, an advantage offered by some instruments is to allow it to be reconfigurable in the field – an important factor for OEMs, integrators and Instrument & Electrical staff. Some analyzers can be easily reconfigured in the field with modular cards and easily removable connectors.
13. Instrument enclosure: It's important to specify a NEMA, IP-rated water-resistant enclosure to protect the two-wire or four-wire instrument. Specify explosion-proof enclosures for harsh environments or installation areas that call for this safety rating.
14. Agency approvals: If instruments are to be operated in areas designated as hazardous, safety approvals from FM (U.S.), CSA (Canada) or ATEX (Europe) may be required.
15. Compatibility with other vendors' sensors: Ensuring compatibility and adequate measurements may require test verification. Look for instruments that can accommodate sensors from different vendors.
16. Comprehensive installation and operation manuals: Confirm that the technical documentation for the application and use is satisfactory.