New Products
Compilation of new products for the industrial water market.
Aug 31st, 2015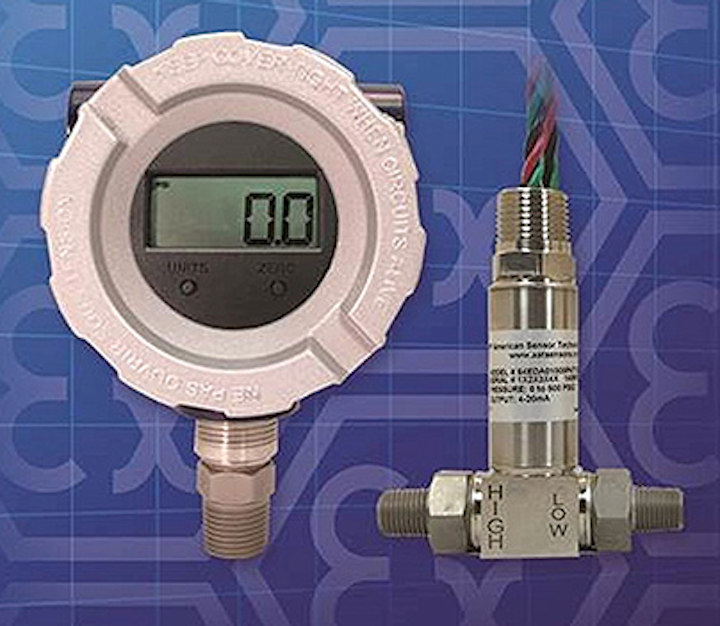 Pressure sensors
American Sensor Technologies' AST46DS Explosion-Proof Pressure Transducer and AST54ED Explosion-Proof Differential Transformer are now certified according to ATEX and IECEx Ex d IIC flame-proof requirements. Each sensor offers a unique solution for the hazardous location market. Designed with a voltage output signal with extremely low current consumption, the AST46DS allows battery-operated devices to last longer between battery maintenance or when replacement is required. The AST54ED produces an analog output signal in a compact design for explosion-proof environments.
American Sensor Technologies
www.astsensors.com

Industrial computer
Schweitzer Engineering Laboratories has announced the SEL-3360S Compact Industrial Computer. Designed for extreme environments and small spaces, the 3360S features powerful Intel Core i7 dual- and quad-core processors. To ensure the highest reliability, the computer supports two solid-state 2.5" SATA drives and RAID configurations and use single-level cell NAND flash. Up to 16 GB of error-correcting code RAM provides ample memory for demanding applications. The 3360S operates in environments ranging from –40° to +75°C (–40° to +167°F) with no fans or forced airflow.
Schweitzer Engineering Laboratories Inc.
www.selinc.com

Turbidity sensor
Endress+Hauser has introduced the Turbimax CUS52D turbidity sensor for process water filtration and other industrial process turbidity conditions. The CUS52D performs laboratory-quality turbidity measurements without the need for extensive bypass installations, avoiding costly product or water losses. The sensor measures turbidity from 0.000 to 4000 NTU with accuracy of 2% of measurement ±0.01 NTU at process temperatures from -4 to 185°F with a detection limit of 0.0015 NTU. The sensor measures turbidity in accordance with ISO 7027.
Endress+Hauser
www.us.endress.com

Corrosion inhibitor
A biodegradable corrosion inhibitor for marine and process applications, Cortec's VpCI®-643 provides instant, long-term, multi-metal corrosion protection. VpCI®-643 is a unique, concentrated combination of inherently biodegradable corrosion inhibitors and oxygen scavengers that protect ferrous and non-ferrous metals from corrosive solutions containing chlorides. This new water treatment additive is designed to provide corrosion protection in fresh water, salt water, brine, and other highly corrosive solutions containing dissolved halogens. As a concentrated formulation, VpCI®-643 offers low-dosage effectiveness as a treatment for marine and process applications.
Cortec Corporation
www.cortecvci.com

Matrix drive
Yaskawa has introduced its greenest drive ever, the all new U1000 Industrial Matrix Drive, the product that enhances performance beyond that of a conventional AC drive. Enjoy low harmonic distortion and regeneration in a space-saving design, completely without the need for additional components. Unlike conventional drives, the Matrix employs a system of nine bidirectional switches arranged in a matrix to convert a three-phase AC input voltage directly into a three-phase AC output voltage.
Yaskawa America Inc.
www.yaskawa.com

Ultrafiltration modules
The IntegraFlux™ Ultrafiltration Modules from Dow feature XP Fiber, a high-performance fiber that delivers high-quality water at a low cost. With up to 35-percent higher permeability than previous generation ultrafiltration fiber, XP Fiber provides higher flux, higher water recovery, lower waste, and reduced energy use. IntegraFlux Modules and IntegraPac™ Skids with XP Fiber are ideal for markets demanding higher productivity water filtration solutions. The modules can operate up to 40-percent higher flux while producing the same transmembrane pressure.
Dow Water & Process Solutions
www.dowwaterandprocess.com

Water treatment equipment
PRAB has introduced its full spectrum of industrial wastewater treatment equipment that will help determine which equipment is best suited for each application, starting with a water analysis and goals assessment. The result will be a wastewater reduction plan designed to reduce disposal costs and help support environmental and municipal regulations compliance. PRAB has partnered with Veolia for the EVALED™ line of wastewater treatment equipment.
PRAB
www.prab.com

Hot water pumps
MP Pumps has expanded its Tempuflo® centrifugal line to include pumps designed for hot water applications. The Patented Tempuflo HTW Series joins the HTO Series by offering four models ranging from 1 to 20 HP. HTW provides a self-aligning compact installation with an integral air-cooled heat exchanger and seal chamber and is designed for high-temperature process manufacturing applications using hot water, ethylene glycol, propylene glycol, and triethylene glycol. The HTW 80 and 120 models offer pressures to 135 head feet with flows to 90 and 195 GPM respectfully.
MP Pumps
www.mppumps.com