WATER SAMPLING & MONITORING SYSTEMS
Hach introduces the new DR 5000 Spectrophotometer and TNTplus™ barcoded reagents for streamlined laboratory analysis.
Sep 1st, 2005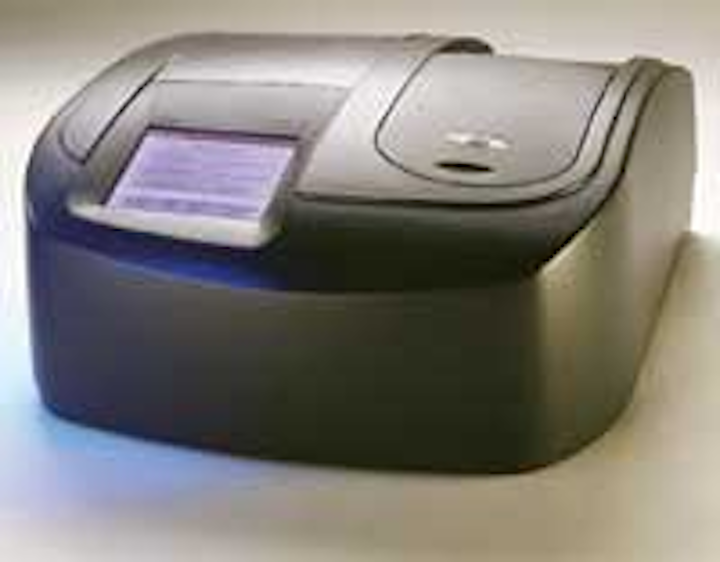 Spectrophotometer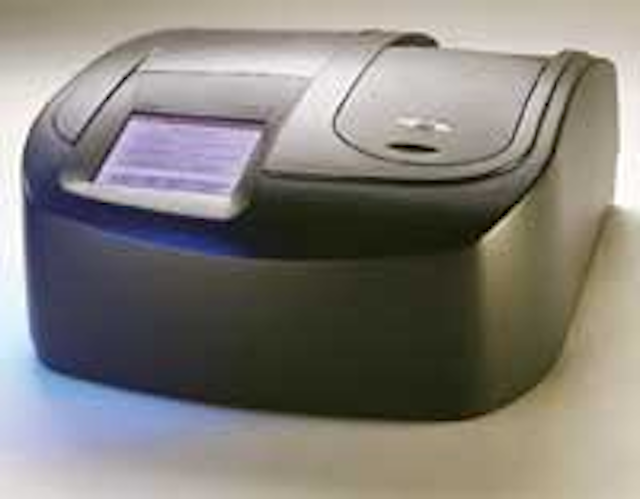 Click here to enlarge image
Hach introduces the new DR 5000 Spectrophotometer and TNTplus™ barcoded reagents for streamlined laboratory analysis. This instrument-reagent integration provides automatic method detection and reagent blanking that increase productivity and reduce errors. Coupled with new Hach TNTplus reagent vials such as Chemical Oxygen Demand (COD), the spectrophotometer automatically recognizes the test method, determines the reagent blank, and yields 10-fold measurement and averaging - all to reduce reagent consumption and testing time while improving testing accuracy and productivity. Hach Co., Loveland, CO, 800-227-4224, www.hach.com.
Fieldbus interface
Emerson Process Management has announced the latest release of the Rosemount® 3420 Fieldbus Interface Module (FIM). Designed for users in facilities without Fieldbus I/O, the Rosemount FIM enables installation of Foundation™ Fieldbus devices with any host system. This capability extends the proven benefits of PlantWeb® digital architecture to existing plants. The latest version provides access to predictive diagnostic information from the Fieldbus devices, enabling asset management and performance optimization within the AMS™ Suite: Intelligent Device Manager software. Emerson Process Management, Rosemount Analytical, Chanhassen, MN, 952-949-5165, www.emersonprocess.com.
Display magmeter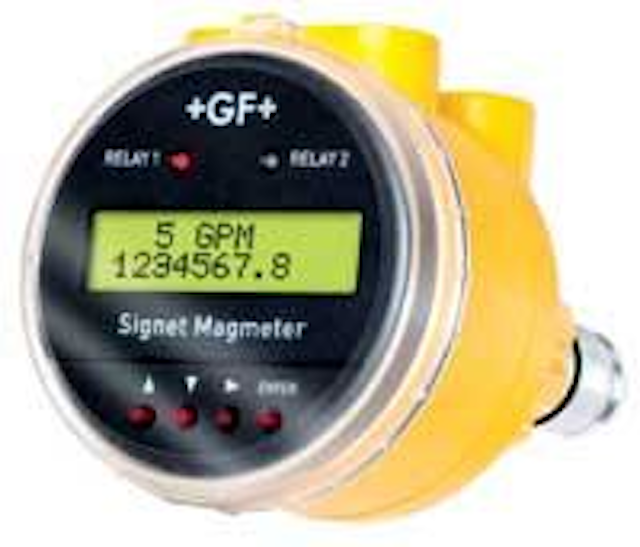 Click here to enlarge image
George Fischer's new Signet 2551 Display Magmeter, an insertion style electro-magnetic flow sensor, provides increased functionality with built-in display, empty pipe detection and bi-directional flow capabilities. These features, combined with its availability in PVDF/Hastelloy C wetted parts, enable the unit to meet a wide range of application needs. With no moving parts to wear or foul, the meter measures flow in fluids containing a high content of particles, solids and fibers, making it an excellent choice for applications with dirty fluids. George Fischer Inc., Tustin, CA, 800-854-4090, www.us.piping.georgefischer.com.
Flowmeters
Click here to enlarge image
McCrometer's new A-Z Flowmeter CD contains the company's most up-to-date flow technology, applications and product specification information based on its 50 years of expertise. It's a comprehensive tool designed to help engineers and technicians select the best flow instrument to meet their process requirements. New to the latest edition are two Flash Application Presentations for the V2-Municipal™ Flowmeter and the Ultra Mag® Flowmeter. The V2 features a built-in transmitter with flow computer and a space-saver design for crowded plants. McCrometer Inc., Hemet, CA, 800-220-2279, www.mccrometer.com.
Sanitary flowmeters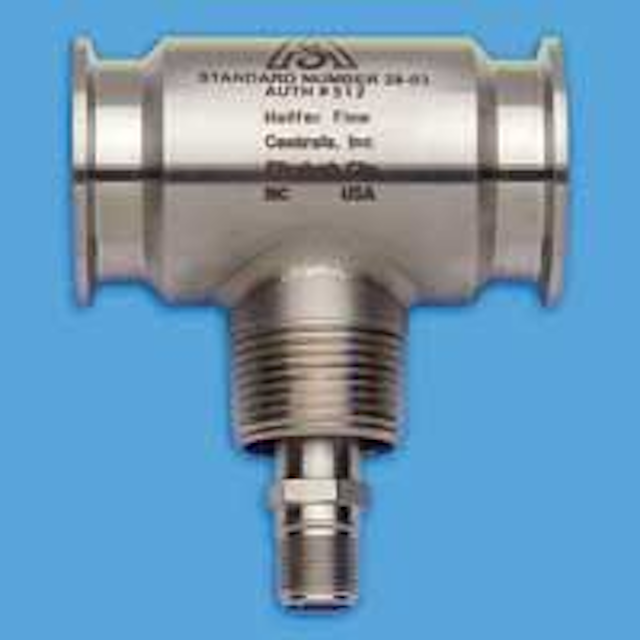 Click here to enlarge image
Hoffer Sanitary Series flowmeters recently received 3A Sanitary Rating 28-03 after being subjected to a third party verification process. This series provides ±0.5% accuracy (±0.1% with linearization) for use in the pharmaceutical, food and beverage industries or any application where sanitary requirements are considered necessary. Applications include ultrapure deionized water, demineralized, or WFI water (water for injection) as well as various applications in food and beverage such as syrup products, batching water, etc. Hoffer Flow ControlsInc., Elizabeth City, NC, 800-628-4584, www.hofferflow.com.
UV for ultrapure
Click here to enlarge image
Millipore announces a cost-effective laboratory water purification system that can convert pretreated (distillation, DI, RO) water to ultrapure (Type I) water. The Synergy UV system is suitable for low-volume laboratory needs such as buffers and solutions for many techniques, including chromatography, electrophoresis, spectrophotometry and spectroscopy, cell culture media and molecular biology reagents preparation. After connecting the system to a pretreated water supply, it's simple to install the single purification cartridge, which integrates a variety of technologies. Millipore Corp., Billerica, MA, 800-645-5476, www.millipore.com/h2o.
Chemical dosing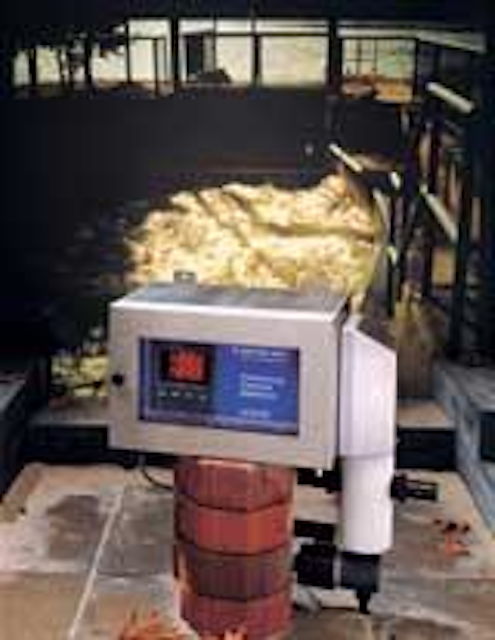 Click here to enlarge image
Milton Roy's Streaming Current Detector is a dynamic analyzer used in polymer and other chemical dosing applications. By measuring residual ions in the flow, precise dosing of polymers and coagulants to sludge processing and other water-related processes can be performed. This maximizes the treatment while significantly reducing the costs of chemicals and wear on plant processing equipment. The optional PID internal controller allows for flow-paced dosing under normal operating conditions. LMI Milton Roy, Ivyland, PA, 215-441-0800, www.miltonroy.com.
Aeration controller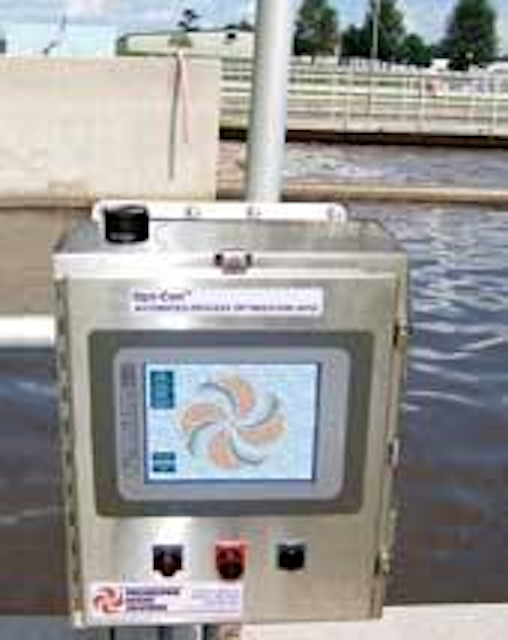 Click here to enlarge image
From Philadelphia Mixing Solutions comes the next generation system to monitor the performance of aeration equipment, manage WWTP energy costs, and enable preventative maintenance. The Opti-Con™ Controller comes with a touch screen computer panel with the necessary options to customize input sensors and output data collection. This system can be integrated into existing SCADA systems. It can communicate via Ethernet connections to allow secure remote access along with data acquisition for trending. Philadelphia Mixing Solutions, Palmyra, PA, 717-832-8808, www.philamixers.com.
Telemetry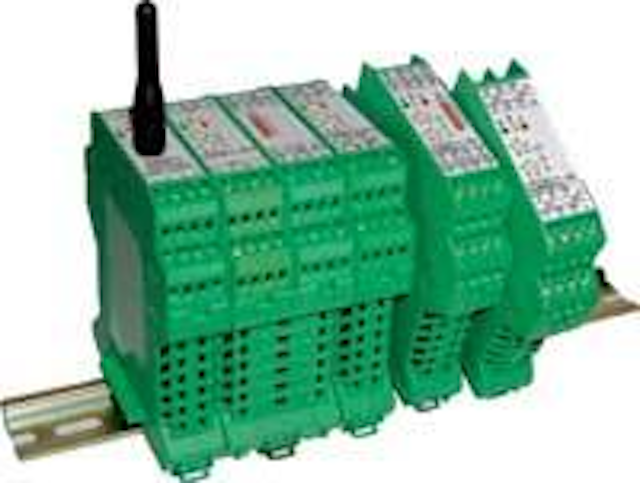 Click here to enlarge image
The Pribusin MTS series offers a modular wireless telemetry system that's flexible and field expandable without any programming requirements. All modules feature an integrated power and data bus that makes assembly a 'snap.' The 1 Watt 900 MHz spread spectrum operation is license-free and achieves 12+ miles Line-of-Sight. Repeaters are available to further extend the range or to get around obstructions. PLC interfacing is also possible using MODBUS. Installation is simple and no prior radio knowledge is required. Pribusin Inc., Ann Arbor, MI, 734-677-0459, www.pribusin.com.
VOC detector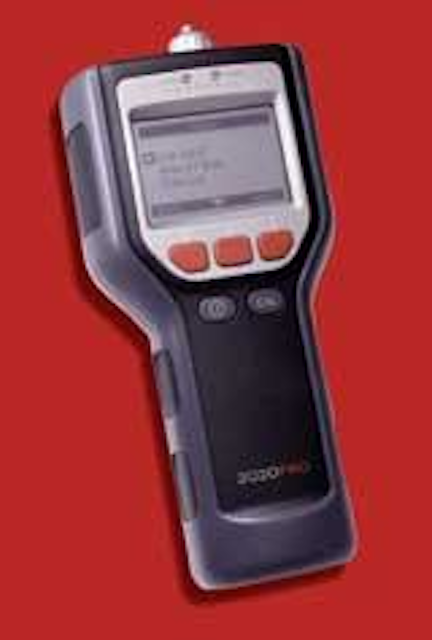 Click here to enlarge image
Photovac introduces the 2020PROPlus™, the first of a new family of enhanced photoionization detection instruments. The dynamic range is extended to 10,000 ppm with 0.1-ppm precision to 100-ppm and 1-ppm precision to 10,000 ppm. New operating features developed in cooperation with Dräger Safety AG & Co. include optional use of activated charcoal tubes to provide more accurate "clean air" calibration, and humidity reduction tubes for more accurate sampling in high humidity environments. Photovac Inc., Waltham, MA, 781-290-0777, www.photovac.com/pr.
Stormwater sampling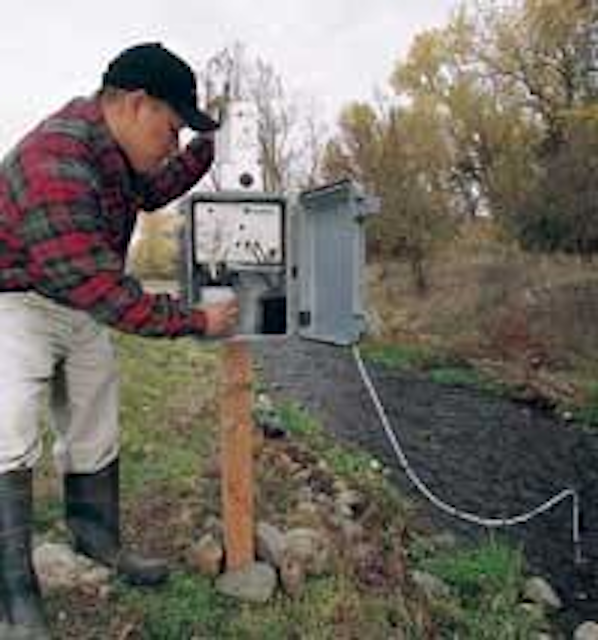 Click here to enlarge image
Global Water's SS505 Stormwater Sampler is designed specifically to meet federal and state stormwater sampling requirements. It takes a discrete sample, filling the one-liter sample bottle, based on rainfall and/or water level. The unit can be installed in any stormwater channel to take and store water samples during a storm event. It is durable and light weight (<20 lbs). Includes a peristaltic pump for the purest samples possible and 15 feet of tubing with a weighted strainer on the end to reach the sample site. Global Water Instrumentation, Gold River, CA, 800-876-1172, www.globalw.com
Onsite wastewater analysis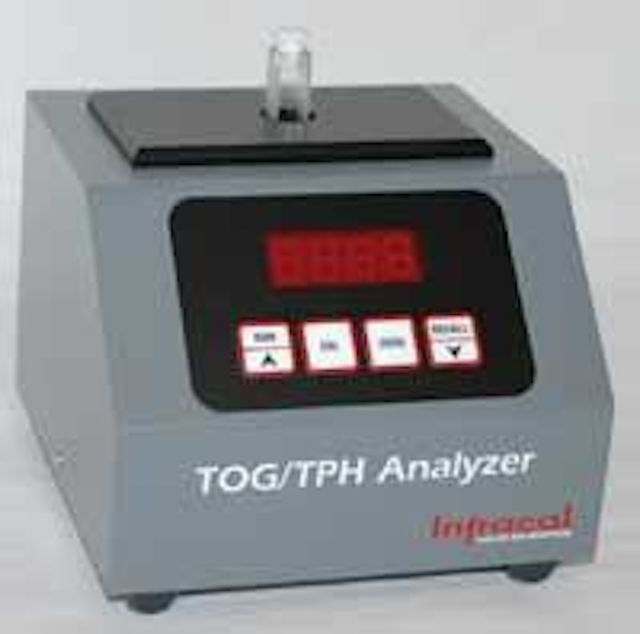 Click here to enlarge image
Using either the InfracCal TOG/TPH Analyzer, Model HATR-T2 or the Model CVH - depending on the solvent selected for the extraction process - onsite determinations of the total fat, oil, grease concentration level in the wastewater are determined in 10-15 minutes - including extraction process. Measurement data obtained with the Model HATR-T2 will correlate to EPA Method 1664 and with the Model CVH to the new ASTM Method D 7066-04. Wilks Enterprise Inc., South Norwalk, CT, 203-855-9136, www.wilksir.com.
Pressure/level transmitters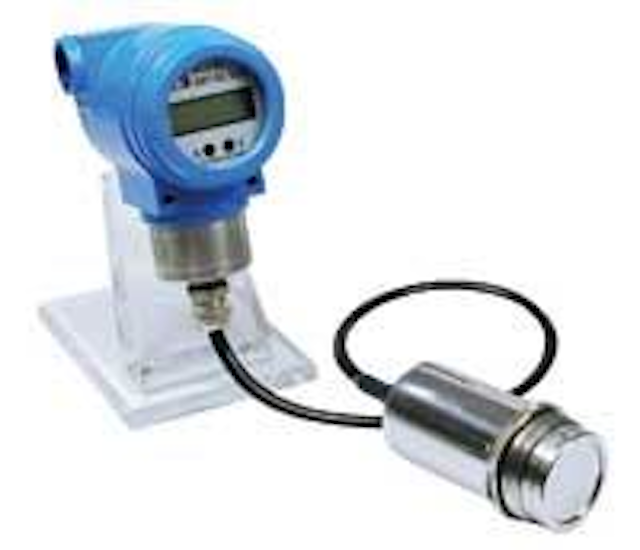 Click here to enlarge image
Process Measurement & Controls now offers a new range of pressure/level transmitters with remote local display - Series PT/EL. The transmitters incorporate its patented flush-mount sensors for reliable monitoring of fluids where clogging substances or sanitary requirements are involved. The sensor, available in various packages, can be submerged into the fluid or mounted directly into the pipe or tank. The remote electronics and display, available in a range of housings, can be located up to 60' from the sensor for ease of viewing and away from potentially hazardous conditions. FM/CSA certified configurations are available. Process Measurement & Controls Inc., Danbury, CT, 203-792-8686, www.pmc1.com.
Residual analyzer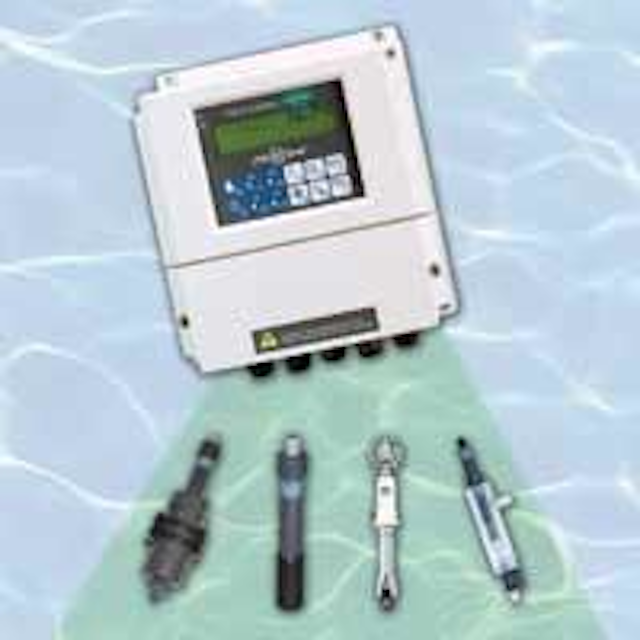 Click here to enlarge image
Severn Trent Services offers the MicroChem®2, a new generation of transmitters and controllers suitable for all the needs of analysis and process control in water and in many industrial applications. It is able to measure and transmit up to three of the listed parameters in every desired combination: pH, ORP, DO, fluoride, bromine, iodine, chlorine dioxide, chlorine (free and total, buffered and bufferless), ozone 4-20 mA or 0-20 mA, and temperature (PT100). Severn Trent Services, Colmar, PA, 215-997-4000, www.severntrentservices.com.
Industrial thermometer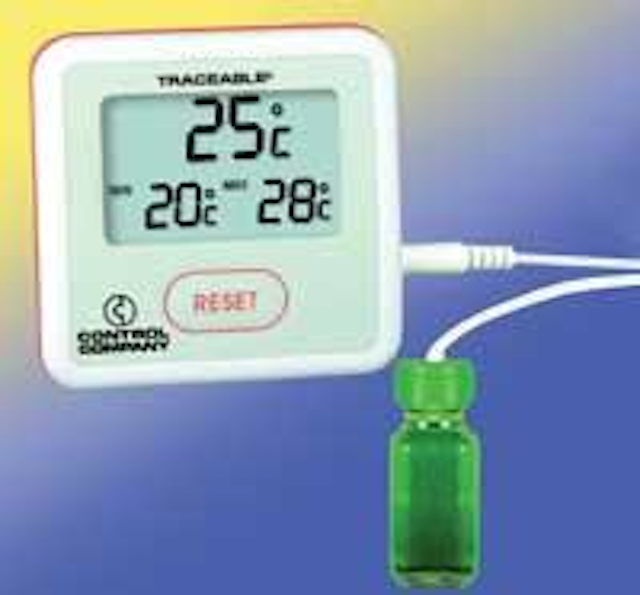 Click here to enlarge image
Control Company's new Traceable® Sentry thermometer simultaneously displays high/low and current temperature with a triple display. Range is -58 to 158°F or -50 to 70°C. Resolution is 1° and accuracy is ±1°C. The sensor and 10-foot cable may be placed under water, in a refrigerator, or a freezer. Small cable diameter (1⁄16") allows refrigerator doors to close on it with no effect. Unplugging the cable activates a sensor inside the unit for monitoring ambient room temperature. Control Company, Friendswood, TX, 281-482-1714, www.control3.com.
Boiler cleaning solutions
Click here to enlarge image
Diamond Power International introduces its new SentrySeries™ control systems. This suite of boiler cleaning solutions is built with industry standard hardware and HMI software packages that meet specific requirements of the utility and pulp and paper industries. A key advantage of these controls is its open architecture design, which eliminates problems encountered when supporting multi-purpose control systems that use proprietary languages. Plants or mills wanting to modify an existing control system, including existing BOS® users, will find this series ideal because it provides easy migration paths and minimal disruptions. Diamond Power International Inc., Lancaster, OH, 800-848-5086, www.diamondpower.com.
Liquid flow sensor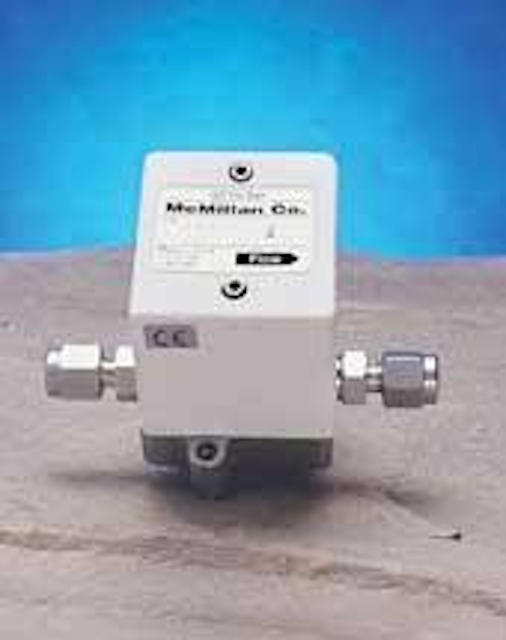 Click here to enlarge image
McMillan's Models 104 and 107 Liquid Flo-Sensors® precisely measure flow rates of fluids as low as 13 ml/minute, and are designed as an electronic alternative to ball-and-tube rotameters. Stainless steel construction guarantees compatibility with many chemicals utilized for water treatment. ±1.0% linearity (full scale) and ±0.2% repeatability (full scale) provides accurate readings for critical applications. An analog 0-5 vDC output and pulse output are both provided standard; 4-20 mA outputs and an integrated display are optional. McMillan Co., Georgetown, TX, 800-861-0231, www.mcmflow.com.
Conductivity sensors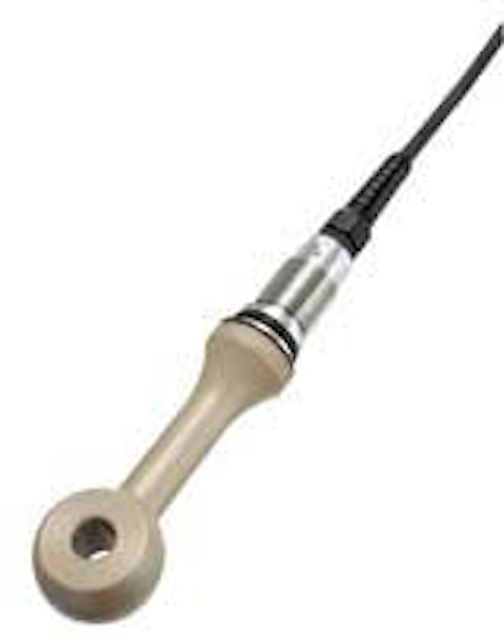 Click here to enlarge image
Mettler-Toledo Ingold has revamped its entire inductive conductivity product line centered on launch of its enhanced InPro 7250 conductivity sensor. These inductive ("electrodeless") sensors are designed for aggressive applications requiring high accuracy and reliability with low maintenance. Industrial applications are found throughout chemical, petrochemical, pulp & paper, pharmaceutical, and food & beverage markets. Mettler-Toledo Ingold, Bedford, MA, 781-301-8800, www.mt.com/pro.
SFE processing system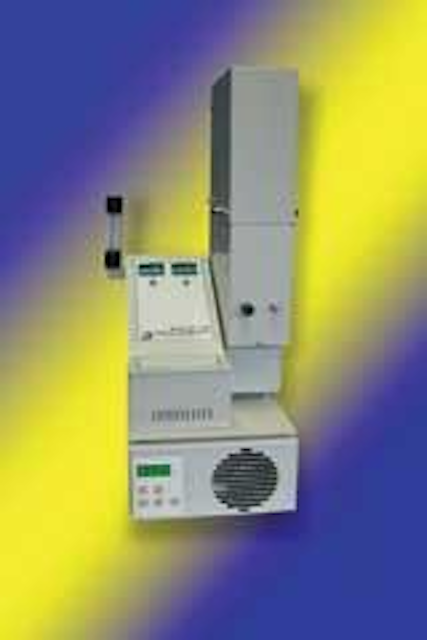 Click here to enlarge image
The SFT-100 Supercritical Fluid Extraction (SFE) System was developed to investigate the feasibility of applying supercritical fluid techniques to various analyses and processing challenges. Whether it's repetitive laboratory analysis, teaching laboratory application, or process development, it's a fully functional instrument, designed to perform extractions in supercritical fluid media. Dual sapphire syringe pump technology rapidly and accurately pressurizes its SS vessel which is capable of containing supercritical fluids at pressures up to 10,000 psi (69 mPa). Supercritical Fluid Technologies Inc., Newark, DE, 302-738-3420, www.supercriticalfluids.com.
Flue gas analyzer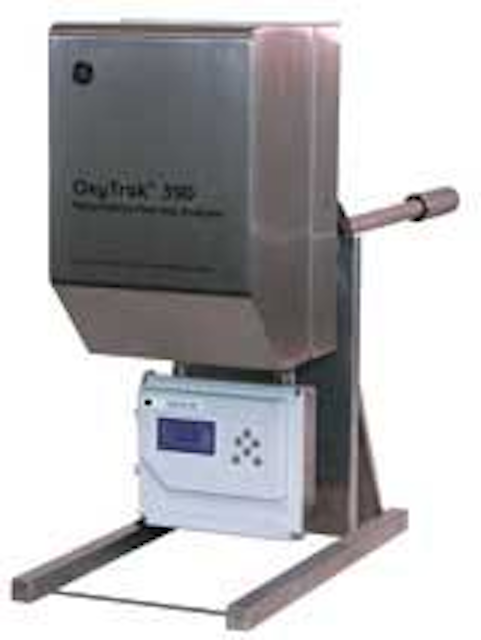 Click here to enlarge image
GE Industrial, Sensing, has introduced OxyTrak 390, the latest addition to its line of flue gas oxygen analyzers. This unit brings advanced programming and communications, as well as simplified maintenance and calibration, to the convection loop sampling system. It's designed for ex situ installations in dirty, rugged applications such as boilers, furnaces, rotary kilns and incinerators. It features easy access to both oxygen sensor and calibration port, so the unit can be fully serviced while still in place. GE Industrial,Sensing, Billerica, MA, 978-437-1157, www.gesensing.com/panametricsproducts.
Sampling stormwater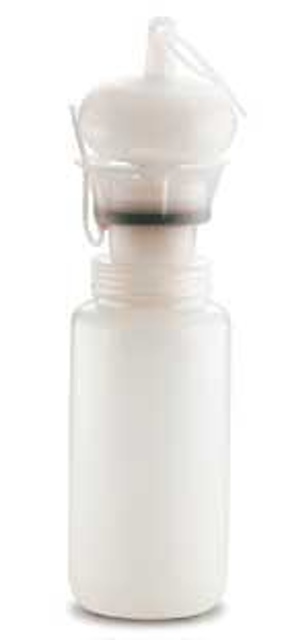 Click here to enlarge image
The I-CHEM, available from Forestry Suppliers, collects a full one-liter sample of first flush stormwater within the first 30 minutes of a rain event in compliance with EPA sampling requirements. A floating ball valve seals off the sample collection port to prevent co-mingling with run-off water as well as volatile analyte loss. Water flows through the sampler's collection funnel directly into a Nalgene® sample bottle, so no sample transfer is necessary before transport to the lab. This unit can be securely mounted in a stormwater ditch, stream, or storm grate outfall. Forestry Suppliers Inc., Jackson, MS, 601-354-3565.
Customized water testkits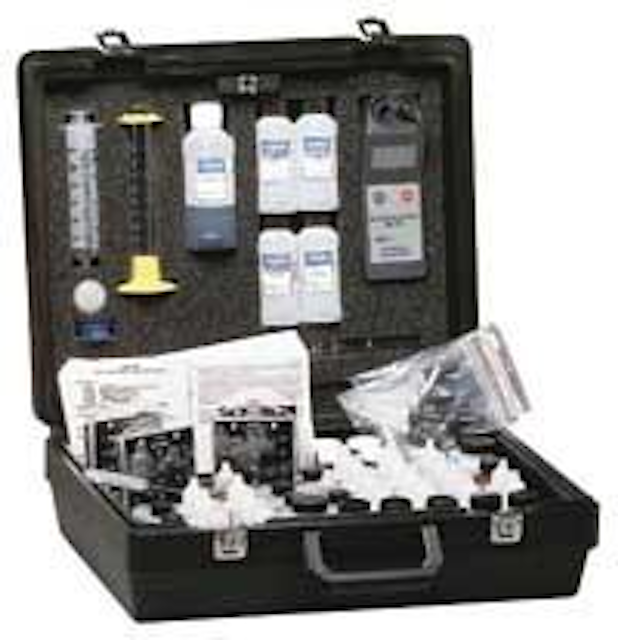 Click here to enlarge image
Design your own combination test kit by selecting from Taylor's extensive product line. Choose from durable plastic carrying cases in several sizes or lockable steel wall-mount test cabinet, then outfit it with only the drop-count or buret titrations, color-matching tests, and portable meters important to you. Also available are a wide variety of standard solutions, labware, and accessories. Taylor Technologies Inc., Sparks, MD, 800-837-8548, www.taylortechnologies.com.
Wastewater samplers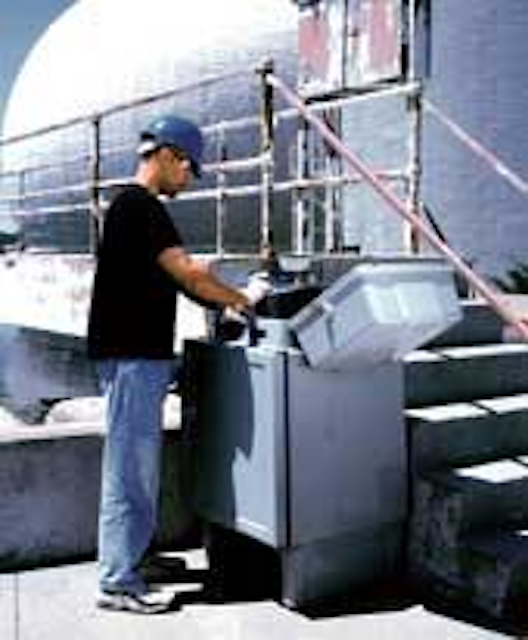 Click here to enlarge image
Isco's new 6712 Samplers feature a built-in communications port that allows direct connection to SDI-12 compatible measuring devices, including multi-parameter sondes from leading manufacturers. Combined with the unit's standard 4MB of memory, SDI-12 networking offers flexibility for logging environmental data, and "smart sampling" triggered on any combination of up to 16 inputs. Compact portable models and refrigerated models for in-plant and fixed-site applications are available. The samplers use identical NEMA 4X, 6 (IP 67) sealed controllers with a peristaltic pump, soft-key programming, and flash memory for software updates. Teledyne ISCO, Lincoln, NE, 800-228-4373, www.isco.com.