New Literature
The new 136-page 2003 Thermo Orion Lab Products Catalog includes dedicated sections of pH, ISE, conductivity, dissolved oxygen and the newly expanded colorimetry section of products.
Jul 1st, 2003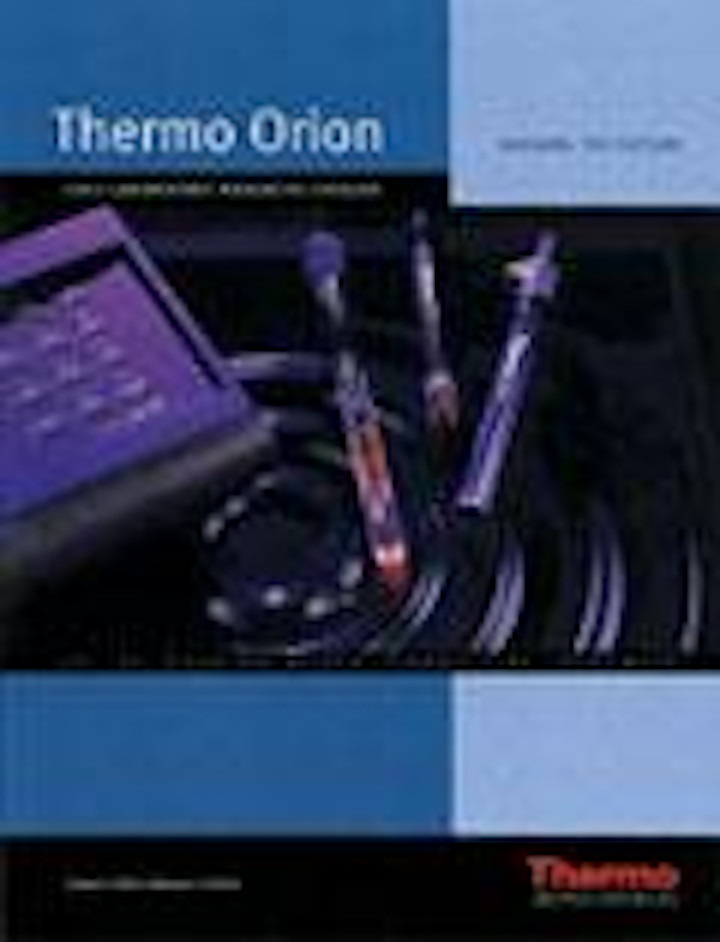 Lab products
The new 136-page 2003 Thermo Orion Lab Products Catalog includes dedicated sections of pH, ISE, conductivity, dissolved oxygen and the newly expanded colorimetry section of products. It also includes the company's guides to pH and ion selective electrode analysis, as well as concise overviews of pH, ISE, colorimetry, conductivity and dissolved oxygen measurement theory, offering practical information and application references.
Thermo Orion
Beverly, MA
Tel: 978-232-6057
Web: www.thermo.com/orion
Pump website
A-C Pump, one of the fluid businesses of ITT Industries, has launched a website for water, wastewater and industrial pump users. The new portal enables users to navigate through markets and pump types to select the specific model of pump needed. Complete parts information, including specially priced, excess inventory listings can also be accessed. Downloadable sales brochures outline the features and capabilities of each product line. Installation and O&M manuals can also be read and downloaded.
A-C Pump
Seneca Falls, NY
Tel: 315-568-7122
Web: www.acpump.com
Measuring instruments
Krohne has released a new product guide describing its measuring instruments for water and wastewater applications. The brochure features electromagnetic, ultrasonic and variable area flowmeters as well as level measuring devices. Instrumentation outlined in the brochure specifically address the needs of water resource management. Products feature include the Aquaflux magmeter and the BM 100 Reflex Radar, continuous level gauge, among others.
Krohne Inc.
Peabody, MATel: 800-356-9464
Web: www.krohne.com
Calibration catalog
TTI has published a Calibration Catalog detailing its product and service offerings. The catalog showcases the company's temperature, pressure and signal calibrators and promotes services offered by its calibration laboratory. The 94-page catalog includes many new or redesigned products manufactured by Tek Know, Eurotron, SI Pressure Instruments, Iso-Tech, Martel and Hathaway.
TTI Inc.
Willison, VT
Tel: 802-863-0085
Web: www.ttiglobal.com
Specialty gauges
Dwyer Instruments has released a 20-page Specialty Gauges catalog for severe service and laboratory applications. Products that focus on pressure indication and measurement are a key feature of the catalog. New products include the Series DPG-100 Digital Pressure Gauge, a digital gauge with a NEMA 4X housing; and the Series 655 Wet/Wet Differential Pressure Transmitter, a low range, high maximum working pressure unit that has 316/316L stainless steel wetted parts.
Dwyer Instruments Inc.
Michigan City, IN,br>Tel: 800-872-9141
Web: www.dwyer-inst.com
Monitoring, testing instruments
Cole-Parmer offers a new Preferred Product Selections catalog featuring laboratory, monitoring, sampling and testing instruments and equipment. Products include pH and conductivity meters, labware, a variety of sampling and metering pumps, portable sampling systems and mixers, among others.
Cole-Parmer Instrument Co.
Vernon Hills, IL
Tel: 800-323-4340
Web: www.coleparmer.com
Pump rental brochure
Godwin Pumps offers a recently updated 22-page color brochure featuring its rental fleet of over 3,000 portable pumps for municipal, industrial and environmental applications. It includes specifications on Godwin automatic self-priming Dri-Prime® pumps, Godwin Sub-Prime® electric and Heidra® hydraulic submersible pumps, wellpoint dewatering systems, and related accessories and equipment.
Godwin Pumps
Bridgeport, NJ
Tel: 856-467-3636
Web: www.godwinpumps.com
Blower brochure
Kaeser Compressors offers a redesigned Omega Blower brochure. The publication features information on the company's rotary lobe blowers and blower packages. These heavy-grade blowers are available in two lobe and three lobe designs with flows to 4400 icfm at 15 psig or 15'' Hg. Dimensional specifications and performance information are included as well as dimensional drawings and information on warranties and guarantees.
Kaeser Compressors Inc.
Fredericksburg, VA
Tel: 800-777-7873
Web: www.kaeser.com
Level measurement
Siemens Milltronics has developed a new Internet site that provides information on the company's products for level measurement, dry solids flow measurement and process protection. The Home page features the latest product announcements and offers easy access to products, applications, manuals, and case studies. The Products section offers comprehensive information, including photos, technical specifications, and complete instruction manuals. Search functions allow searches by product name, function, technology and applications. The Contact Us section offers a directory of locations worldwide.
Siemens Milltronics
Grand Prairie, TX
Tel: 800-365-8766
Web: www.siemens-milltronics.com
Fluid system components
A new brochure offers provides information on the broad range of fluid system components available from Swagelok, including tube fittings and quick connects; weld, pipe, and sanitary fittings; instrumentation, process, and high-purity valves; and tools and accessories. The brochure folds out into a large illustrated spread listing the company's product offering. It also contains a background overview of the company, its products, and its sales and service network. Copies of A Quick Look at Fluid System Components are available from independent Swagelok sales and service representatives.
Swagelok Co.
Solon, OH
Tel: 440-349-5934
Web: www.swagelok.com
Geomembranes
The new Stevens Geomembranes web site has a variety of information membrane linings and covers, including scrim-reinforced floating reservoir covers to high-performance pond liners. The redesigned site includes detailed information about the company's products, including its Polypropylene Geomembranes and Hypalon® (chlorosulfonated polyethylene) Geomembranes. Other features include a Technical Resource Center, product descriptions and literature, and Material Safety Data Sheets.
Stevens Geomembranes
Holyoke, MA
Tel: 800-621-2281
Web: www.stevensgeomembranes.com
Chopper pump
seepex Inc. has released a new CD devoted to the patented BTM open hopper chopper pump and its application to the food and beverage markets. The pump is designed with stationary and rotating cutters in the inlet feed system and can handle extremely viscous and fibrous products. Application examples include whole chickens, potatoes, carrots, apples, and currants. The CD also features detailed technical data and links to related information. Request seepex BTM CD.
seepex Inc.,br>Enon, OH
Tel: 937-864-7150
Web: www.seepex.com