Directional Drilling Used for PVC Pipe Installation
The City of Fort Wayne, IN, recently used directional drilling to replace an 11,000-foot corroded cast iron water main with PVC pipe.
Jun 1st, 2008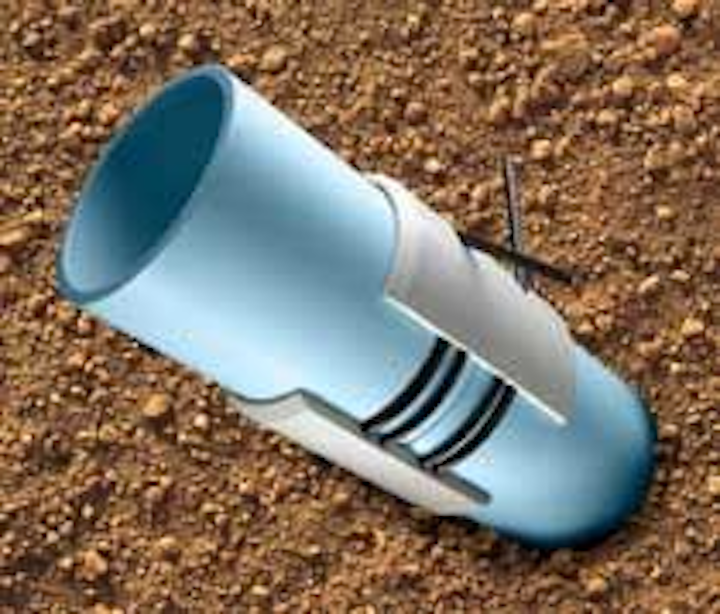 The City of Fort Wayne, IN, recently used directional drilling to replace an 11,000-foot corroded cast iron water main with PVC pipe.
Installed in the 1930s in Fort Wayne's Belmont Addition neighborhood, the original water main demanded several corrosion-related repairs over the years, partially caused by the region's soil. This corrosion has led the city to replace many other cast iron water mains in recent years with corrosion-resistant thermoplastic pipe materials, such as PVC and HDPE.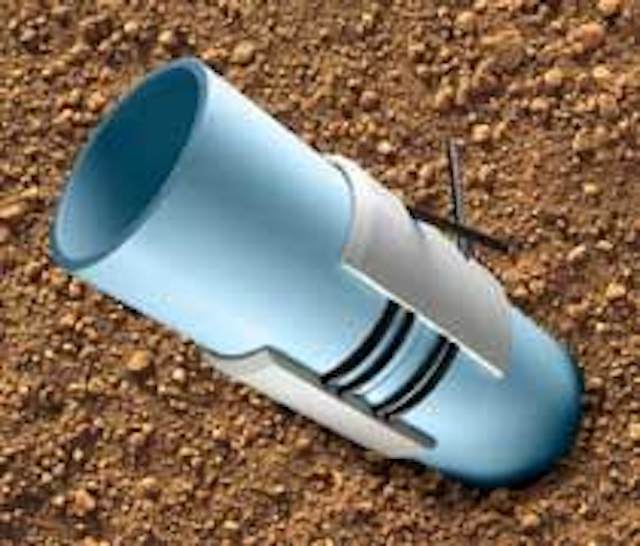 The C900/RJ PVC product uses a high-strength spline to connect pipe lengths and hold the pipe together during installation and pressurization, while elastomeric O-rings provide a pressure seal.
Click here to enlarge image
Since the Belmont Addition is a well-populated residential area (approximately 200 homes) with a busy street passing through it, the city and contractor S&S Directional Boring Ltd., of Bryan, OH, decided that installing a new water main using restrained-joint PVC pipe, via directional drilling, would be the best way to get the job done with minimal disturbances. With this in mind, they specified 6-inch CertainTeed® Certa-Lok™ C900/RJ restrained-joint PVC pipe for the project.
"Directional drilling has proven itself to us over the years as the most cost-effective method of replacing water and sewer mains in busy or congested areas, but this is one of the first times we have used PVC pipe for a directional drilling project," said Matthew Wirtz, Assistant Manager of Planning and Design for the City of Fort Wayne. "Since the project was taking place in a residential area, we wanted to avoid having several hundred feet of fused pipe strung out for several days. The fact that the Certa-Lok pipe is assembled as it goes into the boreholes was a huge advantage."
The C900/RJ PVC product is suited for both water and wastewater applications. Its joining system, which uses a high-strength spline to connect pipe lengths, holds the pipe together during installation and pressurization, while elastomeric O-rings provide a dependable pressure seal.
"Certa-Lok has many qualities that appeal to contractors, but its leak resistance and quick assembly without the need for time-consuming and expensive joint fusion are what really stand out amongst the competition," said Steve Gross, Director of Marketing for CertainTeed's Pipe Business. "And, compared to HDPE pipe, Certa-Lok requires a much thinner wall for an equivalent pressure rating, which significantly cuts material, drilling and operating costs and makes Certa-Lok an ideal product for municipalities like Fort Wayne."
S&S Directional Boring began drilling last September, with a crew that ranged from eight to 12 workers. After overcoming difficulties drilling through the extra-hard clay, the pipe installation continued smoothly. The crew completed the project in April, and received good reviews from the City of Fort Wayne.
Interceptor Project to Feature use of Trenchless Technologies
Central Contra Costa Sanitary District (CCCSD) has begun construction on a new interceptor pipeline to connect the gravity flow collection system of Concord, CA, with an existing 102-inch interceptor operated by CCCSD. Carollo Engineers will help plan and design the project, which will feature use of sophisticated trenchless technology to counter geographic challenges.
Along with construction of an open-cut sewer line that crosses under live stream flow in Walnut Creek, the project includes tunneling two sizeable sewer pipes (96- and 72-inch diameters) to depths of more than 30 feet. Because the project's path runs directly through a highly developed, high-traffic urban area, Carollo implemented an action plan that integrates extensive trenchless design elements to resolve numerous concerns of the city, business owners and the general public.
Carollo engineered customized solutions for each of the site-specific challenges, especially where trenchless elements were deployed, including:
Implementing a settlement monitoring plan to address settlement in areas of shallow earth cover.
Deploying an Earth-Pressure Balanced Machine (EPBM) to address ground subsidence and tunneling under groundwater pressure.
Obtaining regulatory approval for the complicated sequencing of an open-cut sewer pipe crossing beneath Walnut Creek.
Devising underground structures, including a flow metering structure and junction structures along the length of the pipe, to advance the overall tunneling approach.

"This project was complicated not only by various terrain issues and soil conditions, but also by the large number of stakeholders impacted by construction," said Alex Rozul, Project Manager for CCCSD.

Heavily traveled city streets in the construction area service a number of local businesses, including big-box home stores and government offices. Existing interceptor sewers, storm drains, and fiber optic cables also present challenges.

Early on, when it became apparent that the depth and magnitude of shoring required for open-cut construction in the urban areas would be too disruptive, Carollo chose trenchless strategies, such as tunneling and microtunneling, as the lowest-cost, most effective option.