Products & Services: Pipes & Fittings
Collection of pipes & fittings related equipment products and services.
Mar 2nd, 2017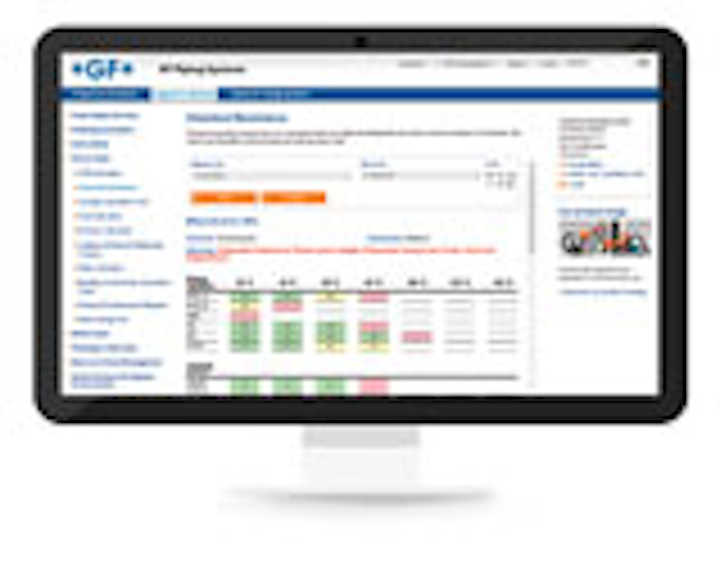 Online tool for plastic pipe

Questions regarding the chemical resistance of piping materials to media are as important as the mechanical parameters for the installation of the piping system. Today, expensive pipe designs, such as lined metal, ceramic or glass fiber reinforced pipes, can be replaced by plastic systems in many cases. The ChemRes PLUS online tool from GF Piping Systems gathers extensive data about materials and 276 media and visualizes them. Select between all materials and cements from the GF Piping Systems product range and compare to get a comprehensive overview.
GF Piping Systems
Cutter search tool
Reed's new tool, the Cutter Finder, is now available online. By entering the pipe type and size, tool users can find with ease all the possible Reed cutters that fit that pipe. This online search tool is available in all of Reed's main website languages: English, Spanish, French, German, Chinese, Russian, Arabic and Japanese.
Reed Manufacturing Co.
Glass-reinforced epoxy pipe
Glass Reinforced Epoxy (GRE) pipes from EPP are lightweight, keeping transport costs low. An extremely smooth inner bore means less friction loss in pipelines, less pumping energy needs and lower operating costs. Pipes meet AWWA M45 and ISO 14692 standards. A complete solution against highly corrosive fluids at various pressures, temperatures, adverse soil and weather conditions, there is no need for linings, coatings, cathodic protection, wraps or other forms of additional corrosion control.
EPP Composites Pvt. Ltd.
Threaded isolation rings
Ashcroft has introduced the Type 82 threaded isolation ring. Equipped with 1/2 to 2 NPT threaded pipe connections, it is designed for smaller piping applications too narrow to accommodate an internal isolation ring. Also referred to as a "barrel seal," this economical flow-through design eliminates traps where clogs can form, thereby reducing the need for frequent maintenance. A smooth, flexible wall expands under pressure to displace isolated fill fluid into the measurement device. A choice of internal elastomer materials, fill fluids and housing materials (including 316 stainless steel) ensure compatibility with a wide range of process media and environmental conditions.
Ashcroft
HDPE pipe coupling
The Victaulic Style 905 Refuse-to-Fuse coupling installs without the need to disassemble the coupling and can be installed using an impact gun or standard socket wrench. Available in 2- to 6-inch sizes, it meets or exceeds the rating of the pipe.
Victaulic
Wedge action restrainer gland
SIGMA's One-Lok Series SLDE wedge action restrainer gland for 54-, 60-, and 64-inch ductile iron pipes can serve as a way to re-round large diameter pipes in the field. Larger ductile iron pipes are susceptible to shift in transit and handling, often requiring the use of hydraulic jacks on job sites to restore full roundness and specificity prior to installation. The product provides additional areas to the gland body that contain two sets of three jacking bolts positioned 180 degrees apart. Unlike the hydraulic jack, which operates on the interior of the pipe and can impact the integrity of the lining, the SIGMA One-Lok re-rounding feature functions solely on the exterior wall.
SIGMA
Pipe sleeve
On new installations of ductile iron pipe, Polywrap from AA Thread Seal Tape is good insurance to protect your project. Polywrap is an easy-to-install polyethylene encasement sleeve that is pulled over the pipe at time of installation. This is an economical and effective way to protect ductile iron pipe from exterior corrosion. There are many types of polywrap, but 8-mil, linear low-density is the most common. While it is typically black, other colors are available to mark what the pipe is being used for.
AA Thread Seal Tape