Products & Services: Pipes & Related Products
Collection of pipes related products and services.
Jun 1st, 2017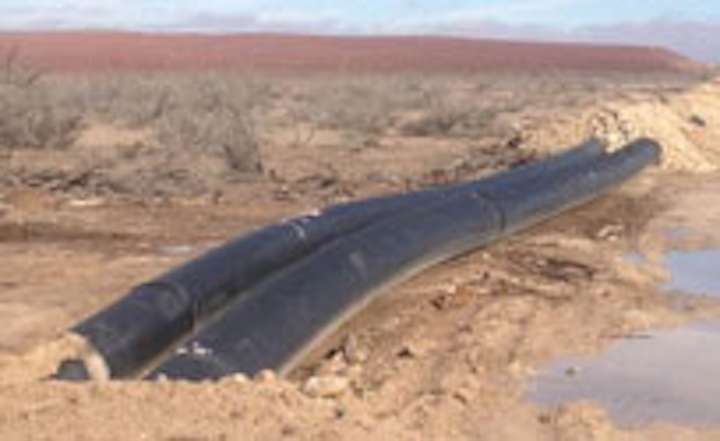 PE pipe
Performance Pipe's DriscoPlex® 4800 series PE pipe is manufactured from high-quality medium-density polyethylene (MDPE) that conforms to ASTM F714 and D3350. Testing has demonstrated that the pipe provides at least 30% greater abrasion resistance compared to other high-density polyethylene (HDPE) pipes tested, translating to longer service life in industrial application areas. Additionally, it is more than four times as resistant to slow crack growth compared to the PE4710 requirement, and offers less stiffness and greater ductility. Combined with reduced weight, this aids in field handing/installation. Available in a full range of sizes, pressure capabilities, molded and fabricated fittings.
Performance Pipe
Threaded isolation rings
Ashcroft has introduced the Type 82 threaded isolation ring. Equipped with 1/2 to 2 NPT threaded pipe connections, it is designed for smaller piping applications too narrow to accommodate an internal isolation ring. Also referred to as a "barrel seal," this economical flow-through design eliminates traps where clogs can form, thereby reducing the need for frequent maintenance. A smooth, flexible wall expands under pressure to displace isolated fill fluid into the measurement device. A choice of internal elastomer materials, fill fluids and housing materials (including 316 stainless steel) ensure compatibility with a wide range of process media and environmental conditions.
Ashcroft
CCFRPM Pipe
Hobas pipe's centrifugally cast, fiberglass-reinforced, polymer mortar pipe is inherently corrosion resistant and lasts 100 years or more. Leak-free, push-together joints reduce installation time and costs. It is widely used in corrosive environments such as industrial effluents, contaminated drainage and foul air as well as cooling and circulating water lines. It is also approved for potable water. Lightweight, high strength, ease of installation, leak-free push together joints and adaptability to a variety of installation methods including open cut, sliplining, jacking, microtunneling, two-pass tunnel, casing carrier and above ground. Non-pressure and pressure classes are manufactured in diameters from 18 to 126 inches.
Hobas Pipe
Glass-reinforced epoxy pipe
Glass Reinforced Epoxy (GRE) pipes from EPP are lightweight, keeping transport costs low. An extremely smooth inner bore means less friction loss in pipelines, less pumping energy needs and lower operating costs. Pipes meet AWWA M45 and ISO 14692 standards. A complete solution against highly corrosive fluids at various pressures, temperatures, adverse soil and weather conditions, there is no need for linings, coatings, cathodic protection, wraps or other forms of additional corrosion control.
EPP Composites Pvt. Ltd.
Adhesives for pipeline coatings
KALFIX® from Kalenborn Abresist Corporation is a line of adhesives for pipeline coatings. KALFIX 911 and KALFIX 913 are pressure transfer fillers for repairing high-pressure pipelines and offer extreme adhesion, even to underwater surfaces. KALFIX 563, for pipeline coating or cold weather use, is an epoxy and curing agent that is able to displace water for a permanent bond to all substrates with minimal substrate preparation. KALFIX 206 is a combination liquid epoxy resin and a special high-temperature curing agent. Though it has a high heat distortion, it cures to a hard and dust-free condition at normal temperatures.
Kalenborn Abresist Corporation
Pipe beveling machine
The Esco Wart MILLHOG® is a boiler tube beveling machine that features a rigid I.D. clamping system and uses titanium nitride (TiN) coated cutter blades to machine carbon steel or highly alloyed tubes without cutting fluids. Capable of beveling, facing, and boring simultaneously, tooling changes are simple for machining water boiler tubes from 2" to 3" O.D. Rigidly attaching to the tube with clamps that fit into I.D. and expand on the mandrel using a self-centering draw rod assembly and attached wrenches, the Esco Wart MILLHOG® boiler tube beveling machine is sealed to prevent debris from entering the tool. Designed with highly reliable, dual opposed-taper roller bearings, it is offered with pneumatic and electric motors.
Esco Tool
Emergency repair clamp kit
Ford's Emergency Repair Clamp Kit provides flexible pipe repair for a wide variety of pipe sizes. Covering 4.50" to 30.75" pipe diameters, this restockable kit equips any water utility for pipe emergencies. The kit contains various sizes of stainless steel bands with EPDM or Buna-N gaskets, an O.D. tape, a repair clamp sizing chart and an O.D. chart.
Ford Meter Box
Pipe saddle
Hydra-Zorb's Bronco Tube and Pipe Saddle uses high-strength plastic that can snap into channels of any depth offering stability and preventing damage to the insulation from pipe movement. The product is available in several sizes and either black or white to match the insulation color. The Bronco is designed to prevent costly damage to piping and insulation.
Hydra-Zorb Co.
Pipe clamp
Krausz USA's HYMAX Clamp quickly and easily repairs holes and longitudinal cracks in water and wastewater pipes. With only two bolts to tighten (length sizes up to 12"), installation is simple and minimizes workers' time in the ditch. HYMAX CLAMP becomes a permanent part of the pipe and reliably withstands harsh ground conditions, offering a durable, long-term repair solution. The weld-free construction and 100% stainless steel body make it extremely tough and resistant to corrosion while the waffle pattern gasket is securely connected with insulated bolts to the body of the clamp.
Krausz USA
Cutter search tool
Reed's new tool, the Cutter Finder, is now available online. By entering the pipe type and size, tool users can find with ease all the possible Reed cutters that fit that pipe. This online search tool is available in all of Reed's main website languages: English, Spanish, French, German, Chinese, Russian, Arabic and Japanese.
Reed Manufacturing Co.
Wedge action restrainer gland
SIGMA's One-Lok Series SLDE wedge action restrainer gland for 54-, 60-, and 64-inch ductile iron pipes can serve as a way to re-round large diameter pipes in the field. Larger ductile iron pipes are susceptible to shift in transit and handling, often requiring the use of hydraulic jacks on job sites to restore full roundness and specificity prior to installation. The product provides additional areas to the gland body that contain two sets of three jacking bolts positioned 180 degrees apart. Unlike the hydraulic jack, which operates on the interior of the pipe and can impact the integrity of the lining, the SIGMA One-Lok re-rounding feature functions solely on the exterior wall.
SIGMA
Flexible coupling
Victaulic's Style W77 is a flexible grooved coupling for industrial water systems. The two-piece coupling can be direct buried without compromising performance or reliability, and provides linear angular movement to accommodate thermal pipe growth, vibration attenuation and seismicity for large diameter projects. The grooved coupling eliminates flanging and welding, allowing for a safer, faster and easier installation. It is available in 14" to 72" sizes, accommodating pressure ranges from 125 psi to 350 psi. The Style W77 also utilizes Victaulic's Advanced Grooving System, a wider, wedge-shaped groove that increases coupling to pipe engagement.
Victaulic
Pre-insulated plastic pipe
The COOL-FIT® ABS Plus Piping System from GF Piping Systems is a fully pre-insulated plastic piping system designed for indirect cooling applications such as food production, beverage production, process cooling, and dairies. The system features energy-efficient, non-corroding, maintenance-free performance. The COOL-FIT ABS Plus system's core pipe is made of ABS, which is insulated with high-density polyurethane (PUR). This insulation is protected with a black polyethylene jacket that is water-tight and UV resistant. The entire system is completely diffusion and vapor tight. The system is suitable for applications with water-based coolants from 58°F to 104°F (-50°C to +40°C) at an operating pressure of up to 10 bar and within diameters from 3/4" to 12" (d25 to d315).
GF Piping Systems