Pipe & related products
Asahi/America's Chem Proline® and Chem Prolok™ piping systems have been certified by NSF to NSF/ANSI Standard 61-G.
Jun 18th, 2013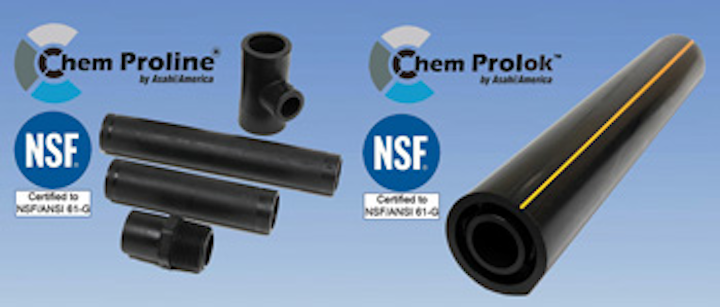 Piping systems
Asahi/America's Chem Proline® and Chem Prolok™ piping systems have been certified by NSF to NSF/ANSI Standard 61-G. Made from PE resin, Chem Proline pipe and fittings possess great resistance to slow crack growth. A complete system includes pipe, fittings and valves. Available in pipe sizes up to 12", it is suited for use in water treatment and chemical process applications using a variety of chemicals including sodium hydroxide, sodium hypochlorite, caustic soda, and low concentration acids. Asahi/America Inc.
High-pressure couplings
Victaulic high-pressure couplings, including the Style 808 and Style HP-70ES, offer pressure ratings of up to 4,000 psi. The couplings, which can be installed quickly without the use of flame, create a union at every joint, simplifying maintenance and reducing system downtime. The Style 808 double-groove coupling engages into two grooves on each pipe end. Victaulic Co. www.victaulic.com
CIPP system
Inliner Technologies offers cured-in-place pipe renewal systems for pipes and culverts ranging in diameter from 4" to 120". The company's licensees are contracted by municipalities and industrial companies to renew storm, waste and process sewer piping that has been damaged by corrosion and/or structural deterioration. With its focus on customer service and innovation, Inliner has installed over 14 million feet of lining in the U.S. and Canada since 1989.
Inliner Technologieswww.inliner.net
Integral bell PVC pipe
CertainTeed is expanding its Certa-Lok™ C900 restrained-joint PVC pipe product line to include an integral bell design option. The company is also adding a 14" diameter option to its line of Certa-Lok C905 RJ restrained-joint pipe to meet the growing industry demand for larger size water and sewer pipe system applications. Available in 4", 6" and 8" diameters, Certa-Lok C900 RJIB (Restrained Joint Integral Bell) features the company's mechanical pipe joining system, which uses a combination of precision-machined grooves and a nylon spline to provide exceptional tensile strength in pulling or pushing operations. CertainTeedwww.certa-lok.com
CPVC piping
Corzan® HP Piping Systems are high-impact-strength systems engineered with the Lubrizol Corporation's specially formulated and patent pending chlorinated polyvinyl chloride (CPVC) technology. This corrosion-resistant material eliminates pitting and scaling while providing improved life-cycle benefits. The HP Piping systems eliminate internal and external corrosion caused by industrial environments, reduce installation time and cost, offer lower life-cycle costs, and ensure optimal flow rate.
Corzan Industrial Systemswww.corzanhpit.com
Lining systems
Raven Lining System's 405 ultra high-build epoxy offers high physical strength that allows it to be used as a structural lining in manholes, pipelines, tanks, and other deteriorated structures. It has a broad range of chemical resistance, but specifically protects against the hydrogen sulfide and sulfuric acid commonly found in wastewater. Raven Lining Systems http://ravenlining.com
CCFRPM pipe
Hobas pipe is suitable for virtually every installation method of new construction and rehab. The centrifugally-cast, fiberglass-reinforced, polymer mortar pipe is inherently corrosion resistant and lasts 100 years or more. Leak-free, push-together joints reduce installation time and costs. It is widely used in corrosive environments such as industrial effluents, contaminated drainage and foul air, as well as cooling and circulating water lines. It is also approved for potable water.
Hobas Pipe USAwww.hobaspipe.com
Pipe coating
The recently launched, high performance thermoplastic coating, Plascoat PPA 571 Aqua, has been given approval for use with potable water in the UK, Australia and New Zealand. The coating has WRAS (Water Regulations Advisory Scheme) approval in the UK and meets the joint Australian and New Zealand standard AS/NZS 4020. PPA 571 Aqua is a universal thermoplastic coating developed to provide a "one product suits all" solution for the water industry and to help water authorities reduce maintenance and running costs.
Plascoatwww.plascoat.com
Trenchless rehab
The fully structural CIPP liner Nordipipe™, offered by SPR (Sekisui Pipe Renewal) Americas, is available for installation lengths up to 1,000" and diameters up to 48". The liner enables tailor-made drinking water pipe lining meeting AWWA Class IV and NSF 61 standard. After inversion, the liner is cured to a statically self-supporting pipe within a pipe.
SPR Americaswww.sekisui-spr.com
Rotary cutters
Reed's Low Clearance Rotary™ Cutters need only 4" clearance to cut pipe up to 16" diameter. The manual-operated cutters cold cut large diameter steel, most stainless steel, ductile, and cast iron pipe in close quarters. The cutters are supplied with a slip-on handle that is used to turn and tighten the cutter. With good leverage from the tool's long handle, pipe snaps off squarely before the cutter wheels penetrate halfway through the pipe. The tool provides a square cut and can be used in close quarters anywhere -- in the ditch, underwater, in noise-free zones, over head, in racks of pipes, etc.
Reed Manufacturingwww.reedmfgco.com
Pipe products
The Ford Meter Box is a leading manufacturer of pipe products. Its products include a comprehensive line of repair clamps, couplings, tapping sleeves, fabricated steel items, and Uni-Flange® pipe restrainers and adapter flanges.
Ford Meter Box Co.www.fordmeterbox.com
Fusible PVC pipe
With over 1,000 miles of Fusible PVC™ pipe installed, fused PVC pipe is one of the fastest growing infrastructure technologies in North America. Available in nominal diameters from 4" to 36", the pipe provides both trenchless and open-cut projects with economical solutions. The benefits of having no mechanical couplings or bells, and possessing a thinner wall for given pressure class versus other thermoplastic pipes, ensures that the pipe maximizes flow and reconnects easily to ductile iron or bell and spigot lines. Underground Solutions Inc.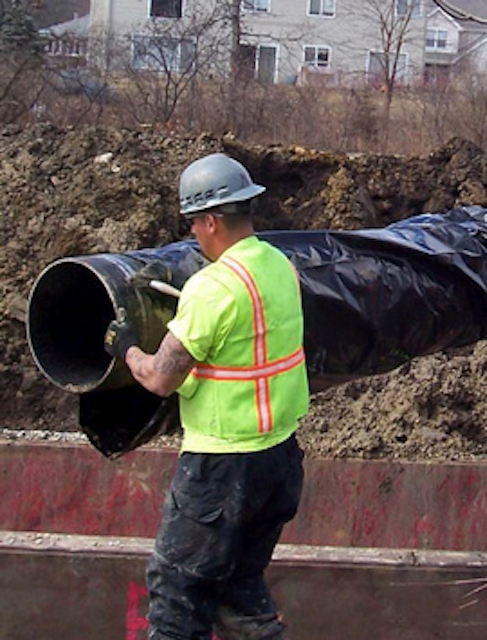 www.undergroundsolutions.com
Polyethylene encasements
AA Thread's polyethylene encasements are an economical and effective way to provide corrosion protection for ductile iron pipe, valves and fittings. Its encasements meet or exceed specifications set by ANSI/AWWA C105/A21.5. They are also manufactured in the U.S. using domestic resins. The company carries a vast quantity of products in stock and offers same day or next day shipping on most items. It can supply 8 MIL Linear Low Density, 4 MIL Cross Laminated High Density and the new 10 MIL Joint Wrap. The company also offers in-stock colored encasements for coding of water, sewer and reclaimed/recycled water lines.
AA Thread Seal Tape Inc. www.aathread.com
Pipe restraint products
The two newest products from EBAA Iron are the Mega-Stop PVC Bell Protection System and Series 1900 PVC Restraint Systems. The bell protection device facilitates proper assembly of PVC pipe joints. It reduces damaging stresses in pipe joints caused by over-insertion and incorporates an ERS to allow for pipe expansion and contraction. The PVC restraint systems are engineered to accommodate the increased pressure ratings for C900 and C909 PVC pipe. They effectively restrain pipe in a variety of applications -- above or below ground, residential or industrial. EBAA's other products include the Force Balanced Flex-Tend flexible expansion joint.
EBAA Ironwww.ebaa.com