Pump Station: Gets Passing Grade for School's Design-Build Project
The FORMULA X® Wet Well-Mounted Pump Station from Smith & Loveless replaced an existing underground dry-pit pump station at Hazelwood West High School in St. Louis, Mo., and offers a more economical and safer approach than submersible pump options.
Dec 9th, 2013
By Brandon Sayers
Hazelwood West High School, located outside St. Louis, Mo., serves approximately 2,400 students and 300 faculty and staff. When the school first opened, it included an underground dry-pit pump station that conveyed sewage from its campus to the public sewer. The pump station consisted of a buried wet well connected to a buried pump vault with duplex, centrifugal pumps. Occasional sewage backups from the aging equipment led to a decision by school officials to replace the original station nearly 40 years later. Original specifications demonstrated pumping conditions of 400 gpm (25 lps) at 60 feet (18 m) TDH.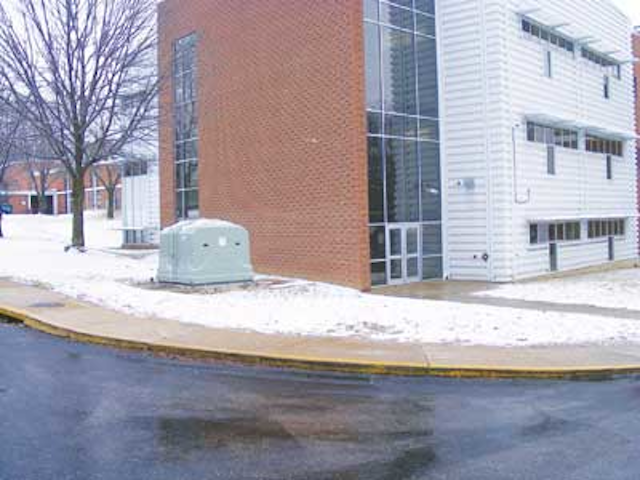 The wet-well mounted pump station replaced an existing underground dry-pit pump station and offered a more economical and safer approach than submersible pump options.
The school implemented a best-value approach to the project and turned to the local design-build firm Haberberger for its expertise. The school's staff provided certain criteria that they felt were important to consider during the design phase, including:
A completion schedule that would ultimately meet the school's goal of having a new pump station in service before school resumed in August (construction was to begin in spring)
Energy conservation (via the use of newer, more efficient sewage pumps) and sustainability
Reduced operational and maintenance costs
A guaranteed maximum price for the project that included all design, permitting, equipment, material, and construction costs
A solution with an aesthetically-pleasing design because the pump station is located at the rear corner of the school building and along a heavily-traveled access road
Haberberger compiled three realistic technical options. Upon review, the consensus was to select a packaged wet-well mounted pump station. These stations demonstrated a more economical and safer approach long-term than submersible pump options. Specifically, Haberberger specified the FORMULA X® Wet Well Mounted Pump Station from pump station manufacturer Smith & Loveless.
The cornerstone of the wet-well mounted pump station concept is vacuum-priming, which creates fluid suction lift in order to prime the vertically-constructed, non-clog sewage pumps residing at grade level. Further, all of the pumping equipment, valves and controls are immediately accessible without special safety gear or harnesses. Routine maintenance can be performed onsite by existing staff without the use of outside contractors or pricey pump maintenance centers. This approach provided the design-build contractor and the school with greater safety during the installation sequence as well as toward long-term operation of the station.
During installation, requirements for entering the existing wet well would be severely reduced compared to the other considered options. Long term, the school's maintenance staff would no longer have to access a confined underground space, including the wet well, to maintain equipment.
Not only did this eliminate routine confined space hassles, it also reduced maintenance time and cost. These savings - along with the higher wire-to-water efficiencies provided by the vertical, non-clog pumps - resulted in significantly lower projected lifecycle costs for the school.
By selecting Smith & Loveless, Haberberger now had the opportunity to deal with a single source throughout the entire project - from setting the initial project deadlines to finalizing the submittal phase for the manufacturing process to receiving the equipment for installation and startup. Additionally, the entire pump station was assembled in a quality-controlled environment and fully tested prior to shipment, thereby minimizing any troubleshooting or assembly problems in the field.
The pump station was installed and operational before the first day of school. It was simply set in place, and the piping and electrical connections were quickly made. Accordingly, a Smith & Loveless representative technician was present to test the new station and perform O&M training for school personnel.
"The process offered innovation, cost benefits and energy efficiency to the project," wrote Don Kettenbach of the Hazlewood School District. "The pump station that was installed is easy to maintain and is aesthetically acceptable as well as compact, and it adapted well to the existing piping system."
A year after installation, the Design-Build Institute of America's Mid-America Section recognized the project at its annual Design-Build Awards Competition as an outstanding water/wastewater design build project.
About the Author: Brandon Sayers is a technical contributor with Smith & Loveless, Inc., a manufacturer of packaged, above-grade pump stations and other wastewater treatment equipment. He can be reached at bsayers@smithandloveless.com.