Reduce Pump Costs with Predictive Condition Monitoring, Fault Tolerant Intelligent Drives/Controls
With the current weak economy, pump users are looking even harder for ways to reduce costs.
Apr 1st, 2010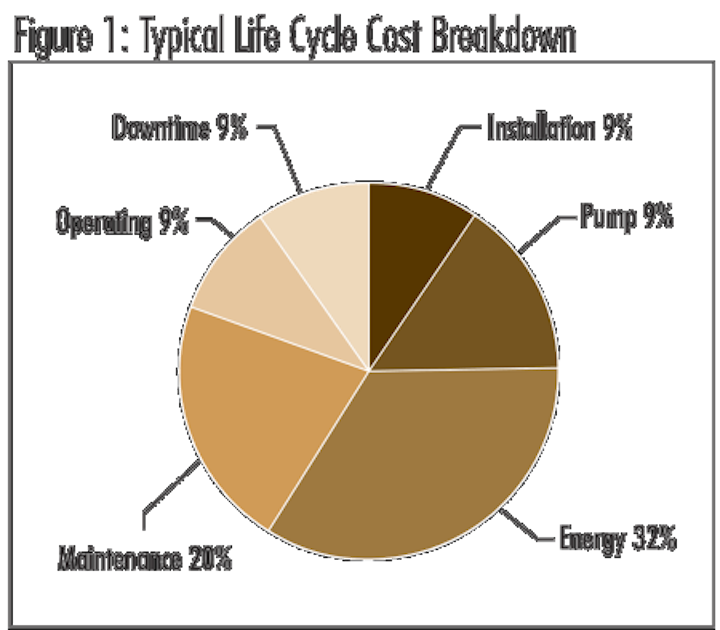 By Allan R. Budris
With the current weak economy, pump users are looking even harder for ways to reduce costs. One way is to improve (reduce) pump life cycle costs by applying the latest intelligent, digital variable speed drive/control technology. These drives/controls can favorably impact not only pump energy costs, but maintenance, downtime and operating costs as well.
According to the typical life cycle cost break-down, Figure 1 (first included in the December 2009 Pump Tips Column), these impacted life cycle cost elements account for around 70% of total pump costs. This means that new intelligent drives have the potential to yield substantial cost savings.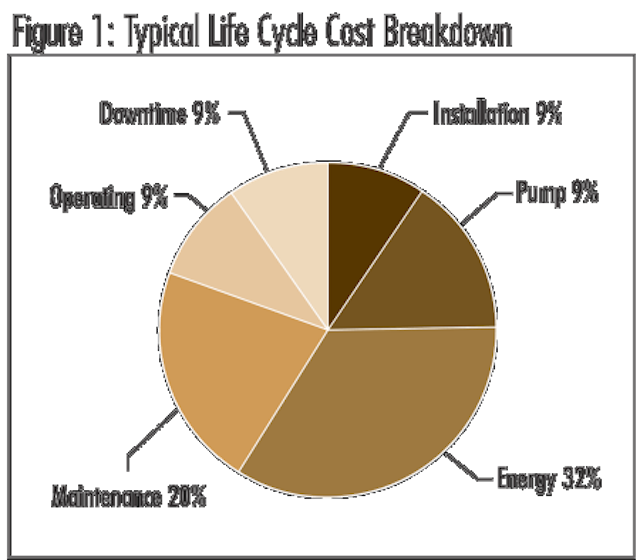 New intelligent pump solutions have continued to evolve thanks to the rapid advancement of electronic data processing and communications. What, not long ago, was thought to be too expensive, not reliable, and technically not possible, is rapidly becoming a reality. Technological advances in devices such as digital signal processors and wireless communication systems are enabling the development of effective intelligent pump solutions. These devices can be decentralized systems, local to the pump and outside of the main distributive control system, and can contain algorithms that have been developed to provide intelligent solutions, specifically designed for a unique class of pumps or application.
Today there are both custom and pre-engineered systems available which have improved functionality that can positively impact key life cycle cost elements. In addition to saving energy by varying pump speed, (instead of throttling a discharge valve - March 2008 Pump Tips Column), these new drives/controls can also monitor a variety of critical pump conditions and either automatically make required adjustments and/or wirelessly (or by hard wire) transmit this information for further potential action. In addition, they can efficiently / reliably control multi-pump operation, can reduce constant on-off cycling in wet well applications, and even automatically sequence pump impeller rotational direction to unclog debris.
Condition Monitoring
These de-centralized data acquisition devices, which are local to the pump sub-system, gather system data either through the plant network, from directly connected sensors and/or from data available on the drive. These data acquisition devices have high speed microprocessors capable of sampling data, so that flow, pressure, speed, torque, vibration spectral analysis and/or motor current signature analysis can run locally and in conjunction with diagnostic algorithms designed specifically for the pump system. The diagnostic results from these de-centralized systems can be fed back into the plant maintenance system, or to any remote location, so that planned maintenance activities can be deployed effectively. In addition, the capability exists on some of the newer types of data acquisition devices to implement local automated control to protect the pump system against premature failure and/or to optimize pump system efficiency.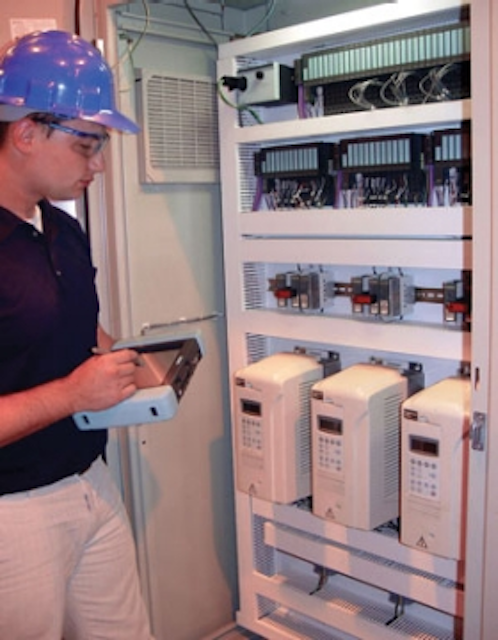 ITT PumpSmart, Courtesy of ITT. All Rights reserved.
The more advanced drives/controls can sense and in many cases avoid detrimental operating conditions, such as: closed valves, off-curve operation, dry-running pump, cavitation, pump/motor overloads, low energy effectiveness (GPM/kw), and pump wear, by monitoring such factors as:
Pressure (suction & discharge)
Flow
Temperature
Tank level
Power
Torque
Pump/motor vibration
Speed
Multi-Pump Functionality
Multi-pump systems provide a cost-effective and flexible solution for pumping applications with highly variable flow demands (see November 2008 Pump Tips column). With this approach, low demands can be managed by a single pump, and as demand increases, one or more additional pumps can be operated.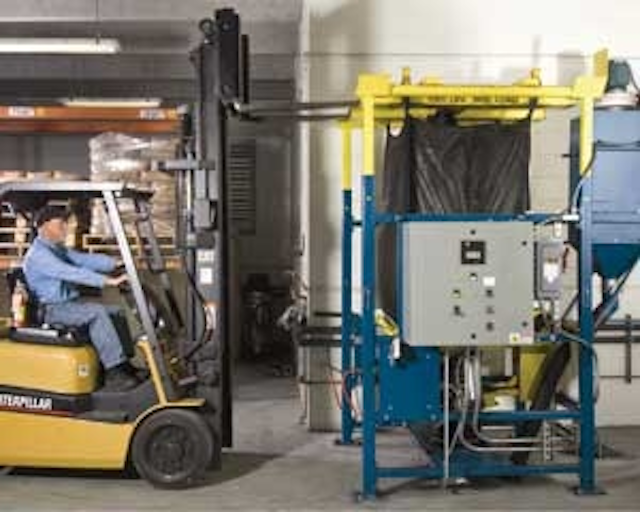 ITT ProSmart Installation. Courtesy of ITT. All rights reserved.
Control of these systems is one of the most challenging tasks pump users face, and unfortunately many operators choose to run all of their pumps, all of the time, rather than face the potential of missing process demands. As a result, many multi-pump systems have pumps that run outside their recommended minimum or maximum flows, ultimately leading to reduced pump reliability and efficiency.
Modern intelligent pump drives/controls can adjust the pump speeds accordingly, using pre-engineered flow balancing logic. At peak times, multiple pumps will be required to keep pace with the flow. Under these conditions the intelligent drives can automatically determine how many pumps should be in operation, and automatically sequence pump operation based on the hours of operation for each pump. This will equalize operating times for each pump to equalize wear. These intelligent drives can also balance the flows in order to balance pump loads to each pump, rather than simply operating the pumps at the same speed, thus accounting for differences in pump wear. This results in improved pump reliability, efficiency and process control.
Pump Cleaning Sequence
Wet well pumps are prone to clogging because of the presence of clogging materials such as rags, ropes, and other debris. Clogged pumps often have to be removed to be unclogged. State of the art intelligent pump drives/controllers can detect clogs by closely monitoring pump load and can automatically initiate a cleaning sequence to dislodge the clogging material. This sequence typically involves running the pump in a forward and reverse sequence that has been proven to dislodge many items. In the event the material cannot be dislodged, pre-engineered algorithms can direct the shut down of the pump and signal an alarm. This prevents permanent damage to the pump and motor from over torque and high amps.
Level Control
Wet well control schemes traditionally involve managing to a range of liquid levels using float switches. For fixed speed operation this involves constant on and off cycling, and pumping through a range of flow rates with each cycle, as the sump level (pump head) changes. Intelligent drive control logic can use an intelligent variable speed control scheme based on wet well level. The pump can, therefore, be managed to operate at the most efficient flow rate, at reduced speed for each level in the tank. On/off Cycling of the pump will be reduced by such pump control (which can improve motor life), in addition to the energy savings from operating at more optimal speeds / flow rates.
Rightsizing
Typically a wet-well pump system feeds into a pressure trunk line (force main). Depending upon the total network conditions, the pressure in the force-main may vary, creating very difficult conditions for the pump to accommodate. If the pressure is low, large pumps may operate past their recommended maximum flow as the backpressure is insufficient to keep it in its allowable operating flow range. Intelligent variable speed drive technology enables pump systems to stay within their designed operating range and achieve maximum energy savings. Some advanced drives can even perform this function without having to add costly transducers to the system (if the control has algorithms that can determine the flow).
Pre-engineered Intelligent Drives/Controllers
Several large pump companies offer various versions of these modern pre-engineered intelligent, advanced digital, variable speed drives/controls, which can accomplish some or all of the above life cycle cost savings functions, depending on the sophistication of the particular drive/contol. They are the ITT Goulds' (and Flygt's) "PumpSmart" & "ProSmart", Flowserve's "IPS Tempo", and KSB's "PumpDrive" & "PumpExpert" intelligent pump drives/controls. These modern pump systems are quite user-friendly and easy to install.
---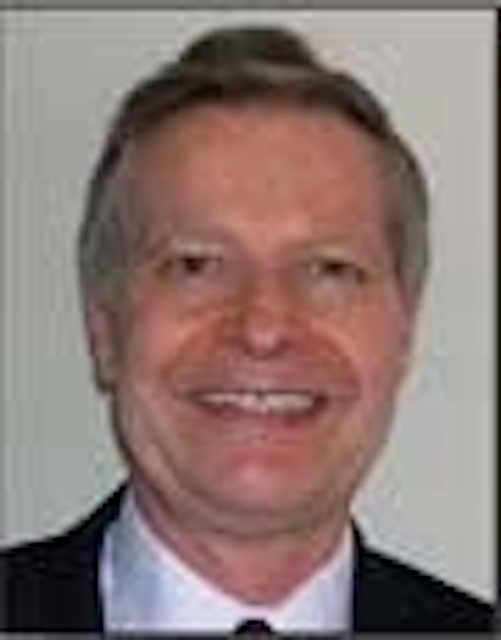 About the Author:
Allan R. Budris, P.E., is an independent consulting engineer who specializes in training, failure analysis, troubleshooting, reliability, efficiency audits and litigation support on pumps and pumping systems. With offices in Washington, NJ, he can be contacted via e-mail at budrisconsulting@comcast.net.
More WaterWorld Current Issue Articles
More WaterWorld Archives Issue Articles