Pump Company Meets Short Deadline At New Orleans Pumping Station
When a new pumping station with a capacity of 5,200 cubic feet per second (2,300,000 gpm) began operating...
Nov 1st, 2007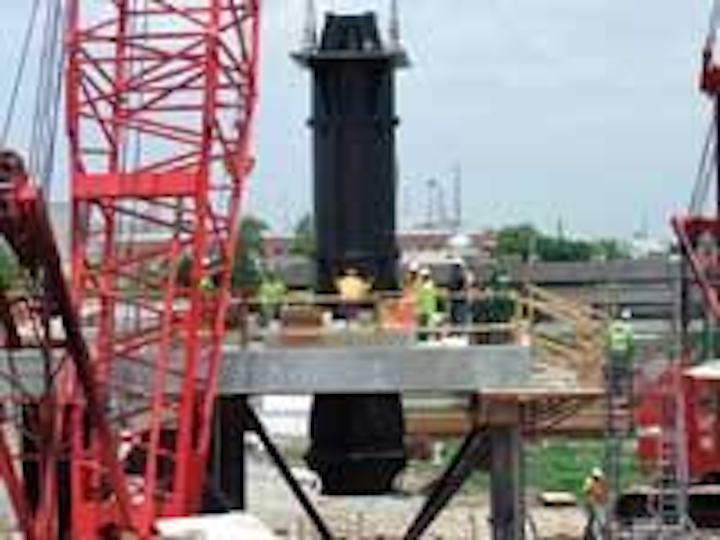 When a new pumping station with a capacity of 5,200 cubic feet per second (2,300,000 gpm) began operating on the London Avenue Canal in New Orleans on August 15, many in the industry felt an impossible feat had been accomplished.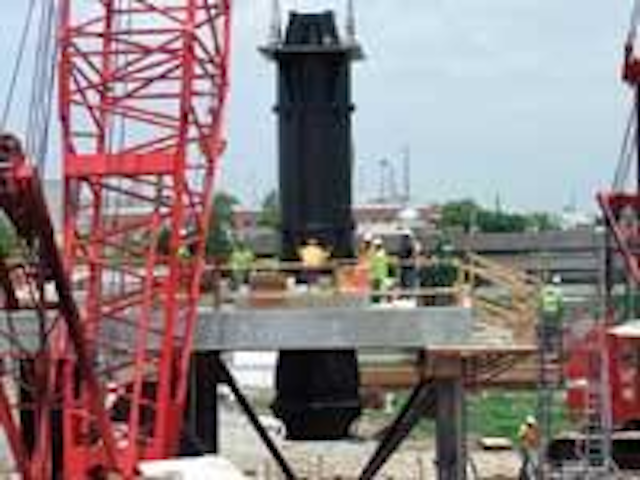 One of eight, 68" x 72" SAFV Mixed Flow Pumps is lowered into place at the London Avenue Canal site.
Click here to enlarge image
In December 2006, the U.S. Corps of Engineers changed its flood and stormwater control strategy to increase pumping capacity to this new level with direct-drive pumps at the London Avenue Canal site, where two major breaches occurred during Hurricane Katrina.
The manufacture of eight massive, mixed-flow pumps to provide the needed pumping capacity would typically require 18 to 24 months. But the new pumps were needed by mid-August 2007, the beginning of hurricane season. Pump manufacturers considered the timeframe an impossibility.
Subcontractor M.R. Pittman Group of Harahan, LA, through Ronnie Hebert of Environmental Technical Sales (ETEC) of Baton Rouge, approached President Al Huber and Patterson Pump Company engineers to consider the impact these pumps would make on the critical recovery effort of the Greater New Orleans area. All other members of the recovery team were in place, providing infrastructure and foundational units; only the direct drive pumps were missing.Patterson made the commitment to manufacture, delivery and test eight 68" x 72" SAFV Mixed Flow Pumps in a 150-day period. A contract was awarded on December 22, 2006.
While manufacturing was under way, other New Orleans recovery team members installed new surge gates, discharge pipes and other foundational units of the pumping station in readiness for pump deliveries. All eight pumps were delivered and installed on schedule.
Lengthy and critical dry tests were conducted on the pumps during the second week of August, proving them ready for running in water. Wet tests were conducted the following week and all eight pumps were officially accepted by the U.S. Corps of Engineers.
Col. Jeffrey Bedey, Commander of the Hurricane Protection Office of the Corps, reflected on the effort of putting the new pumping station into place with these remarks:
"How significant is delivery of eight massive pumps from an industry standard? Talk to any pump manufacturer or engineer who has built pumping stations before. The lead time on pumps of this magnitude is 18-24 months," Bedey said. "So how did Patterson deliver? Because they were committed...to the work going on here in the greater New Orleans area.
"22 December - 15 August, from award of contract, delivery of pumps, installation and full testing and acceptance of those pumps. I challenge the engineering community to find a greater example of making things happen," he said.