Pumps & Valves
Atlas Copco Portable Energy has added to its family of medium and large submersible dewatering pumps with the launch of the WEDA+ plug-and-play range.
Jul 1st, 2017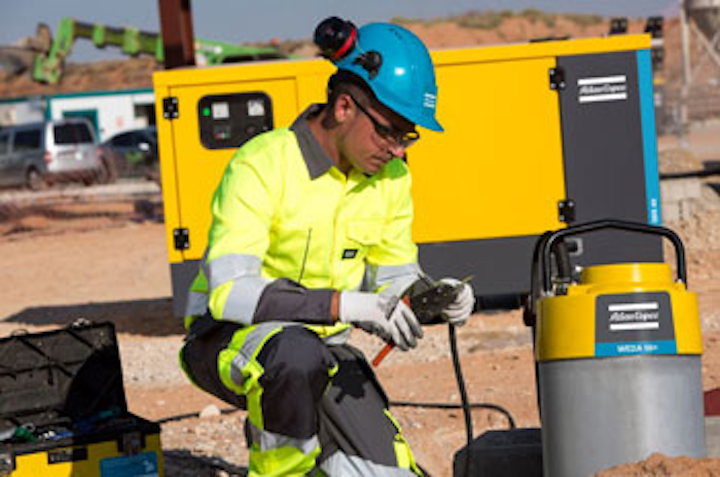 WEDA+ dewatering pump range
Atlas Copco Portable Energy has added to its family of medium and large submersible dewatering pumps with the launch of the WEDA+ plug-and-play range. The new range has undergone a top-to-toe design overhaul, resulting in new pumps that offer up to 20 percent overall reduction in power consumption compared to previous models. The WEDA+ range comprises five models: the WEDA 50, with normal and high head variants, and the WEDA 60+, available in normal head, high head and super high head configuration. Delivering enhanced performance and extreme portability, the Super High Head WEDA 60+ is 15 percent smaller and 20 percent lighter than other pumps in its class. The latest pumps offer flow rate capabilities of 1020 to 2425 l/min (61 to146 m3/h) and a maximum head of up to 69 metres.
Engineered skid systems with diaphragm metering pump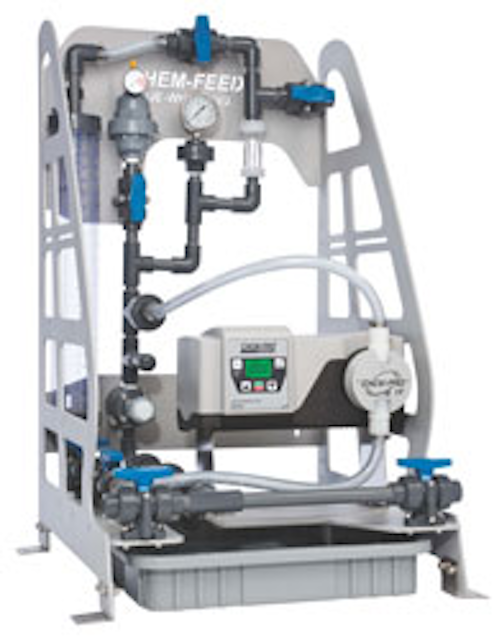 CHEM-FEED® Engineered Skid Systems provide a particularly effective and efficient unit when paired with Blue-White's Pro-Series® line of Chem-Pro® C2 & C3 Diaphragm Metering Pumps. The recommended use is precision chemical metering in industrial and water and waste water treatment applications. CHEM-FEED Skid Systems are constructed of 6061-T6 powder coated welded aluminum and are rigorously factory tested. The pre-fabricated design allows for easy installation and is lightweight for wall or floor mounting, as well as cost effective shipping. Chem-Pro C2 & C3 Chemical Metering Pumps are equipped with the exclusive DiaFlex diaphragm. The single layer DiaFlex experiences zero breakdown or delamination, field maintenance and down time are kept minimal. The heads' wetted parts are entirely PVDF material, reducing chemical compatibility issues. Chem-Pro Metering Pumps are rated NEMA 4x for wash down. www.blue-white.com
Intelligent pump control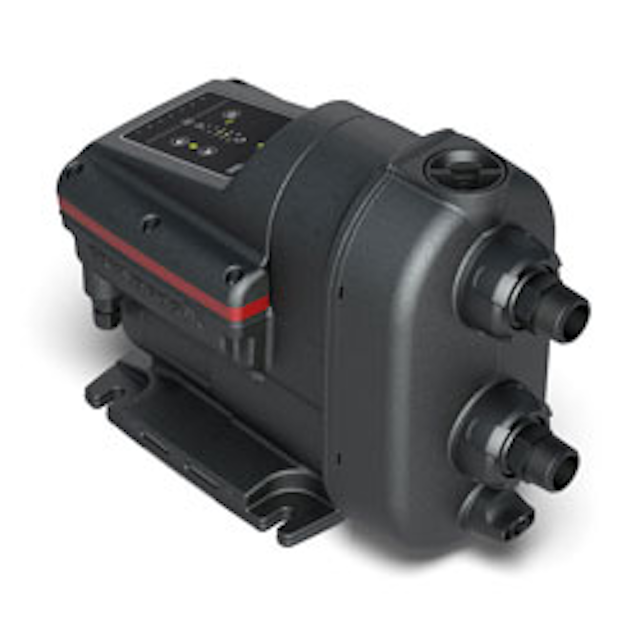 Grundfos Singapore has launched SCALA2, a fully integrated water booster pump, which includes pump, motor, tank, sensor, drive and non-return valve into one compact unit. With its intelligent pump control, SCALA2 automatically adjusts performance to both inlet pressure and water consumption. SCALA2 features a built-in sensor, which constantly measures the discharge pressure. If the pressure drops below the desired level, SCALA2 boosts its operation immediately to compensate for the loss of pressure. Grundfos said it is intelligent pump control and the result is perfect water pressure.
American-BFV butterfly valves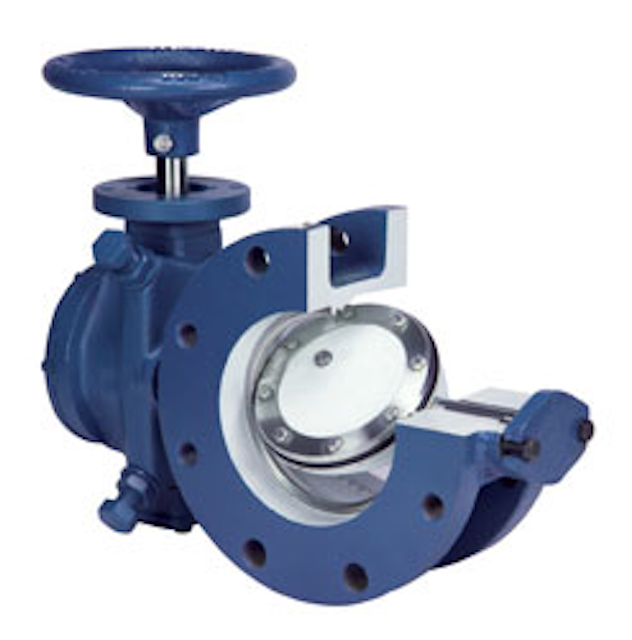 Val-Matic's American-BFV® Butterfly Valves are highly engineered to provide long life and trouble-free performance. Available in a wide range of pressure classes, the American-BFV is the valve of choice in municipal, industrial and power applications. Continuous uninterrupted seating and the unique Tri-Loc™ Seat Retention System assures seat integrity and allows for field adjustment/replacement without the needs for special tools or epoxies. A ductile iron disc adds strength allowing the disc to have a smaller cross section providing improved headloss characteristics. Val-Matic American-BFV Butterfly Valves are offered in 150B and 250B AWWA Classes with flanged end connections in sizes 3"-144" and mechanical joint end connections in 4"-48". Wafer Style Butterfly Valves are designed with ANSI 125 flanges or ISO PN10 and PN16 flanges in sizes 4"-24". The valve fully complies with AWWA C504 and C516, certified NSF/ANSI 61 for drinking water and NSF/ANSI 372 Certified Lead-Free. www.valmatic.com
Corrosion protection for actuators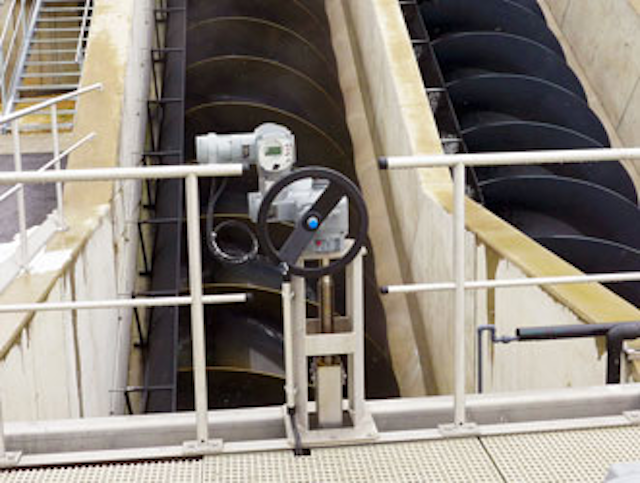 A new TÜV certificate confirms that AUMA's electric actuators have met the requirements of EN ISO 12944-6 for corrosivity categories C5-M long (marine, coastal and offshore areas) and C5-I long (industrial areas with high humidity and aggressive atmospheres). Previous tests had already proved the high corrosion resistance of the advanced two-layer powder coating AUMA introduced a few years ago. The latest certificate confirms that the fully-assembled actuators, including all non-powder-coated metallic parts such as shafts and screws, withstand corrosion equally well.
Standard AUMA SA and SQ actuators with AC or AM integrated controls meet the requirements of corrosivity category C5-M long, without any extra measures and cost. C5-I long is available as an option. To achieve this C5-M certification, the products had to undergo a salt mist test (EN ISO 9227:2012) for 1,500 hours and a constant humidity test with condensation (EN ISO 6270-2:2005) for 720 hours. For C5-I certification, the devices had to additionally withstand 30 cycles of a condensation alternating climate test containing sulfur dioxide (EN ISO 3231). Following the tests the AUMA products showed no signs of rust. www.auma.com
More Water & WasteWater International Current Issue Articles
More Water & WasteWater International Archives Issue Articles