Association Represents the World of Submersible Wastewater Pumps
The Submersible Wastewater Pump Association (SWPA) is a national trade association representing and serving the manufacturers of submersible pumps for municipal and industrial wastewater applications. Founded in 1976, the association's primary focus is on industry guidelines, education and promotion.
Jun 1st, 2002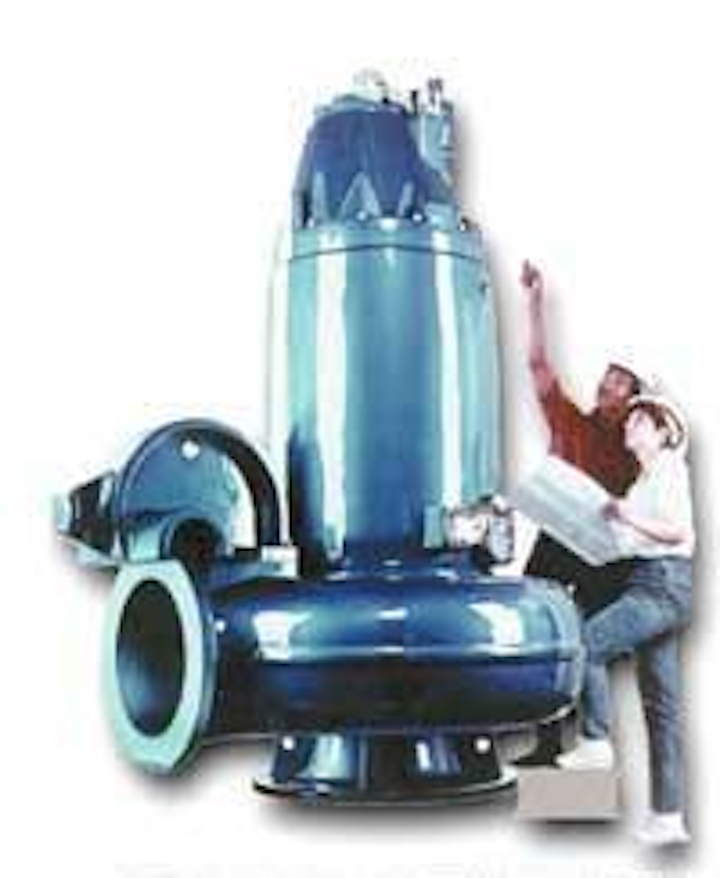 The Submersible Wastewater Pump Association (SWPA) is a national trade association representing and serving the manufacturers of submersible pumps for municipal and industrial wastewater applications. Founded in 1976, the association's primary focus is on industry guidelines, education and promotion.
SWPA's members are leaders in the field (See list below) Regular Members are manufacturers of submersible wastewater pumps for municipal and industrial applications that can efficiently handle solids. These companies represent the bulk of U.S. shipments of Solids Handling, Submersible Dry Pit and Grinder Pumps (about 85 percent). Associate Members are manufacturers of component parts and accessory products for submersible pumps and pumping systems. They supply pump manufacturers and the aftermarket with access covers, alternators, basins, cords/cables, control components, control panels, electric motors, guide rail systems, phase converters, phase monitors, seals, valves, variable frequent drives and other components and parts.
SWPA is a focal point of the industry's communications network. The association provides a forum for pooling of skills and know-how of member companies, and facilitates the exchange of information on problems and
issues of common concern. It maintains a data center for the industry providing information to trade and consumer press, other business groups, users, and members.
In its role as a representative of submersible wastewater pump manufacturers, the association has the goal of increasing acceptance and sales of submersible pumps. SWPA also represents its members with numerous groups involved in the selection, installation and use of industry products - including engineers, specifiers, users, standards officials and code authorities.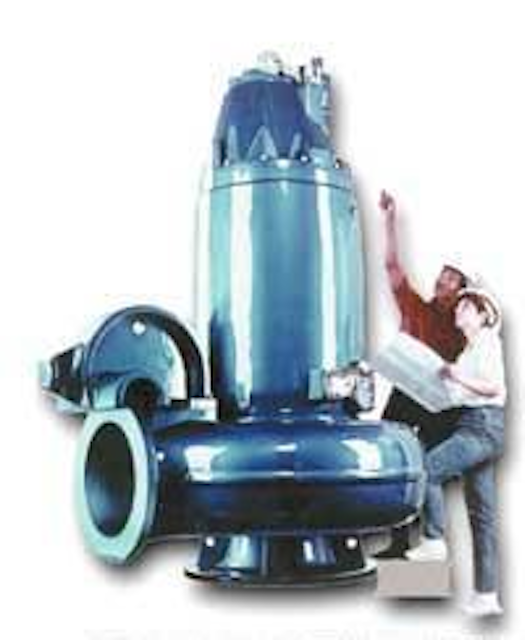 Submersible wastewaterpumps come in sizes from 12 inches to over 12 feet in height. The motor sits on the pump housing. The impeller is directly coupled to the motor. Lifting lugs are provided for easy removal from the pit.
Click here to enlarge image
SWPA seeks to help its members by providing information on subjects of general industry interest - including government actions, code changes and marketing trends.
In 2001, SWPA celebrated its 25th Anniversary of service to the submersible wastewater pump industry. In conjunction with that event, a number of new activities as well as a series of significant enhancements in its member services and benefits were initiated.
One of the long-standing, major challenges in the wastewater pump industry has been the development and acceptance of a test standard written specifically for submersible pumps, adopted in the public interest and designed to help eliminate misunderstandings between the pump manufacturer and the purchaser and/or the end user and to assist the purchaser in selecting and obtaining the proper product for a particular need.
SWPA recognized that its members manufacture the vast majority of submersible wastewater pumps in the United States. Therefore, the association assumed responsibility for developing a standard that would be accepted and utilized by all segments of the industry. The association expects it to be published by the Hydraulic Institute as an ANSI Standard in mid-2002.
In addition, the association has adopted a position to promote a "systems approach" in its technical and marketing activities and to begin developing guidelines and standards on all products and components that go into a lift station - all in an established format. When they are published, these guidelines and standards will impact the businesses of every company in the industry.
Other major projects completed in recent years include:
Introducing a Standardized Presentation Format for Pump and Motor Characteristics
Publishing a Start-Up and Field Check-Out Procedure Manual for Lift Stations
Conducting an Annual Industry Outlook Survey
Developing a Common Terminology Project for pumps and lift stations
Creating a Grinder Pump in Pressure Sewers Committee
Current projects under development include:
Developing a comprehensive SWPA Engineering Application Manual
Creating a series of educational and training programs for consulting engineers and users
Initiating a Summer Educational Training Program
Writing a condensed version of the SWPA Handbook
Initiating partnering agreements with other industry organizations
Conducting market research on the "drivers" in the wastewater business
With programs and activities like these, SWPA is forging the future of the industry and its members are incorporating SWPA's plans and programs into their companies marketing strategy.
SWPA has adopted these strategic initiatives because as the new millennium unfolds, the rules of business, economics and communications are changing rapidly and drastically. These programs and activities are offering SWPA members opportunities to embrace those changes by taking advantage of a growing list of membership services and benefits - whether they're a submersible wastewater pump manufacturer or a manufacturer of component parts and accessories.
The benefits of being a SWPA member and actively participating in the association's programs have never been richer nor have they provided more potential for reward for member company representatives personally and for their company strategically.
SWPA is and has been a leader in the growing wastewater pump industry since its inception. The association has a distinguished history and a long list of achievements including:
•The Submersible Sewage Pumping Systems Handbook, 2nd Edition (1997) is a 144-page technical volume that was developed by a task force of industry experts. This one-of-a-kind publication familiarizes and assists those responsible for designing, installing and operating lift stations using submersible solids-handling pump systems. The second edition includes additional chapters on Grinder Pumps and Pressure Sewers and Variable Speed Pumping. The SWPA Handbook was introduced to the industry in 1984 in a soft cover version. It has been published in a hard cover format since 1986. Since its introduction, more than 18,000 copies have been distributed throughout the world. The 3rd Edition, scheduled for publication in mid-2002, will include an all-new chapter on Dry Pit Submersible pumps as well as revised and updated chapters on controls, variable speed pumping and mechanical controls and components.
•The Field Start-Up and Check-Out Procedures Manual for Submersible Sewage Lift Stations (1998, 2001), is a practical, 28-page text that includes step-by-step procedures, based on the equipment available, for putting a lift station into operation.
•Publishing a new and expanded Membership Roster and Product Reference Guide that is being distributed throughout the world. This publication includes "The Submersible Wastewater Pump Story," member listings, a product cross reference guide and information about SWPA's technical resources. Complimentary copies are available upon request from SWPA headquarters.
•SWPA's Statistical Reporting Program provides quarterly data on Solids Handling, Dry Pit Submersibles and Grinder Pump shipments by type and size and semi-annual data on the destinations of those shipments. The program reported an increase in shipments of Solids Handling pumps in 2001 over 2000 of 8.2 percent and an increase in Grinder Pump shipments of 0.7 percent for the same period.
•A unique Annual Industry Outlook Survey. Each Fall, SWPA conducts an Annual Survey of its members to gather information on expected industry performance for the coming year. Included are projections of Solids Handling, Dry Pit Sub-mersibles and Grinder Pump shipments by types and sizes. The survey results are presented during the association's Annual (Fall) Meeting.
•"The Very Versatile Submersible" video, a training program that was created to inform viewers of the advantages and multiple uses of submersible wastewater pumping equipment. This eight-minute presentation was designed for use at seminars, schools and selected meetings and discusses some of the ways this versatile machine serves specifiers and users throughout the world.
•The SWPA Standardized Presentation Format for Pump and Motor Characteristics. The format includes the minimum information needed by a specifier or designer to adequately evaluate using a specific submersible wastewater pump for an individual application. Information is presented in a consistent format so the designer or specifier can make an informed comparison between different brands or types of equipment. A series of standardized pump/motor definitions of the terms that the data represent in included.
•A Technical Library of information along with a bibliography of current literature. Members as well as non-members are encouraged to submit materials for possible inclusion in the library.
SWPA has two general membership meetings each year. The Fall (Annual) Meeting is held during the Water Environment Federation Conference and typically includes technical and marketing presentations by industry experts, a federal legislative update and other educational programming. The association's Mid-Year Meeting is held in the Spring and includes a Plant Tour, related technical seminar and other educational programming. The association's Marketing and Technical Committees meet at both the Fall and Spring Meetings and typically have full agendas. In addition, the association's Executive Committee meets between the membership meetings. Committees and subcommittees meet on an as-needed basis.
SWPA is dedicated to building the submersible wastewater pump industry. The association welcomes inquiries regarding membership benefits and services, as well as its programs and activities. IWW
For additional information, contact: Charles G. Stolberg, Executive Director, Submersible Wastewater Pump Association (SWPA), 1866 Sheridan Road, Suite 201, Highland Park, IL 60035-2545. Phone: 847-681-1868. Fax:847-681-1869.E-mail: swpaexdir@netzero.net. Visit SWPA's Web Site at www.swpa.org.
SWPA Member List Current
REGULAR MEMBERS PUMP MANUFACTURERS
ABS PUMPS INC.
BARNES PUMPS, INC.
ENVIRONMENT ONE CORP.
FLOWSERVE CORP. (PUMP DIVISION)
FAIRBANKS MORSE PUMP
THE GORMAN RUPP CO.
GOULDS PUMPS/ ITT INDUSTRIES
GRUNDFOS PUMPS CORP.
HOMA PUMP TECHNOLOGY
HYDROMATIC PUMPS
ITT FLYGT CORP.
KSB INC.
LITTLE GIANT PUMP COMPANY
F. E. MYERS
PUMPEX, INC.
STA-RITE INDUSTRIES
WEIL PUMP COMPANY INC.
YEOMANS CHICAGO CORP.
ZOELLER ENGINEERED PROD.
ASSOCIATE MEMBERS MFGS. OF COMPONENT PARTS AND ACCESSORIES
AK INDUSTRIES
ALLIED MOULDED PROD., INC.
JOHN CRANE, INC.
DANFOSS WATER & WASTEWATER
EMERSON MOTOR CO. (U.S. MOTORS)
FLOMATIC VALVESIND. CONTROL SYSTEMS
ROCKWELL AUTOMATION/ RELIANCE ELECTRIC
RONK ELECTRICAL IND., INC.
SJE-RHOMBUS CONTROLS
STA-CON, INC.
TOPP IND. INC.
VAL-MATIC VALVE & MFG. CORP.