Products & Services: Pumps, Motors & Drives
Collection of pumps, motors & drives related products and services.
Jul 1st, 2016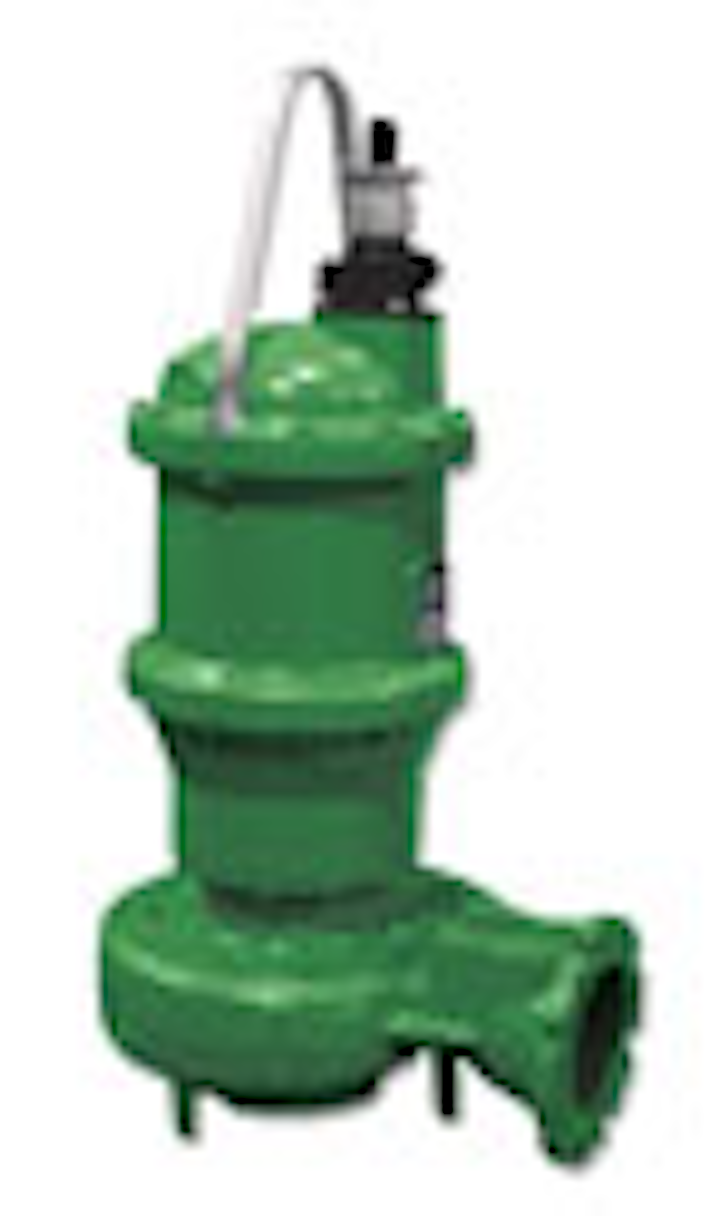 Solids handling pumps
Crane Pumps & Systems has expanded its Deming Demersible 7365 Series of solids handling pumps with the #5 Frame. The 7365 Series is designed for the toughest water, wastewater, and sewage applications in an industrial or commercial environment. The series includes 3", 4", 6", 8", and 10" discharge sizes with motors ranging from 2 through 150 HP, and is designed to handle flows up to 4,000 GPM and heads over 240 feet. All pumps come equipped with ductile iron impellers for extra strength.
Crane Pumps & Systems
Borehole pump
Goulds Water Technology has introduced the e-GS 4-inch, high-capacity borehole pump, specifically designed for use in 4-inch and larger wells. The e-GS 4" has an innovative floating stack hydraulic design that enables sand and abrasives to pass easily. The product is ideal for use in irrigation systems, pressure boosting, geothermal systems and fountain applications. The stainless steel pump casing is corrosion resistant and has a built-in check valve to prevent drain backflow and hold pressure in the system. Newly designed impeller and diffuser combinations improve efficiency and performance, allowing for higher pressures per given horsepower - with flows up to 120 GPM and head up to 1,400 feet.
Goulds Water Technology, a Xylem brand
Submersible wastewater pump
The Grundfos line of SL submersible wastewater pumps is designed to handle raw, unscreened sewage, effluent, large volumes of surface water and process water in many applications. The solids-handing pump series, in motor ranges from 1.5 to 15 horsepower (HP), is available in two types of impellers: The SLV/SuperVortex Impeller provides the free passage of solids up to 4 inches in diameter, making it ideal for liquids with a content of solids, fibers or gassy sludge; the SL1/S Tube Impeller also accommodates solids up to 4 inches but is designed particularly for large flows of raw sewage.
Grundfos
Peristaltic type rotary pump
The air-driven Flex-I-Liner pump from Vanton Pump and Equipment Corporation is a peristaltic type rotary pump designed for use in remote areas where electricity is unavailable or when a spark may ignite the substance being pumped. Providing gentle pumping action, it operates wet or dry and can be supplied with rotary vane air motors. The fluids or gases pumped by the air-operated Flex-I-Liner do not come in contact with any metallic surfaces, only the pump's thermoplastic body and its elastomeric liner. These inert materials are not impacted by corrosive, abrasive and/or other aggressive fluids handled by the pump.
Vanton Pumps
Variable speed drive
Schneider Electric's Altivar 320 Machine iDrive allows machines to perform better with less downtime and lower total machine costs. The Altivar 320 drive offers advanced connectivity via Ethernet (Modbus TCP, Ethernet/IP, Profinet, EtherCAT) or serial (Modbus RTU, CANopen, Profibus DP, DeviceNet) based networks; reliable motor control for synchronous and asynchronous motors; proven functionality in harsh environments, operating in ambient temperatures up to 60°C, and class 3C3 coated printed circuit boards to protect against corrosion; and comprehensive embedded safety solutions for simple or complex machines from 0.25 Hp to 20 Hp.
Schneider Electric
Variable frequency drives
The new SubDrive Connect and MonoDrive Connect families of variable frequency drives from Franklin Electric provide constant water pressure throughout the chosen location. The family incorporates the new 5 hp SubDrive50 Connect model, the only constant pressure drive of its type that will run a 3 hp, single-phase motor. The drives feature a NEMA 3R (Type 3) enclosure rated for both indoor and outdoor use, providing a degree of protection against falling rain or sleet. Additionally, Wi-Fi capability through the FE Connect mobile app is a convenient way to set up and configure the drives.
Franklin Electric Co. Inc.
Grinder pumps
FPS IGPH Manual Series grinder pumps from Franklin Engineered are ideal for residential and light commercial sewage waste transfer where higher head conditions exist. Features include: dual stage hydraulics, externally-mounted start components, carbon/ceramic mechanical seal, deflection-resistant, short motor shaft, corrosion-resistant upper and lower brass impellers, tight cutting clearances at 414,000 cuts per minute, epoxy-coated finish, and built-in overload protection to prevent over-current and over-temperature damage. The IGPH Series requires a specific control panel or capacitor kit from FPS, matched to the pump for proper operation and third-party approval.
Franklin Engineered