Product Showcase
Collection of new products of special interest to the industrial water and wastewater markets.
Feb 23rd, 2015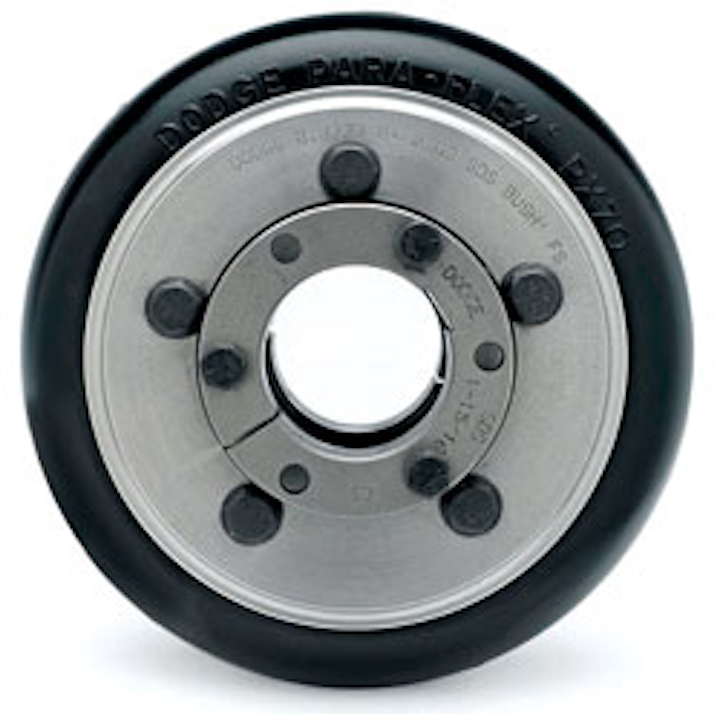 Couplings
Baldor has announced a new addition to its Baldor-Dodge coupling product offering -- the QD bushed Para-Flex coupling. The QD flange design complements the company's Taper-Lock and bored-to-size style flanges, and the product line is available in sizes PX50 to PX200, with torque ratings through 82,500 in-lbs. The flanges offer greater bore capacity, allowing customers to save money by downsizing their coupling selections. Similar to the Taper-Lock bushing, the QD bushing allows for easy installation and removal with minimal shaft damage, reducing overall replacement costs. When used with the Para-Flex element, the couplings perform in difficult applications, providing greater misalignment capabilities.
Baldor Electric Company
www.baldor.com
Diaphragm metering pump
The CHEM-PRO M™ series metering pump from Blue-White features NSF 61 listing; 200:1 turndown; a large, easy-to-read LCD screen that displays the pumps' output rate; a 4-20 mA output standard on all models; a robust 316 stainless steel pump head cover for added strength; and a comprehensive 3-year warranty. The series also features Blue-White's exclusive single-piece DiaFlex™ Diaphragm, manufactured 100% in house of molded Kynar, providing zero delamination or breakdown. Optional advanced communications include: Industrial Ethernet, Modbus TCP, ProfiNet, Modbus, and Profibus.
Blue-White Industries
www.blue-white.com
Analyzers
Wilks' InfraCal 2 Analyzers provide accurate, easy, on-site analysis to help both regulators and industry reduce excessive fats, oil and grease (FOG) discharges and comply with permit requirements. On-site results are attained in 10-15 minutes, eliminating the wait for remote lab results. The extraction and measurement procedure is simple enough for an operator with minimal training to do the analysis. Features include extended calibration ranges, allowing for ppm to percent levels of FOG in wastewater; unlimited data storage that tags measurements with analyst, date and time; and security features with different user access levels.
Wilks Enterprise Inc.
www.wilksir.com
Sanitary static mixers
Chemineer has received 3A certification for its Kenics sanitary static mixers. The mixers feature an alternating helical element string that creates flow division and efficient radial mixing. They provide in-line, continuous mixing and processing with no moving parts, maintenance or external power. The Kenics KMR-SAN allows for blending or dispersing liquids, gases or solids in a short length of pipe, while uniformly and quickly heating or cooling ingredients as required. Features include 316L stainless steel, grooved ferrules compatible with hygienic clamps, elements polished to a #4 sanitary finish, housing of 14-16-ga. polished sanitary tubing, and removable elements.
Chemineer Inc.
www.chemineer.com
Level transmitters
Endress+Hauser's Micropilot FMR5X series of free-space radar level transmitters contains software with multi-echo tracking algorithms and functions to suppress interference echoes, thus providing accuracy up to ±0.078 in (2 mm) for level measurement of liquids and bulk solids products. The liquids can be measured in metal or plastic tanks, stilling wells, bypass chambers, or other vessels up to 131 ft. with standard units or 197 ft. with enhanced dynamics option. The transmitters can also be used to detect minimum or maximum levels to prevent overfilling or empty tanks in addition to continuous monitoring of the level.
Endress+Hauser
www.us.endress.com
Pressure transmitters
American Sensor Technologies (AST) has achieved ATEX certification of its Explosion Proof Pressure Transmitters for Class I Zone 0 Exd hazardous locations. The approvals enhance the ability for equipment manufacturers to specify AST pressure transducers, as they can now operate in both North America and Europe. The transducers are commonly used in upstream and offshore applications where safety, reliability and performance are crucial. The Exd certification applies to the following: AST4600 Explosion Proof Pressure Sensor, AST46HA Explosion Proof Pressure Transmitter, AST46PT High Accuracy Explosion Proof Pressure/Temperature Transmitter, and AST46SW Explosion Proof Pressure Switch.
American Sensor Technologies
www.astsensors.com
X-Ray fluorescent spectroscopy
With its continuous improvement initiative and ISO 9001 certification, Val-Matic has implemented a Positive Material Identification (PMI) process for class-rated components containing special alloys. The process uses X-Ray Fluorescent Spectroscopy (XRF) technology to identify the part alloy identification and elemental chemistry. Additionally, specially made plating standards are used with the XRF analyzer to verify the thickness of chrome and nickel plating, even when the substrate contains similar elements. The PMI process was implemented with the industrial valve program in the new Addison, Ill., facility.
Val-Matic Valve and Manufacturing Corporation
www.valmatic.com