Three Examples:Rising Needs for Stormwater Management Systems
Cities nationwide find stormwater relief with temporary and permanent pumping systems to combat flooding, erosion and water quality degradation.
Sep 1st, 2005
By George Olsker
Cities nationwide find stormwater relief with temporary and permanent pumping systems to combat flooding, erosion and water quality degradation. These modern industrial systems are larger, stronger and faster than ones previously utilized and provide a substantial return on investment according to public works officials.
Permanent Backup Systems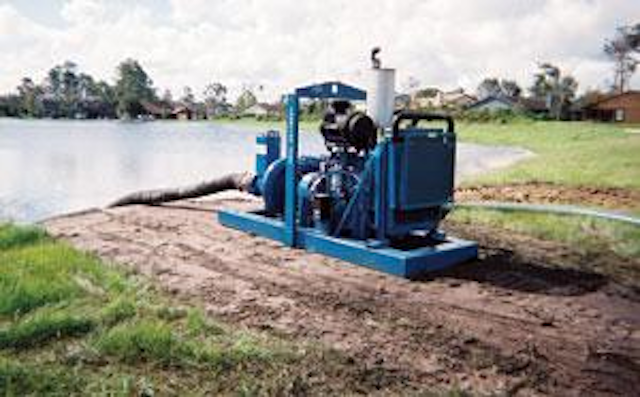 A Thompson 6" dry prime compressor-assisted trash pump dewaters a lake in DeBary, Fla. The lake water was directed into a nearby storm drain. This was one of 15 pumps along DeBary's emergency lake control system. They ran before Hurricane Charley passed in August 2004 to lower lakes in anticipation of heavy rains, and then ran nonstop for two months throughout hurricanes' Frances and Jeanne. Thompson Pump provided 24-hour service and support for each during the hurricanes.
Click here to enlarge image
When hurricanes hit land, thousands of residents lose power, communication, water and wastewater services. The loss of these necessities make residents understand the importance of public utility systems and the emergency backup systems that keep them operational after a disaster. After Hurricane Opal struck the Florida Panhandle in 1995, Regional Utilities Inc. experienced lightning strikes and damage to generator control panels preventing backup generators from operating. The utility provider for several hundred thousand residents in the Gulf Coast area thought it best to install permanent lift station backup systems to the Florida communities it served. These pumps needed to not only provide uninterrupted service, but automatically start after a shutdown or failure takes place. Thompson Pump installed 10 self-priming, solids-handling pumps with dry-priming systems and automatic start/stop capabilities to master lift stations. The automatic start/stop systems operated with floats that turned on the pumps when fluid levels rose and turned them off when the levels fell. These pumps also are used during occasional lift station repairs. The systems were put to the test in September 2004 when hurricanes' Ivan and Jeanne hit the area. While other municipalities along the Florida coast lost lift station operation, Regional Utilities was pumping efficiently.
Updating Storm Drains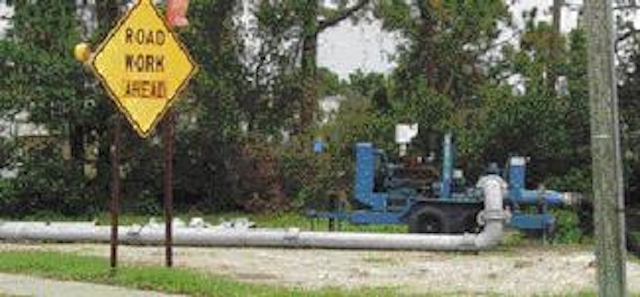 Click here to enlarge image
A Thompson 8" solids handling high-pressure jet pump lowered a nearby Port Orange, Fla., lake that overflowed from hurricanes' Charley and Frances in 2004. This lake couldn't handle any more rainwater from upcoming Hurricane Jeanne without threatening homes across the street. The lake was discharged 500" down the block into a stormwater manhole using Thompson Pump galvanized pipe.
The city of Naples, Fla., took preemptive measures and as a portion of its planned municipal improvements, relined its storm drain. To do this, it needed to install a temporary bypass system to handle stormwater in the event of heavy rains. Thompson Pump provided the entire bypass system including four 6" sound-attenuated, compressor-assisted dry prime trash pumps capable of handling the flow while reducing sound and preventing sewage blow-by. Thompson suggested 12" HDPE pipe be placed through the underground storm drain and air release valves be installed at precise points in the discharge system to release any air pressure build up and allow the pumps to operate more efficiently. Within two weeks, the contractor successfully relined the stormwater system.
Preparing for Heavy Rains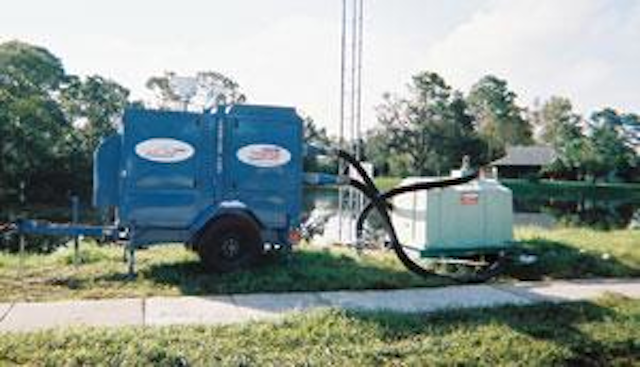 A Thompson 6" dry prime compressor-assisted, heavy-duty trash pump with a Silent Knight sound attenuated canopy installed on a Port Orange, Fla., lift station as a backup system to bypass sewage in the event of a power failure.
Click here to enlarge image
The Interstate 4 corridor running east and west through Central Florida is a congested traffic zone that experiences heavy summer rainfall causing additional danger. Eby Construction installed 35,000 feet of new sewer and stormwater pipe and excavated 27 ponds to better accommodate the heavy rains. Thompson Pump provided its vacuum Wellpoint pumps for the wellpoint dewatering. These pumps can handle high flows, achieve and maintain prime on their own and provide high air-handling capability. Thompson's double diaphragm pumps were also used for the general dewatering applications. With a 100-gallon integral fuel tank, these models pump consistently for more than 24-hours on a single tank of gas and can run dry indefinitely. The pumping systems provided a quick solution to the dewatering problems and allowed for better stormwater prevention in Central Florida's busiest tourist sector. IWW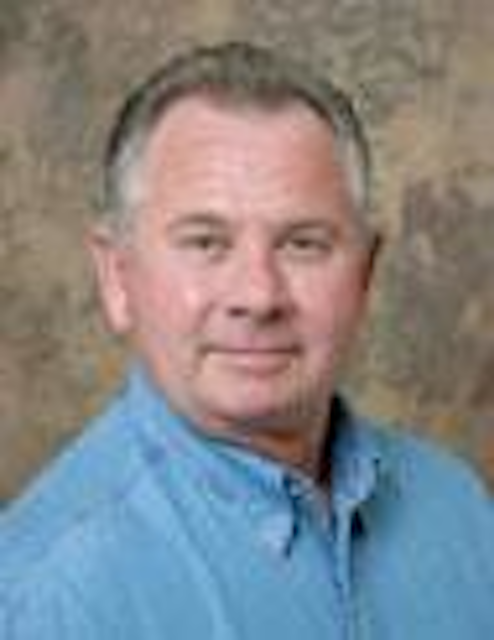 Click here to enlarge image
About the Author: George Olsker is the national accounts manager at Thompson Pump & Manufacturing Co. Inc., based in Port Orange, Fla. The company also provided 30 heavy-duty pumps to help dewater New Orleans in flooding following Hurricane Katrina in August 2005. Contact: 800-767-7310 or www.thompsonpump.com.