NEW LITERATURE
A new catalog from Cat Pumps guides users through the process of selecting the right triplex high-pressure piston or plunger pump for their application.
Nov 1st, 2005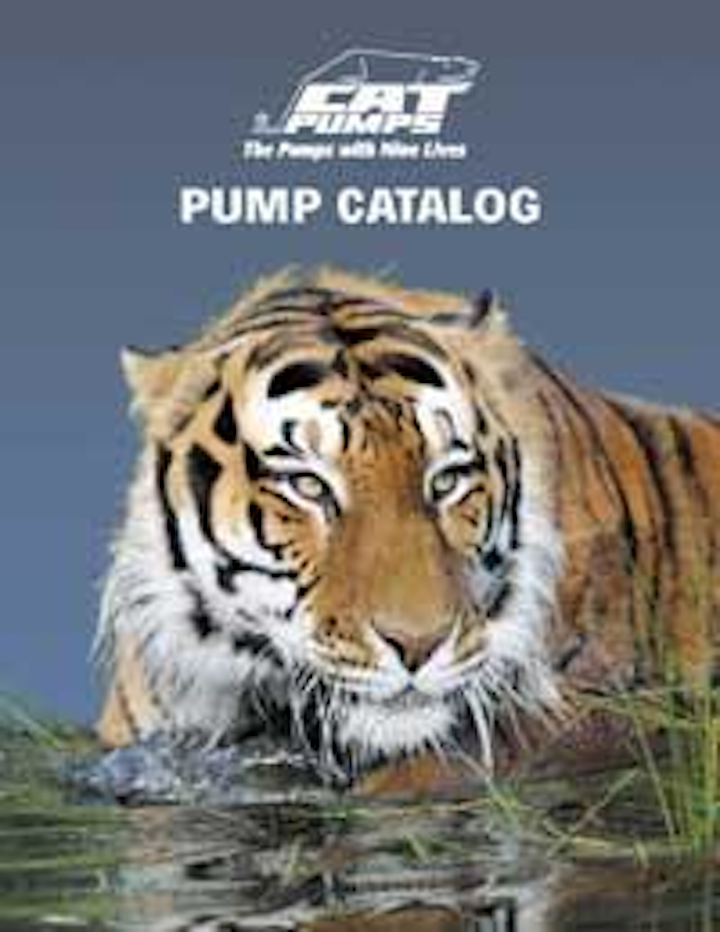 Pump catalog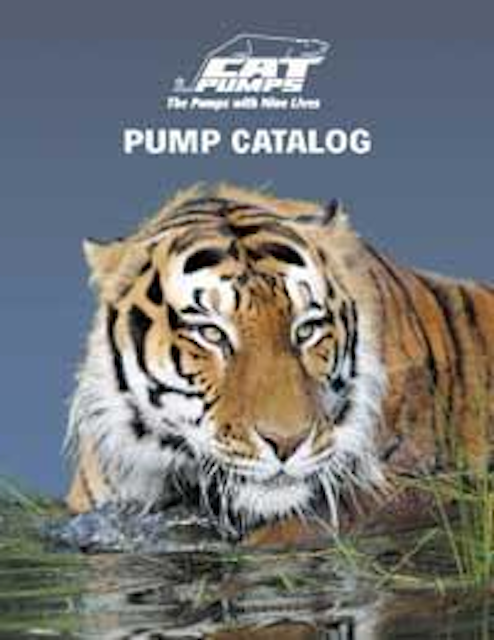 Click here to enlarge image
A new catalog from Cat Pumps guides users through the process of selecting the right triplex high-pressure piston or plunger pump for their application. The catalog features the company's complete line of high-pressure, reciprocating triplex piston and plunger pumps, special centrifugal pumps and custom engineered Power Units. It provides information on features and steps to consider in selecting a triplex piston or plunger pump.
Cat Pumps
Minneapolis, MN
Tel: 763-780-5440
Web: www.catpumps.com
Wastewater pumps
A full-color, 14-page brochure features Patterson's line of modern, high performance pumps for wastewater duties. Pumps include: Series "F" Sewage, the Forceline® NCS Non-clog Series, MPVT, Axial and Mixed Flow Pumps, and Flo-Pak® Municipal-Pac® prepackaged systems. Patterson pumps and systems are daily performing reliable service in dirty water applications throughout the world.
Patterson Pump Co.
Toccoa, GA
Tel: 706-886-2101
Web: www.pattersonpumps.com
Thermoplastic pumps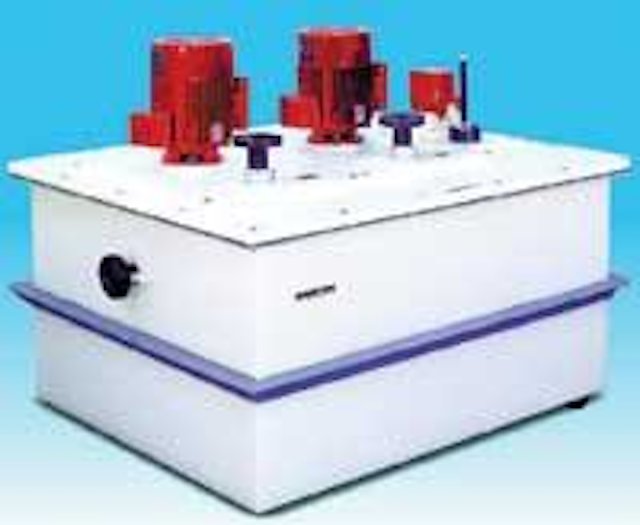 Click here to enlarge image
Vanton offers a series of reports designed to provide information on its line of thermoplastic pumps. They include reports on current applications of sealless, horizontal centrifugal magnetic driven designs, vertical configurations including pumps with extended dry run capabilities, and stationary and dolly-mounted self-priming rotary peristaltic units for in-plant and over-the road service.
Vanton Pump & Equipment Corp.
Hillside, NJ
Tel: 908-688-4216
Web: www.vanton.com
Fire Protection Products
Pratt has released an updated version of its Fire Protection product brochure. This updated brochure provides information on its UL Listed and FM approved PIVA® Post Indicating Valve Assembly, IBV Indicating Butterfly Valve, UL Listed Groundhog® Valves and UL Listed butterfly valve and adjustable indicator post.
Henry Pratt Co.
Aurora, IL
Tel: 877-496-7977
Web: www.henrypratt.com
Oil skimmers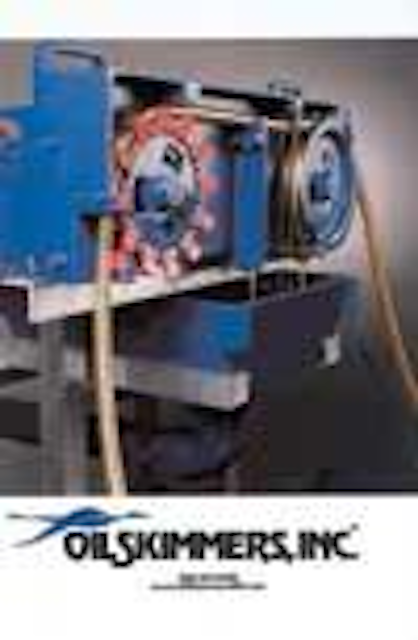 Click here to enlarge image
Oil Skimmers Inc. has published a catalog highlighting product benefits of its Model 6-V. The oil recovery system removes waste oil via a specially designed collector tube and is designed for large jobs. The skimmer is able to remove oil 24 hours a day, seven days a week. It is offered with a variety of pre-fabricated mount systems to meet specific user needs.
Oil Skimmers Inc.
Cleveland, OH
Tel: 800-200-4603
Web: www.oilskim.com
Certification guide
NSF International has released a new Certification Guide for Drinking Water Treatment Systems and Components. The guide provides an overview of the NSF certification process, from detailed steps required to achieve specific certifications to the many options available in approaching certification. The guide is designed to simplify the process for treatment system and component manufacturers seeking certification. The guide contains sections on the process flow, frequently asked questions, standards requirements, listing options, a glossary and even a section that includes information on how to work with suppliers.
NSF International
Ann Arbor, MI
Tel: 734-769-8010
Fieldbus guide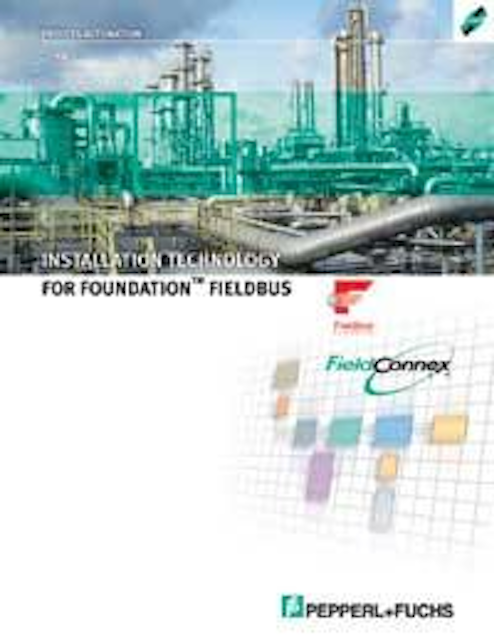 Click here to enlarge image
Pepperl+Fuchs has introduced a new guide to Installation Technology for Foundation™ Fieldbus. The guide provides detailed benefits, technical data and function information for the company's FieldConnex™ family of Foundation Fieldbus solutions, including power supplies, power conditioners, power repeaters, junction boxes, segment protectors, FieldBarriers, process interfaces, cables and cordsets, terminators, surge protectors and other accessories, tools and services.
Pepperl+Fuchs
Twinsburg, OH
Tel: 330-486-0002
Metering technical information
Sensus Metering System's website now includes a Questions & Solutions area, where customers can review questions that are designed to resolve most technical issues regarding the company's metering products and meter reading systems. An added level of service allows distributors to submit questions directly to AMR Technical Service staff members. These questions will be answered within a few business days. The list of Questions & Solutions was developed in a scaleable environment, so as more information becomes available it can be added to the site.
Sensus Metering Systems
Raleigh, NC
Tel: 800-638-3748
Strainer design guide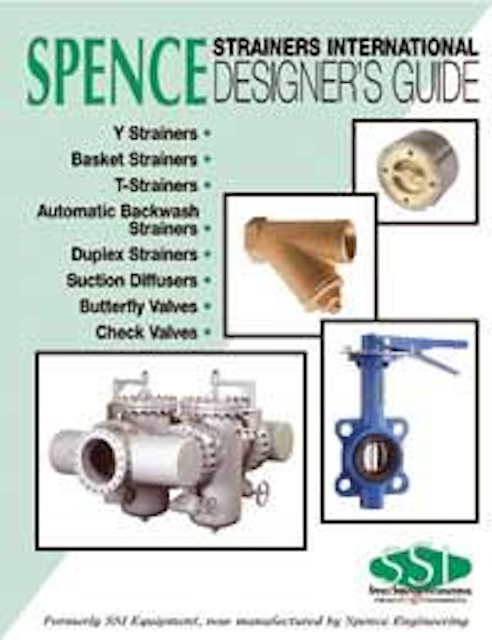 Click here to enlarge image
Spence Strainers has released the 1st Edition of its new "Strainer Designer's Guide" handbook for specifying, designing and purchasing cast and fabricated strainers, butterfly valves, check valves, pump protection equipment and connectors. Developed for engineers, facility managers, maintenance managers and equipment buyers, the guide contains installation and application information on the company's cast and fabricated products, plus product selection and submittal forms.
Spence Strainers International
Walden, NY
Tel: 800-926-7110
Web: www.spencestrainers.com
Magnetic level gauge
Click here to enlarge image
A new product brochure from L.J. Star features the completely redesigned Magne Star™ magnetic liquid level gauge. The instrument uses a non-intrusive design to minimize downtime due to leaks or maintenance. The illustrated brochure explains the gauge's principle of operation which is based upon a custom designed float and magnetically coupled indicator. The gauges are suitable for nearly any application requiring visual indication of liquid level. The brochure includes product specifications and options.
L.J. Star Inc.
Twinsburg, OH
Tel: 330-405-3040
Web: www.ljstar.com
Storm drainage software
Hancor's Spec Professor™ program now offers CAD detail drawings. The program, available for free on the Internet, is designed to help engineers and designers create specifications for storm drainage and sanitary sewer portions of a project. In addition to providing users with specifications for various applications, the program offers an extensive library of CAD drawings. Users may select a desired application, installation and/or product drawings.
Hancor Inc.
Findlay, OH
Tel: 800-537-9520
Web: www.specprofessor.com
TOC analysis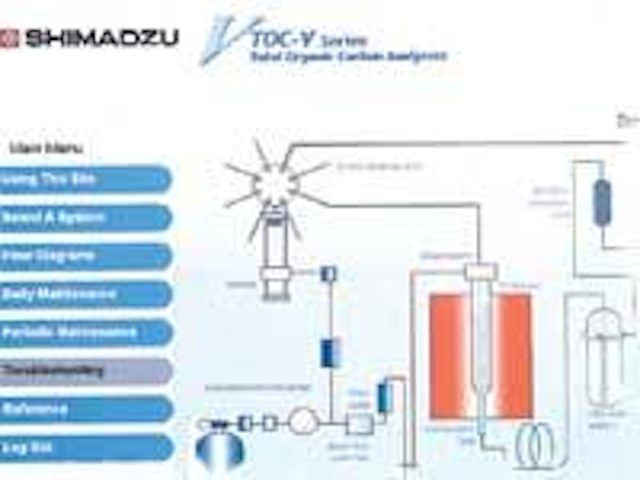 Click here to enlarge image
Shimadzu Scientific has introduced an updated version of its web-based, interactive TOC Virtual Advisor, which now offers 24-hour interactive support for the TOC-V series instruments. With password-protect access, the Advisor allows users to custom configure a web site to match the configuration of their TOC analyzer, including accessories such as an autosampler, total nitrogen module and solids sample module. Once configured, users can access the Troubleshooting section, which leads them through logical problem-solving procedures.
Shimadzu Scientific Instruments Inc.
Columbia, MD
Tel: 800-477-1227
Web: www.si.shimadzu.com