NEW PRODUCTS
Using Hydro International's hydrodynamic vortex separation technology, the First Defense® protects valuable downstream water resources from polluted stormwater runoff by removing sediment and floatables while at the same time functioning as a catch basin.
Nov 1st, 2005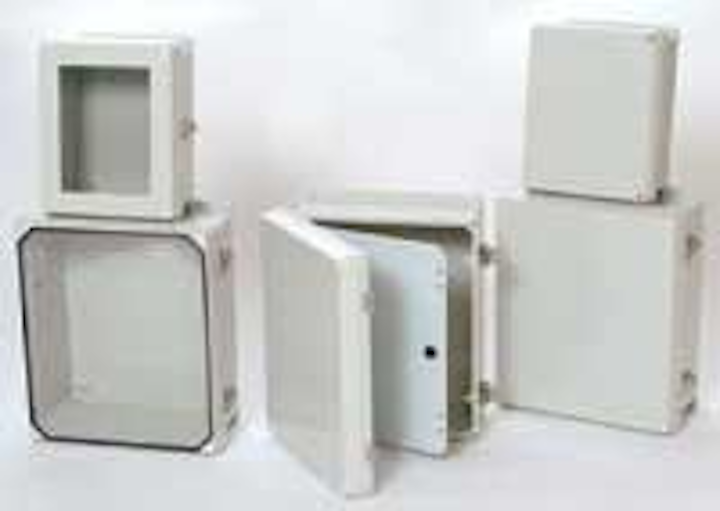 Stormwater treatment
Using Hydro International's hydrodynamic vortex separation technology, the First Defense® protects valuable downstream water resources from polluted stormwater runoff by removing sediment and floatables while at the same time functioning as a catch basin. A built-in bypass prevents washout of pollutants during high flows and protects against hydraulic overloads of the system. Testing on the system has shown over 80% total solids removal efficiency.
Hydro International
Portland, ME
Tel: 207-756-6200
Web: www.hydro-international.biz
Enclosure systems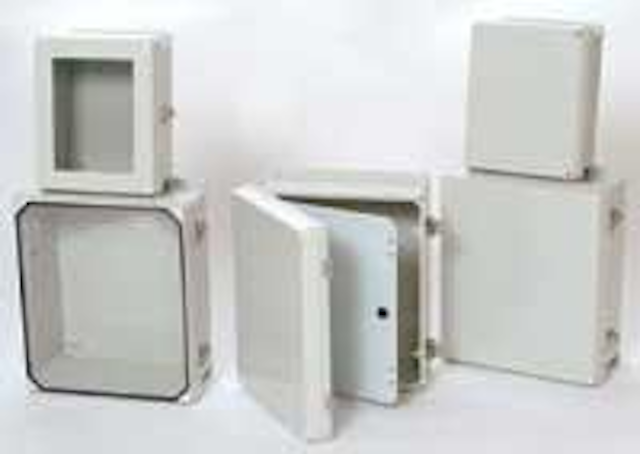 Click here to enlarge image
Vynckier Enclosures has introduced the "Platinum Plus" color for the entire line of "VJ" and "RVJ" Series of enclosures. The new color offers the benefits of better heat reflection and better UV resistance. The "VJ" and "RVJ "enclosures are designed for use as electrical junction boxes in highly corrosive environments. Rated UL types 3, 3R, 4, 4X, 12 and 13 per UL508, as well as CSA rated, the enclosures are suitable as instrumentation housings in both indoor and outdoor applications.
Vynckier Enclosure Systems
Houston, TX
Tel: 713-374-7850
Web: www.enclosuresonline.com
Turbidity meters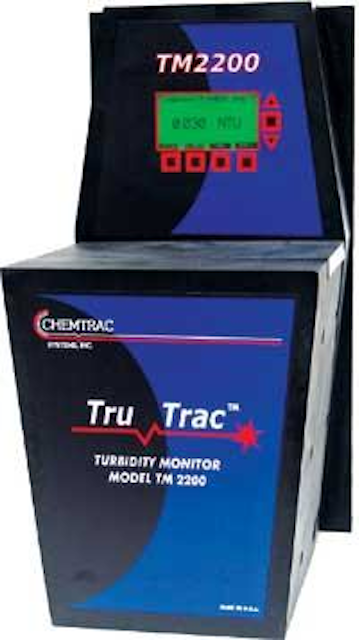 Click here to enlarge image
Chemtrac Systems has announced the release of a new line of turbidity meters including on-line and laboratory models. The company will market the turbidity meters under the TruTrac brand. The units will meet USEPA standard 180.1 for turbidity measurement with sales beginning in fall of 2005.
Chemtrac Systems Inc.
Norcross, GA
Tel: 800-442-8722
Web: www.chemtrac.com
Air charging system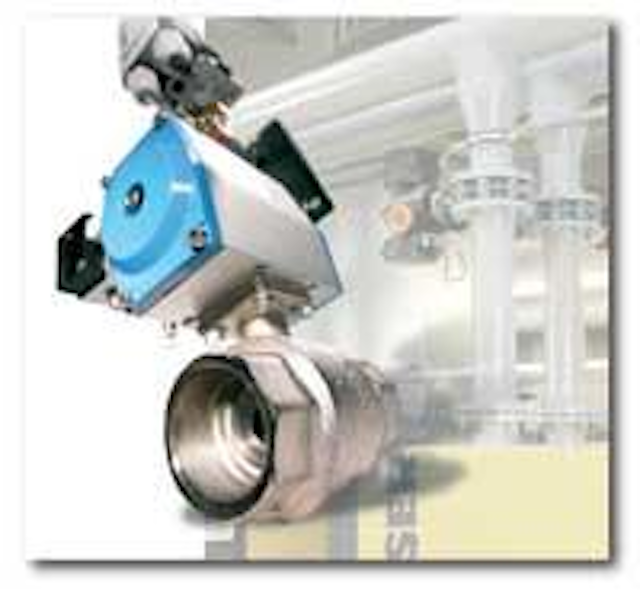 Click here to enlarge image
Kaeser Compressors introduces the new Air Main Charging System. This device protects clean air treatment equipment and prevents contaminants from being swept downstream by maintaining the proper system air pressure during shutdowns. The system prevents excessive air velocity at system start-up by continuously metering the amount of compressed air to maintain a set minimum pressure on the supply side and slowly charging the main distribution piping.
Kaeser Compressors Inc.
Fredericksburg, VA
Tel: 800-777-7873
Web: www.kaeser.com
Tubing pumps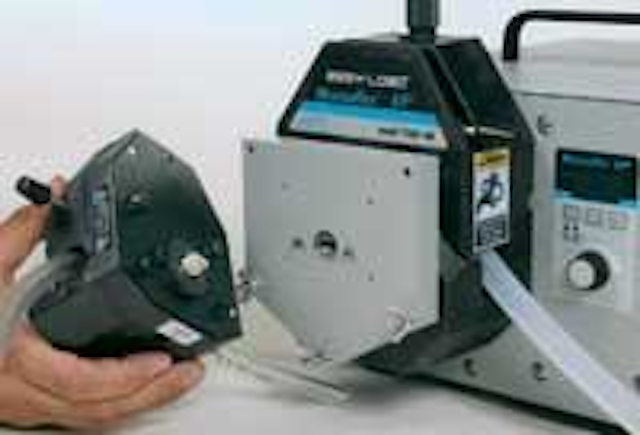 Click here to enlarge image
Barnant has introduced the Masterflex L/S Pump adapter. The adapter allows Standard, Easy-Load, High Performance or Easy-Load 3 pump heads to be mounted to a Masterflex I/P size drive. For multiple channel applications, the adapter allows users to drive up to two Standard or Easy-Load pump heads stacked in front of each other.
Barnant Co.
Barrington, IL Tel: 800-637-3739
Access door
Bilco has introduced the Type SM Door for access to underground equipment. The door is designed for applications that do not require a flush-mounted door. Constructed of aluminum and equipped with heavy-duty stainless steel hardware, the door features an overlapping cover design that is fully gasketed to shed water and prevents debris from entering the areaway.
Bilco Co.
West Haven, CT
Tel: 203-934-636
Web: www.bilco.com
Swing check valves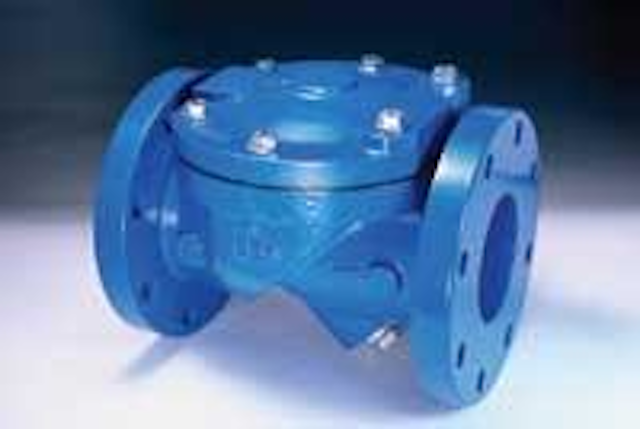 Click here to enlarge image
Danfoss Flomatic has introduced the latest addition to its Flo-Flex™ family of rubber disc swing check valves. The new model 745 has a flange to flange lay length according to ANSI/AWWA C508-01. The valve features a 45° seat with a steel/ductile iron valve reinforced rubber disc. The ductile iron 125# flanged body is fusion epoxy coated and can be used as a pipe line cleanout.
Danfoss Flomatic Corp.
Glens Falls, NY
Tel: 800-833-2040
Web: www.danfossflomatic.com
Ultrasonic flowmeter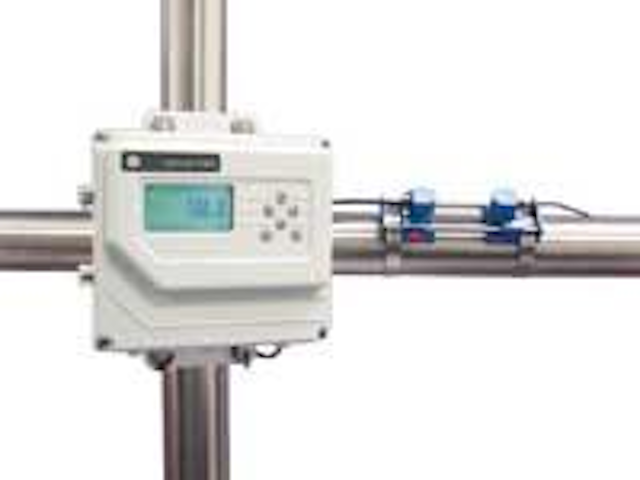 Click here to enlarge image
GE Industrial, Sensing, has released the UTX878 loop-powered, clamp-on ultrasonic flowmeter. The system provides the advantages of clamp-on flow metering in a low power design. The meter causes no pressure drop, does not require calibration, and needs virtually no maintenance. It features a patent-pending low-powered design that requires as low as 60mW of power. The meter is able to achieve it's low power consumption by using new ultrasonic transducer technology that requires much less excitation energy than conventional transducers.
GE Industrial, Sensing
Billerica, MA
Tel: 978-437-1840
Web: www.gesensing.com
Potable pipe coating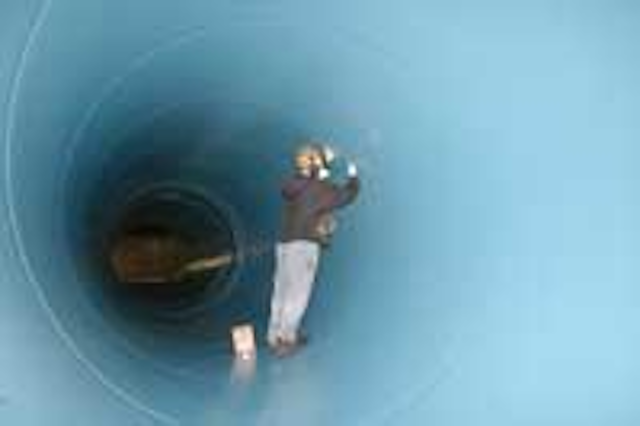 Click here to enlarge image
Chemline has announced the immediate availability of its latest spray-applied coatings specifically engineered for lining potable water tank and pipe applications. The new 100% solids, (Zero VOC) fast cure coating, Chemthane 4200PW, can be applied in a single coat directly to a prepared steel, iron or concrete substrate. No primers are necessary. The new coating contains no solvents. This means there will be no taste or odor from solvents transferred into the water.
Chemline Inc.
St. Louis, MO
Tel: 314-664-2230
Web: www.chemline.net
Radio modems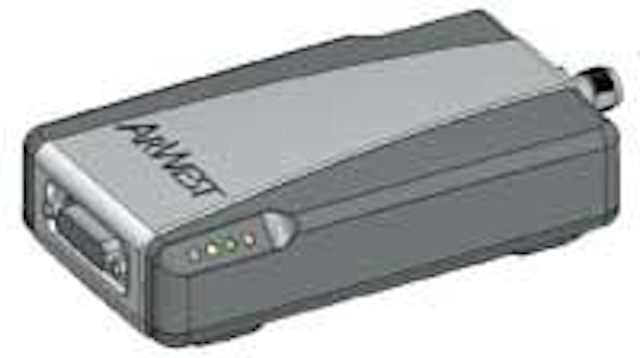 Click here to enlarge image
ArWest Communications has launched its AlphaWave range of narrow-band radio modems and associated management software, AWare™. The modems are designed for the Supervisory Control and Data Acquisition (SCADA) market where robustness and reliability are paramount. The AW400™ has been approved by the relevant statutory bodies - FCC, CE and CCC - for operation within their geographic regions. The modems provide Point-to-Point and Point-to-Multipoint wireless data transfer at up to 38.4 kbps.
ArWest Communications Corp.
Campbell, CA
Tel: 498-866-9678
Web: www.arwestcom.com
Flood forecasting software
The latest release of Wallingford Software's FloodWorks real-time flood forecasting and warning system now includes thin client architecture that allows access to flood forecasts via a standard web browser. The software provides real-time simulation and forecasting of hydrological and hydraulic conditions within river basins, drainage systems and the coastal zone. Designed for operational use in the control room, the software provides forecasts of water level, flood depth and sea state for the hours or days ahead.
Wallingford Software Ltd
Fort Worth, TX
Tel: 817-370-2425
Web: www.wallingfordsoftware.com
Rubber seated ball valve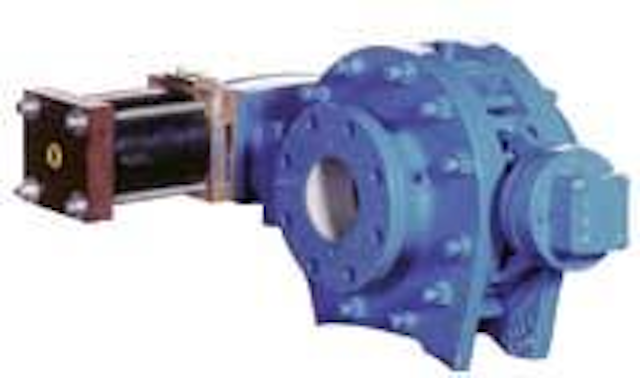 Click here to enlarge image
Henry Pratt offers full port rubber seated ball valves in sizes ranging from 4" through 60".They are suitable as a shutoff device in potable, raw water, sewage and applications involving high velocity service. Because of their full port area, the ball valves minimize pumping costs which translates into lower operating costs for the plant. Features include three-piece cast body construction, single seat or double seat.
Henry Pratt Co.
Aurora, IL
Tel: 877-436-7977
Web: www.henrypratt.com
Security system
Bristol Babcock and Isonas Security Systems has announced the addition of an integrated solution for facility access control to the OpenBSI Security Vision with ControlWave hybrid PLC/RTU. Bristol Babcock's Security Vision is a complete video capture, logging and replay application for ControlWave and ControlWave Micro RTU/PLC products for use in both plant area and remote area SCADA systems. The Isonas system allows networking of proximity card readers, deployed at critical entry locations throughout a facility, into ControlWave for access control.
Bristol Babcock Inc.
Watertown, CT
Tel: 860-945-2200
Web: www.bristolbabcock.com
Bird roosting prevention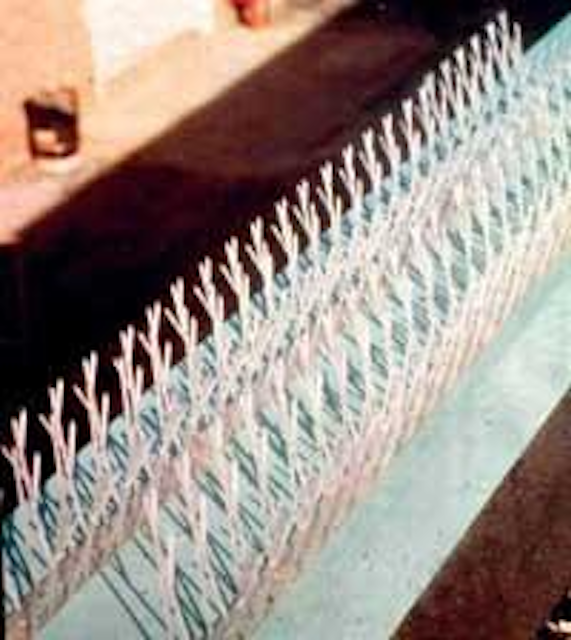 Click here to enlarge image
Bird-X's Spikes are spiked needle strips designed to keep birds from roosting. They are engineered of 100% post-industrial scrap plastic. The spikes project up and out from their base at varying angles to prevent bird landing. Outer spikes have additional spiked branches to offer full, dense coverage. The transparent polycarbonate plastic material is durable, weather- and UV-resistant, and unobtrusive. It is flexible enough to install on straight sections, curves, corners or irregular surfaces. Modules are one foot long, nest for easy handling, and affix to any surface using adhesive, screws, nails or wire ties.
Bird-X Inc.
Chicago, IL
Tel: 800-662-5021
Web: www.bird-x.com
Flowmeter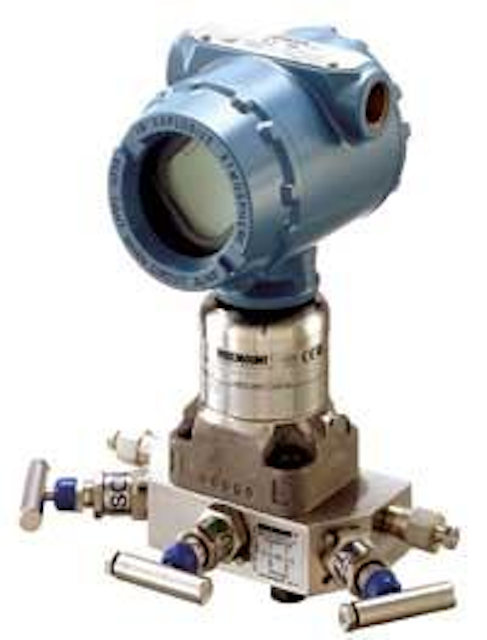 Click here to enlarge image
While traditional orifice-based DP flowmeters have only been able to maintain accuracy over a narrow 3:1 operating window, Emerson's Rosemount® 3051S Ultra for Flow can support up to 14:1 flow turndown with better than a 0.5% of reading accuracy. Performance with the meter specified as a percent of reading, instead of the traditional percent of span. This method of specification eliminates the performance degradation inherent in the nonlinear relationship between flow and differential pressure. The hermetic, all-welded SST housing allows performance to be maintained in the harshest environments.
Emerson Process Mgmt., Rosemount Analytical
Chanhassen, MN
Tel: 952-949-5165
Web: www.emersonprocess.com
Gas detection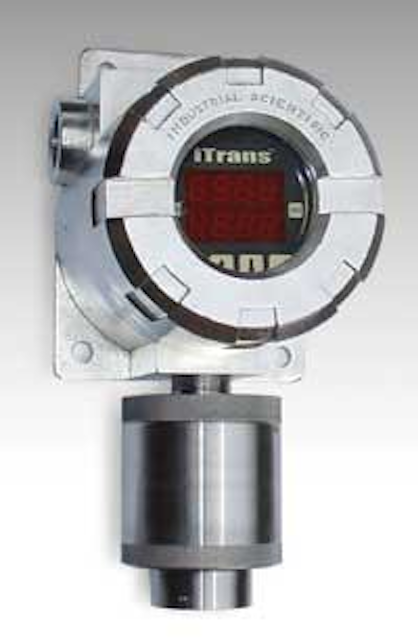 Click here to enlarge image
Industrial Scientific has introduced the stainless steel iTrans™ as a robust solution for fixed-point gas detection. Built with a 316-grade stainless steel housing to withstand corrosion, the monitor is ideal for installations in harsh environments. A number of sensor configurations are available including single on-board sensors, an on-board sensor with a remote sensor and dual remote sensors. All housings and sensor types are explosion proof and carry CSA and KEMA approvals. The fixed-point gas monitors employ an intelligent electronics foundation for independent operation or multi-point system configurations, and can transmit a 4-20 mA signal or Modbus RTU digital output to any control device.
Industrial Scientific Corp.
Oakdale, PA
Tel: 800-338-3287
Web: www.indsci.com
Electromagnetic flowmeter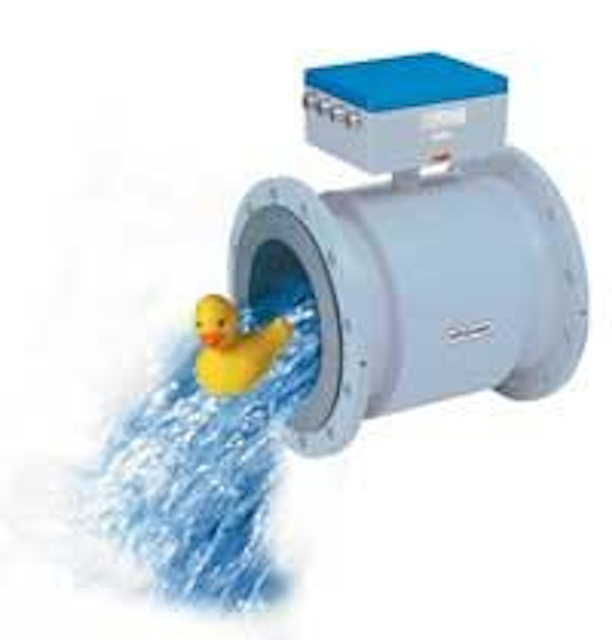 Click here to enlarge image
Krohne offers the Tidalflux electromagnetic flowmeter, including IFM 4110 PF and IFM 4210 PF. Used to measure the volumetric flowrate of electrically conductive liquids in partially filled pipelines, the flowmeter is suitable for wastewater measurement. This meter is combined with a capacitive flow-level measuring system, built into the wall of the measuring tube, providing accurate flow measurements in partially filled pipelines, with levels between 10 and 100% of the pipe cross-section. Factory calibrated, the meter offers excellent abrasion and chemical resistance.
Krohne Inc.
Peabody, MA
Tel: 978-535-6060
Web: www.krohne.com