NEW LITERATURE
A new six page color brochure describes Controlotron's System 1010N and 1010X non-intrusive ultrasonic flowmeter product families.
Sep 1st, 2005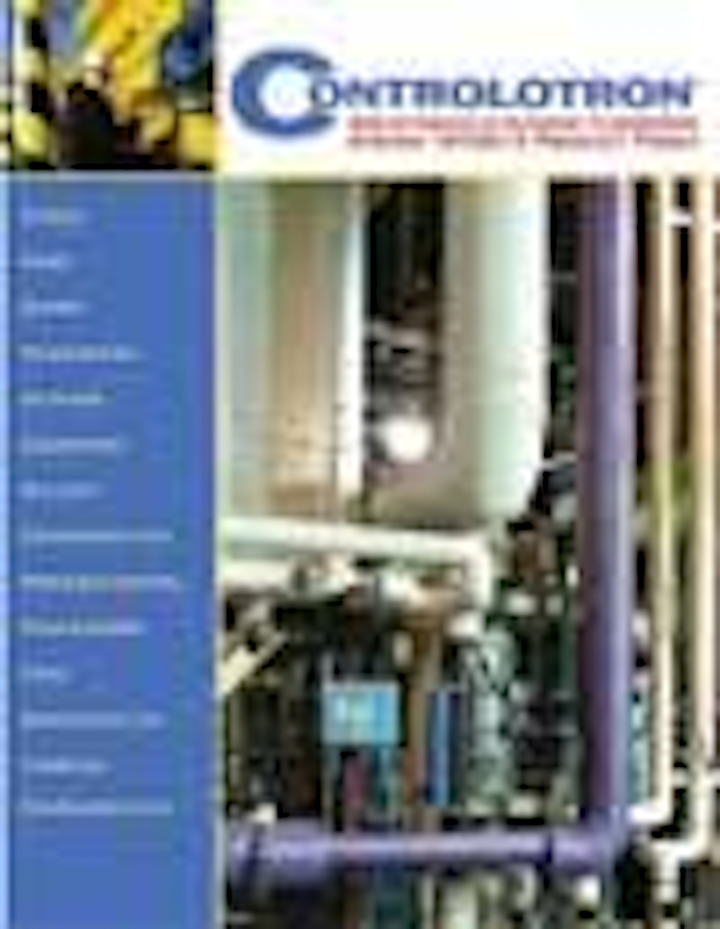 Ultrasonic floweters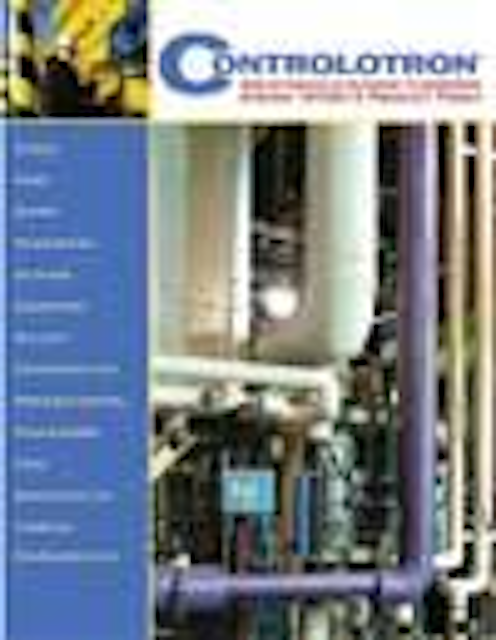 Click here to enlarge image
A new six page color brochure describes Controlotron's System 1010N and 1010X non-intrusive ultrasonic flowmeter product families. Single, dual and four channel or path models are available to measure one, two or four pipes simultaneously. Wide Beam® Transit-time and Reflexor (Doppler) technologies are employed to suit the widest possible range of applications. NEMA 4X (IP65) and NEMA 7 explosion proof enclosures are offered.
Controlotron Corp.
Hauppauge, NY
Tel: 800-275-8479
Web: www.controlotron.com
Corrosion monitoring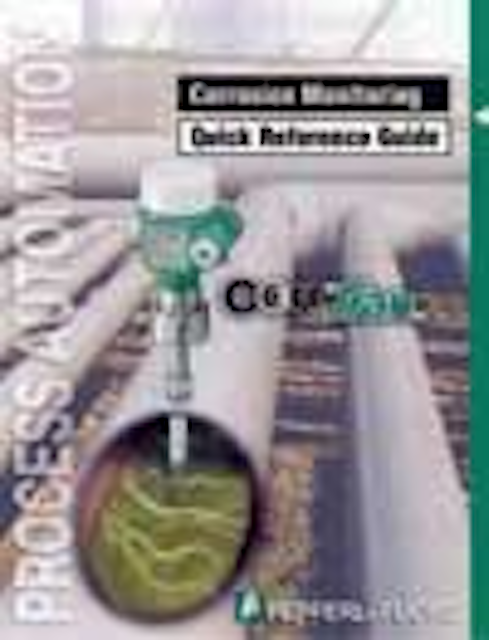 Click here to enlarge image
Pepperl+Fuchs has published a Quick Reference Guide to Corrosion Monitoring. The pocket guide discusses general and localized corrosion, as well as traditional corrosion monitoring techniques such as mass loss, resistance measurements, polarization resistance, acoustic emission, and ultrasonic examinations. Automated corrosion monitoring techniques such as linear polarization resistance (LPR), harmonic distortion analysis (HDA) and electromechanical noise (ECN), are also reviewed.
Pepperl+Fuchs
Twinsburg, OH
Tel: 330-486-0002
Web: www.am.pepperl-fuchs.com
Air system guide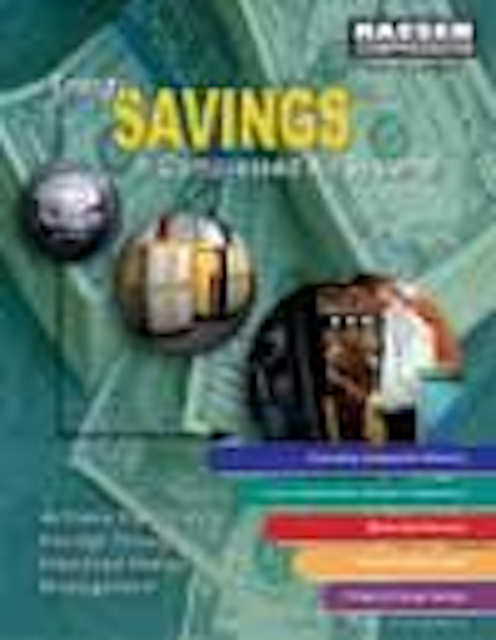 Click here to enlarge image
Kaeser Compressors has redesigned its Energy Savings in Compressed Air System Guide. This free resource explains the various factors that greatly impact compressed air system performance, and outlines easy steps to increase the efficiency of existing systems. With details on understanding and measuring the complete cost of generating compressed air, this guide demonstrates that in 125 hp applications, the annual cost of electrical power to drive compressors can be twice the cost of the compressor itself.
Kaeser Compressors Inc.
Fredericksburg, VA
Tel: 800-777-7873
Web: www.kaeser.com
Disc locking device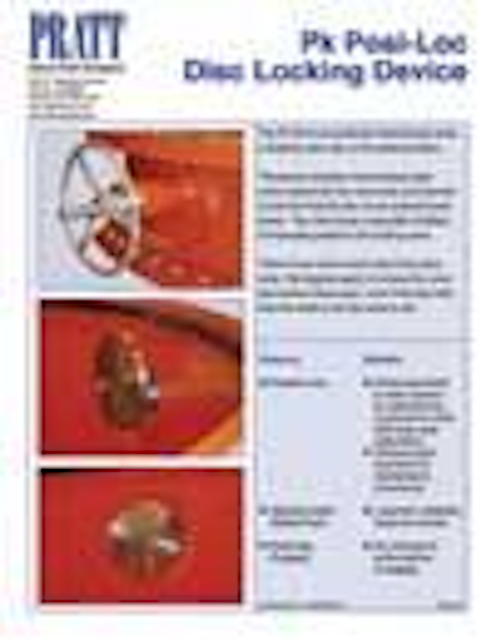 Click here to enlarge image
Pratt has released a new brochure for its patented PK Posi-Loc disc locking device. The device positively, mechanically locks a butterfly valve disc in the closed position. The device consists of two locking cams which extend into the valve body and internally lock the butterfly disc via an external handwheel. The valve body is specially modified, incorporating seals for the locking cams.
Henry Pratt Co.
Aurora, IL
Tel: 877-496-7977
Web: www.henrypratt.com
Motors, drives
Baldor has published Version 10.0 of its interactive Electronic Catalog on CD-ROM. Over 650,000 copies of previous versions are in circulation. Users are able to access a wide variety of technical information on over 6,500 different Baldor motors, drives and generators. Product information includes nameplate data, dimension drawings, performance and test data, replacement parts and accessories.
Baldor Electric Co.
Fort Smith, AR
Tel: 800-828-4920
Web: www.baldor.com
Polymer mortar pipe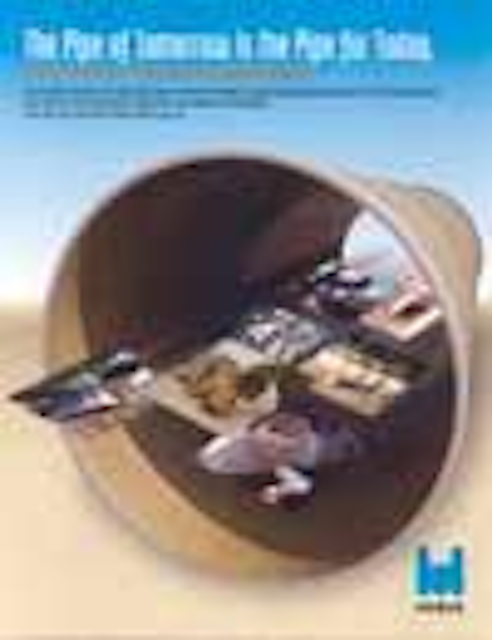 Click here to enlarge image
A new Hobas Pipe folder covers the company's large diameter, corrosion resistant pipe. In addition to specifications, it includes information on leak-free installation with push-together joints. Hobas centrifugally cast, fiberglass reinforced polymer mortar pipe can last 100 years or more. Thin-walled but rugged, the lightweight pipe is manufactured in diameters from 18 to 110" in non-pressure and pressure classes.
Hobas Pipe USA
Houston, TX
Tel: 800-856-7473
Web: www.hobaspipe.com
Polyethylene tank inspections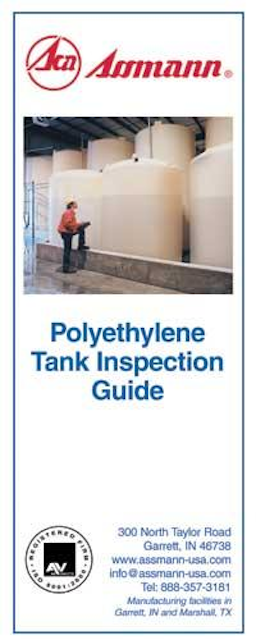 Click here to enlarge image
Assmann now offers a guide on polyethylene tank inspections. This guide will help owners identify different material types, and give them basic instructions on how to gather information if a tank has been damaged. Also included are pictures of over-exposure to ultra-violet rays and tank failure examples. A registration area on the company's website allows visitors to fill out a form to access and download the brochure and other product/literature information in pdf format: www.assmann-usa.com/register.asp.
Assmann Corp. of America
Garrett, IN
Tel: 888-357-3181
Web: www.assmann-usa.com
Fluid control systems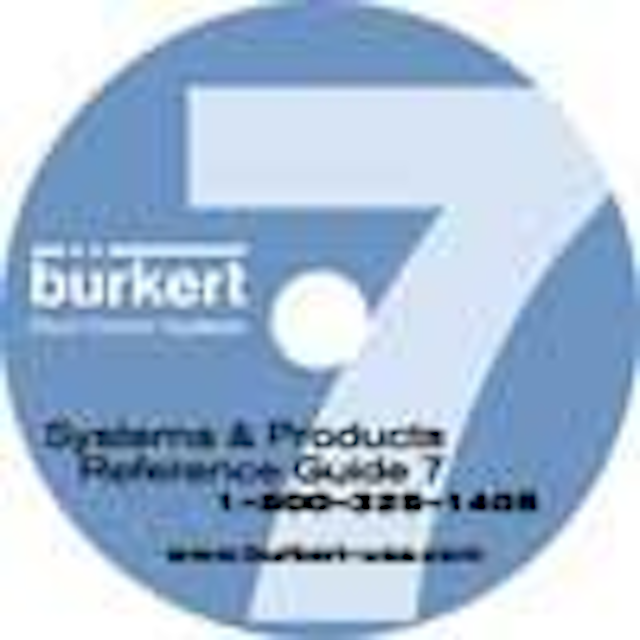 Click here to enlarge image
Burkert has announced that its "Systems & Products Reference Guide 7" is now available. The guide, on CD, offers a comprehensive look at the company's products, markets and its approach to serving these markets. The guide is broken down into five sections: Home Page, Benefits, Overview, Systems and Products, and U.S. Datasheets. The Overview and System and Products sections provide information on the product types Burkert offers, industries served and complete system solutions.
Burkert Irvine, CA
Tel: 800-325-1405
Web: www.burkert-usa.com
Pipe, fittings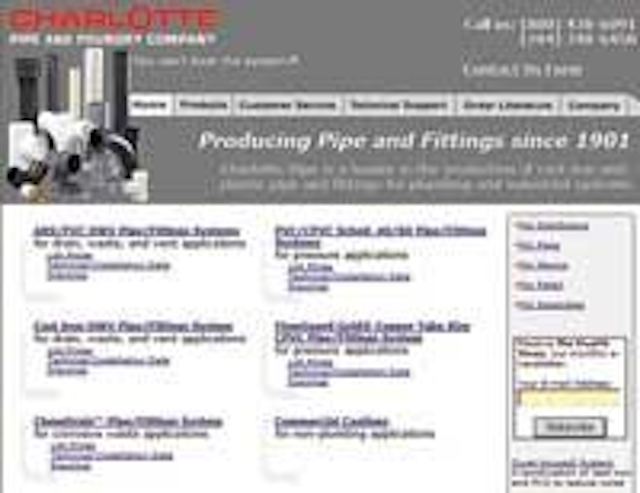 Click here to enlarge image
Charlotte Pipe and Foundry has launched its redesigned web site at www.charlottepipe.com. The company provides cast iron and plastic pipe and fittings for plumbing and industrial systems. The redesigned site provides customers with easier access to product information relating to the company's six product systems: PVC/ABS DWV Pipe and Fittings Systems; PVC/CPVC Schedule 40/80 Pipe and Fittings Systems; Cast Iron DWV Pipe and Fittings System; FlowGuard Gold® Copper Tube Size CPVC Pipe and Fittings System; ChemDrain™ Chemical Waste Drain Pipe and Fittings System; and Commercial Castings (non-plumbing).
Charlotte Pipe and Foundry
Charlotte, NC
Tel: 800-438-6091
Pump products
Click here to enlarge image
Delavan Ag Pumps has released a new Catalog of Pump Solutions. This comprehensive catalog features its family of Turbo-90™ PTO-driven turbine pumps, HD Magnum™ hydraulic motor-driven centrifugal pumps, PowerFLO™ AC and DC motor-driven diaphragm pumps, as well as PTO, gas engine and electric motor driven Roller Pumps for agricultural, mobile equipment, industrial/commercial equipment, water treatment and transport applications.
Delavan Ag Pumps Inc.
Minneapolis, MN
Tel: 866-335-2826
Web: www.delavanagpumps.com
Factory blower package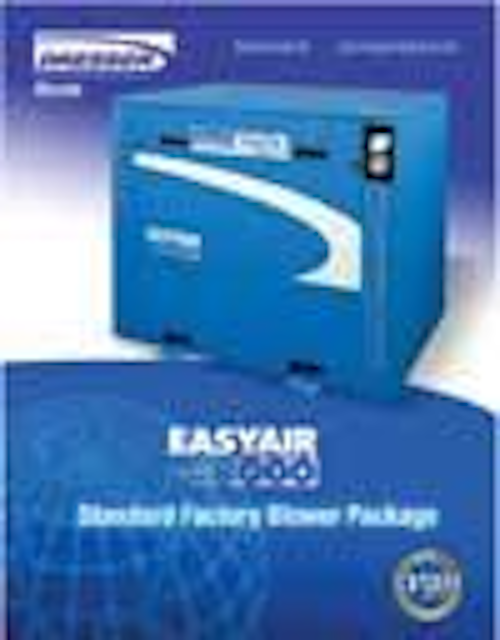 Click here to enlarge image
A color brochure, describing the company's new factory-engineered blower package designed for 8,000-hour (or more) operation between scheduled maintenance, is now available from Dresser Roots. "EASYAIR™ 8000 Factory Blower Package System" describes the company's new compact, pre-assembled, skid-mounted blower unit that has all piping, valves, and instrumentation in place.
Dresser Roots
Houston, TX
Tel: 877-363-7668
Web: www.rootsblower.com
Mass flow instrumentation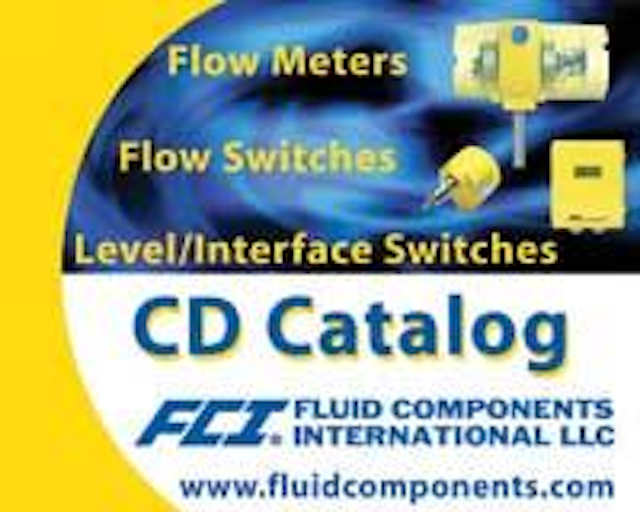 Click here to enlarge image
FCI's CD Catalog Release 9.0 is filled with mass flow instrumentation product data and informative case studies based on the company's 40-plus years of gas and fluid flow experience. The CD also includes product user manuals and guides, along with a comprehensive FAQ Library. The company's thermal mass sensing technology can be used in a wide range of industrial applications.
FCI
San Marcos, CA
Tel: 800-854-1993
Web: www.fluidcomponents.com