NEW LITERATURE
Dwyer Instruments has released its 2006 catalog, which features more than 5,000 products.
Dec 1st, 2005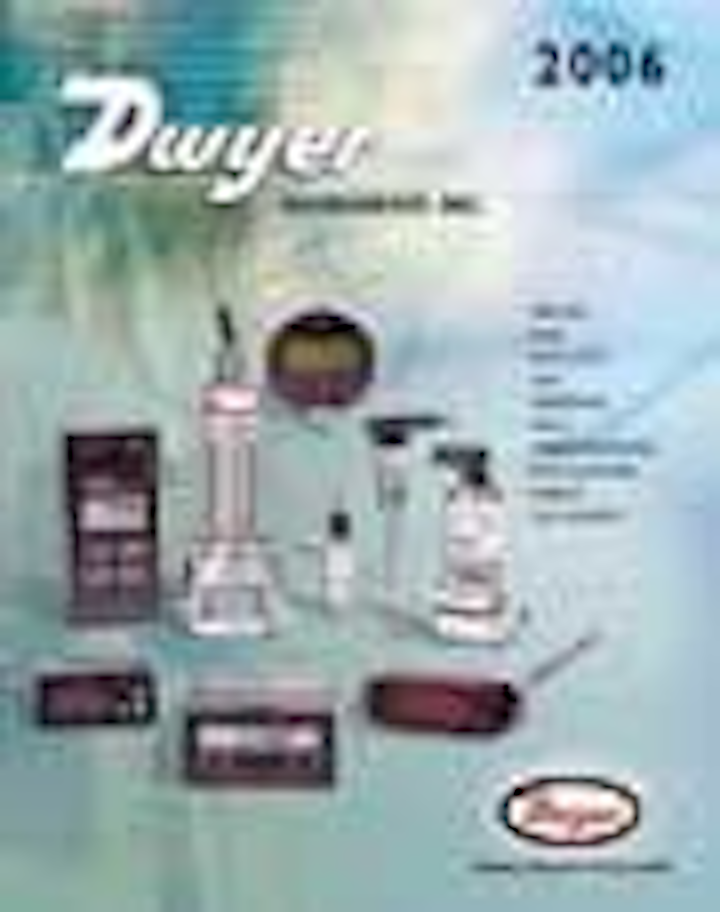 Measurement, control instruments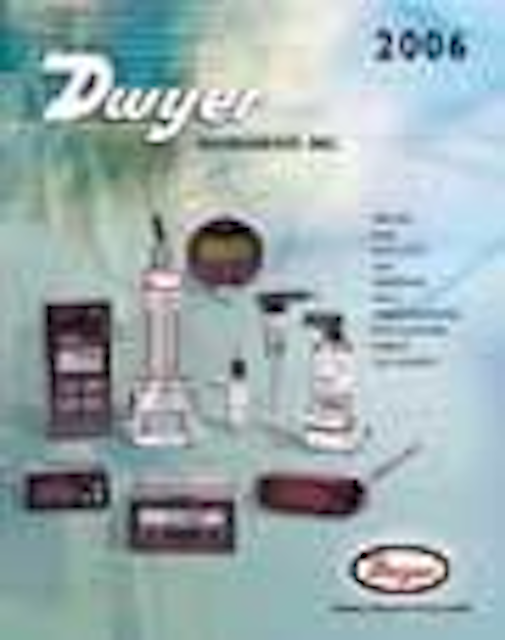 Click here to enlarge image
Dwyer Instruments has released its 2006 catalog, which features more than 5,000 products. Product ordering information is complete and includes schedules for discounts. Ordering from the company's website is made easier with the new feature, "check order status". Customers can check their order quantity, model number, schedule/shipment and tracking information, and view listings of open and closed orders for the past 30 working days - online, anytime.
Dwyer Instruments Inc.
Michigan City, IN
Tel: 800-872-9141
Web: www.dwyer-inst.com
Flowmeters
A new four page color brochure describes Controlotron's solutions for flow measurement applications in the municipal and industrial water and wastewater industries. The company's clamp-on and in-line transit-time and doppler ultrasonic systems range from simple single meter installations to complete flow metering and/or leak detection systems for large treatment plants, distribution and collection systems.
Controlotron Corp.
Hauppauge, NY
Tel: 800-275-8479
Web: www.controlotron.com
Steam cleaners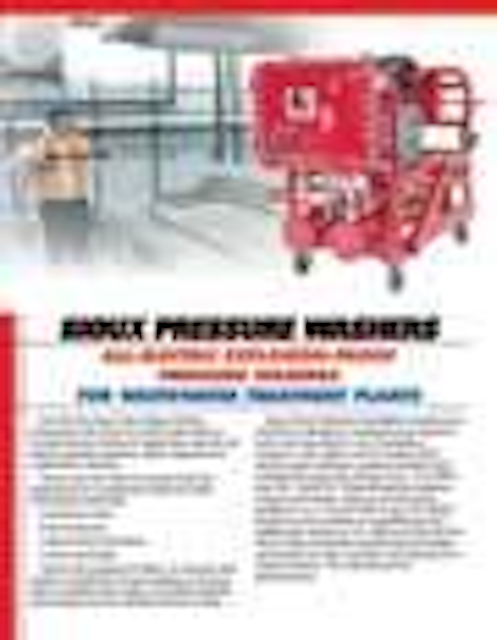 Click here to enlarge image
Sioux Steam Cleaner, a supplier of steam cleaners and pressure washers, introduces a free brochure which highlights cleaning equipment suitable for use in cleaning sediment tanks, grit collectors, gravity belt thickeners, and floors and walls in wastewater treatment facilities. The company's all-electric cleaners produce no flame, exhaust, emissions or contamination into the surrounding air.
Sioux Steam Cleaner Corp.
Beresford, SD
Tel: 888-763-8833
Web: www.sioux.com
Grooved piping system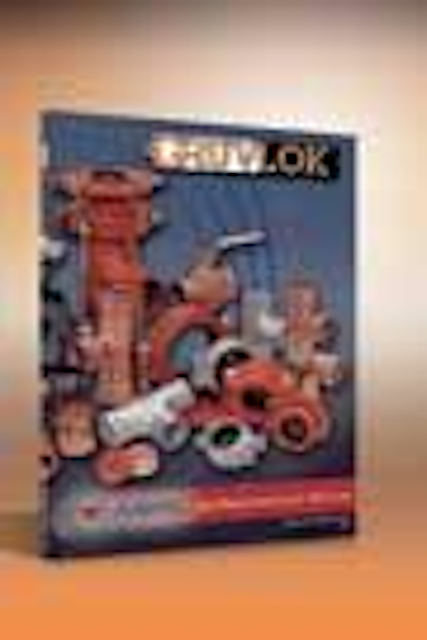 Click here to enlarge image
Anvil International has released a new Gruvlok® catalog featuring its grooved piping system products and accessories. The line includes a range of grooved-end and plain-end products, butterfly and check valves, pump protection components, pipe preparation tools, installation and assembly instructions, accessories and Design Services.
Anvil International
Portsmouth, NH
Tel: 603-422-8000
Web: www.anvilintl.com
Pump catalog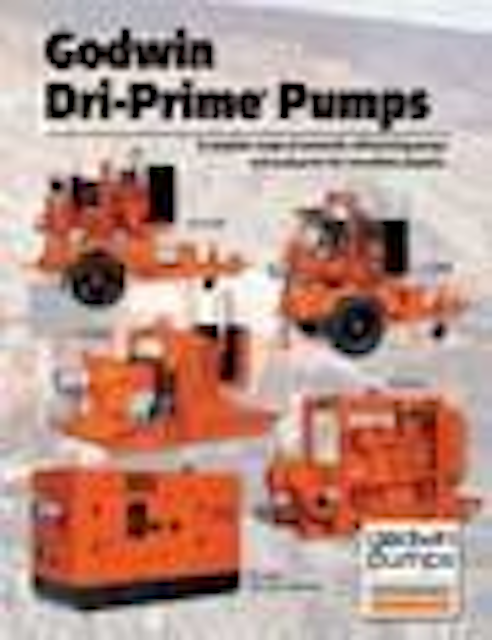 Click here to enlarge image
Godwin Pumps recently updated its color catalog to feature the complete line of Dri-Prime automatic self-priming high volume, high head and jetting pumps for municipal/government, industrial, construction, and environmental applications.
Godwin Pumps of America, Inc.
Bridgeport, NJ
Tel: 856-467-3636
Web: www.godwinpumps.com
Process equipment
The SPX Process Equipment website has been updated to provide easier access to information on the company's products, brands and markets served. The company is a manufacturer of fluid process solutions, metering and blending systems and industrial valves serving sanitary, biopharmaceutical, industrial and municipal markets worldwide.
SPX Process Equipment
Delavan, WI
Tel: 262-728-1900
Web: www.spxpe.com
Instrument enclosures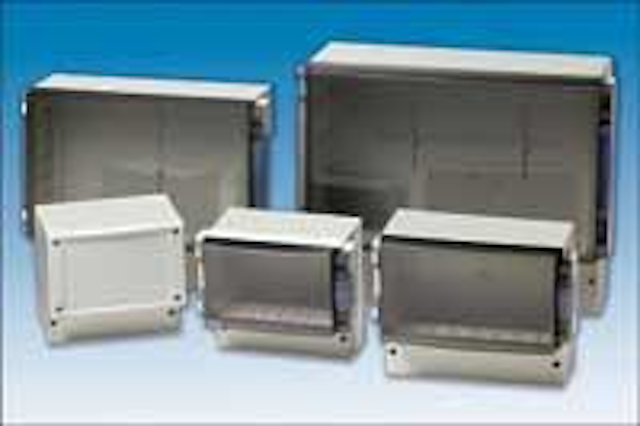 Click here to enlarge image
Fibox offers free literature on its new Cardmaster 3 enclosure family, ideal for instrumentation packaging, including measurement, monitoring, and process control equipment. The enclosures, available in corrosion resistant polycarbonate (PC) or ABS plastic, offer a maximum NEMA 4X rating and an IP65 rating. PC units are available UL listed.
Fibox USA
Glen Burnie, MD
Tel: 888-342-6987
Web: www.fiboxusa.com
Spray coatings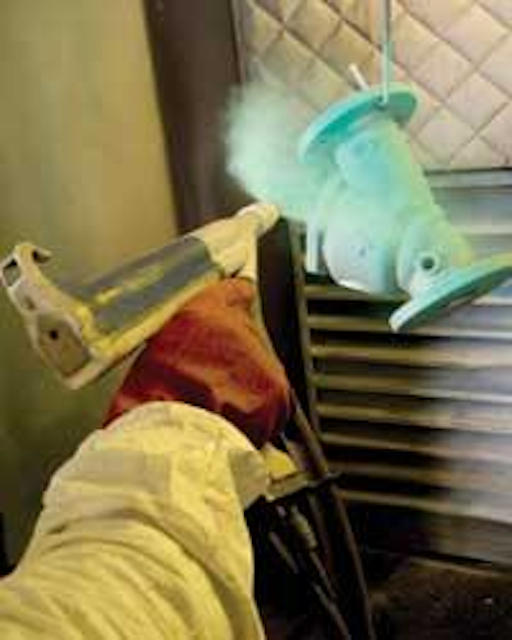 Click here to enlarge image
Applied Plastics' Electrostatic Powder Spray Coating Service features a gun that sprays positively charged powders onto a negatively charged part which is then cured in an oven at up to 800°F, for varying durations, depending upon the item and type of coating. Ideal for valves, backflow preventers, and similar parts, curing transforms the coating into a uniform finish that resists abrasion, chemical attack, corrosion, and mechanical damage. Literature and price quotations are available upon request.
Applied Plastics Co.
Norwood, MA
Tel: 781-762-1881
Web: www.appliedplastics.com
Valve sizing software
Flowserve has launched the 9.3.0 release of Performance!™, the company's control valve sizing and selection software. The software employs industry-standard ISA sizing equations, among other measures, to specify Flowserve control valves and similar competing valve products. Among the new features in version 9.3.0 are additions to the program's product and options database, as well as improvements to the software engine to increase its speed and ease of use.
Flowserve Corp.
Dallas, TX
Tel: 801-489-2345
Web: http://performance.flowserve.com.
Heavy duty pumping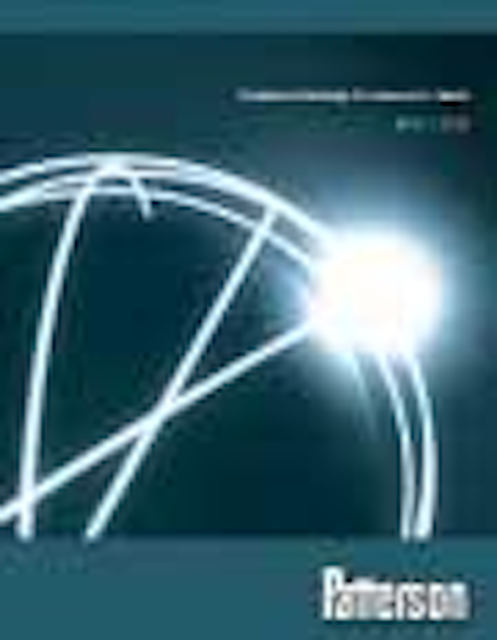 Click here to enlarge image
Patterson offers information on its heavy-duty pumping systems in a new, full color, 20-page brochure. The company offers a variety of pumps and packaged systems to move liquids in large volumes or at high pressures. Applications include water resources; drainage and flood disaster recovery, wastewater and effluent treatment and industrial liquid transfer.
Patterson Pump Co.
Toccoa, GA
Tel: 706-886-2101
Web: www.pattersonpumps.com
Dewatering, thickening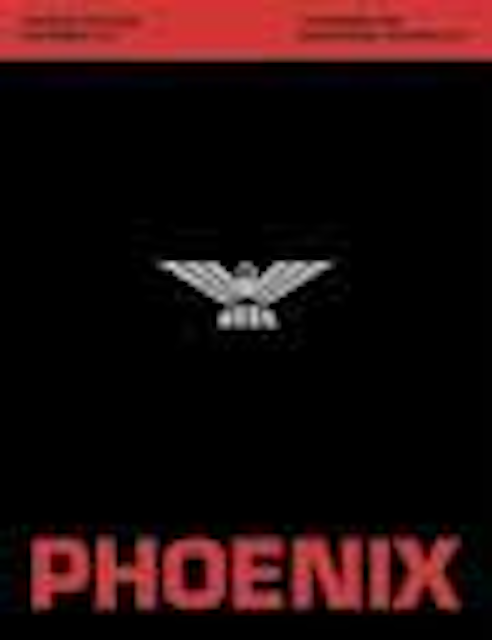 Click here to enlarge image
Phoenix Process Equipment Co. has recently published a new sales brochure on its thickening and dewatering equipment. The company's Model TT Gravity Belt Thickener reduces sludge volume by accelerating gravity drainage. The thickener has a low profile frame, an advanced corrosion protection system, and automatic belt tensioning and tracking systems.
Phoenix Process Equip. Co.
Louisville, KY
Tel: 502-499-6198
Web: www.dewater.com
Metering services
Itron has launched its redesigned web site, with an improved search engine and multimedia content representing key elements of the company's solution portfolio. The site also makes it much easier for visitors to connect with the Itron for product information requests, sales and customer support. The site offers new, more intuitive product categories, with access to related events and relevant news.
Itron Inc.
Spokane, WA
Web: www.itron.com