PRODUCTS & SERVICES PUMPS
The Add-A-Phase® phase converter from Ronk has operated three-phase pump motors from single-phase power sources since 1952.
Oct 1st, 2005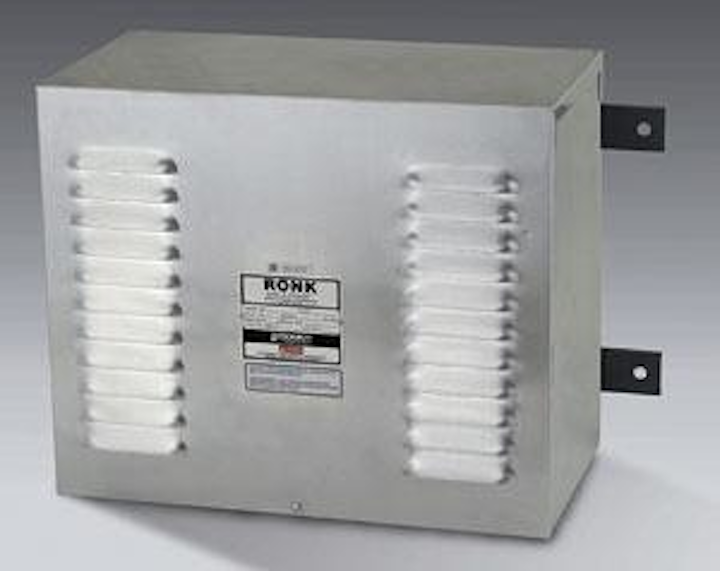 Phase converter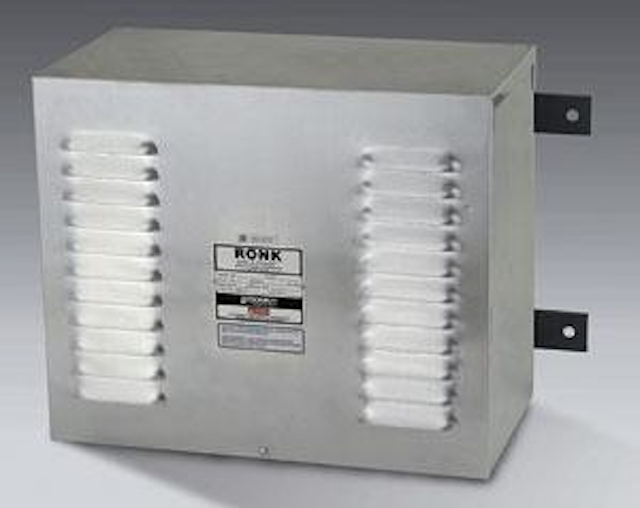 Click here to enlarge image
The Add-A-Phase® phase converter from Ronk has operated three-phase pump motors from single-phase power sources since 1952. This converter is ideal for automated applications where the motor operates at a constant horsepower load, as most pumps do. The converter's ability to limit inrush currents and operate at a high power factor make it possible for the power supplier to allow larger horsepower motors on their lines.
Ronk Electrical Industries Inc.
Nokomis, IL
Tel:800-221-7665
Web:www.ronkelectrical.com
Non-clog sewage pumps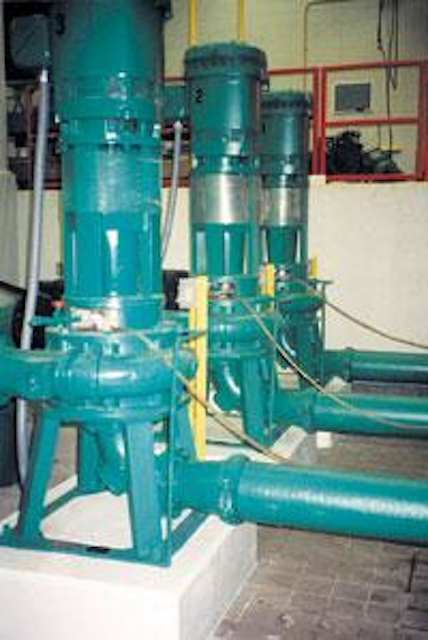 Click here to enlarge image
Patterson's Forceline® NCS Series non-clog sewage pumps are offered with a sealing arrangement which requires no flush water. This technology features EnviroSeal's SpiralTrac® throat bushing and Chesterton's Model 442™ split mechanical seals, and provides substantial savings in areas of maintenance and seal flush water.
Patterson Pump Co.
Toccoa, GA Tel: 706-886-2101 Web: www.pattersonpumps.com
Solids handling pump
Click here to enlarge image
Gorman Rupp's new Ultra V self-priming centrifugal solids handling pump can achieve 60 percent increased pressure and up to 40 percent increased flow over traditional solids handling pumps of similar size. The pump also can be configured with a second stage module that is mounted to the first stage.
Gorman-Rupp Co.
Mansfield, OH
Tel: 419-755-1207
Web: www.gormanrupp.com/getready
Custom pumping systems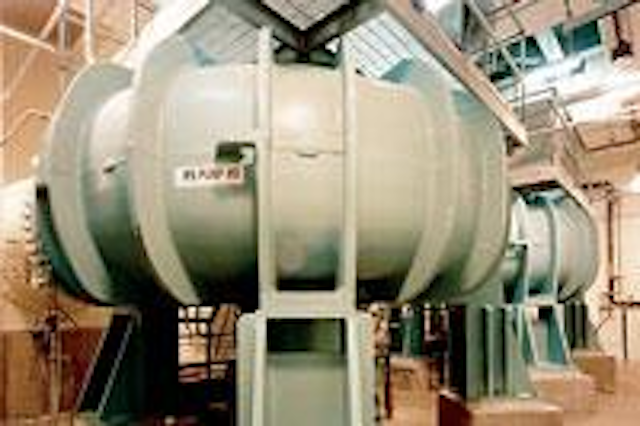 Click here to enlarge image
Morris Pumps offers an expanded line of heavy-duty engineered pumps for municipal sewage, sludge, slurries, industrial waste and other water-based solids-bearing mixtures. Custom design of high-head pumping systems is routinely provided as are special materials of construction and unique mounting arrangements. Specializing in custom pump packages, the company's systems typically include motors, controls, drives and related accessories to provide system integration and "single source" responsibility.
Morris Pumps
Aurora, IL
Tel: 630-236-6900
Web: www.morrispumps.com
Lined magnetic drive pumps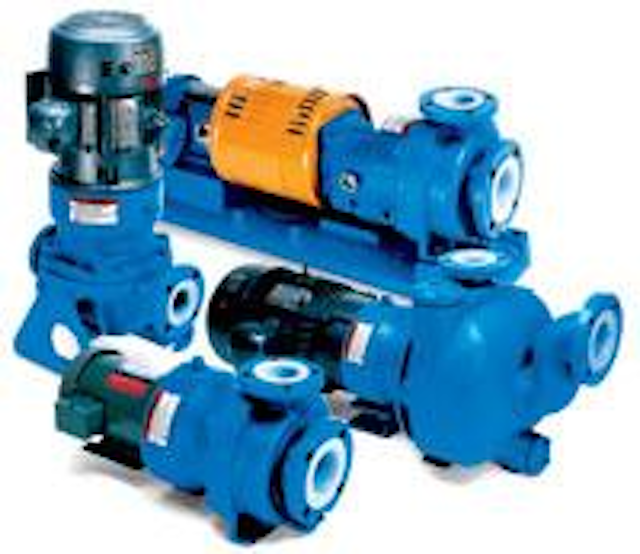 Click here to enlarge image
Goulds Pumps, one of the fluid companies of ITT Industries, has a complete line of heavy duty, magnetically driven process pumps for chemical feed applications in water and wastewater treatment plants. The Tefzel® lined model 3298 is designed to handle caustic, corrosive fluids reliably.
Goulds Pumps
Seneca Falls, NY
Tel: 315-568-7122
Web: www.gouldspumps.com
Contractor pumps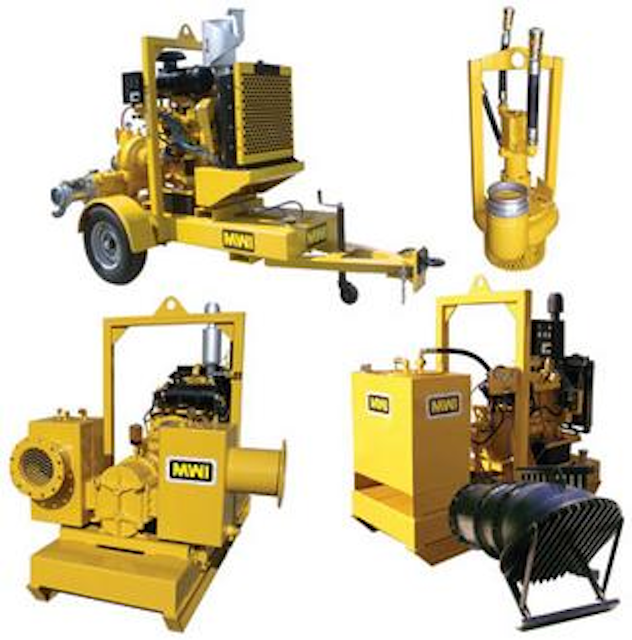 Click here to enlarge image
Moving Water Industries (MWI Corp.), which provides axial and mixed flow pumps driven hydraulically and in submersible electric and lineshaft configurations, is now in the contractor pump market. Products in the contractor line include: Hydraflo, a very high-volume, hydraulically driven axial/mixed flow pump, suitable for sewage bypass and for serious water pumping such as flooding, drainage or emergency pumping; the Rotoflo, a rotary lobe pump, suited for well point operations, featuring patented, quickly replaceable rotor tips; a hydraulic submersible trash pump - originally developed by Sloan Pump (now owned by MWI) - suitable for job site/mine dewatering and sewage bypass; and the PrimeRite.
MWI Corp.
Deerfield Beach, FL
Tel: 954-426-1500
Web: www.mwicorp.com
Pump grit shield
Sometimes pumps suffer from erosion adjacent to the wear ring, due to grit trapped on the high pressure side of the ring, which becomes an abrasive slurry rotating at half the pump speed, eating away at the fronthead.
Fairbanks Morse Pump
Kansas City, KS
Tel: 913-371-5000
Web: www.fmpump.com
Submersible grinder pumps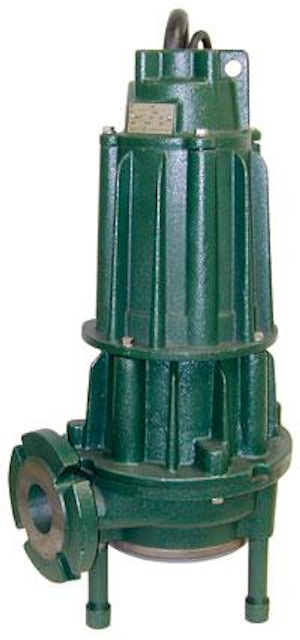 Click here to enlarge image
Zoeller Engineered Products offers a complete line of submersible grinder pumps. The pumps incorporate a grinding mechanism designed to reduce sewage particulate and pump the resulting slurry through small pressure sewer collection lines or from lift stations in gravity sewer systems. Pumps are available in sizes ranging from 1 to 7.5 hp.
Zoeller Engineered Products Co.
Louisville, KY
Tel: 800-928-7867
Web: www.zoeller.com
FRP pumps

Click here to enlarge image
Fybroc's 5530 Series vertical FRP pumps are corrosion resistant and suitable for handling the most difficult dry pit applications including acids, bleaches and caustics. Critical design details make the series a choice for use on odor control scrubber systems.
Fybroc Division, Met-Pro Corp.
Telford, PA
Tel: 215-723-8155
Web: www.fybroc.com
Pump valve control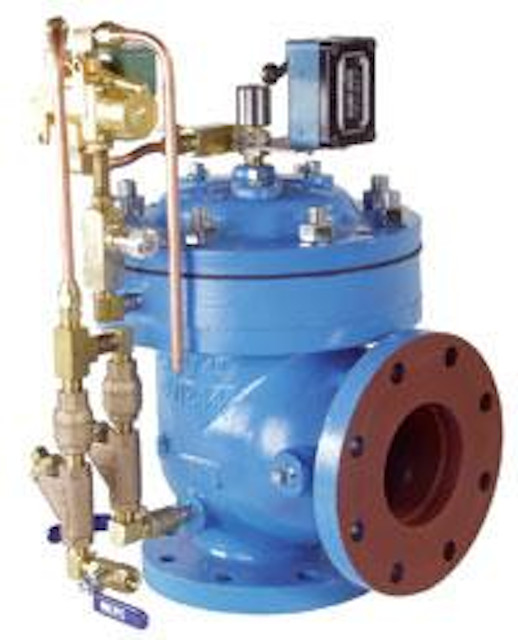 Click here to enlarge image
OCV's Model 126 valve is designed to permit starting a deep well pump against an open valve, thus eliminating surges associated with starting and stopping the pump and preventing air and debris from polluting the pump column. The device is controlled by an electrical 4-way solenoid that is energized at pump start.
OCV Control Valves
Tulsa, OK
Tel: 888-628-8258
Web: www.controlvalves.com
Sump pump
Vertiflo Pump has announced a milestone achievement: Over 25 years of operation for its Series 800 Vertical Immersion Sump Pump. The pump is ideal for service in water, corrosive chemicals and hazardous liquids.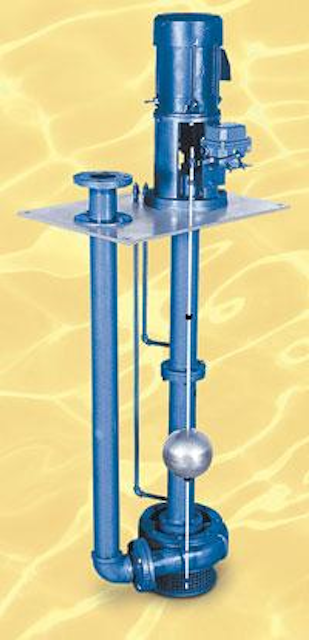 Click here to enlarge image
Vertiflo Pump Co.
Cincinnati, OH
Tel: 513-530-0888
Web: www.vertiflopump.com
Metering pump package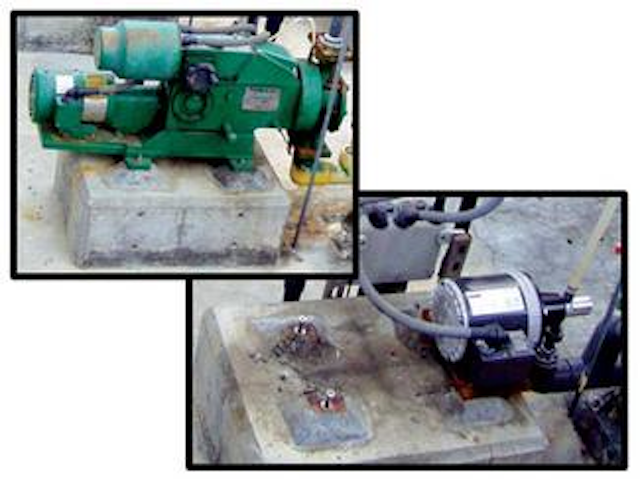 Click here to enlarge image
Tuthill has announced a new pump package for sodium hypochlorite treatment of water and wastewater. The package overcomes several of the weaknesses found in piston and diaphragm pumps. The magnetically coupled positive displacement external gear pumps have only two moving parts and are available in 316 stainless steel.
Tuthill Pump Group
Alsip, IL
Tel: 925-676-8000
Web: www.tuthillpump.com
Air compressors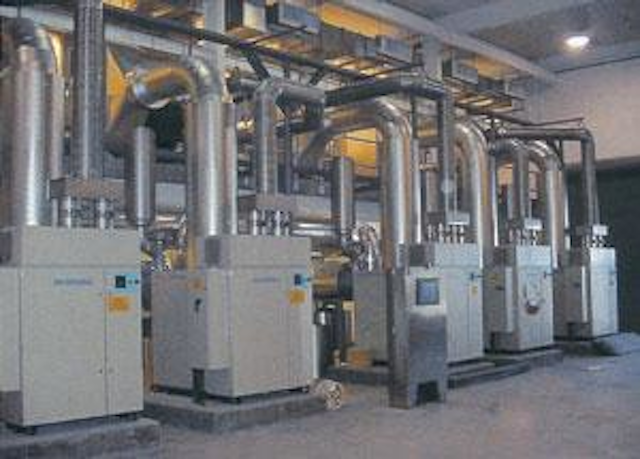 Click here to enlarge image
The HST Integral™ aeration compressor from ABS Pumps automatically self-regulates to operate within 1-2% of the best efficiency point. The high speed turbocompressor includes a frequency converter and magnetic bearings.
ABS Pumps Inc.
Meriden, CT
Tel: 203-238-2700
Web: www.absgroup.com
Chopper pumps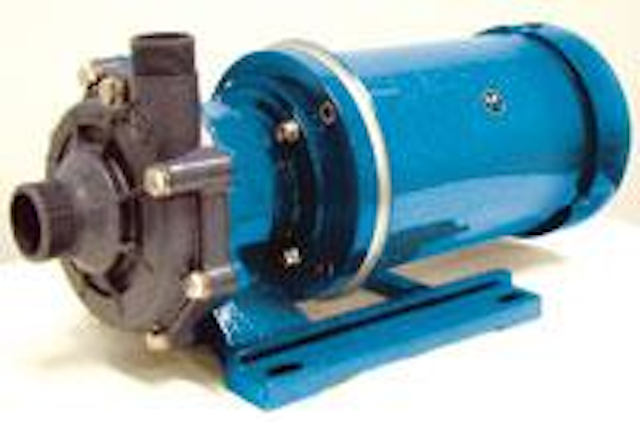 Click here to enlarge image
The ChopX Series pumps from Hayward Gordon are designed to simultaneously chop and pump the most difficult solids, eliminating the need for grinders and comminutors. The pump's impeller features cutting edges on both the front and back to allow for the reduction of solids passing though the pump.
Hayward Gordon Ltd.
Mississauga, Ontario
Tel: 905-567-6116
Web: www.haywardgordon.com
Metal seated ball valve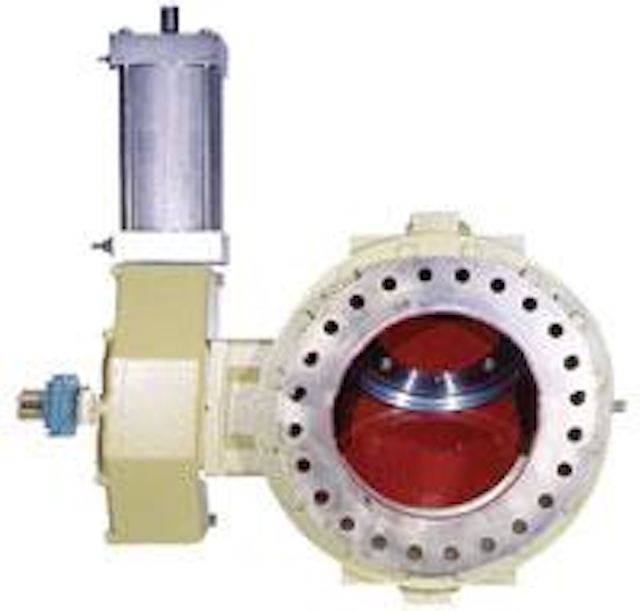 Click here to enlarge image
The Pratt Metal Seated Ball Valve (MSBV) is ideal for all pump stop/check applications serving the water and wastewater industries. The valve comes with single or double pressure-assisted, field adjustable and replaceable seats. Sizes range from 6" through 48" with pressure rating up to 400 psi.
Henry Pratt Co.
Aurora, IL Tel: 877-436-7977 Web: www.henrypratt.com
Pumps, mixers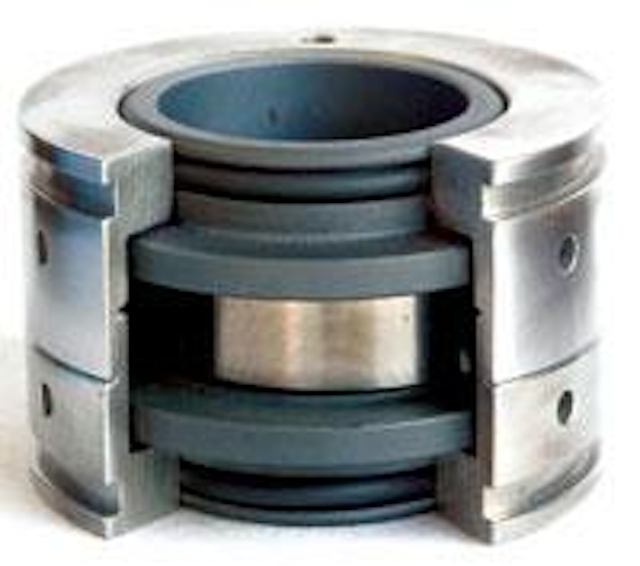 Click here to enlarge image
The long-life silicon carbide seals used in WILO EMU pumps and mixers have repeatedly demonstrated their ability to last 15 to 20 times longer than ordinary carbon-ceramic seals (and 2-½ to 3 times longer than tungsten carbide materials). This is particularly important because seal failure of any kind usually results in extensive damage to motor windings and motor bearings.
WILO EMU USA
Thomasville, GA
Tel: 866-476-0323
Web: www.wiloemu.com
Actuators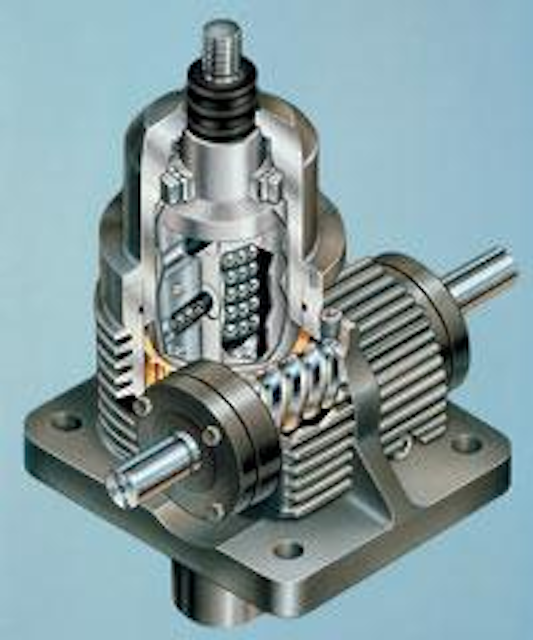 Click here to enlarge image
For applications requiring continuous duty cycles (at rated capacities only) Duff-Norton offers the 7500 series actuators. The actuators perform with efficiency ratings ranging to 70%, maximum horsepower ratings up to 10, and capacities of 3,500, 12,000 and 27,000 lbs. All models are available with Top Plate, Clevis, or Threaded End mounts.
Duff-Norton
Charlotte, NC
Tel: 800-477-5002
Web: www.duffnorton.com
Elastomer bellows seal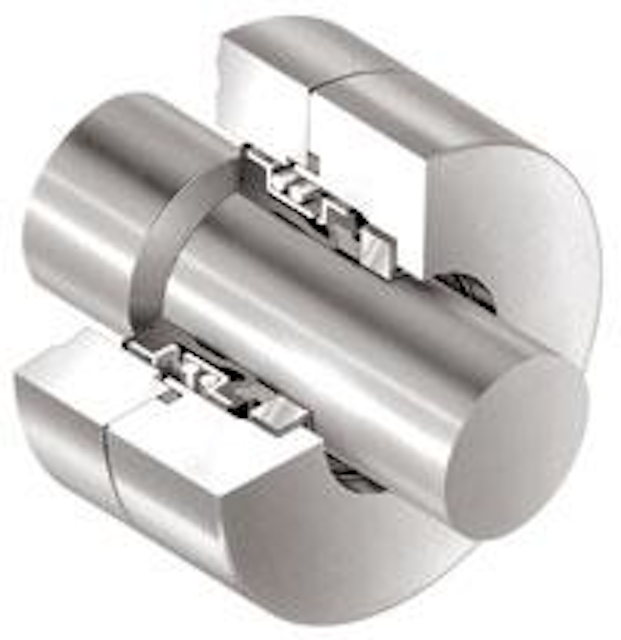 Click here to enlarge image
John Crane has announced the development of the Type 2106 Elastomer Bellows Seal for small centrifugal water pumps, deep and shallow well jet pumps, and wastewater pumps. The unitized design uses a full convolution elastomer bellows and interlocking drive bands to provide positive drive.
John Crane Inc.
Morton Grove, IL Tel: 847-967-2400 Web: www.johncrane.com
Solenoid pump control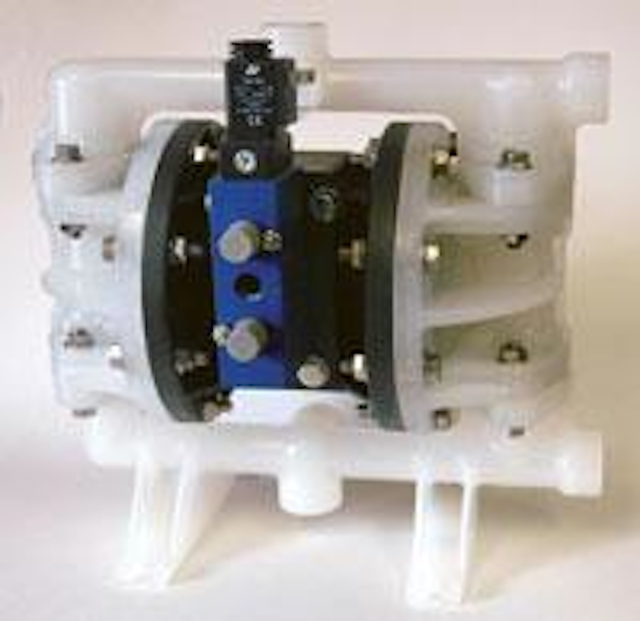 Click here to enlarge image
All-Flo Pump has introduced its Solenoid Control for air-operated double diaphragm pumps. The solenoid control valve is used for remote, electrical control of the pump via a PC, PLC, relay or switch. With the solenoid, the pump can be operated from any work station which is networked with the solenoid.
All-Flo Pump Co.
Mentor, OH
Tel: 440-354-1700
Web: www.all-flo.com
Pump system monitoring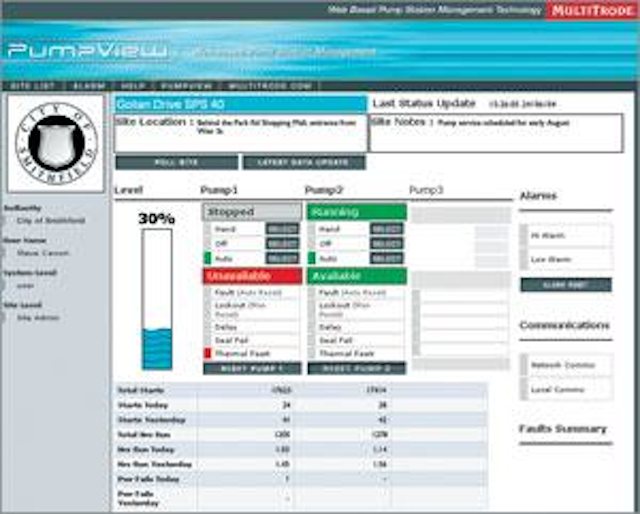 Click here to enlarge image
MultiTrode has launched PumpView, a new secure web-based SCADA system aimed at monitoring municipal water authority pump systems. With the system, there is no software to install, no servers to purchase, no engineers to commission the system and no radio repeaters required. The only IT requirement is for users to have a web browser and an Internet connection.
MultiTrode Inc.
Boca Raton, FL
Tel: 561-994-8090
Web: www.multitrode.com
Plastic pumps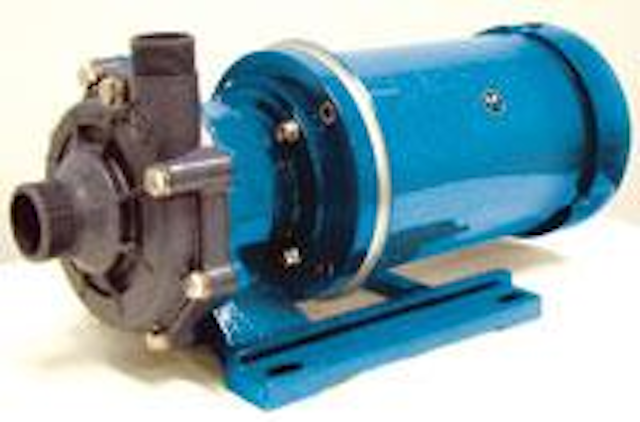 Click here to enlarge image
Hayward Industrial Products has extended the standard one year warranty to two full years for their Webster Series C Centrifugal Pumps. These all-plastic pumps have been specifically designed for demanding applications such as aeration, agitation, filtration, recirculation, spraying and transfer in the water and wastewater treatment industries. A thick wall pump body with rugged internal components and a heavy duty pump motor meet the requirements or continuous duty, aggressive, chemical and ultra-pure applications.
Hayward Flow Control Products
Clemmons, NC
Tel: 888-429-4635 Web: www.haywardflowcontrol.com
Sludge pumps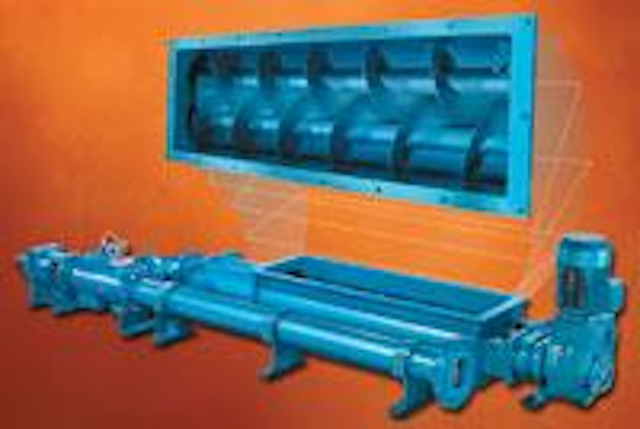 Click here to enlarge image
The Moyno® 2000 HS System is an alternative to piston pumps and open conveyors for dewatered sludge transfer in municipal wastewater treatment. It features an integral hopper with a twin-screw auger feeder and G4 PC pump that efficiently handles semi-dry, high solids, dewatered municipal sludge to over 50% solids.
Moyno Inc.
Springfield, OH
Tel: 877-486-6966
Web: www.moyno.com
Pump controller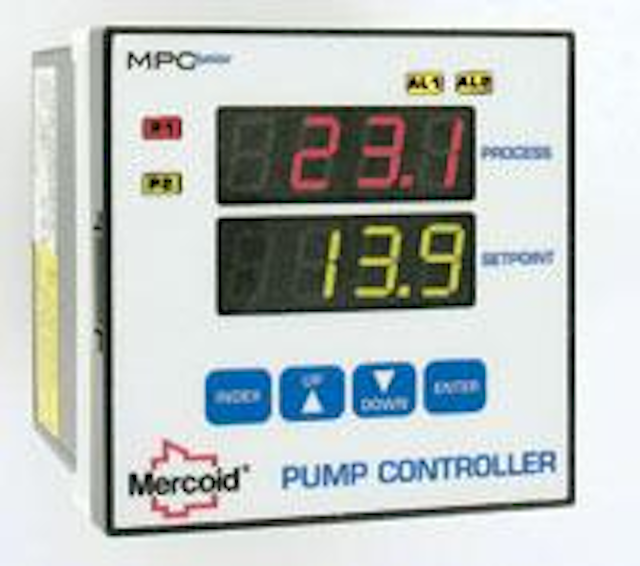 Click here to enlarge image
The new Series MPCJR Pump Controller from the Mercoid division of Dwyer Instruments can be used to control and monitor pump operation. The controller provides one or two pump control with built-in alternation; process input retransmission; and high and low alarm contacts in a standard ¼ DIN package.
Dwyer Instruments Inc.
Michigan City, IN
Tel: 219-879-8000
Web: www.dwyer-inst.com
Sludge pump

Click here to enlarge image
seepex has developed a new open hopper pump to transport extremely viscous products and dewatered sludge cake. This pump, which will be featured and operational at WEFTEC 2005 in Washington D.C., can transport materials up to three million cPs and municipal wastewater sludge with over 50% solids. The new BTHE design uses a feed auger that operates separately from the pump rotor shaft, allowing the auger to operate concentrically.
seepex Inc.
Enon, OH Tel: 937-864-7150 Web: www.seepex.com