NEW LITERATURE
Whatman offers a comprehensive technical datasheet for its 934-AH Glass Microfiber Filter, which are ideal for suspended solids analysis.
Apr 1st, 2005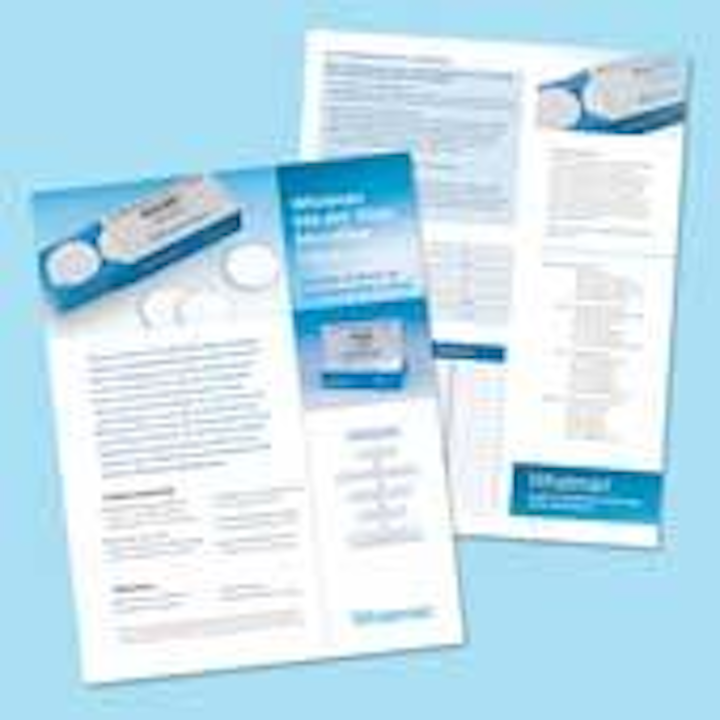 Microfiber filters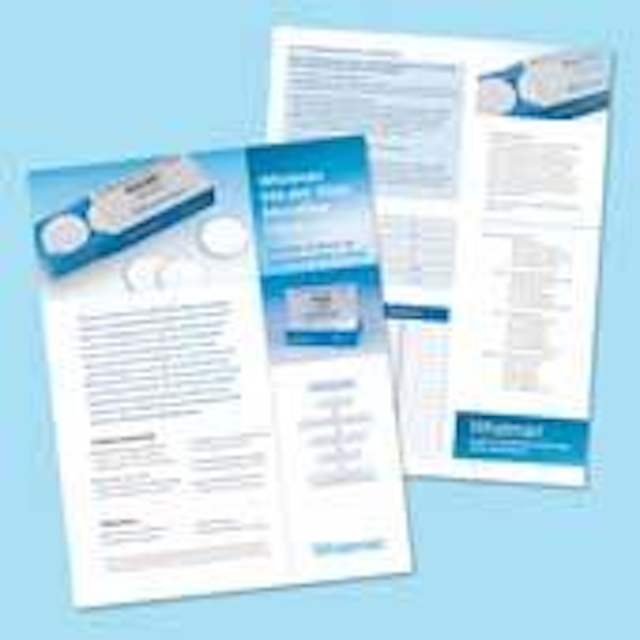 Click here to enlarge image
Whatman offers a comprehensive technical datasheet for its 934-AH Glass Microfiber Filters, which are ideal for suspended solids analysis. This datasheet provides detailed information on the many features and benefits of 934-AH, including its fine particle retention and high loading capacity.
Whatman
Florham Park, NJ Tel: 800-942-8626
Web: www.whatman.com/water
Water treatment
Ionics has redesigned its website. The new site offers visitors a comprehensive online vehicle to information about the company's line of systems and services for water purification, wastewater treatment, and water analysis. The fully redesigned site takes advantage of the latest web development tools to create a dynamic new appearance and navigation system that aids in selecting the technologies and applications that are most suitable for a specific market sector.
Ionics, Inc.
Watertown, MA Tel: 617-673-4317 Web: www.ionics.com
Membrane system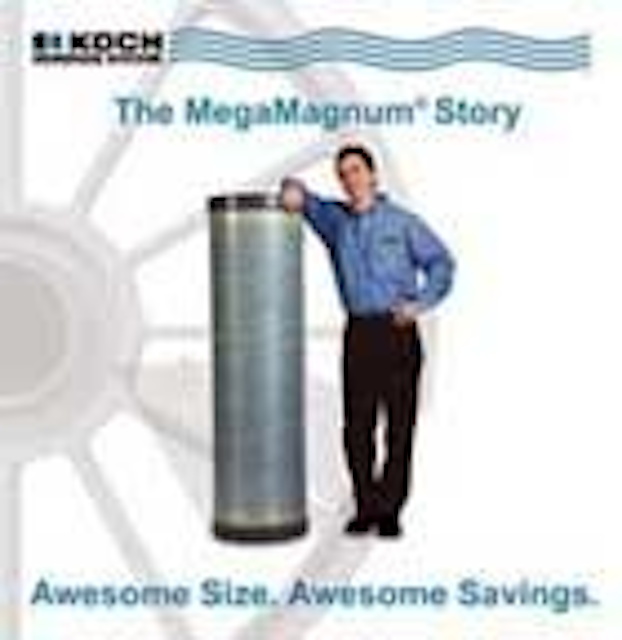 Click here to enlarge image
Koch Membrane Systems (KMS) has released the MegaMagnumstory, a new 17-minute DVD featuring the company's 18" diameter spiral RO/NF membrane elements. The video begins with a detailed introduction from David Koch, President of KMS. Koch explains the philosophy of KMS and takes the viewer back through the history of RO element design and the economies of scale that led to the MegaMagnum element development.
Koch Membrane Systems Inc.
Wilmington, MA
Tel: 888-677-5624
Web: www.kochmembrane.com
Wastewater treatment
USFilter Zimpro Products has published a new brochure, "Zimpro Systems, Products & Services: Customer Service That Always Shines Through." The four-page brochure discusses equipment repair, upgrades and expansions; preventative maintenance; process control troubleshooting and training.
USFilter Zimpro Products
Warrendale, PA
Tel: 800-826-1838
Web: www.usfilter.com
Compressor systems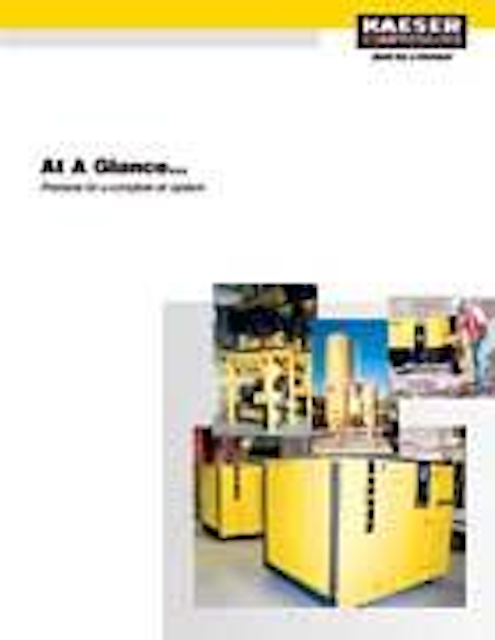 Click here to enlarge image
Kaeser Compressors has published an "At A Glance" brochure. This 6-page, full color mini-catalog outlines the company's range of industrial compressors and related air system equipment. Complete with pictures, sizing information and product descriptions, the brochure covers Sigma stationary and Mobilair portable screw compressors, booster and oil-less piston compressors, Sigma vacuum pumps and Omega rotary lobe blowers.
Kaeser Compressors Inc.
Fredericksburg, VA
Tel: 800-777-7873
Web: www.kaeser.com
Strainers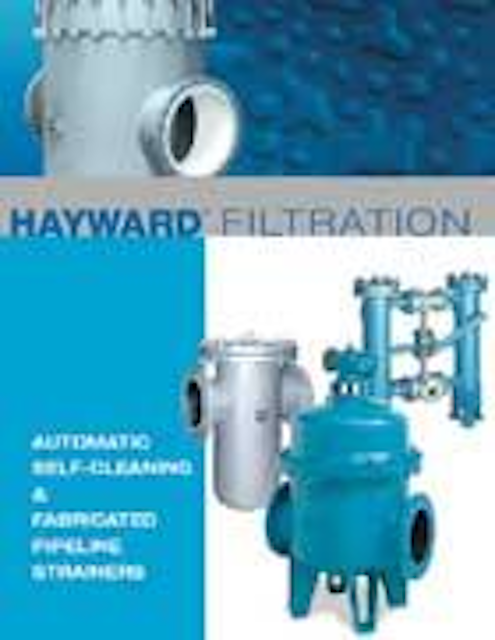 Click here to enlarge image
A new 38 page brochure provides an introduction to Hayward Filtration's capabilities. The company's products include custom fabricated pipeline strainers, simplex, duplex and tee. The company also offers automatic self-cleaning pipeline strainers. Each product section contains a detailed overview, features/benefits, available sizes, engineering drawings, and materials of construction. Sections on strainers for low differential pressure, strainer screen elements, self-cleaning strainer components, application considerations, automatic strainer control systems, and technical information are also included.
Hayward Filtration
Elizabeth, NJ
Tel: 908-787-1000
Web: www.haywardfiltration.com
Self-cleaning filters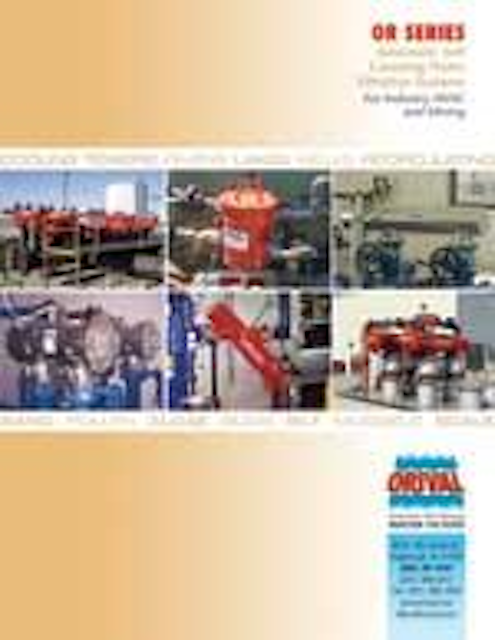 Click here to enlarge image
Orival offers a brochure on its automatic filters, which are maintenance free and do not require power. The filters have been extensively used in municipal applications, using wastewater for pump seal protection. They feature stainless steel construction and are available in sizes from 1"-24", 10-12,000 gpm.
Orival Inc.
Englewood, NJ
Tel: 800-567-9767
Web: www.orival.com
Dewatering systems
USFilter Dewatering Systems' website provides a Filter Press Frequently Asked Questions that lists 35 answers to often-asked questions and problems in the areas of filter press process, operation and maintenance. To help filter press owners and operators, illustrations accompany certain questions, such as "How do I change my cloths?"
USFilter Dewatering Systems
Warrendale, PA
Tel: 800-245-3006
Web: www.usfilterdsg.com
Level transducers
Pressure Systems Inc. has developed a guide to assist in the selection of KPSI™ Transducers. Available online, in print, or within the company's Specifier's CD, the KPSI Level and Pressure Transducers Selection Guide features a specification matrix that categorizes the most important characteristics of each transducer in order to identify the unit that best meets the requirements for submersible and non-submersible applications, such as well, surface and ground water monitoring, level control, reservoir levels, and tank and pump control.
Pressure Systems Inc.
Hampton, VA
Tel: 800-678-7226
Web: www.pressuresystems.com
Valves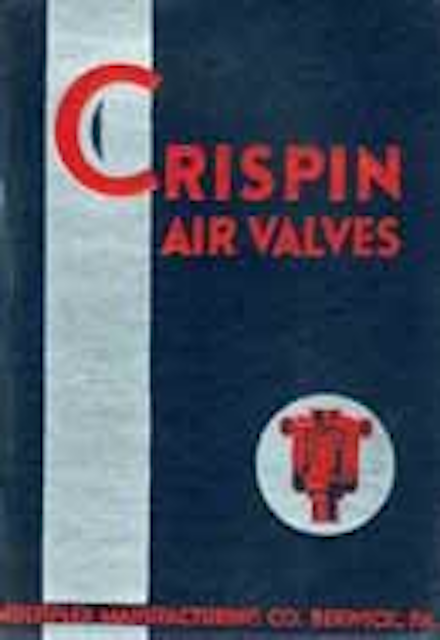 Click here to enlarge image
In 2005 Crispin Valve is celebrating its 100th anniversary in business with the debut of a special Anniversary Website. The interactive site allows visitors to explore the changes that have occurred during the four generations of family ownership. From the creation of the first air valve for use on the Panama Canal in 1905, to the service of its country in wartime, Crispin Valve has played an active roll in the history of the waterworks industry.
Crispin ValveBerwick, PA Tel: 800-247-8258