NEW PRODUCTS
Engineered Software, a provider of software used to design and simulate the operation of fluid piping systems, has announced the ability to...
Apr 1st, 2005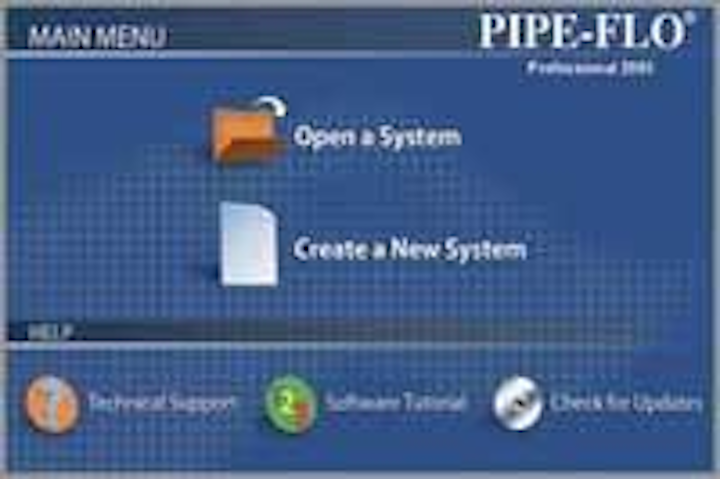 Piping system software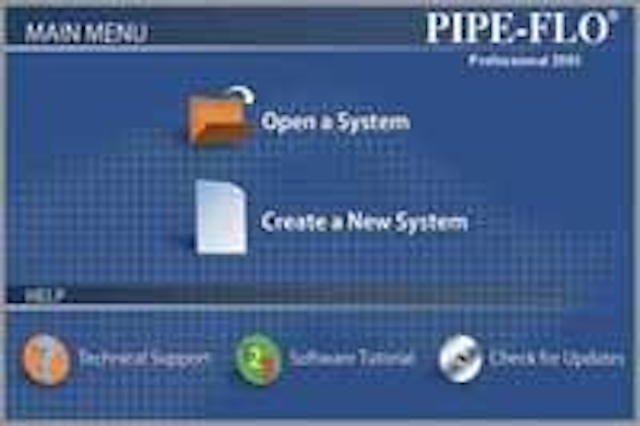 Click here to enlarge image
Engineered Software, a provider of software used to design and simulate the operation of fluid piping systems, has announced the ability to compare waste and drinking water system design with actual performance using its newly released Software Development Kit (SDK). The SDK works in conjunction with the company's Pipe-Flo Professional program. SCADA systems are used to gather data on how equipment is currently running.
Engineered Software Inc.
Lacey, WA Tel: 360-412-0702 Web: www.eng-software.com
Prepackaged pump system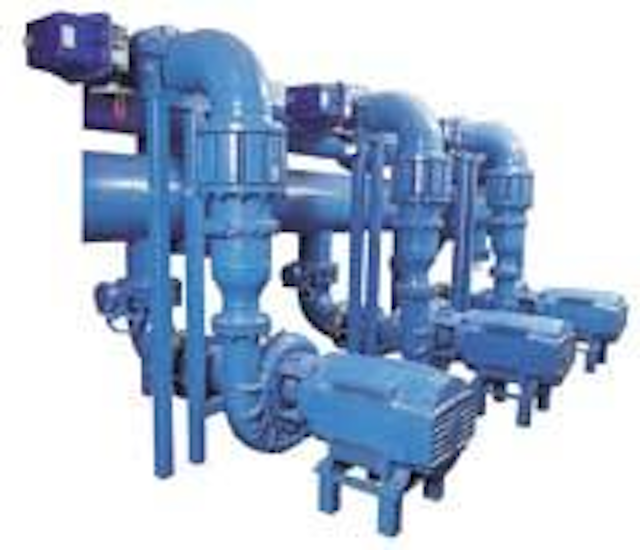 Click here to enlarge image
The Municipal-Pacprepackaged pump system, available from Flo-Pak, a business unit of Patterson Pump, is engineered to handle clean water and wastewater applications - in underground capsules as well as above ground stations. Its installation cost is reduced by up to 35% over field construction, while its customized speed pump controls assure optimum energy consumption. The system can be furnished in various configurations, in capacities from 30 gpm to 30 mgd.
Flo-Pak
Buford, GA Tel: 770-904-7501 Web: www.flo-pak.com
Hydrant cover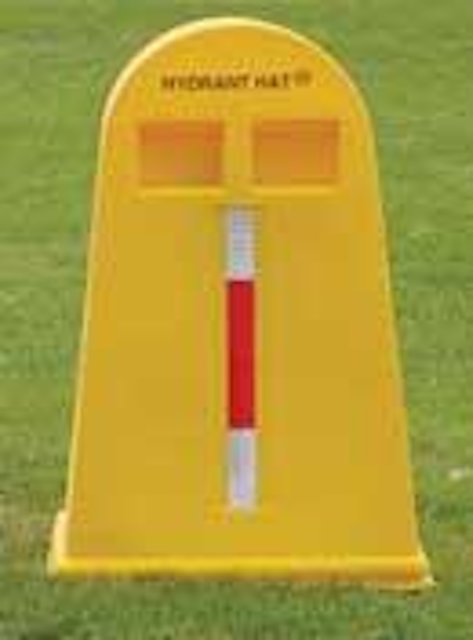 Click here to enlarge image
The Hydrant Hat™ is designed to keep snow, ice and rain off fire hydrants. The plastic structure is manufactured in two parts which snap together to form one unit at the time of application. A patented "flexible finger" base secures the unit to the hydrant, yet allows for simple removal when the hydrant is needed. The hydrant cover is designed with a 26 inch base tapering to a 20 inch top, and stands 42" high. Its construction allows for the attachment of a reflective flag to the upper section, for deep snow conditions.
Hydrant Hat LLC
Ashtabula, OH
Tel: 800-506-4399
Web: www.hydrant-hat.com
Chemical piping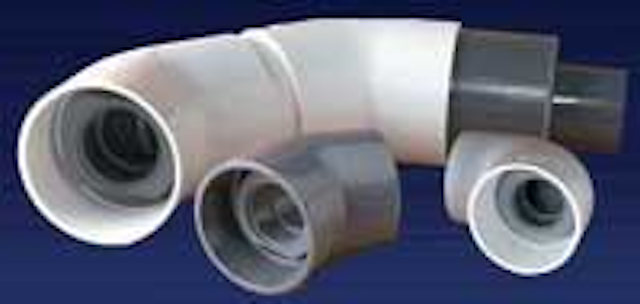 Click here to enlarge image
New Pro-Lock™ from Asahi/America is a piping system suitable for double contained sodium hypochlorite and bleach systems. The pipe compliments the company's line of PP, HDPE, PVDF, and E-CTFE Dual contained piping options. Now users can select the system, the material and the joining technique that matches their application requirements.
Asahi/America Inc.
Malden, MA
Tel: 781-321-5409
Web: www.asahi-america.com
Dewatering equipment repair
The USFilter Regain Program focuses on rebuilding, refurbishing or optimizing filter presses, belt presses and other dewatering equipment to regain efficiency, throughput and productivity. Client requests range from simply fitting a filter press with new filter cloths to the more complex overhaul of all mechanical and control systems. Such improvements can result in shorter cycle times, dryer cake solids and better effluent quality. USFilter Service Engineers inspect the equipment onsite and assesses what needs to be done. This is followed by a detailed report on the equipment performance, including recommendations for repair and upgrades.
USFilter Dewatering Systems
Warrendale, PA
Tel: 800-245-3006
Web: www.usfilterdsg.com
Corrosion resistant door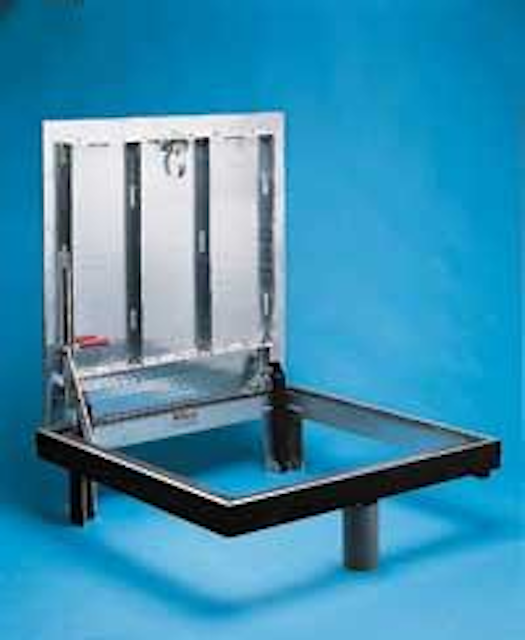 Click here to enlarge image
Bilco's J-AL Door, ideal for most corrosive environments, is a durable solution for wastewater treatment facilities. Available in single- or double-leaf design, the aluminum door is suited to provide access to areas located underground or beneath/between floors. The door is easily operated by a single person, and functions dependably in harsh environments.
Bilco Co.
New Haven, CT
Tel: 203-934-6363
Web: www.bilco.com
Immersible motors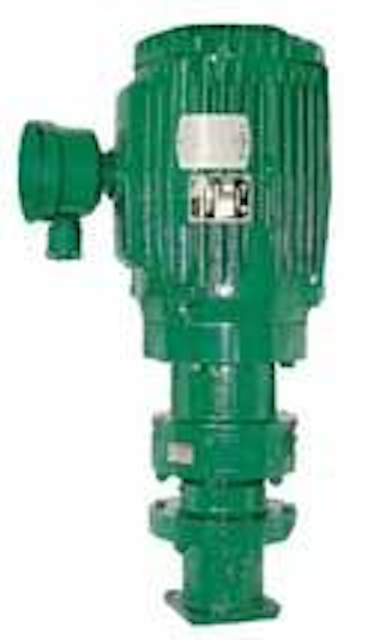 Click here to enlarge image
JWC Environmental has introduced a new series of immersible motors developed by Baldor exclusively for JWC. The motors exhibit improved efficiency, operate at a cooler temperature, and are less expensive than typical submersible motors frequently used for applications with occasional flooding. This new innovation is ideal for applications that are prone to intermittent flooding because it is designed to operate exposed to air, along with the capacity for 30 feet of submergence during flooding.
JWC Environmental
Costa Mesa, CA
Tel: 800-331-2277
Web: www.jwce.com
Dewatering pumps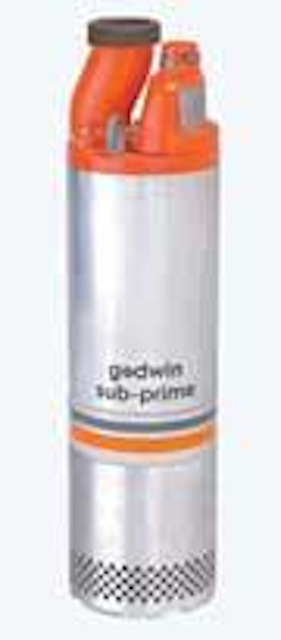 Click here to enlarge image
Godwin has expanded its line of Sub-Prime electric submersible pumps to include slim line models. The new GSP60SL and GSP40SL SlimLine models are designed for caisson dewatering applications. The new six and four horsepower electric submersible pumps are available in both high volume and high head models. With a maximum diameter of 7.25", the units fit easily into confined spaces such as well casings.
Godwin Pumps
Bridgeport, NJ
Tel: 856-467-3636
Web: www.godwinpumps.com
Absorbent pad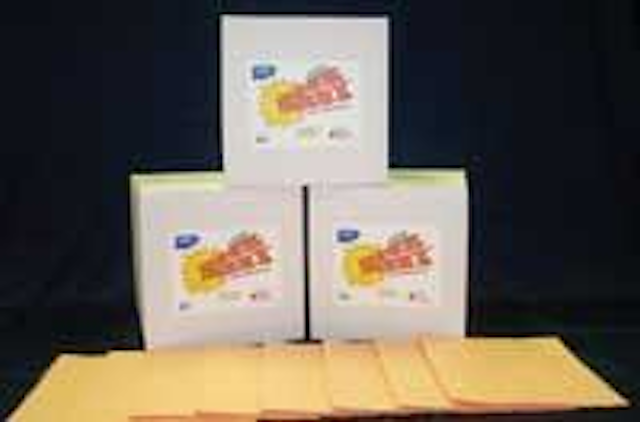 Click here to enlarge image
Orange Power™ is a universal absorbent pad with a built in degreaser that absorbs liquid while releasing a citrus fragrance. This high-capacity absorption pad removes general dirt and grime, grease, asphalt, oils, lubricants, water-based paints, industrial carbons and other heavy-duty soils. It is suited for cleaning hard, non-porous surfaces in industrial facilities.
CEP Complete Environmental Products Inc.
Pasadena, TX
Tel: 800-444-4237
Web: www.cepsorbents.com
Stormwater treatment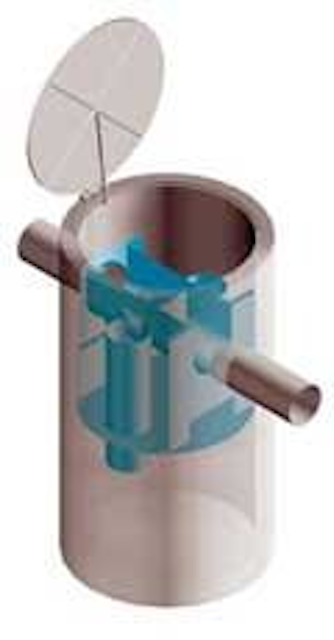 Click here to enlarge image
KriStar Enterprises has introduced the FloGardDual-Vortex Hydrodynamic Separator for stormwater treatment applications. The separator is designed to remove suspended solids, hydrocarbons, and floatable trash and debris with a relatively small unit footprint. The internal components are designed to fit into any industry-standard manhole, eliminating the need for special or custom structures.
KriStar Enterprises
Santa Rosa, CA
Tel: 800-579-8819
Web: www.kristar.com
Packaged membrane system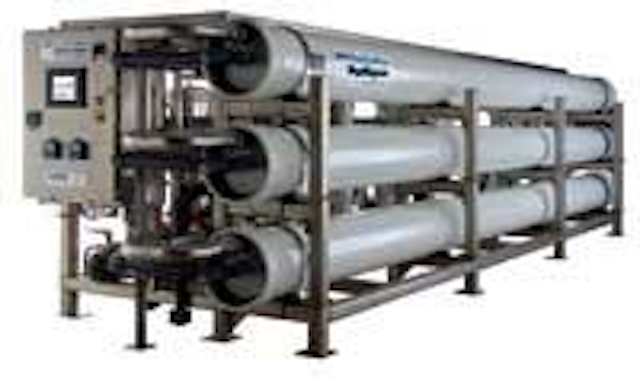 Click here to enlarge image
Koch Membrane Systems has developed the MegaMagnumWater Treatment System. The pre-engineered, packaged system uses 18" diameter MegaMagnum membrane elements. The pre-engineered packaged systems are available in four configurations, with nominal flow capacity ranging from 0.5 to 2.0 million gallons per day. To facilitate shipment and installation, the systems are mounted on one or two skids, depending on the system size.
Koch Membrane Systems Inc.
Wilmington, MA
Tel: 888-677-5624
Web: www.kochmembrane.com
Lab software
The BalanceTalk XL software is designed to integrate serial output such as RS232 and TCP/IP capable instruments/devices directly with the MicrosoftExcelapplication eliminating data entry and errors, significantly improving sample and test throughput. The software contains a library of pre-configured interfaces supporting over 400 instrument models including balances, pH/ISE/conductivity meters, density meters, force/stress gauges, spectrophotometers and more for simplified setup.
Labtronics Inc.
Guelph, ON
Tel: 519-767-1061
Web: www.labtronics.com
Bulk filling system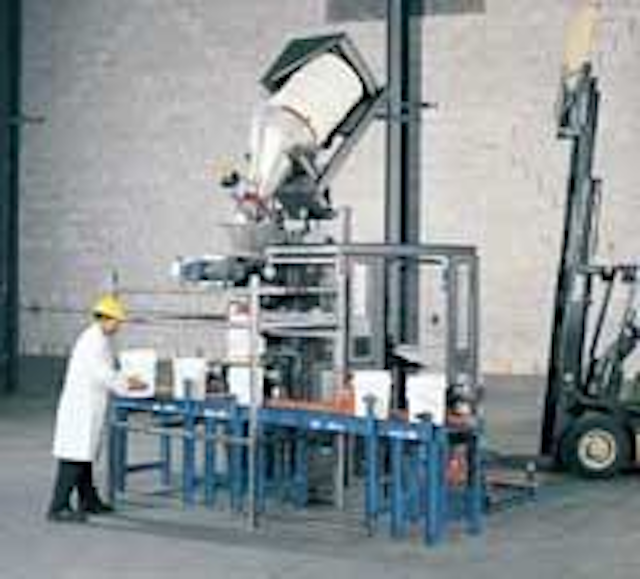 Click here to enlarge image
A new Bulk Filling System with High-Lift Drum Dumper, available from Flexicon, automatically transfers bulk solid materials from drums to a machine's fill head. The system is dust-free, can fill pails by weight and verifies fill weight accuracy. Drums are loaded at floor level onto a platen that lifts hydraulically to form a dust-tight seal between the drum lip and gasketted discharge cone. The entire drum carriage elevates hydraulically, then tips, causing the discharge cone to mate with a gasketted receiving ring on the filling machine's surge hopper lid.
Universal socket wrench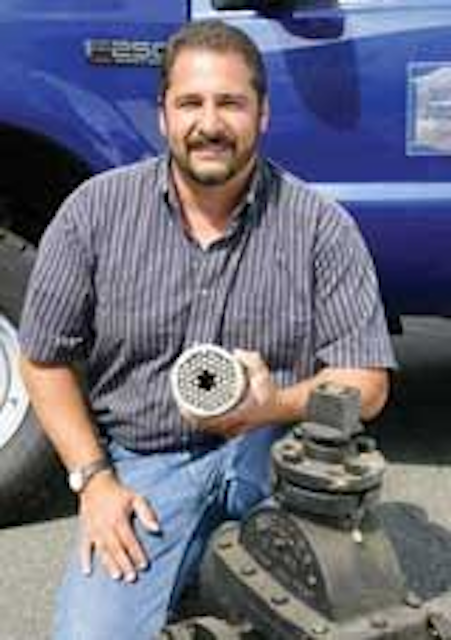 Click here to enlarge image
Endeavor Tool Co. offers the 3" diameter Sumo Gator - a universal socket based on the company's Gator-Gripdesign. The socket is designed to loosen rounded, rusted valve nuts. The socket uses 54 hardened alloy steel rods packed in a large, deep socket. Each rod is backed by a spring that pushes it to the top of the socket. When placed over a valve nut the center pins retract and the outer rods surround the nut.
Endeavor Tool Co.
West Boylston, MA
Tel: 508:835-9922
Web: www.endeavorproducts.com
Check valve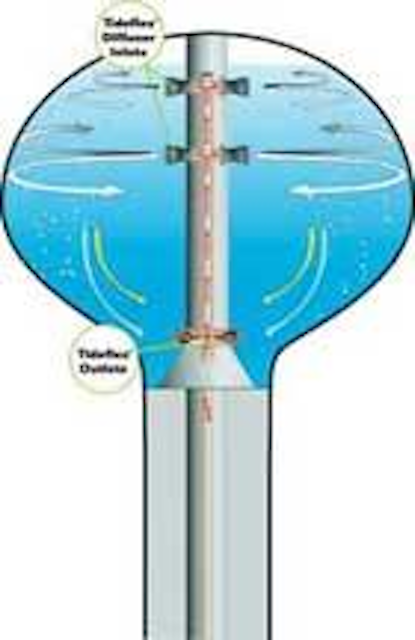 Click here to enlarge image
The new TF-1 Curved Bill TideflexCheck Valve is designed to enhance sealing, especially in low-lying areas with little backpressure. The TF-1 design requires less bottom clearance and can hold greater water weight than the TF-2. The valve is constructed entirely of rubber, making it virtually immune to rust, corrosion and weathering. The curved bill offers increased flexibility to better seal around entrapped debris, and the headloss of the valve remains exceptionally low. Sizes are available to 96".
Tideflex Technologies Inc.
Pittsburgh, PA
Tel: 412-919-0919
Web: www. tideflex.com
Pipe Fusion
McElroy Manufacturing has announced the availability of a new heater for use with its polyethylene pipe fusion machines. The new heater features a microprocessor controlled temperature set point that can be adjusted using a dial and control knob. For fusion machines that fuse pipe up to 4", the heater handle has been shortened for easier operations, such as while working in-ditch. All models feature an ergonomic handle with diamond grip. The new heater's PC board contains onboard diagnostics to alert the operator of a potential problem.
McElroy Manufacturing Inc.
Tulsa, OK
Tel: 918-836-8611
Web: www.mcelroy.com