PRODUCTS & SERVICES—SCADA & PROCESS CONTROL
Bartley Machine & Manufacturing has released a new line of active band-pass filters known as the "Ultra-Q Filter"
Apr 1st, 2005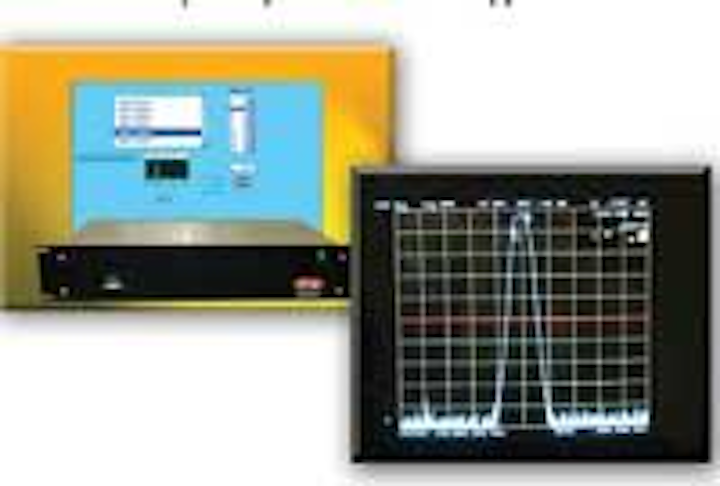 Radio frequency filters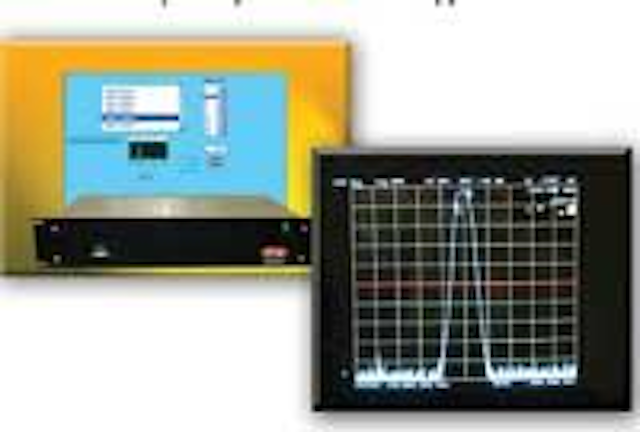 Click here to enlarge image
Bartley Machine & Manufacturing has released a new line of active band-pass filters known as the "Ultra-Q Filter." The filters are designed to eliminate all adjacent channel RF interference within specified VHF, UHF, 800 MHz and 900 MHz frequency bands. As more and more people use wireless communications, the available spectrum becomes increasingly clogged with traffic, creating interference on adjacent channels, with the end result being the inability to send and receive critical information.
Bartley Machine & Manufacturing Co.
Amesbury, MA
Tel: 978-388-0085
Web: www.ultraqfilter.com
Telemetry solution
Altivia's A-Tracks™ Telemetry Solution is a sophisticated remote monitoring and control system designed to meet the needs of the water industry. Each unit can monitor up to 16 flow, level, or pressure sensors, provide high/low level alarms, leak detection, and is capable of controlling up to four pumps or valves. Control can be adjusted automatically based on time-of-day/season, or in calculated response to another input such as temperature or pressure.
Altivia Corp.
Houston, TX
Tel: 866-258-4842
Web: www.altivia.com
Remote I/O modules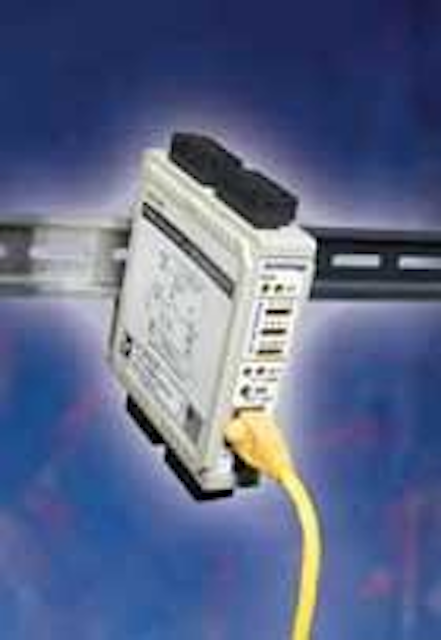 Click here to enlarge image
Acromag has released its new BusWorks900EN Series I/O Modules, which interface up to 12 analog or discrete I/O signals directly to an EtherNet/IP™ network. Since each remote I/O module has its own Ethernet port, it can operate independently of a buscoupler or controller that typically handles network communication for modular/block I/O systems.
Acromag Inc.
Wixom, MI Tel: 800-881-0268 Web: www.acromag.com
Insertion flowmeters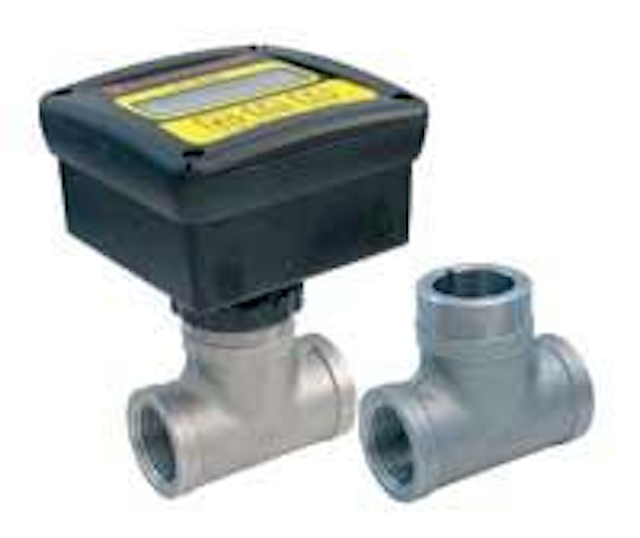 Click here to enlarge image
DIGI-FLOF-2000 Series electronic insertion style flowmeters, available from Blue-White Industries, are now offered with #316 stainless steel fittings. The fittings are available with 1", 1 1/2" and 2" female pipe threads (IPS). The maximum fluid temperature these fittings may be used with is 200°F at 0 PSI.
Blue-White Industries
Huntington Beach, CA
Tel: 714-893-8529
Web: www.bluwhite.com
Satellite communication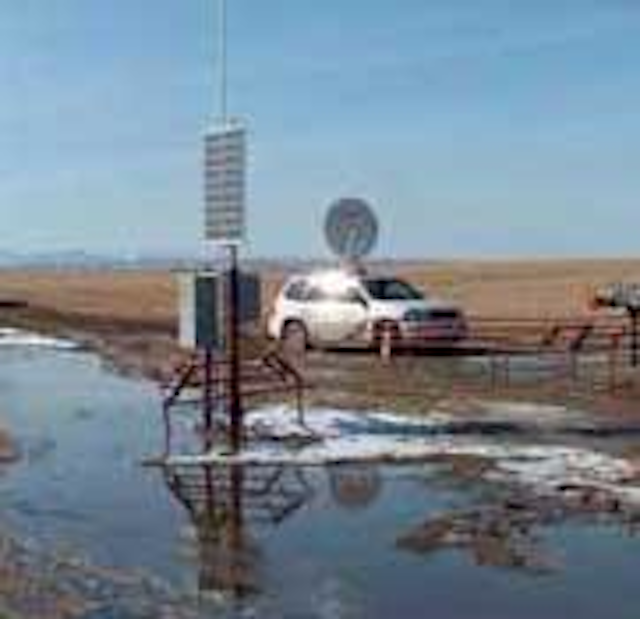 Click here to enlarge image
Bentek Systems offers satellite Internet access systems among its industrial data communication solutions. Internet connectivity via high speed satellite can be used to connect remote industrial sites for remote computer network connectivity, SCADA communications, telephone via Voice Over IP, alarm system connectivity, and remote video monitoring.
Bentek Systems
Calgary, Alberta
Tel: 403-243-5135
Web: www.scadalink.com
Process gauge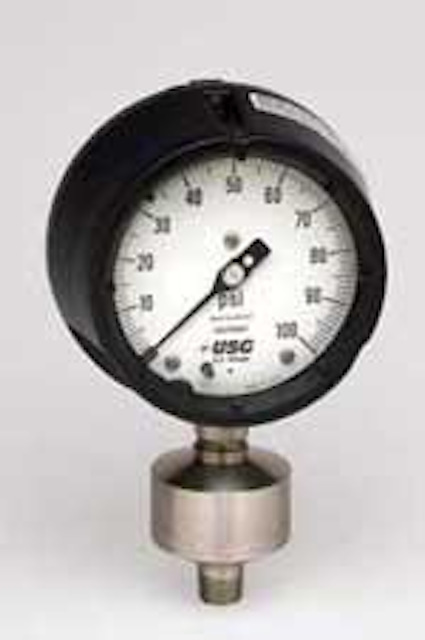 Click here to enlarge image
Ametek U.S. Gauge's all-welded process gauge and diaphragm seal offers customers in water and wastewater control a lower cost alternative to an individual gauge and diaphragm seal with the added benefit of a reduction in potential leaks. The Solfrunt1981 process gauge with stainless steel internals is mounted and welded onto an Ametek M&G diaphragm seal.
Ametek U.S. Gauge
Feasterville, PA
Tel: 215-355-6900
Web: www.ametekusg.com
Electromagnetic flow transmitter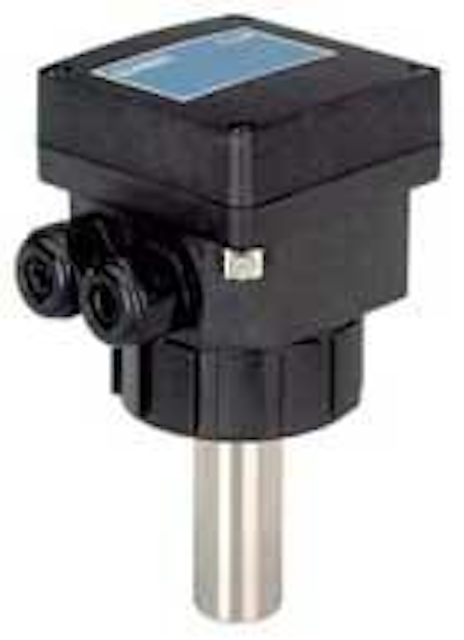 Click here to enlarge image
Incorporating a stainless steel fitting, the Burkert Type 8041 Electromagnetic Flow Transmitter is suitable for higher temperature/pressure water treatment applications, with a -4°F to 302°F medium temperature range and 233 psi maximum fluid pressure capability. Designed to operate as a transmitter and/or an On/Off control device, the transmitter accommodates liquids with a conductivity > 20 µS/cm. Compatible with pipe diameters from 1/2" to 16", it offers a measuring range of 0.33 fps to 33 fps.
Burkert
Irvine, CA
Tel: 800-325-1405
Web: www.burkert-usa.com
Ultrasonic flowmeters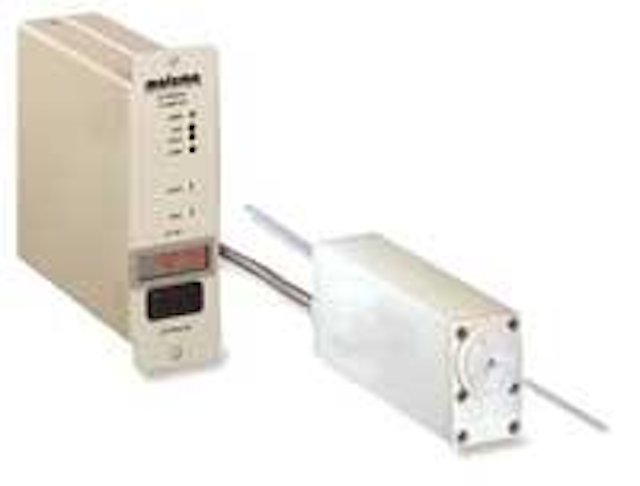 Click here to enlarge image
Cole-Parmer has introduced a new line of ultrasonic flowmeters for lab and pilot-scale applications. Using the non-invasive ultrasonic measurement principle, these meters are ideal for handling aggressive fluids and slurries or fluids that have entrained air. Because ultrasonic flowmeters use no moving parts, they are maintenance free and produce no pressure drop. The wetted material consists of a one-piece PFA (a chemically inert fluoropolymer) tube with a small, external sensor/transducer package that can be remote-mounted for inclusion in compact systems.
Cole-Parmer Instrument Co.
Vernon Hills, IL
Tel: 800-323-4340
Web: www.coleparmer.com
Remote monitoring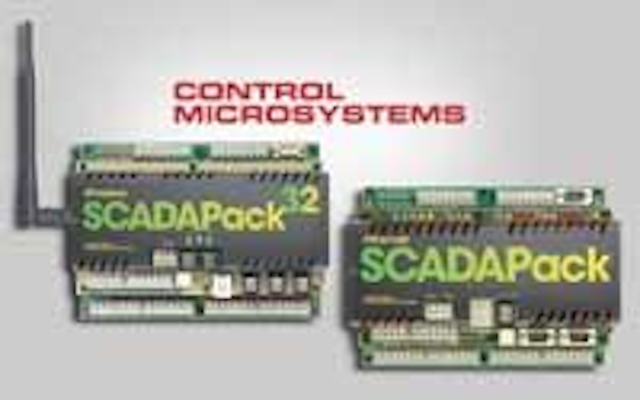 Click here to enlarge image
Control Microsystems is a manufacturer of SCADA and remote data monitoring equipment with over one hundred thousand controllers deployed globally. Its SCADAPack™ products combine standard PLC and RTU features, such as Ladder Logic & Function Block programming, flexible I/O and multi-protocol support with extensive data logging and event recording capabilities and communications over a wide range of mediums including wireless, public data networks, dial-up, leased lines and satellites.
Control Microsystems
Kanata, Ontario
Tel: 613-591-3878
Web: www.controlmicrosystems.com
Flowmeter model selector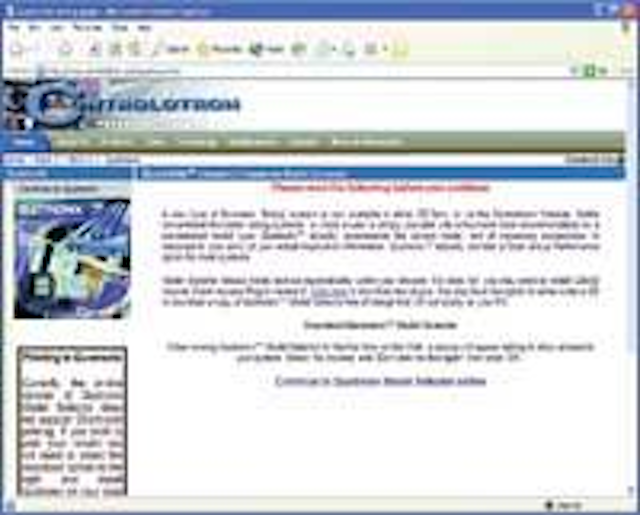 Click here to enlarge image
A new type of flowmeter sizing and selection system is now available online from Controlotron. Conventional systems only provide a flowmeter size recommendation for a pre-selected model. The company's Quotronix™ Model Selector recommends the correct model with all necessary accessories after entry of application information.
Controlotron Corporation
Hauppauge, NY
Tel: 631 231-3600
Data loggers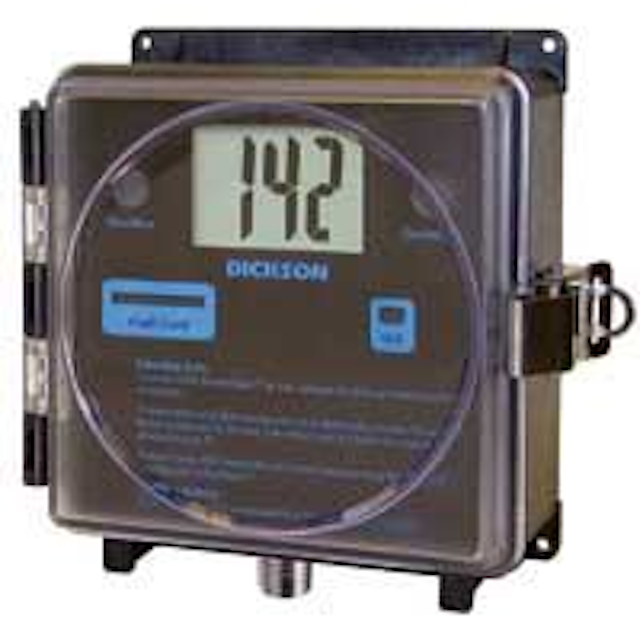 Click here to enlarge image
Dickson has introduced a Pressure Data Logger with Digital Display and SD Flash Memory Card to its line of instrumentation. These new loggers are available in three pressure ranges: model PL100, 0 to 100 PSI; model PL300, 0 to 300 PSI; and model PL500, 0 to 500 PSI.
Dickson Co.
Addison, IL
Tel: 800-323-2448
Web: www.dicksonweb.com
Pump control system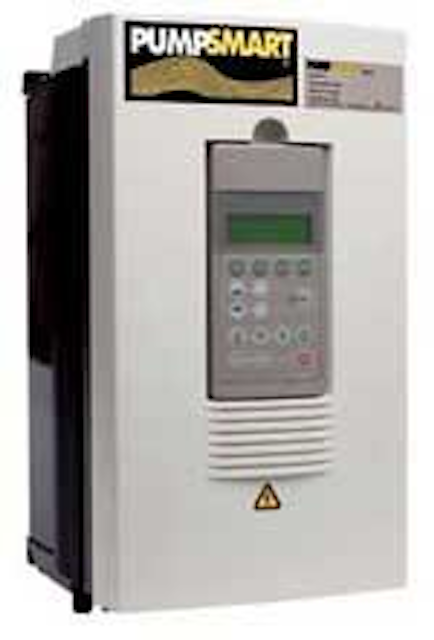 Click here to enlarge image
PumpSmart Control Solutions, a division of ITT Industries, has introduced PumpSmart Model 200 Version 4.0. Like previous PumpSmart offerings, the new model is a microprocessor based, variable speed drive, programmed specifically for water and wastewater centrifugal pumps up to 700 HP. Version 4.0 has new features that improve pump reliability and performance by protecting the pump from operating in upset conditions and matching pump speed to process demands. The integrated logic also enables the ability to monitor the condition of the pump and predict wear to the hydraulic components.
PumpSmart Control Solutions
Seneca Falls, NY
Tel: 800-734-7867
Web: www.pumpsmart.com
Meters, controllers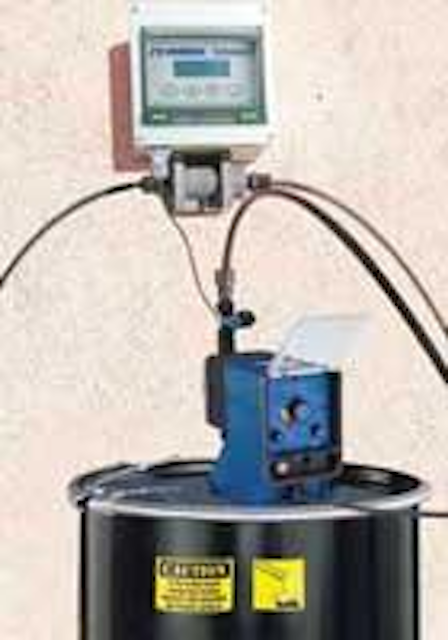 Click here to enlarge image
The FLR2000 Series Meters and FLV-2000 Series Controllers from Omega Engineering offer a solution for real-time metering and control of chemicals which are dosed, injected, pumped or dispensed. Flow ranges of 0.1 gph to 400 gph at pressures from 20-300 psi meet the general range of use in water and wastewater applications. The 1% Full Scale accuracy insures precision. A 4 line x 20 character digital display reveals human interface data with multiple user menus. RS232, 4-20 mA, and relay outputs for signals are standard.
Omega Engineering Inc.
Stamford, CT
Tel: 203-359-1660
Web: www.omega.com
Data loggers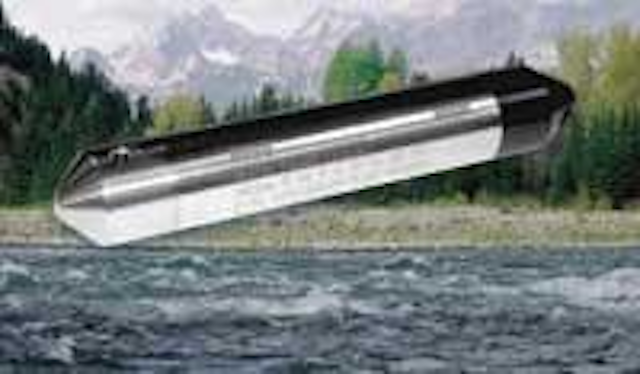 Click here to enlarge image
Onset is expanding into the water level market with the HOBOWater Level Logger, a pressure-based water level recording device that combines research-grade accuracy and durability with a price tag that is roughly half the cost of most comparable solutions. It provides 0.1% of full-scale accuracy with a 30' measurement range and better than 0.01' resolution. Unlike traditional water level loggers, which rely on vent tubes and desiccant packs for operation, this logger operates as a standalone unit.
Onset Computer Corp.
Bourne, MA
Tel: 800-564-4377
Web: www.onsetcomp.com
Modbus communications
ProSoft Technology offers a multitude of communication solutions to bring Modbus connectivity to a network. The company's Modbus communication modules support for RTU and ASCII modes; independently configured ports operating as Master and/or Slave and continuous polling of a command list. They are ideal for SCADA and Modbus device interfaces (transmitters, drives, flow meters, valves and loop controllers connectivity) and offer two active serial ports each supporting RS-232, RS-422 and RS-485.
ProSoft Technology, Inc.
Bakersfield, CA
Tel: 661-716-5100
Web: www.prosoft-technology.com
Valve positioner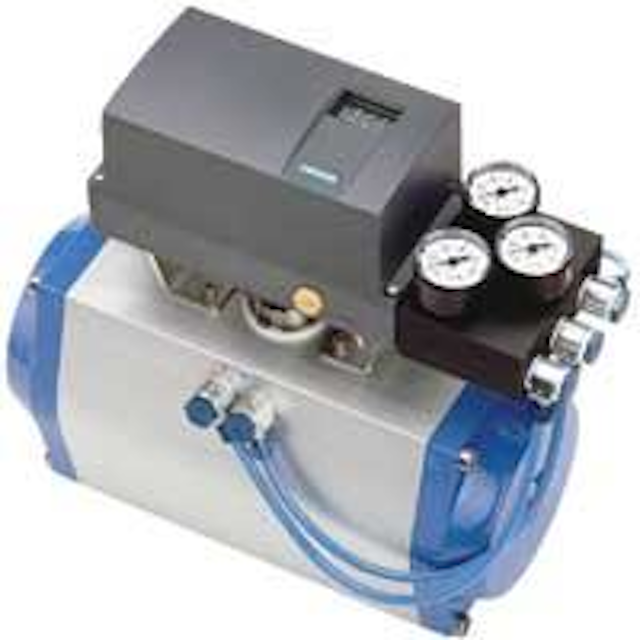 Click here to enlarge image
A unique feature of SIPART PS2 valve positioner from Siemens is its low air consumption. In the balanced condition, the valve positioner consumes virtually no air. This results in reducing electricity costs by decreasing the usage of compressed air. The positioner's design can save users over $900/year per valve compared to using conventional smart positioners. The electropneumatic positioner is used to control the final control element of pneumatic linear or part-turn actuators.
Siemens Energy & Automation
Spring House, PA
Tel: 215-646-7400
Web: www.sea.siemens.com/ia
Fail-safe shut-down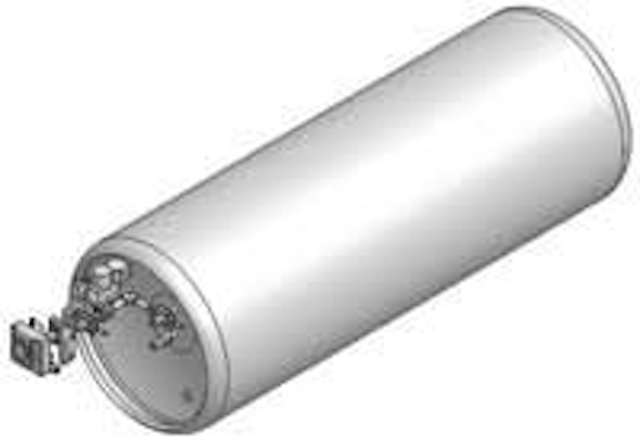 Click here to enlarge image
TGO Technologies now offers an Automatic Fail-Safe Shut-Down Valve System. This valve assembly attaches directly onto the chlorine valve of a 150# cylinder or ton container using only a standard chlorine wrench. A true fail-safe valve; it always fails to a closed position, doesn't rely upon electrical or back-up power, and complies with the new Uniform Fire Code and International Fire Code standards.
TGO Technologies, Inc.
Santa Rosa, CA
Tel: 800-543-6603
Web: www.tgotech.com
Motor starters
The new CSXi series of compact starters, from Saftronics, combines motor soft start, bypass and soft stop functions with essential built in motor protection. The compact motor starter series fills the technology gap between standard soft start controllers typically providing only a few user settings and high-end digital controllers that often offer more than 50 settings and complex interface options.
Saftronics Inc.
Ft. Myers, FL
Tel: 239-693-7200
Web: www.saftronics.com
SCADA systems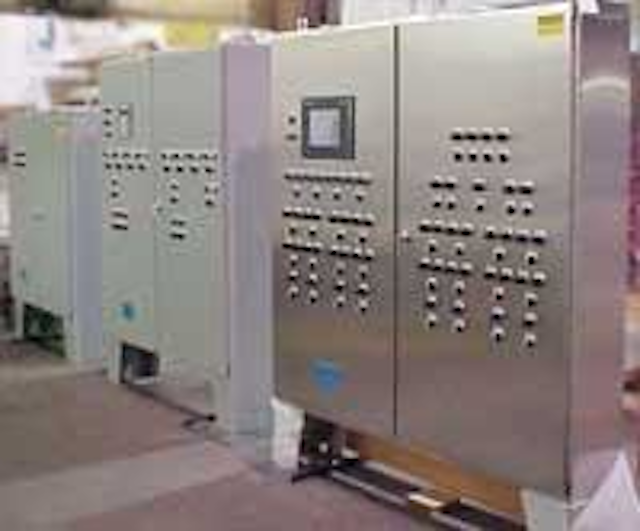 Click here to enlarge image
Aqua-Aerobic Systems has complimented its line of wastewater treatment equipment and systems with the addition of Aqua Control Systems and Aqua SCADA Systems. The company designs, configures and manufactures each Control and SCADA system individually, according to a plant's specific control requirements. Following submittal and production engineering, systems are factory tested in Aqua's in-house Controls Lab and UL 508 Panel Shop for quality assurance.
Aqua-Aerobic Systems Inc.
Rockford, IL
Tel: 815-654-2501
Web: www.aqua-aerobic.com
Filtration control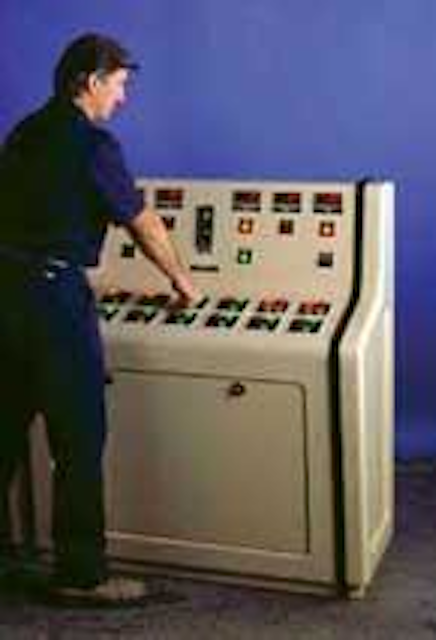 Click here to enlarge image
The Filterworx™ Automatic Control System by Leopold is a complete filter control package consisting of all instrumentation and control equipment for the automatic monitoring and control of municipal water filtration systems. The system is designed to keep a constant watch over the essential parameters of the processes in a filter plant. It continuously monitors effluent water quality to ensure that it meets regulatory requirements. It continuously monitors the condition of the filter media to ensure optimum filtration.
F.B. Leopold Co.Zelienople, PA
Tel: 724-452-6300
Web: www.fbleopold.com
Flowmeter
AccusonicTechnologies, a Division of ADS Corp., offers the Model 7510+ Multiple-Path Chordal Transit-Time Flowmeter. The meter handles the diverse range of flow measurement and monitoring applications found in the water and wastewater industry with the ability to measure flow bi-directionally in full pipes, open channels, and gravity-flow pipes flowing partially full through surcharged.
Accusonic Technologies
W. Wareham, MA Tel: 508-273-9634 Web: www.accusonic.com
Ball valves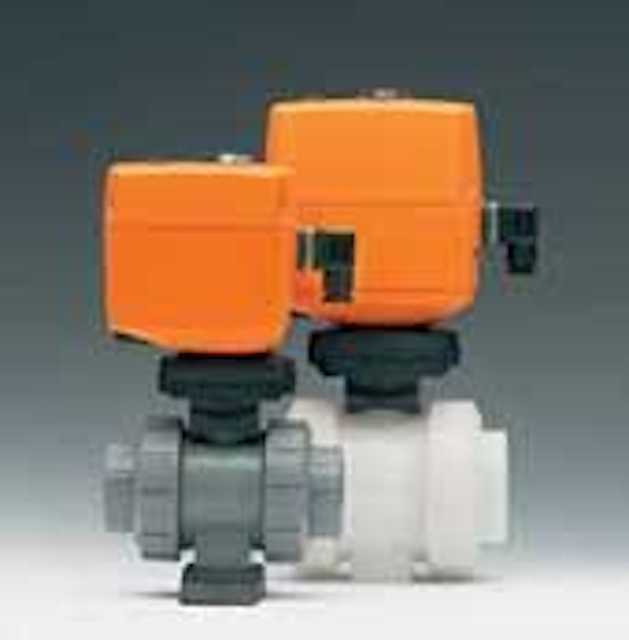 Click here to enlarge image
George Fischer has introduced the new 130 Series of Electrically Actuated Ball Valves featuring the new EA 21 Electric Actuator. The actuator was designed specifically to complement the modularity and flexibility of the 546 Series valve and provide a system approach to piping system design. The resulting actuated valve series includes three models, all available in sizes 3/8 through 2".
George Fischer Inc.
Tustin, CA Tel: 800-854-4090 Web: www.us.piping.georgefischer.com
Wireless modem modules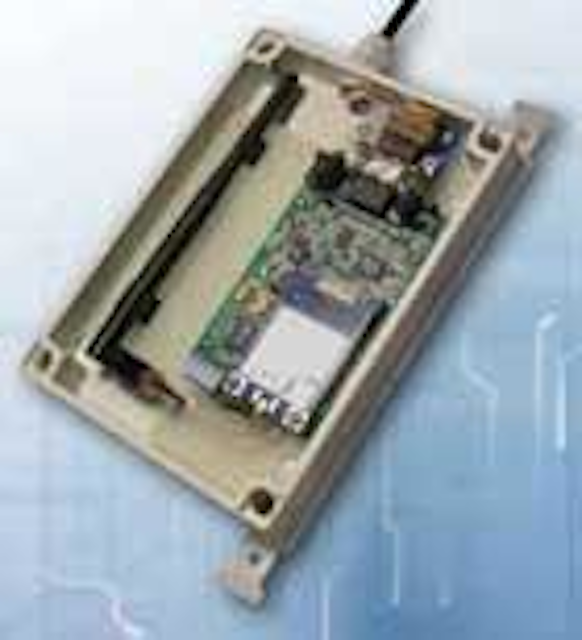 Click here to enlarge image
MaxStreamhas released the 1 Watt 9XTend-NEMA™, with a NEMA 4 rated enclosure that allows the 9XTend™ RF modem to be used in harsh outdoor environments. The modems are is resistant to most weather conditions, including rain, snow, ice, dust and wind.
MaxStream Inc.
Lindon, UT
Tel: 866-765-9885
Web: www.maxstream.net
Data management software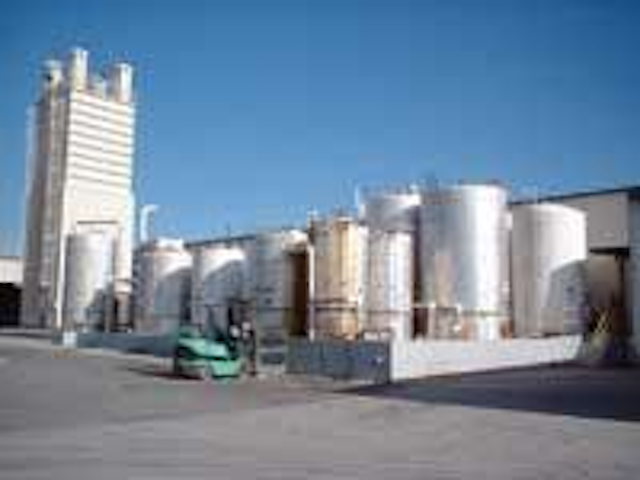 Click here to enlarge image
BizWareDirect recently announced the release of DataNet OPC™, a new software product that keeps people connected to plant operations, without binding them to the confines of their facility. The software uses OPC technology to display real-time data on a Web page, with no HTML programming required.
BizWareDirect
Cumming, GA
Tel: 770-886-5878
Web: www.bizwaredirect.com
Mass flow meters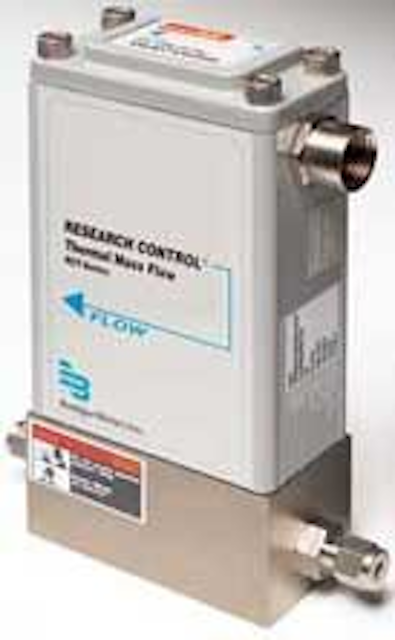 Click here to enlarge image
RCT Series Thermal Mass Flow Meters, available from Badger Meter, are designed for flow range measurements of gases with full-scale flow rate down to 3 sccm and up to 9000 slpm. The meters offer a stable zero and wide rangeability along with accuracy of ±0.7% of rate and ± 0.2% of full scale.
Badger Meter Inc.
Milwaukee, WI
Tel: 800-876-3837
Valve positioner
The Flowserve PMV D3 digital valve positioner has added Foundation™ Fieldbus support and gained ATEX EEX approval as an explosion-proof device. The positioner is designed for the control of linear and rotary control valves. It has applications in a variety of industries and processes where control valves are used. The addition of Fieldbus support now means that the D3 can communicate via a fourth protocol, in addition to 4-20 mA analog, HART, and PROFIBUSPA.
Flowserve Corp.
Dallas, TX Tel: 281-292-7500 Web: www.flowserve.com
Multi-parameter controller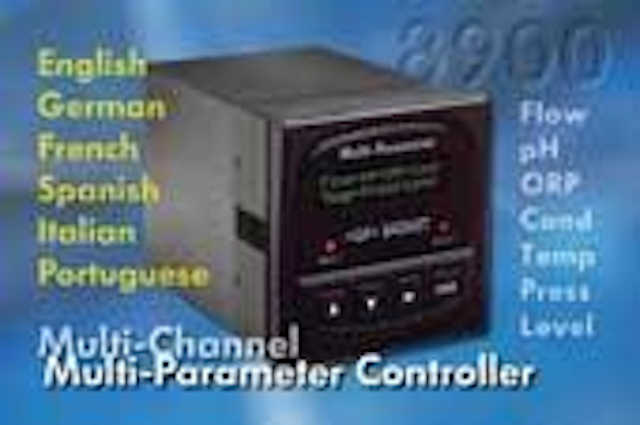 Click here to enlarge image
George Fischer's new Signet 8900 Multi-Parameter Controller features international language display capabilities and enhanced signal integrity for long-distance cable runs connecting to remotely located sensors. Designed to perform as an all-in-one controller, the 8900 is suitable for use in virtually any application where more than one single-channel or single parameter instrument is required.
George Fischer Inc.
Tustin, CA
Tel: 800-854-4090
Tel: www.us.piping.georgefischer.com
Radio mounting system
FreeWave Technologies, a manufacturer of spread spectrum radios and wireless products, now offers DIN Rail for simplified mounting and turn-key installation compatible with most of the company's radios. As a "snap in" solution, FreeWave's DIN Rail system allows the wireless radios (board level or enclosed) to be quickly mounted into panels or other housings requiring DIN Rail compatibility. The system allows the radios to be mounted either vertically or horizontally.
FreeWave Technologies
Boulder, CO Tel: 800-548-5616 Web: www.freewave.com
Pressure transmitter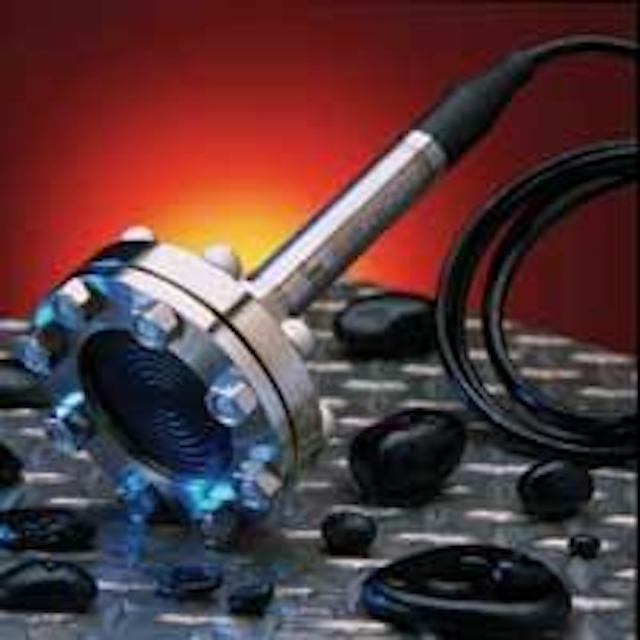 Click here to enlarge image
Viatran has launched the WW517 submersible pressure transducer for wastewater applications. The 316L liquid level transmitter has a 3" diameter opened faced Teflon coated sensor. It is designed for instances when the media is 'sludgy'. It features all welded transmitter construction, Teflon coated316L SS wetted parts and ranges down to 27" WC.
Viatran Corp.
Grand Island, NY
Tel: 800-688-0030
Web: www.viatran.com
Flow meters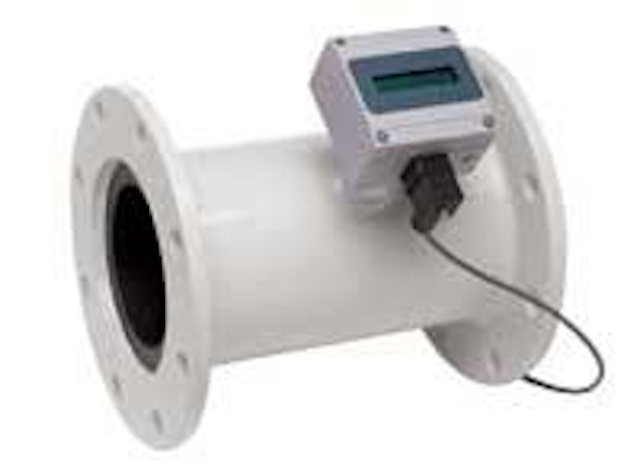 Click here to enlarge image
The SeaMetrics WMX101 is an economical in-line electromagnetic flow meter designed for municipal water systems. The built-in display indicates flow rate and total, with current-sinking pulse output.
SeaMetrics Inc.
Kent, WA
Tel: 800-975-8153
Web: www.seametrics.com