NEW LITERATURE
May 1st, 2005
Close-coupled pump
Moyno, a unit of Robbins & Myers, has released a new brochure featuring its latest product addition, the Moyno® 2000 CC Pump. The new pump is designed for municipal and industrial applications where close-coupled configurations are preferred, but the robustness of a gear joint drive is needed. The pump features a sealed gear-type universal joint drive train and optimized rotor/stator pumping element geometry.
Moyno Inc.
Springfield, OH
Tel: 877-486-6696
Web: www.moyno.com
Air diaphragm pumps
All-Flo Pump Co. offers a brochure on its line of Air Diaphragm Pumps. The company also just released the new Max-Pass Valve System for 1/2" bolted plastic air-operated diaphragm pumps. The 1/2" Max-Pass Valve is designed to pump solids up to 3/8" in size and produces a 27% increase over the dry suction lift of a ball valve.
All-Flo Pump Co.
Mentor, OH
Tel: 440-354-1700
Web: www.all-flo.com
Plastic pipe
Harvel Plastics has published a new, comprehensive Engineering & Installation Guide on CD-ROM, providing a resource for technical data on PVC, CPVC, and specialty piping and duct systems. The guide features extensive engineering and design data, a chemical resistance guide for pipe selection, physical properties, pressure ratings, industry standards and test methods, installation procedures, safety and caution data, storage and handling information, and more.
Harvel Plastics Inc.
Easton, PA
Tel: 610-252-7355
Web: www.harvel.com
Check valves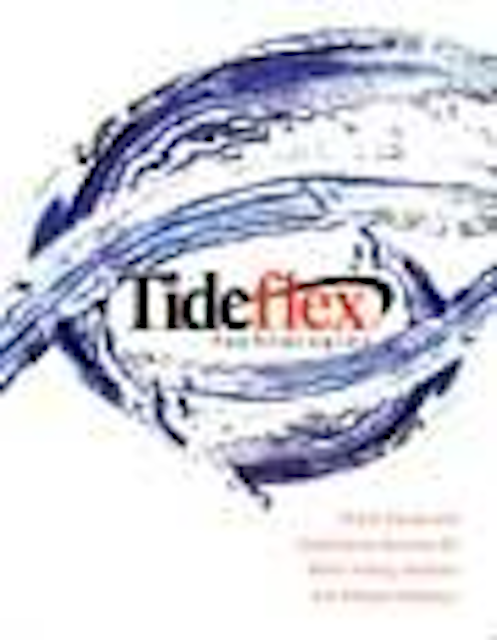 Click here to enlarge image
Tideflex Technologies' 24-page condensed catalog includes the latest information on the Tideflex® Curved Bill Check Valve, the InLine Check Valve, the Tideflex® Mixing System for potable water mixing, the non-clogging Aeration System, the maintenance-free Effluent Diffuser System and the low-profile Waterflex® Check Valve.
Tideflex Technologies Inc.
Pittsburgh, PA
Tel: 412-919-0919
Web: www.tideflex.com
Pump brochure
The ADV brochure from seepex highlights the unique geometries of the company's pumps designed for lower wear rates and thrust loads. Also shown are close-coupled pumps and the exclusive "plug-in" drive shaft that allows for easy replacement of the pump "wet end." Other advantages featured include: sealed and lubricated universal joints with replaceable bushings; improved rotor surfaces; harder rotor coatings; molded-to-size, shrink compensated stators; stator retensioning device and a patented run dry protection device.
seepex Inc.
Enon, OH
Tel: 937-864-7150
Web: www.seepex.com
Sensors
MTS Sensors Division has launched a newly created Web site that allows visitors to browse the company's sensor products and application offerings. Visitors can view and download information on the company's magnetostrictive industrial position, liquid level, and mobile equipment sensors.
MTS Sensors
Cary, NC
Tel: 919-677-0100
Web: www.mtssensors.com
Process management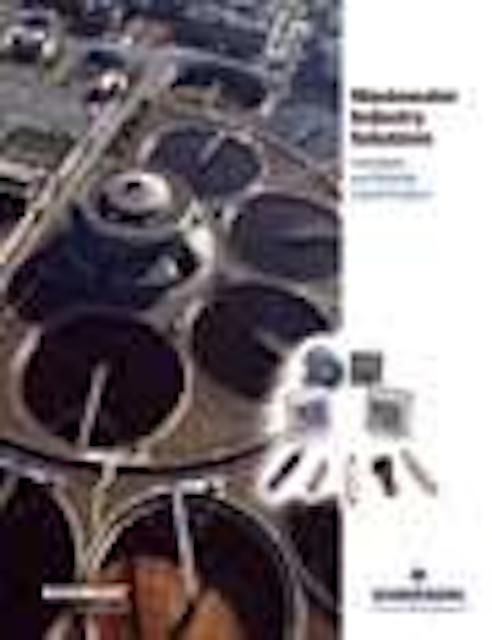 Click here to enlarge image
A newly revised, full color brochure from Emerson Process Management discusses the common treatment process in municipal wastewater plants, with a focus on liquid analytical measurements. Sanitary wastewater consists of 99% water and about 0.3% dissolved and suspended solids. Wastewater plants separate these solids from liquids in a multistage process before discharge or re-use. Accurate on-line process instrumentation such as dissolved oxygen, chorine, pH, ORP and suspended solids play a critical role in achieving the plant objective and meeting regulatory compliance.
Emerson Process Management
Irvine, CA
Tel: 800-854-8257
Web: www.emersonprocess.com/RAIHome
Dispensers, metering pumps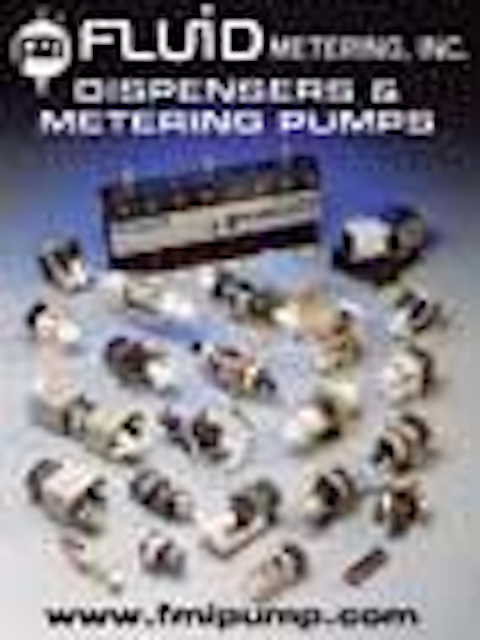 Click here to enlarge image
Fluid Metering introduces a variety of new products in its 2005 full line catalog. FMI has over 45 years' experience in the manufacture of dispensers and metering pumps for laboratory, industrial, process and OEM applications. New products include the Model SMTRH, a Sub-MicroLiter Pump capable of dispenses as low as 500 nanoliters.
Fluid Metering Inc.
Syosset, NY
Tel: 800-223-3388
Web: www.fmipump.com
Rotameters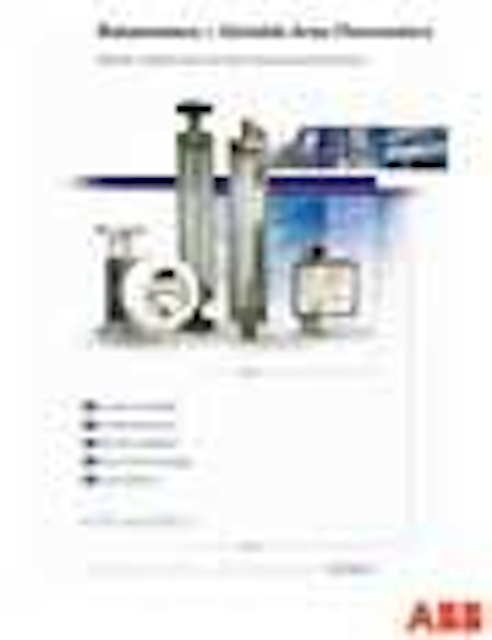 Click here to enlarge image
An eight-page, full-color brochure from ABB Instrumentation covers the firm's line of rotameters, also known as variable area flowmeters. A selection chart in the brochure tabulates the various rotameter models, along with their applicable flow rates, pressures, temperatures, and functions. Tube materials available are glass, stainless steel, and acrylic.
ABB Instrumentation
Warminster, PA
Tel: 800-922-2475
Web: www.abb.us/instrumentation
Centrifuge dewatering system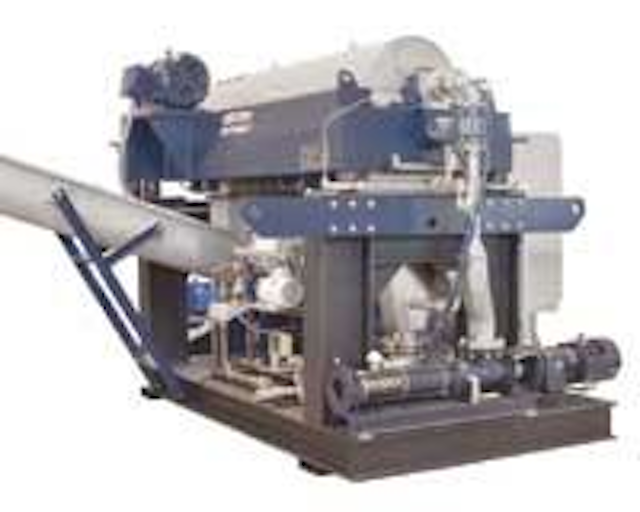 Click here to enlarge image
USFilter has published a two-page flyer on its new pre-assembled dewatering package - the Centrapac™ centrifuge dewatering system. To create the package, the company mounted its Centramax™ centrifuge on a skid with a scroll drive unit, feed pump, flowmeter, discharge screw conveyor, polymer system and a PLC control system. All piped and wired, from feed pump to cake transfer, the system is pre-engineered and ready to go, with minimal on-site installation requirements.
USFilter Dewatering Systems
Holland, MI
Tel: 800-245-3006
Web: www.usfilterdsg.com
Intake screen repairs
USFilter Envirex Products has published a new brochure, "Traveling Water Screen Service And Rebuilds For Improved Performance." The four-page brochure discusses repair, refurbishment and upgrade of intake screening equipment. The company can provide service technicians and certified divers to inspect and refurbish in dry or wet wells. For a free copy of the brochure, e-mail ProductInformation@usfilter.com.
USFilter Envirex Products
Warrendale, PA
Tel: 800-524-6324
Level, pressure measurement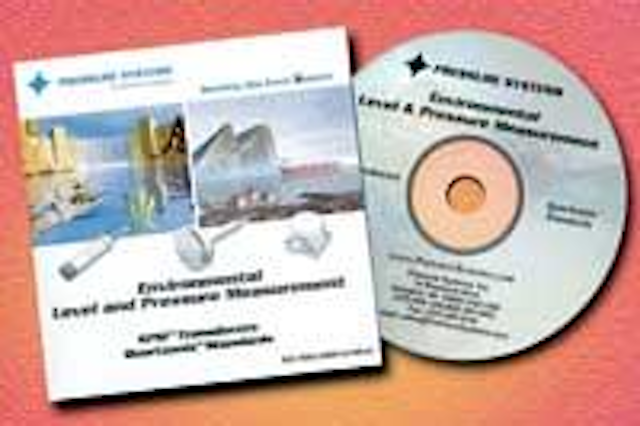 Click here to enlarge image
Pressure Systems Inc. now offers an updated specifiers' CD for the company's lines of KPSI™ Level and Pressure Transducers and Quartzonix™ Pressure Standards used for municipal, environmental and industrial monitoring applications. The CD provides datasheets, manuals, software and application notes for products used in water level sensing, wave/tide gauging, and atmospheric pressure monitoring applications.
Pressure Systems Inc.
Hampton, VA
Tel: 800-678-7226
Web: www.pressuresystems.com