AWWA Products
Analytical Technology's Q45H Residual Chlorine Monitor is available in two versions, a free chlorine monitor for potable water and a combined chlorine monitor ideally suited for chloraminated water.
May 1st, 2005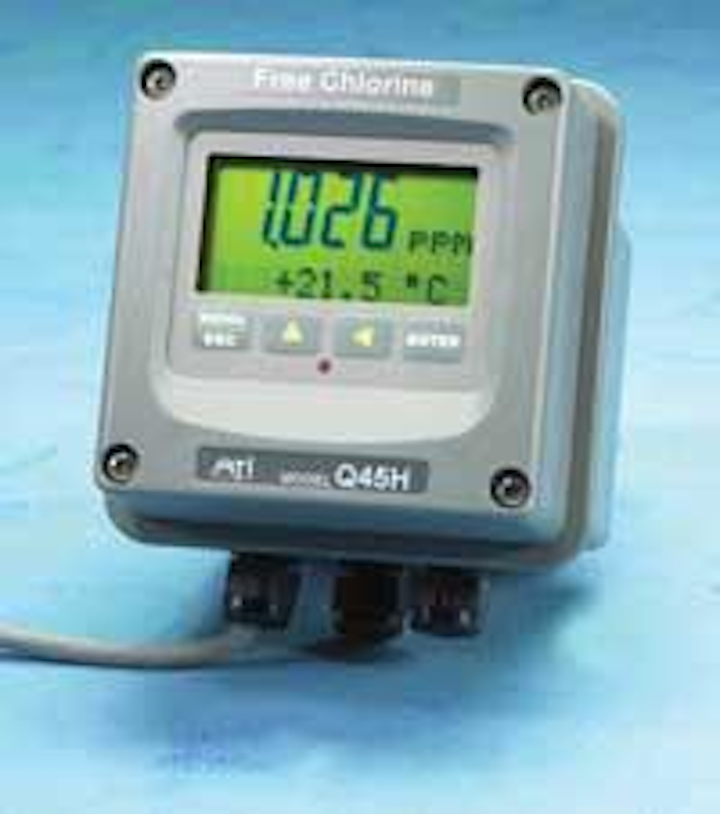 Chlorine monitor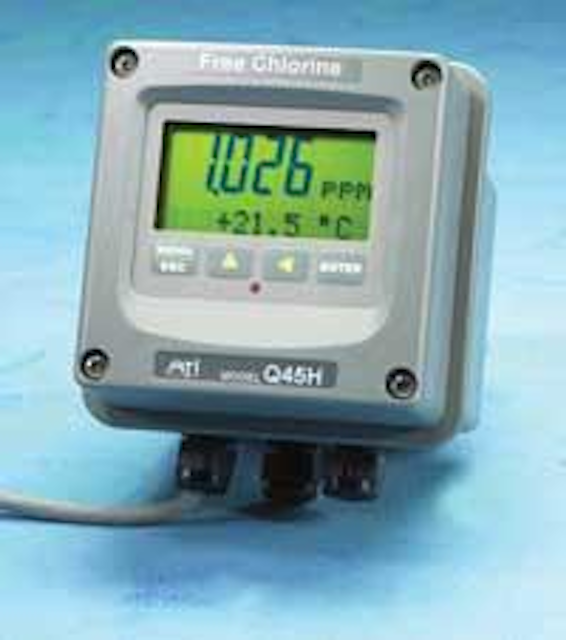 Click here to enlarge image
Analytical Technology's Q45H Residual Chlorine Monitor is available in two versions, a free chlorine monitor for potable water and a combined chlorine monitor ideally suited for chloraminated water. The monitor measures chlorine directly and does not require the addition of chemical reagents, so there are no moving parts that need to be maintained. The chlorine measurement does not alter the sample, so the water flow can return to the system, if desired. Using the optional pH sensor, the monitor will automatically correct for changes in process pH, maintaining an accurate free chlorine measurement.
Analytical Technology, Inc.
Collegeville, PA
Tel: 610-917-0991
Web: www.analyticaltechnology.com
Booth 2144
Pump control valves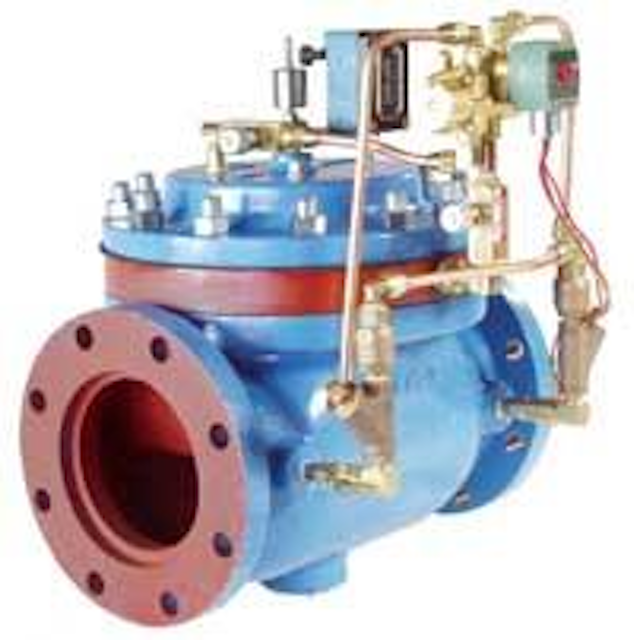 Click here to enlarge image
OCV Control Valves manufactures a variety of pump control valves and designed its Series 125 specifically to eliminate surges associated with starting and stopping a pump. Smooth discharge and volume are produced by electrically interfacing the valve with a pump motor that opens and closes the system at an adjustable speed. The valve has a built-in flow check feature to prevent back flow and automatically shuts the pump motor off on loss of pump discharge pressure. The rectangular-shaped, soft seat seal provides drip-tight Class VI closure while the throttling seat retainer generates flow and pressure stability. The 125 is equipped with a replaceable seat ring, alignment pins for proper reassembly after maintenance and can be serviced without removal from the line.
OCV Control Valves
Tulsa, OK
Tel: 888-628-8258
Web: www.controlvalves.com
Booth 1216
Chlorine monitoring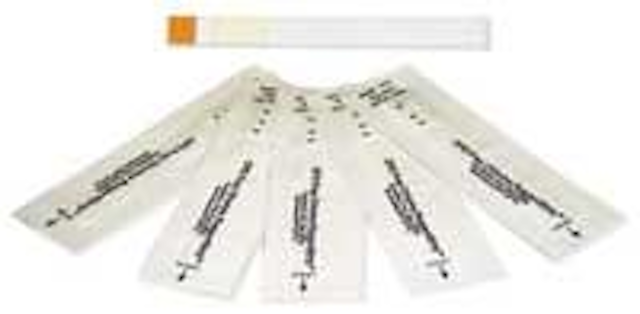 Click here to enlarge image
Industrial Test Systems' DPD-1 ReagentStrip for Free Chlorine offers users a new, more convenient delivery system for DPD. With the strip system there are no more tablets to crush, powders to spill, glass ampoule to break, or dispensers that release irritating dust. All required reagents are precisely measured and impregnated on a test strip pad. Simply dip the strip into a 10ml water sample for 20 seconds with back and forth motion, remove, discard the strip, and immediately read the chlorine meter. The testing system is compatible with a wide range of existing meters from manufacturers such as Hach, LaMotte, Orion, WTW, and others.
Industrial Test Systems Inc.
Rock Hill, SC
Tel: 800-861-9712
Web: www.sensafe.com
Booth 2237
Single jet meter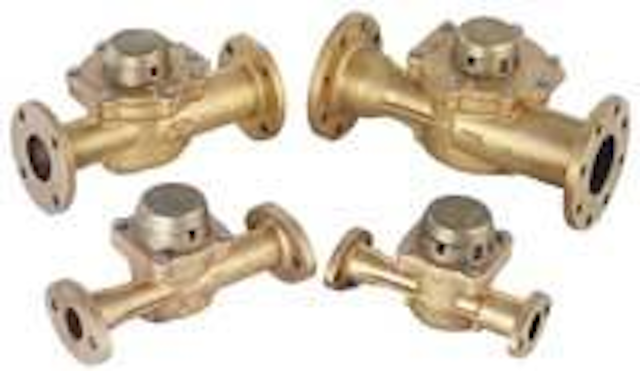 Click here to enlarge image
Actaris Metering Systems has introduced Flostar, a single jet meter designed specifically for the measurement challenges facing North American water utilities. Designed to meet the AWWA C712-02 standard, the meter incorporates the latest developments in single jet metering technology. The patented design uses a hydrodynamically balanced turbine and ball bearing pivot to provide improved low flow capability and endurance. Operating in a mechanically straightforward measuring chamber, the turbine is coupled to a hermetically sealed, straight reading register that can be upgraded to AMR functionality without register replacement.
Actaris Metering Systems
Greenwood, SC
Tel: 800-833-3357
Web: www.actaris.com
Booth 852
Arsenic removal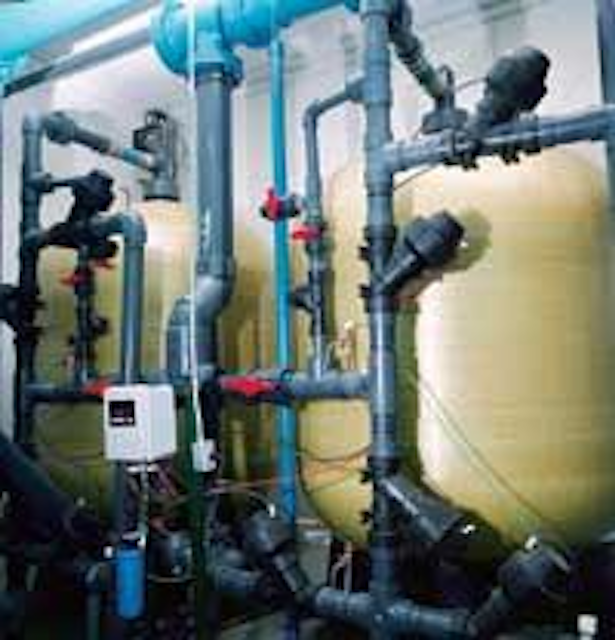 Click here to enlarge image
ADI international provides arsenic removal systems for drinking water incorporating its patented Media G2® ferric hydroxide media. The media is lower cost, with high adsorption capacity, and unlike other iron-based media it can be regenerated and re-used numerous times.
ADI Group Inc.
Fredericton, NB Tel: 800-858-1888 Web: www.adi.ca
Booth 1239
Multifunction flowmeter
Click here to enlarge image
Controlotron's System 1010N provides accurate, non-intrusive mass and volumetric flow measurement in full pipes. The meter is simple to install; no pipes are cut or operations interrupted. It is field programmable for Wide-Beam™ Transit-Time or Reflexor (Fast Fourier Transform Doppler) operation for quick adaptation to changing conditions. It suits virtually any water or wastewater application.
Controlotron Corp.
Hauppauge, NY
Tel: 800-275-8479
Web: www.controlotron.com
Booth 1736
Magmeter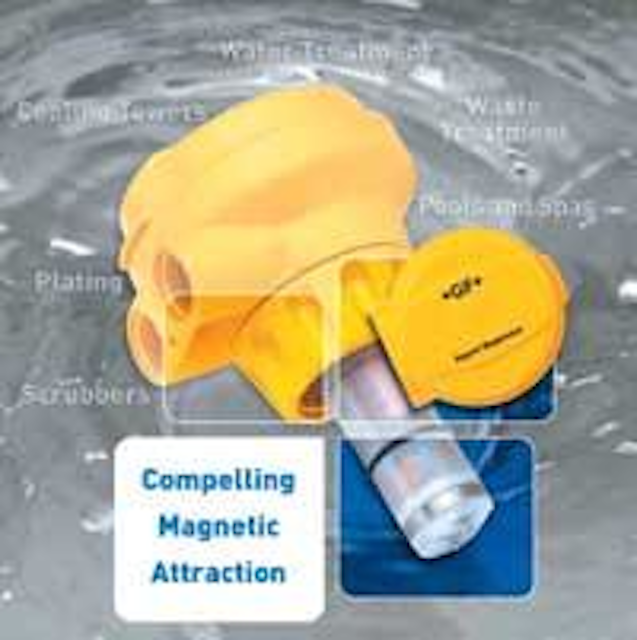 Click here to enlarge image
George Fischer has introduced the Signet 2551 Magmeter, an insertion style electro-magnetic flow sensor especially intended for conductive fluid applications that contain particles, solids and fibers. Designed with no moving parts to wear or foul, this new flow sensor virtually eliminates maintenance and its associated costs. Typical applications include flow monitoring in a wide range of industries such as water and waste treatment. The meter is suitable as a replacement for paddlewheel sensors in dirty applications and fits into the same fittings as a retrofit.
George Fischer Inc.
Tustin, CA
Tel: 800-854-4090
Web: www.us.piping.georgefischer.com
Booth 1839
Water usage monitoring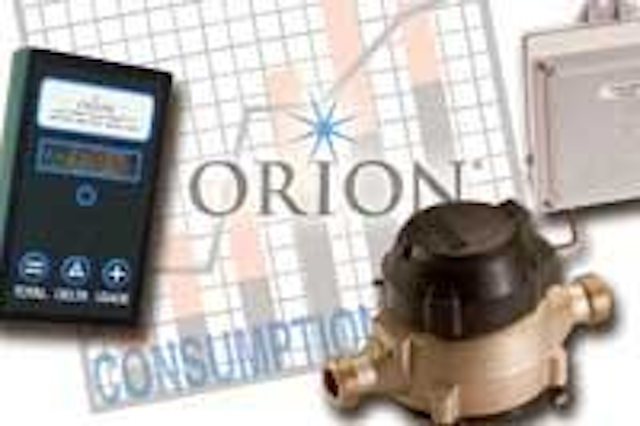 Click here to enlarge image
The Orion Water Meter Monitor, available from Badger Meter, allows consumers to monitor their water usage. This permits users to readily see the result of their efforts in managing water consumption. The monitor has a remote receiver with display that allows consumers to monitor water usage during two separate consumer-defined time intervals.
Badger Meter Inc.
Milwaukee, WI Tel: 800-876-3837
Booth 1017
Floating cover system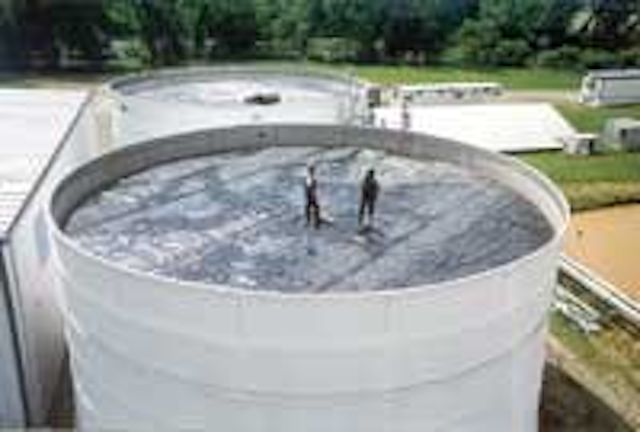 Click here to enlarge image
GTI's modular floating cover systems control algae in tanks and lagoons. These durable, UV protected covers float on the water in a tank or lagoon and block sunlight, thus controlling algae growth. The covers can also be used to provide insulation and reduce odors. GTI covers are custom-fabricated to fit specific applications and can be removed and reinstalled. Covers can be sized in small, lightweight panels for easy manual handling, or large panels for efficient mechanized handling.
Geomembrane Technologies Inc.
Fredericton, New Brunswick
Tel: 506-452-7304
Web: www.gticovers.com
Booth 2137
Spectrophotometer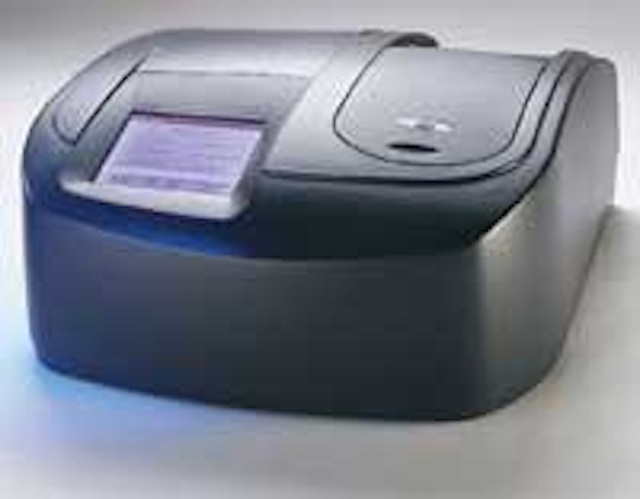 Click here to enlarge image
Hach has introduced the new DR 5000 Spectrophotometer and TNT Plus™ barcoded reagents for streamlined laboratory analysis. This instrument-reagent integration provides automatic method detection and reagent blanking that increases productivity and reduces errors. Coupled with new Hach TNT Plus reagent vials such as Chemical Oxygen Demand (COD) TNT Plus vials, the DR 5000 Spectrophotometer is an ideal solution for any laboratory, including those serving drinking water and wastewater.
Hach Co.
Loveland, CO
Tel: 800-227-4224
Web: www.hach.com
Booth 1213
Emergency valve shut-off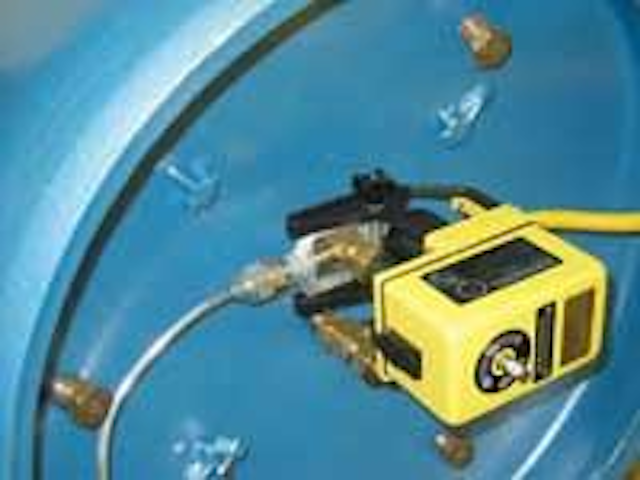 Click here to enlarge image
Eclipse Actuators close toxic gas valves on 150 lb. and ton cylinders in less than one second when activated by remote sensors. These electronic actuators are "close only devices" requiring an operator to visit the site to determine the cause of the problem. The operator can then correct the condition, check the facility, and then manually reset the valve before restarting the gas system. The Eclipse is a battery-operated actuator and allows an operator or remote gas sensor to shut off leaking toxic gas without requiring the operator to enter the hazardous atmosphere.
Halogen Valve Systems
Irvine, CA
Tel: 877-476-4222
Web: www.halogenvalve.com
Booth 1343
Butterfly valves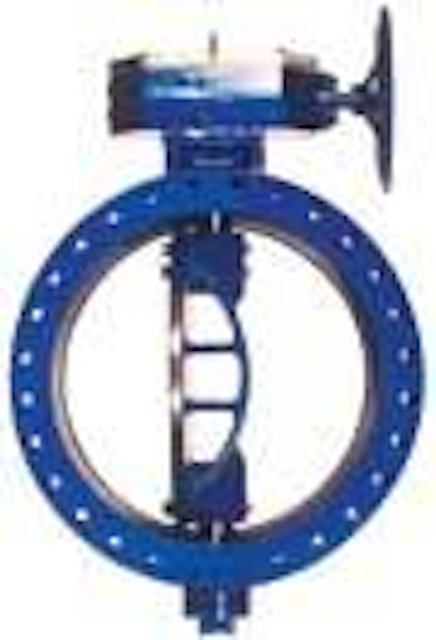 Click here to enlarge image
The Pratt Triton Butterfly Valve has a rubber seat located in the body that reduces performance problems related to corrosive buildup in the valve body and pipeline. The E-Lok seat can be adjusted and/or repaired in the field without dewatering the pipeline or removing the valve from the line. The flow-through disc design allows more strength, less weight, and greater free flow area. Higher Cv : lower head loss results in energy saving for a customer's system. The valves meet or exceed AWWA Standard C504 and conform to NSF61. The valves are available in sizes 3" through 20".
Henry Pratt Co.
Aurora, IL
Tel: 630-844-4000
Web: www.henrypratt.com
Booth 1607
Laboratory TOC analyzer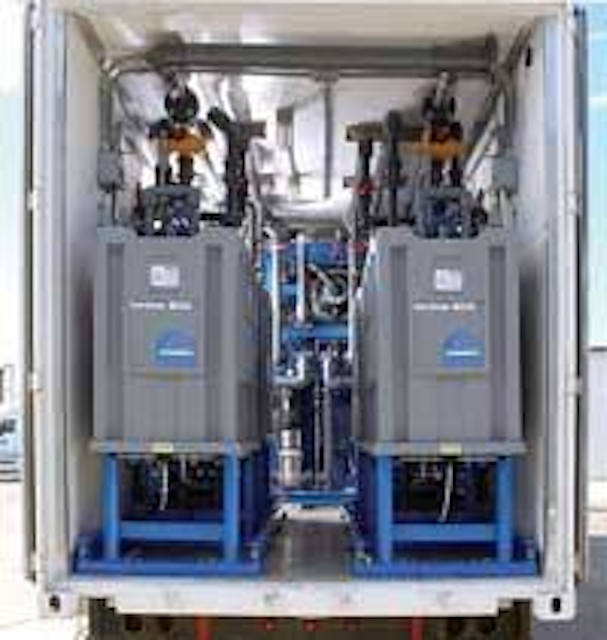 Click here to enlarge image
GE Infrastructure-Ionics Instruments offers the Sievers® 5310 C Laboratory TOC Analyzer, the newest member of the Sievers 900 Series. Designed specifically for simplifying TOC monitoring of raw and finished water for plant optimization and USEPA compliance reporting, the analyzer uses membrane conductometric TOC technology that complies with Standard Method 5310 C and has been demonstrated to recover all classes of organic compounds found in municipal waters. Only 7.6" wide, the analyzer requires minimal operator training and can be set up and analyzing samples in under one hour.
GE Infrastructure - Ionics Instruments
Boulder, CO
Tel: 800-255-6964
Web: www.IonicsInstruments.com
Booth 817
On-site disinfection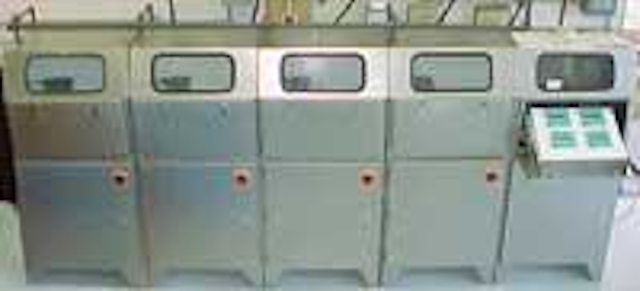 Click here to enlarge image
MIOX on-site generators for water disinfection eliminate hazardous chemicals and the need for Risk Management Plans, yet leave a durable chlorine residual in distribution. The technology is based on a proprietary electrolytic cell that uses brine, water and electricity to produce a liquid stream of either hypochlorite or mixed oxidants, depending on the product line. Production capacities range from 2.5 pounds per day of free available chlorine (FAC) to more than 1000 pounds per day per cell. The units are modular and can be grouped for production capacities in excess of 4,000 pounds FAC per day.
MIOX Corp.
Albuquerque, NM
Tel: 888-646-9426
Web: www.miox.com
Booth 2431
Peristaltic pump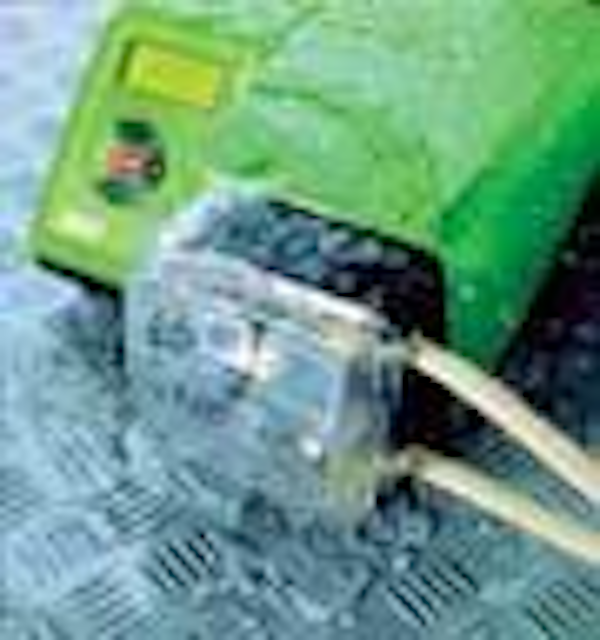 Click here to enlarge image
Watson-Marlow Bredel will introduced its new 520 Du peristaltic pump at the AWWA 2005 Annual Conference & Exposition. Designed to handle the most corrosive fluids, the pump is ideal for environmental processing applications. It is equipped with a high-torque microprocessor controlled drive ensuring a higher range of flow rates up to 875,000:1 turn down ratio. The large swept volume of the pumphead provides greater volumetric displacement per revolution, resulting in longer tube life. Its aluminum die-cast body with unique polyester finish provides optimal impact and corrosion resistance in even the harshest environments.
Watson-Marlow Bredel Pumps
Wilmington, MA
Tel: 800-282-8823
Web: www.wmbpumps.com
Booth 525
Water quality meters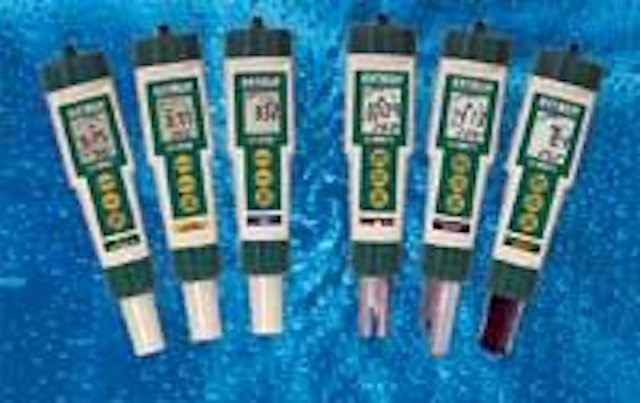 Click here to enlarge image
Extech Instruments has announced the availability of its waterproof ExStik® II Series of "stick style" water quality meters. The series includes three multi-parameter models, EC400, EC500 and DO600, for testing pH, conductivity, TDS, salinity, temperature and dissolved oxygen. The entire ExStik® family is designed for lab and field applications, including water/wastewater and environmental monitoring. All meters have built-in memory to record and recall 15 to 25 labeled readings, as well as an analog bar graph to supplement the digital readings. All meters are buoyant in water and waterproof to IEC 60529 IP67 standards. The meters are available in kit form and contain all of the standards, buffers and accessories needed for optimal use.
Extech Instruments
Waltham, MA
Tel: 781-890-7440
Web: www.extech.com
Booth 510
Membrane filtration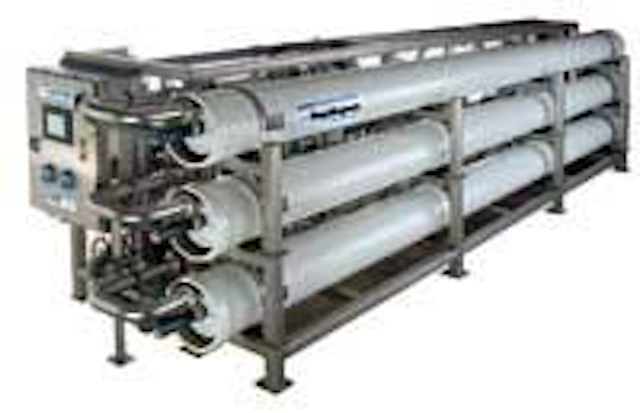 Click here to enlarge image
Koch Membrane Systems will introduce the new MegaMagnum® water treatment system at the AWWA Annual Conference & Exposition. The pre-engineered, packaged system uses 18" diameter MegaMagnum membrane elements, the world's largest spiral-wound reverse osmosis elements, to significantly reduce the cost, footprint and installation time of municipal water treatment systems.
Koch Membrane Systems Inc.
Wilmington, MA
Tel: 888-677-5624
Web: www.kochmembrane.com
Booth 2225
SCADA systems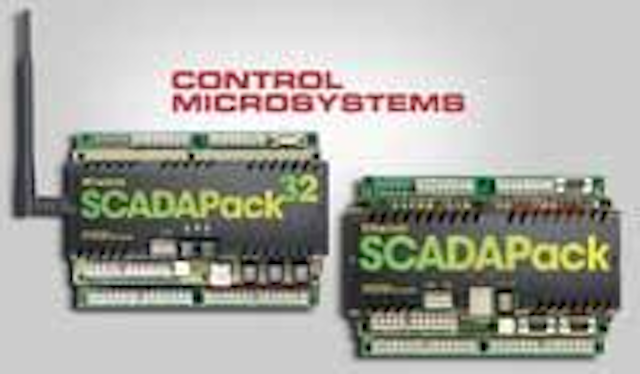 Click here to enlarge image
Control Microsystems' SCADAPack™ combines standard PLC features such as Ladder Logic programming and flexible I/O, a data logger for data recording and reporting, and an RTU for communications over a variety of media such as wireless radios, public data networks, dial-up and leased lines as well as satellite systems.
Control Microsystems
Kanata, ON
Tel: 613-591-3878
Web: www.controlmicrosystems.com
Booth 2143
Prestressed concrete tanks
The City of Sierra Madre, CA, was challenged with replacing an existing water storage tank with two new tanks but had only one piece of land available. Construction of a 2.8 million gallon prestressed concrete tank with a concentric concrete inner wall inside an outer tank solved the challenge. This tank-within-a-tank project allowed for reservoir separation while accommodating two tanks on one site.
DYK Inc.
El Cajon, CA
Tel: 800-227-8181
Web: www.dyk.com
Booth 614
Chemical monitoring system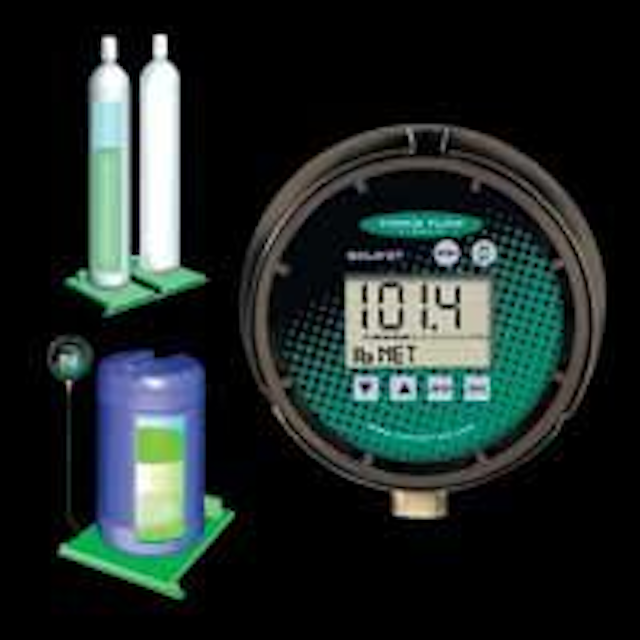 Click here to enlarge image
The second generation Solo XT™ Digital Chemical Monitoring System, available from Force Flow, includes new features such as keypad control and extra large characters, battery back-up for 4-20 mA output model, bar graph display and set point alarm relays. The company's Cross Technology™ enables two standard C cell flashlight batteries to power the indicator for up to 4000 hours of continuous display time or for up to three years when used in Display-On-Demand mode.
Force Flow
Concord, CA Tel: 800-893-6723 Web: www.forceflow.com
Booth 631
PLC/RTU enclosures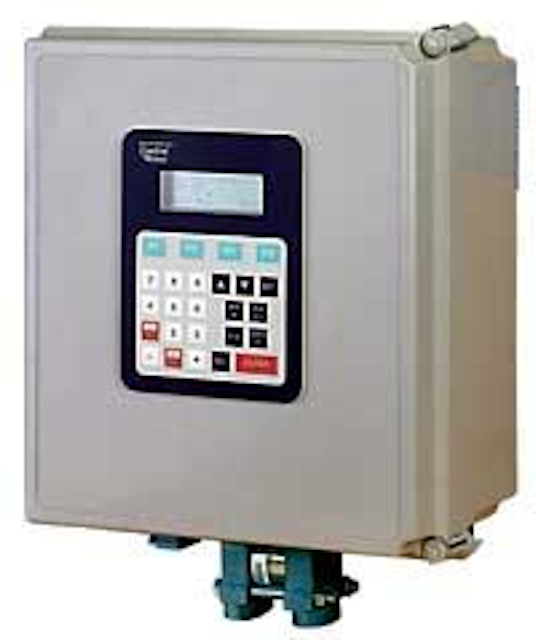 Click here to enlarge image
Bristol Babcock has introduced pre-engineered, out-of-the-box enclosure solutions for its ControlWave Micro hybrid PLC/RTU. The enclosure is a fully integrated unit that combines the PLC/RTU with a variety of options commonly required in SCADA applications. These include a NEMA 4 or 4X rated enclosure, power supply and battery backup options, termination options, display and operator input options, and wireless communication options.
Bristol Babcock Inc.
Watertown, CT
Tel: 860-945-2200
Web: www.bristolbabcock.com
Booth 2621
Combination meter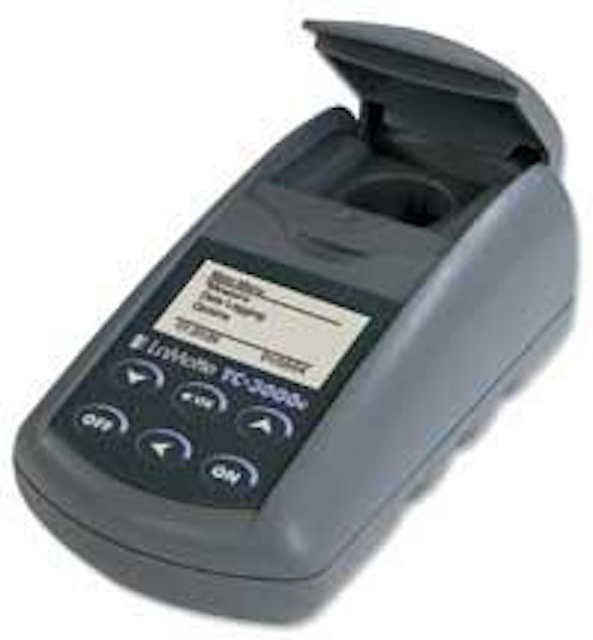 Click here to enlarge image
The TC-3000 meter, available from LaMotte, combines a hi-tech microprocessor with a patent pending optical chamber resulting in higher accuracy for low chlorine and turbidity readings. Detection limit for chlorine is 0.02 ppm (range 0-10 ppm). Detection limit for turbidity is 0.05 NTU (range 0-4,000 NTU). The unit also does color to 0.2 cu. It is available in EPA and ISO 7027 versions.
LaMotte Co.
Chestertown, MD
Tel: 410-778-3100
Web: www.lamotte.com
Booth 1138
Arsenic removal media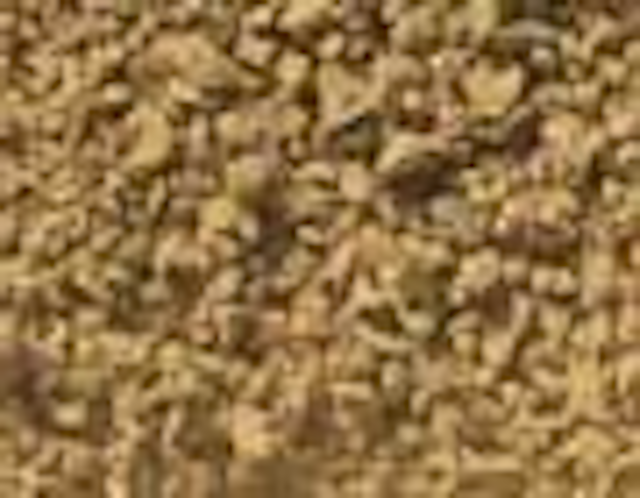 Click here to enlarge image
The SORB 33™ system from Severn Trent Services is designed to remove arsenic to levels below 5 ppb. The system features Bayoxide® E33, an NSF Standard 61 approved granular ferric oxide adsorbent media. Spent media passes TCLP for easy disposal. System capacities range from 20 to 1,220 GPM+.
Severn Trent Services
Fort Washington, PA
Tel: 215-283-3478
Web: www.severntrentservices.com
Booth 1414
Meter data management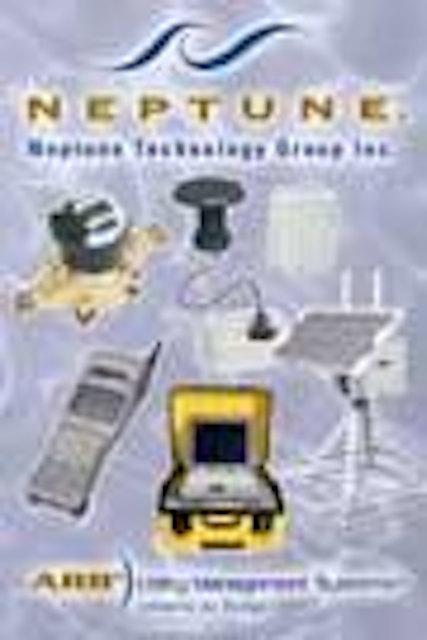 Click here to enlarge image
Neptune's ARB® Utility Management Systems™ allow utilities to create a custom data collection system. In addition to Neptune's metering and systems products, the company will feature several new products at the AWWA show. The E-Coder™ is a solid state absolute encoder designed to maximize the value of Neptune's ARB Utility Management Systems. The Equinox™-MR is a scalable, multi-utility meter reading software.
Neptune Technology Group Inc.
Tallassee, AL
Tel: 800-448-2943
Web: www.neptunetg.com
Booth 1514
Concrete lining
The Series 434 Perma-Shield H2S, available from Tnemec, is a modified polymer mortar designed for severe corrosive environments. It is a low-permeation lining that protects concrete against the chemicals and abrasion found in wastewater immersion service. It is applied by trowel or spray to deteriorated surfaces.
Tnemec Co.
Kansas City, MO
Tel: 816-483-3400
Web: www.tnemec.com
Booth 1025
Ultrapure water treatment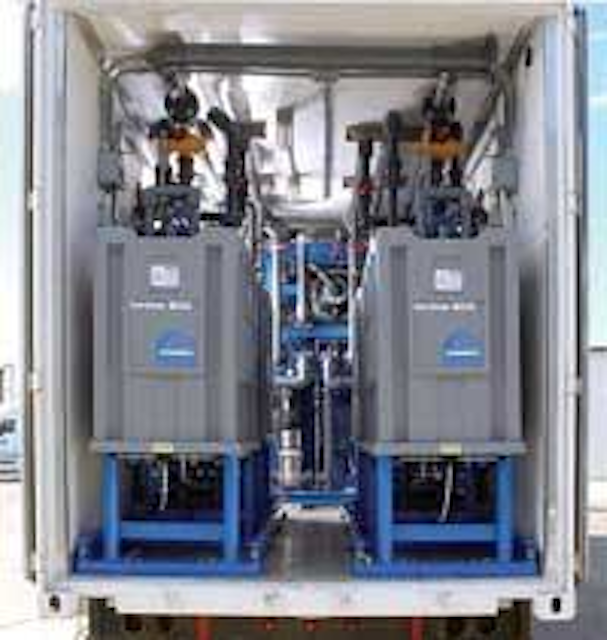 Click here to enlarge image
Ionics has introduced the DeltaFlow® 2.0 system for producing ultrapure water without the use of hazardous ion exchange regeneration chemicals. This system combines three membrane separation technologies, Reverse Osmosis (RO), GTM® membrane degasification unit and Electrodeionization (EDI), in a space-efficient design for continuous production of ultrapure water. The system offers significant improvements over the original DeltaFlow, which was originally introduced in 1997 and is currently operating in over 40 water plants worldwide. DeltaFlow 2.0 features a new GTM module design with larger, more efficient contactors.
Ionics Inc.
Watertown, MA
Tel: 617-673-4317
Web: www.ionics.com
Booth 817
Electronic padlocks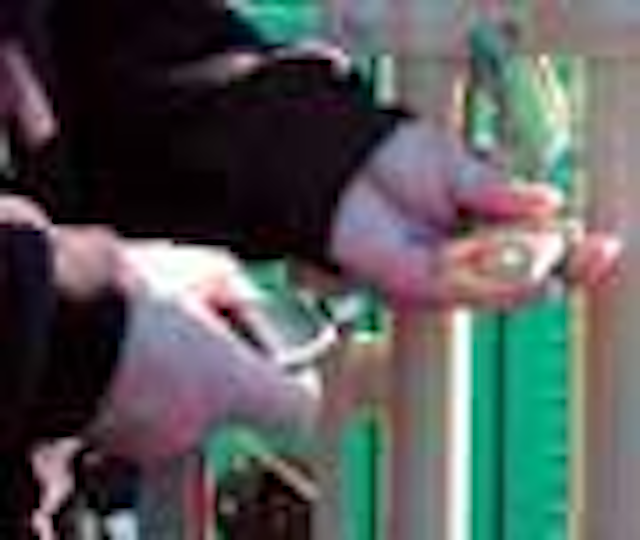 Click here to enlarge image
Videx CyberLock electronic padlocks bring key control and an audit trail of every opening to padlocks. A standard padlock can be quickly converted into a full-functioning access control system by replacing its mechanical cylinder with a CyberLock electronic cylinder. Padlocks retrofitted with these intelligent cylinders are a solution where controlled access and an audit trail are needed. Each time the CyberKey opens a padlock, a record of the user ID, date, and time is stored in both the lock and the key. A key can be set to automatically expire within minutes, hours, days, months, even shift-by-shift, depending on the specific task that has been assigned to the user.
Videx
Corvallis, OR
Tel: 541-758-0521
Web: www.videx.com
Booth 520
Flowmeter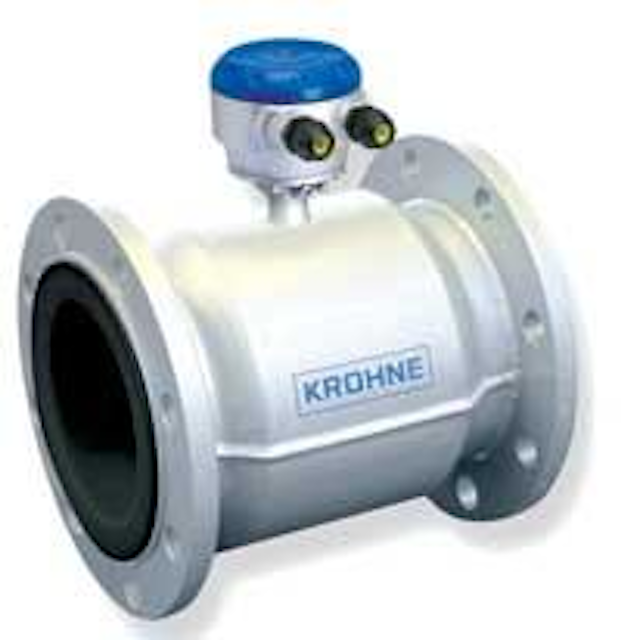 Click here to enlarge image
Krohne has introduced its new Optiflux 2300 flowmeter, consisting of the Optiflux 2000 electromagnetic flow sensor and Optiflux 300 converter, for the water and wastewater industry. The flowmeter family is the culmination of the company's 50 plus years of experience in designing and manufacturing magnetic inductive flow measuring technology. The long term reliability and durability of the flowmeter make it ideal for a variety of applications, including: water distribution networks; water purification; environmental engineering; and wastewater treatment.
Krohne, Inc.
Peabody, MA
Tel: 800-356-9464
Web: www.krohne.com
Booth 1944
Gas detector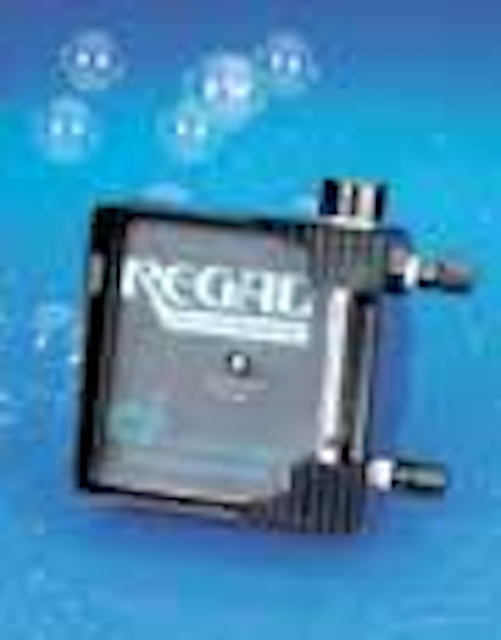 Click here to enlarge image
The new version of the Regal Series 3000 Gas Detector, available from Chlorinators Inc., can be used to monitor for chlorine or sulfur dioxide gas. This improved model has standard features that were previously available only as options, including a single, unpowered and isolated 4-20 mA output circuit board on all single-sensor detectors, and six 10-amp relay circuits consisting of DPDT danger relays, SPDT warning relays, SPDT latch alarm relay, and SPDT horn/failure relay.
Chlorinators Inc.
Stuart, FL
Tel: 800-327-9761 (Phone)
Web: www.regalchlorinators.com
Booth 108
Concrete water proofing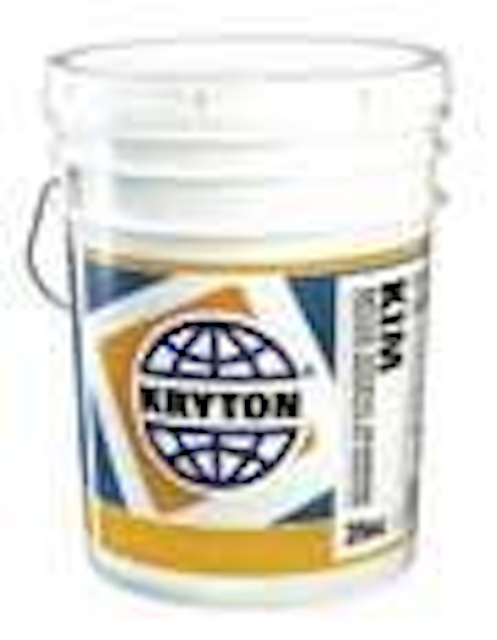 Click here to enlarge image
Unlike other concrete joint design systems that rely on a simple physical hurdle to block water, the Krystol Waterstop System turns porous concrete into a permanent waterproof barrier. Based on Kryton International's proprietary Krystol technology, the system self-seals small cracks, reducing ongoing maintenance.
Kryton International
Vancouver, B.C.
Tel:800-267-8280
Web: www.kryton.com
Booth 518
Pipe penetration seals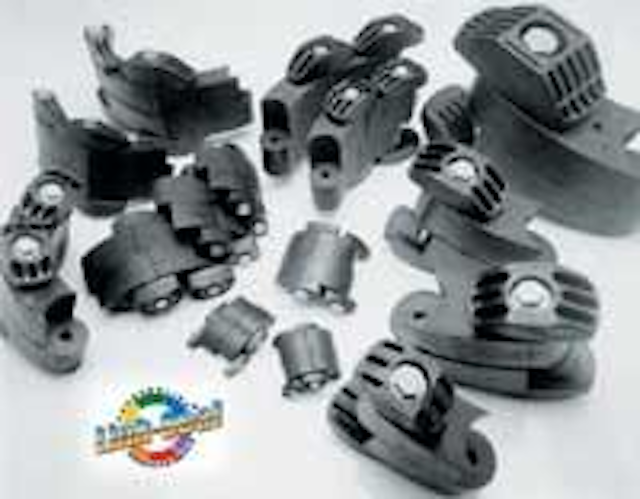 Click here to enlarge image
The Link-Seal® pipe penetration seal line is available in 15 sizes. The water and wastewater Hydronic seal holds 20 psig of pressure (40 feet of static head) using standard carbon steel bolts with both a zinc dichromate coating and an organic coating.
PSI-Thunderline/Link-Seal®
Houston, TX
Tel: 800-423-2410
Web: www.linkseal.com
Booth 2119
pH/ORP controllers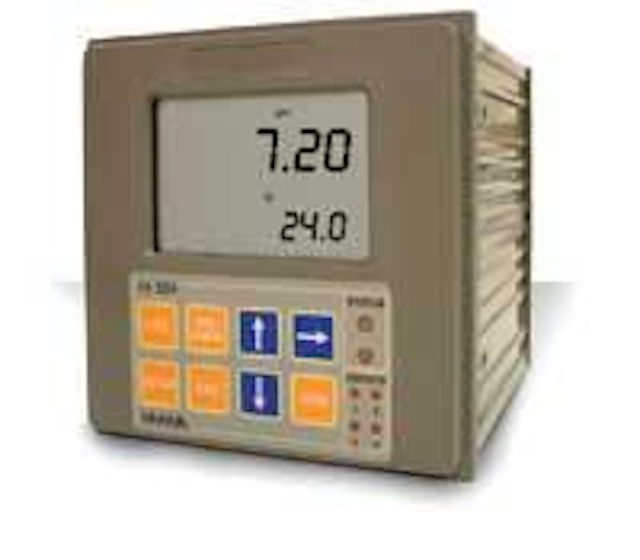 Click here to enlarge image
Hanna Instruments' HI 504 series of pH/ORP controllers feature sensor-check electrode diagnostics, PID control, RS 485 and tele-control technology. Tele-control allows operators to receive alarms and monitor the controller with a GSM cellular phone. Other features include programmable auto cleaning cycle, programmable hold for specific time and one point calibration .
Hanna Instruments
Woonsocket, RI
Tel: 800-504-2662
Web: www.hannainst.com
Booth 1133
Progressive cavity pumps

Click here to enlarge image
seepex metering progressive cavity (pc) pumps are now available in designs for metering aggressive chemicals like sodium hypochlorite, calcium hypochlorite, ferric chloride, potassium permanganate and strong acids and bases.
seepex, Inc.
Enon, OH
Tel: 937-864-7150
Web: www.seepex.com
Booth 532
Filter flume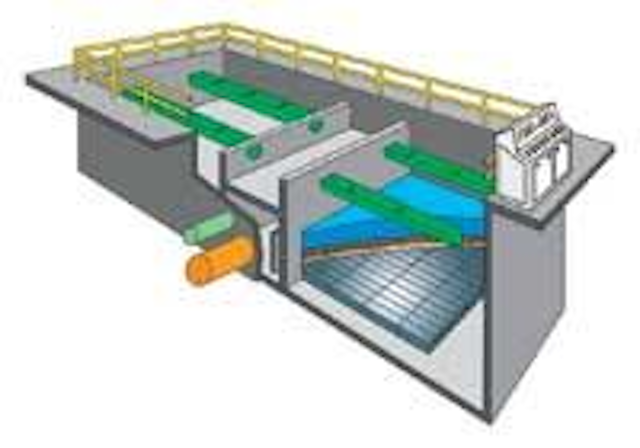 Click here to enlarge image
The Leopold Flat-Bottom Flume™ Filter is a new and innovative filter design that offers cost savings in excavation and support structures. The magnitude of these savings can be greatly amplified where poor subsurface conditions, such as rock or groundwater, exist. The flat-bottom flume features a completely flat floor in new construction or certain existing situations.
F.B. Leopold Co.
Zelienople, PA
Tel: 724-452-6300
Web: www.fbleopold.com
Booth 1406
Phosphorus online analyzers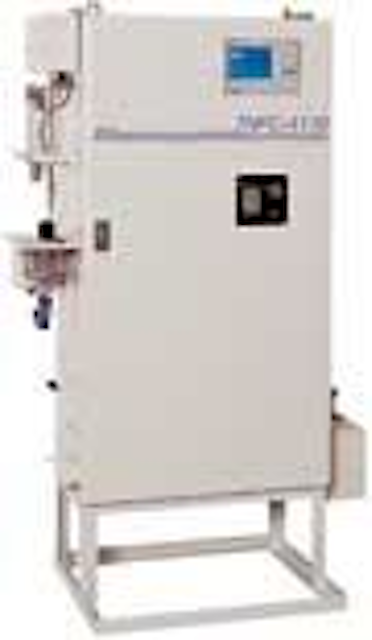 Click here to enlarge image
Shimadzu Scientific Instruments has introduced the new TNPC-4110 Series online analyzers, which are capable of simultaneous measurement of Total Nitrogen (TN) and Total Phosphorus (TP) in water. Easy to handle and simple to maintain, the analyzers are intended for use as automatic water analyzers for the water quality regulations currently being prepared for implementation governing total nitrogen and total phosphorous.
Shimadzu Scientific Instruments, Inc.
Columbia, MD
Tel: 800-477-1227
Web: www.ssi.shimadzu.com
Booth 1946
Chlorine dioxide generators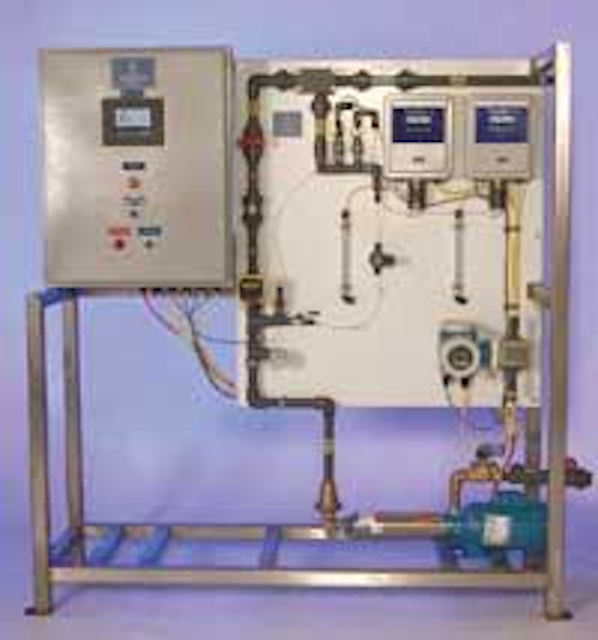 Click here to enlarge image
Altivia offers water treatment systems including a range of chlorine dioxide generators and full service programs. Simple manual, to fully automatic chlorine dioxide generators such as the new Millennium III™ and Eka Purate® systems, which may be linked to plant process controls, are available in capacitates from 1-25,000 pounds per day.
Altivia Corp.
Houston, TX
Tel: 1-866-258-4842
Web: www.altivia.com
Booth 1541
Flowmeter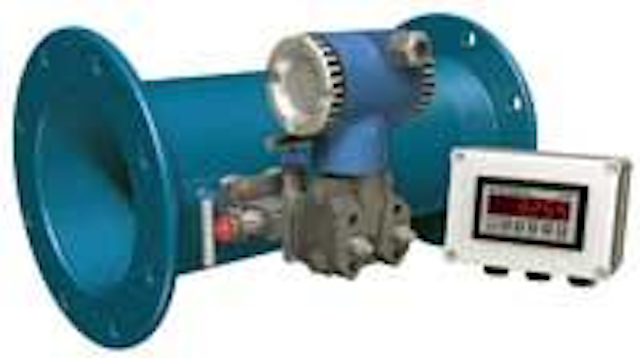 Click here to enlarge image
With an advanced differential pressure flow sensing design, the V2-Municipal™ flowmeter from McCrometer features built-in flow conditioning for accuracy with minimum upstream/downstream straight-run piping requirements. With a new flow computer added to its built-in flow transmitter, the V2 provides secure password-protected lock-out access.
McCrometer
Hemet, CA
Tel: 800-220-2279
Web: www.mccrometer.com
Booth 1221
Collector chain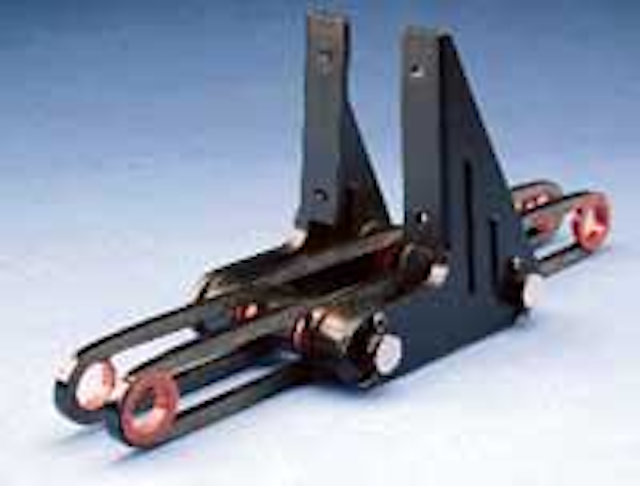 Click here to enlarge image
USFilter recently obtained ANSI/NSF Standard 61 certification for its HS730 "Loop Chain" composite collector chain for water treatment plants. The collector chain is attached to flights that move across the bottom of a rectangular tank, collecting settled solids.
USFilter Corp.
Warrendale, PA
Web: www.usfilter.com
Booth 1523
Machine diagnosis
Vibxpert® is a lightweight, 2-channel, FFT data collector/vibration analyzer for monitoring and diagnosis of machine conditions. Available from Ludeca, the data collector records all forms of machine vibrations, bearing conditions, process data and visual inspection information. Collected machinery data is stored on an expandable Compact Flash Card (up to 1 gigabyte) and is transferred to the Omnitrend® maintenance software for further evaluation, report generation and archiving.
Ludeca, Inc.
Miami, FL
Tel: 305-591-8935
Web: www.ludeca.com
Booth 342
Remote monitoring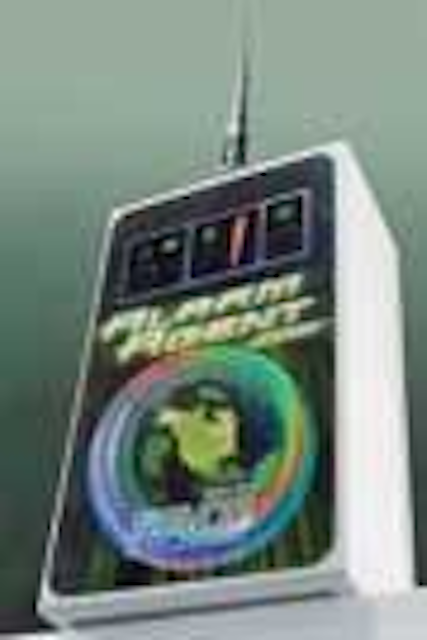 Click here to enlarge image
RACO has developed a new wireless remote monitoring, control and alarm notification system, AlarmAgent.com. This service will allow users to collect, access and view data from their monitored equipment 24-hours a day, from any Internet-connected appliance via a secure central Web site. Additional benefits include timesaving functionality, improved maintenance scheduling, data reporting and security features. All hardware and interface software has been internally designed and developed by RACO engineers to be used exclusively for AlarmAgent.com. This allows RACO to capitalize on the monitoring and data delivery experience gained in the development of the entire RACO product line.
RACO Manufacturing and Engineering Co.
Emeryville, CA
Tel: 800-722-6999
Web: www.racoman.com
Booth 2537
Tank mixing system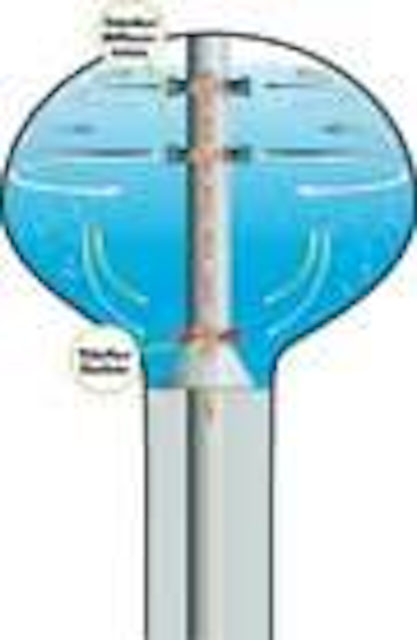 Click here to enlarge image
Tideflex Technologies' Tideflex® Mixing System (TMS) improves the quality of drinking water in finished water storage reservoirs. The TMS is a combination of patented Tideflex® Check Valve technology and a piping manifold that separates the inlet and outlet. The system can be installed in new or existing water storage tanks of all shapes and sizes to eliminate stagnation and short-circuiting. Operating on the differential pressure that is already in place, the system keeps energy costs low, while the all-elastomer construction of the check valve renders the system virtually maintenance free.
Tideflex Technologies Inc.
Pittsburgh, PA
Tel: 412-919-0919
Web: www.tideflex.com
Booth 319
Tablet chlorination system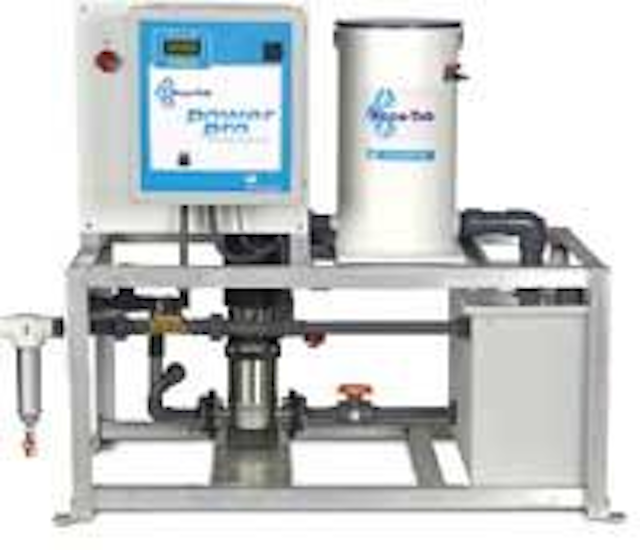 Click here to enlarge image
PPG Industries has introduced the newly designed PowerPro® chlorination unit incorporating the Accu-Tab® chlorinator and tablets - the "Accu-Tab System". The system's patented chlorinators and 3-inch calcium hypochlorite tablets together allow for consistent and controllable chlorine dosages. Accu-Tab tablets are specifically formulated for controlled erosion. The chlorination units provide a compact, turnkey system. The units are available with multiple chlorinators, automatic controllers, weight scales, and SCADA compatible.
PPG Industries, Inc.
Monroeville, PA
Ph: 800-245-2974
Web: www.ppgaccu-tab.com/ind
Booth 2306
Filter presses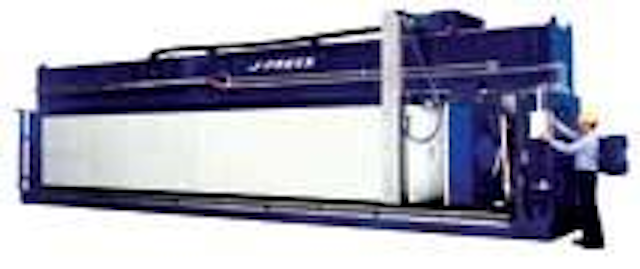 Click here to enlarge image
The USFilter Dewatering Systems' J-Press® sidebar and overhead filter presses are available in capacities ranging from 0.1 ft3 to 900 ft3 and can be equipped with chamber or diaphragm (membrane) squeeze plates. The presses can be configured to specifications for press filling, plate requirements, dewatering, cake discharge, automation and take-away. The company's technology even allows unattended press operation with proactive adaptation to changing conditions. The presses' design flexibility makes it suitable for a wide range of dewatering requirements.
USFilter Dewatering Systems
Holland, MI
Tel: 616-772-9011
Web: www.usfilterdsg.com
Booth 1523
AMR system
Sensus Metering Systems will highlight its FixNet fixed base automatic meter reading system. Exhibit visitors will see the simple design that incorporates wireless technology with a radio-based network solution that allows users to capture information on a daily basis. FixNet extends the product solutions already delivered by Sensus through its walk-by/drive-by RadioRead system.
Sensus Metering Systems
Pittsburgh, PA Tel: 724-425-7600 Web: www.sensus.com
Booth 1715
Polyurea coating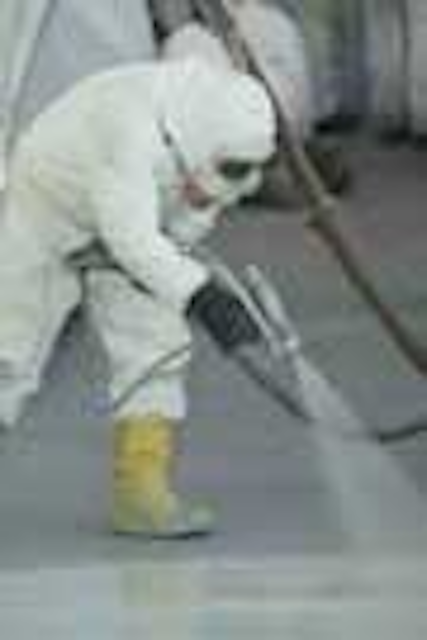 Click here to enlarge image
Sherwin-Williams Industrial and Marine Coatings group now offers EnviroLastic® Polyurea for use in the water and wastewater industries as part of its newly created ControlTech™ coatings line, which includes low-VOC, high performance coating systems for tank linings, secondary containment, and corrosion control.
Sherwin-Williams Industrial and Marine Coatings
Cleveland, OH Tel: 800-524-5979 Web: www.sherwin-williams.com/im
Booth 2213
Chemical treatment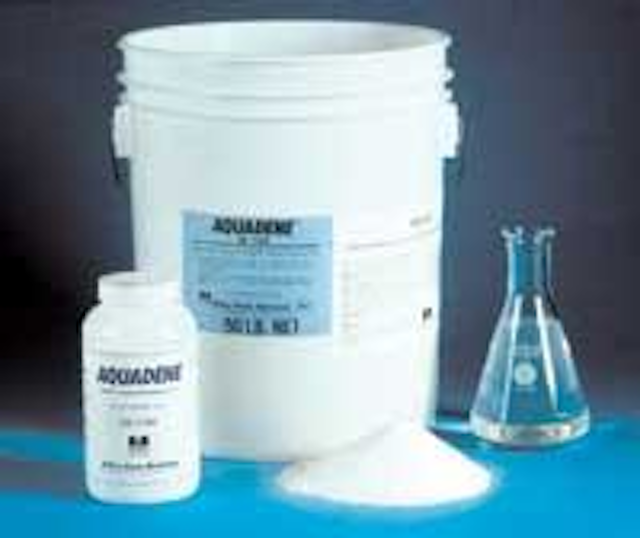 Click here to enlarge image
Stiles-Kem and Pristine Hydrochemical's exhibit will feature chemical treatment programs. Stiles-Kem's Aquadene™ series of blended phosphate products remain the benchmark of the industry for corrosion control and sequestration ability. These NSF Standard 60 approved products are formulated to eliminate problems associated with high iron and manganese levels. They also have the ability to reduce scale and corrosion within a distribution system.
Stiles-Kem Div./Pristine Hydrochemical Inc.
Waukegan, IL
Tel: 800-562-1537
Web: www.met-pro.com/stiles.html
Booth 2410
Pressure reducing pilot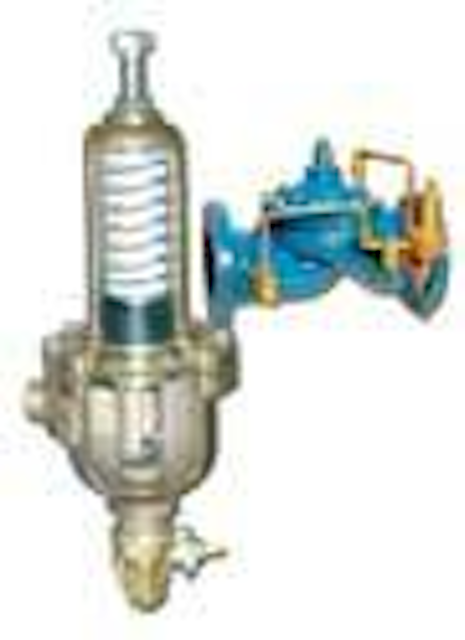 Click here to enlarge image
Singer's Model 160 Pressure Reducing Pilot is a spring and diaphragm operated, normally open pilot. It is Self-Cleaning / Self-Flushing and flow is through the side with the outlet in the bottom of the pilot 90 degrees to the inlet. The non-clogging pilot has a guide stem above the diaphragm and removed from the flow of water.
Singer Valve Inc.
Surrey, British Columbia
Tel: 604-594-5404
Web: www.singervalve.com
Booth 724
Valve wrench
Even damaged, worn valve nuts can be opened with the Endeavor Tool Company's Gator Grip Gate Key, a patented tool developed for the water industry. Using steel rods, the key automatically adjusts to grip and turn valve nuts of every shape and condition. It fits all standard 2" by 2" valve operating nuts. The key withstands over 2000 foot pounds of torque.
Endeavor Tool Co.
West Boylston, MA Tel: 877-835-9992 Web: www.gatorgripgatekey.com
Booth 112
Vent filter
Pressure Systems Inc. has introduced a new vent filter that provides virtually maintenance-free moisture protection for all vented gauge format submersible KPSI transducers. Designed specifically for high humidity environments where water vapor may condense in the vent tube.
Pressure Systems Inc.
Hampton, VA Tel: 800-678-7226 Web: www.PressureSystems.com/superdry.html
Booth 2412
Valve controller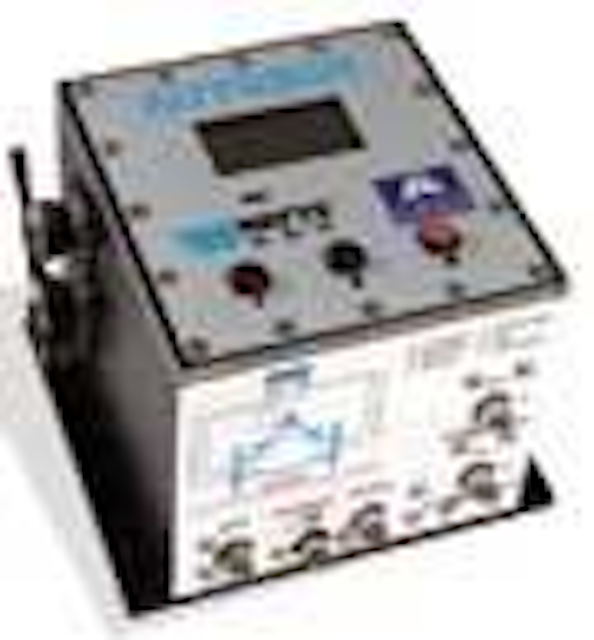 Click here to enlarge image
Watts ACV has announced the introduction of the Autobox Electronic Valve Controller. The controller is an electronic valve controller for pilot operated control valves. It allows for the remote operation, management and monitoring of valves through the Internet and can be programmed to automatically operate a valve based on the specific needs of an application. Ideal for water loss control, water conservation, level control and on/off applications, the controller operates on internal batteries.
Watts ACV
Houston, TX
Tel: 713-943-0688
Web: www.wattsacv.com
Booth 1615
Sampling stations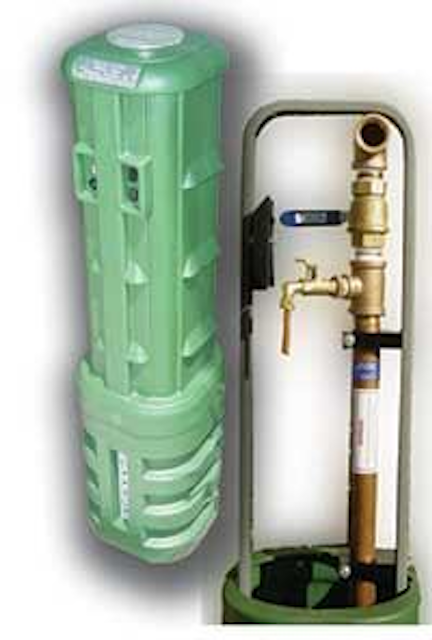 Click here to enlarge image
The Safety-Guard™ Bacteriological Sampling Station features an advanced self-locking system, a UV-protected enclosure, a self-supportive frame, 360º accessibility, and a variety of freeze protection options. Other features include a 1" blow-off valve; a 1/4" sampling port; a below-grade break away mechanism; an ultraviolet resistant thermoplastic and self-locking enclosure; a custom manufactured stop and drain, complete with a check valve for backflow prevention; an optional thermal control valve; and a counter-sunk base for increased stability.
Safety-Guard™, LLC
Naples, FL
Tel: 866-654-2027
Web: www.safety-guard.biz
Booth 709
Restrained compression connection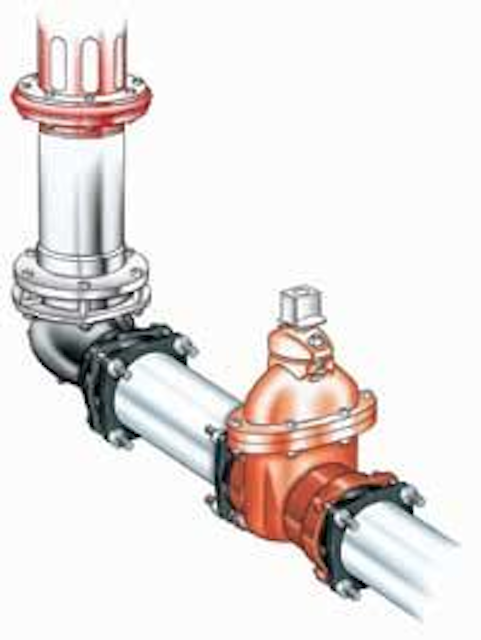 Click here to enlarge image
The AquaGrip® restrained compression connection is easy to use. Installation involves stabbing in the pipe and tightening a few bolts. No disassembly, no extra pieces, no special torque, and no special training is required. The connection is available exclusively from Mueller on the Centurion Fire Hydrants and Resilient Wedge Valves.
Mueller Co.
Decatur, IL
Tel: 800-423-1323
Web: www.muellercompany.com
Booth 1507
Pipe products
American Cast Iron Pipe Company (ACIPCO), celebrating its Centennial this year, will showcase a photograph-based timeline that presents company highlights and innovations. Waterworks products on display will include American 64" Ductile Iron pipe and 96" spiral-welded steel pipe.
American Ductile Iron Pipe
Tel: 800-442-2347
American Flow Control
Tel: 800-326-8051
Web: www.acipco.com
Booth 1323
Air release valves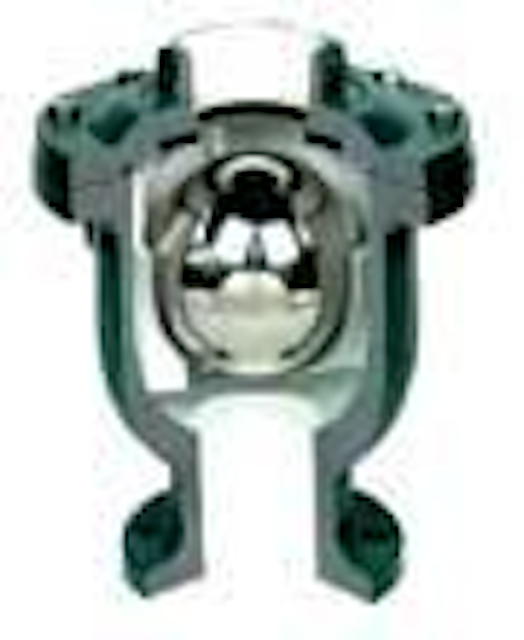 Click here to enlarge image
In 1905, Clarence Crispin gambled that a product he called the "Crispin Air Valve" could revolutionize the fledgling waterworks industry. Because of his groundbreaking design, Crispin Multiplex Mfg. Co. is celebrating its 100th anniversary this year.
Crispin Multiplex Mfg.
Berwick, PA Tel: 800-247-8258 Web: www.crispinvalve.com Booth 1016
Fire service meter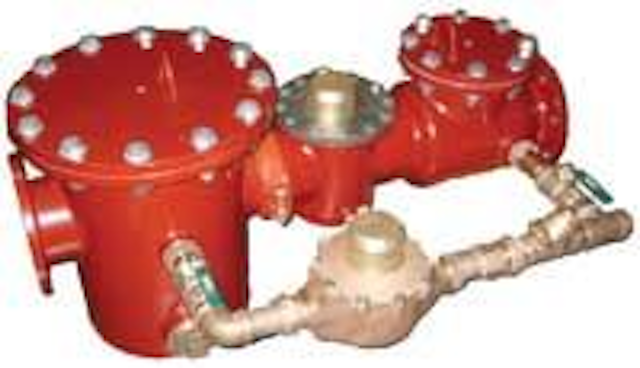 Click here to enlarge image
AMCO Water offers a full product line of water meters that includes positive displacement, turbine and compound meters. The F4000 Fire Service Meter is the latest addition to its portfolio. The F4000 is designed to measure both domestic and fire service flow through a single meter.
AMCO Water Metering Systems Inc.
Ocala, FL
Tel: 352-369-6519
Web: www.amcowater.com
Booth 807
Water security monitoring
The ControlWave Water Quality and Security system, available from Bristol Babcock, has been developed to ensure water supply integrity for public and private water treatment and distribution facilities. The system provides operations with vital information, through the SCADA system, related to overall water quality and security of the distribution system.
Bristol Babcock Inc.
Watertown, CT
Tel: 860-945-2200
Web: www.bristolbabcock.com
Booth 2621
Online turbidimeter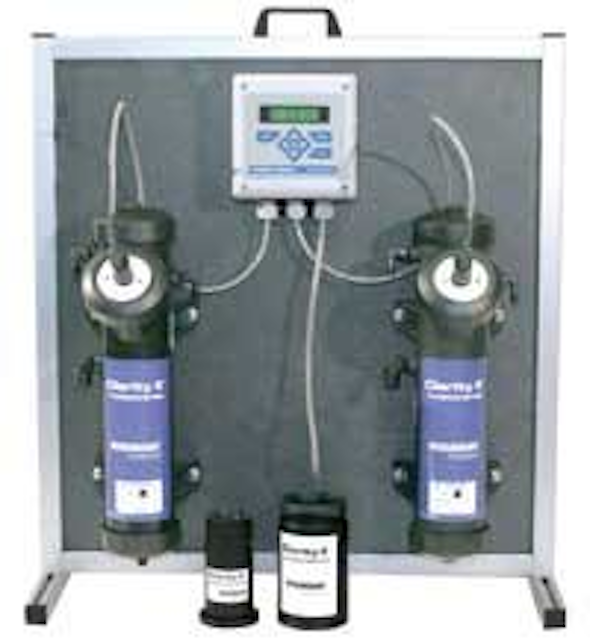 Click here to enlarge image
The Clarity II online turbidimeter allows drinking water and wastewater treatment facilities to meet U.S. EPA and international ISO regulations for water clarity measurement. Users can choose single- or dual-channel configurations. The system includes an analyzer, optical sensor(s), debubbler/measurement chamber and all accessories for complete installation.
Emerson Process Mgmt.
Irvine, CA
Tel: 800-854-8257
Web: www.emersonprocess.com/RAIHome/liquid
Booth 2331
Pipeline accessories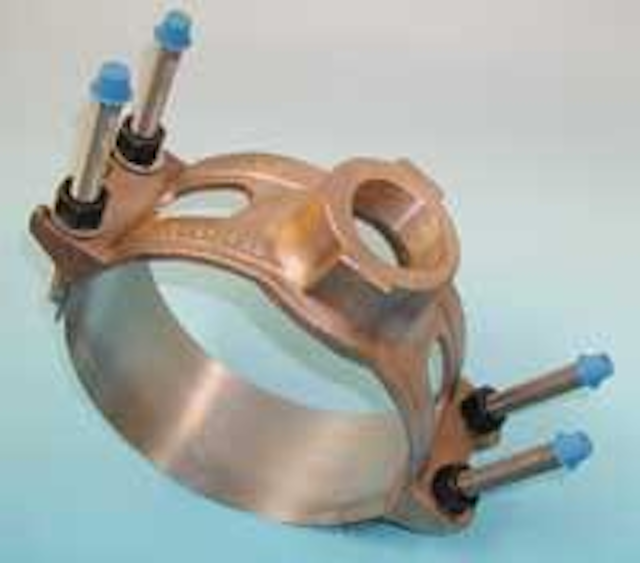 Click here to enlarge image
APAC International specializes in repair clamps, couplings, service saddles, and tapping sleeves for all types and sizes of pipe in the market. It also manufactures the 901 Drill Master drilling machine. The company's Series 400 Repair Clamps are available in sizes ranging from one-half inch up to 96" in diameter, with widths from 3" to specials up to 48".
APAC International
Livermore, CA
Tel: 800-448-9549
Web: www.apacinternational.com
Booth 536
Tank lining system
Carboline's Carboguard 691 recently passed the testing and review process for drinking water applications under the ANSI/NSF Standard 61 for drinking water components. The product joins a number of other Carboline approved lining materials for this use. The lining is high solids, will cure down to 20°F, and can be applied up to 20 mils in a single coat.
Carboline Co.
St. Louis, MO
Tel: 800-848-4645
Web: www.carboline.com
Booth 1147
Data management software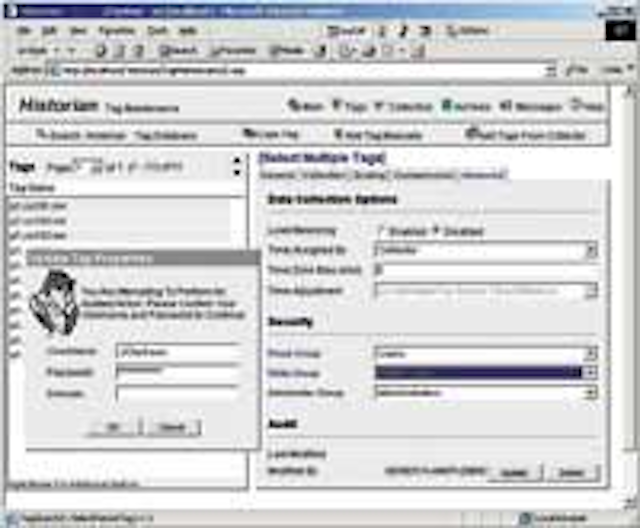 Click here to enlarge image
GE Fanuc Automation Americas, a unit of GE Infrastructure, is introducing the new Proficy™ Historian Version 3.0 - a new version of the company's plant-wide data historian that collects, archives and distributes all types of real-time plant data. Water and wastewater treatment facilities can use the software to collect and aggregate real-time plant data from multiple sources and identify the root causes of undesirable events such as equipment failures and quality issues.
GE Fanuc Automation Americas
Charlottesville, VA
Tel: 800-433-2682
Web: www.gefanuc.com
Booth 817
Double check valve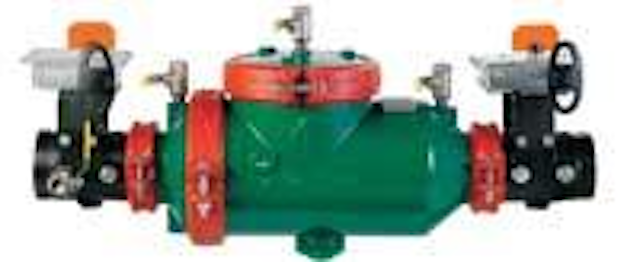 Click here to enlarge image
The new Apollo® Defender™ DCV, available from Conbraco Industries, is lead free thanks its patented stainless steel check modules and epoxy coated ductile iron body. Approvals include ASSE 1015 and CSA B64.5.
Conbraco Industries, Inc.
Matthews, NC Tel: 704-841-6000 Web: www.conbraco.com
Booth 2307
Process controller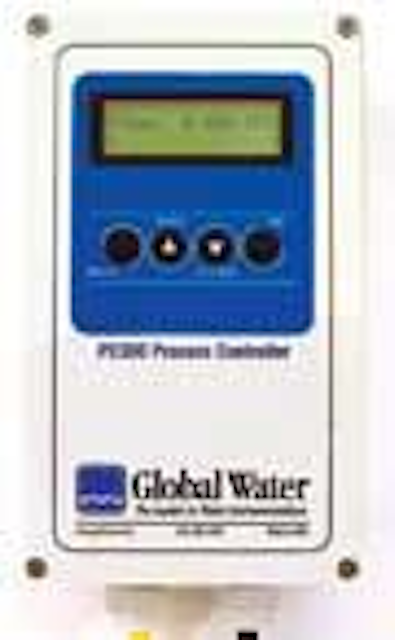 Click here to enlarge image
The PC300 Process Controller from Global Water is suitable for measuring all types of sensors. The controller comes pre-programmed for use with 10 different types of sensors and 14 different engineering units. The large LCD display shows the type of sensor that is being monitored, the data reading, and the engineering units.
Global Water Instrumentation
Gold River, CA Tel: 800-876-1172 Web: www.globalw.com
Booth 143
AMR system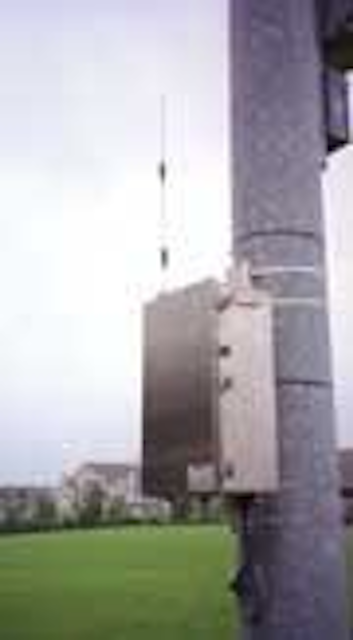 Click here to enlarge image
The Hexagram STAR Fixed Network AMR System provides fully automatic meter reading. The use of licensed radio channels insures reliable performance throughout the life of the system. The system provides two or more readings every day from every meter in a system. By accessing the system software, customer service staff can check meter reads for any day; pull consumption profiles for every meter in the system.
Hexagram Inc.
Cleveland, OH Tel: 216-896-8544 Web: www.hexagram.com Booth 325
Residual chlorine monitor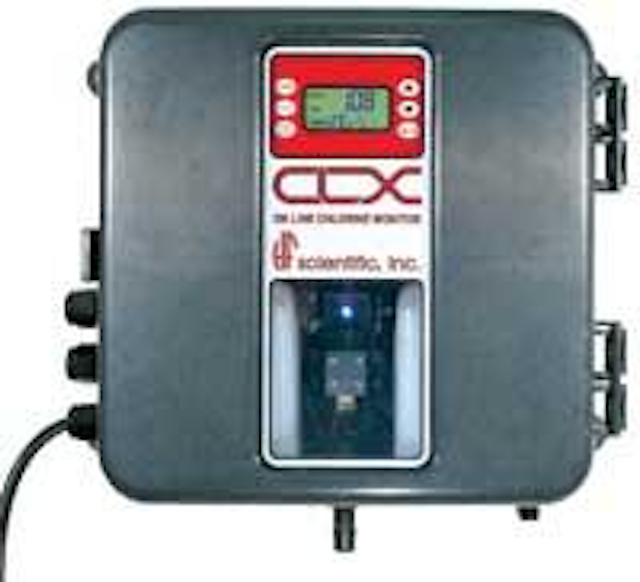 Click here to enlarge image
With a range of 0-6 mg/l (displayed to 10 mg/l) and based on proven Colorimetric DPD Chemistry, HF scientific's CLX OnLine Residual Chlorine Monitor has been designed for chemical or industrial processes that require continuous monitoring of residual Free or Total Chlorine levels.
HF scientific Inc.
Fort Myers, FL
Tel: 239-337-2116
Web: www.hfscientific.com
Booth 1825
Fire flow testing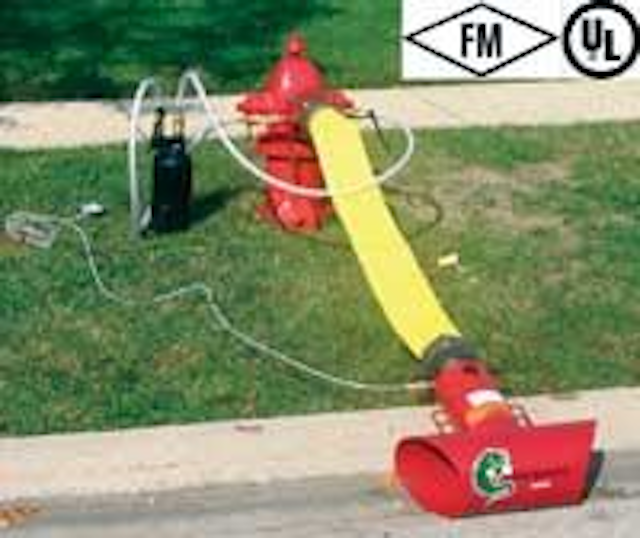 Click here to enlarge image
The Hose Monster® and the Dechlor Demon™ team up with TrackOne™ software to handle all flow testing and flushing projects. The system is available from Hydro Flow Products. The Hose Monster diffuses and diverts the discharge water harmlessly into the street gutter, or wherever directed. The Underwriters Laboratories Certified and Factory Mutual Approved flow rate measuring system assures accurate and consistent readings.
Hydro Flow Products Inc.
Rolling Meadows, IL
Tel: 888-202-9987
Web: www.hosemonster.com
Booth 1349
Aluminum roofs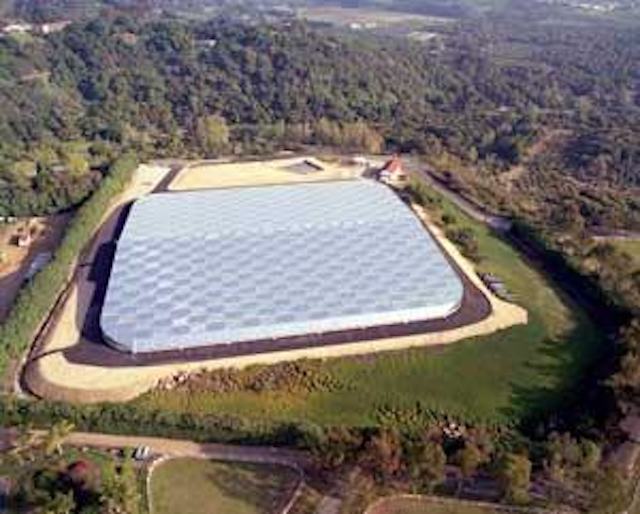 Click here to enlarge image
Conservatek designs, fabricates, and installs clear-span aluminum domes and aluminum roof structures for use on tanks of various shapes and sizes. Typical applications include water storage, wastewater treatment basins, and bulk storage enclosures. A recent installation was a triangulated truss supported cover for a water reservoir. The basin dimension is 337' x 337'.
Conservatek
Conroe, TX
Tel: 800-880-3663
Web: www.conservatek.com
Booth 625
Fine screen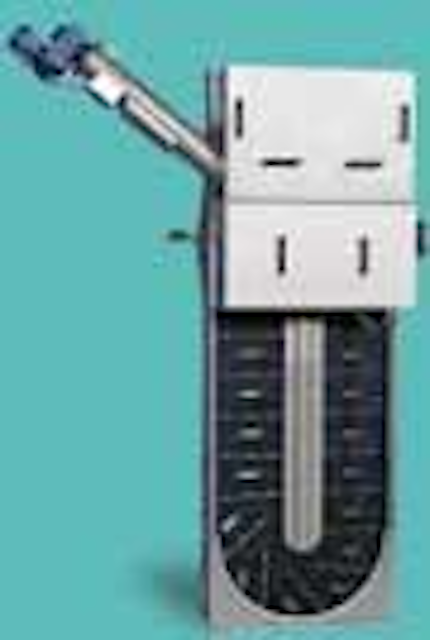 Click here to enlarge image
The MultiDisc™ Fine Screen, a Geiger GmbH product distributed by Infilco Degremont, offers secondary screening of wastewater and intake water in a compact, space-saving design. Circulating mesh panels, installed across the channel, prevent debris carryover to the clean water side, and can be changed at the top of the channel.
Infilco Degremont
Richmond, VA Tel: 804-756-7645 Web: www.infilcodegremont.com
Booth 1831
Booster pump systems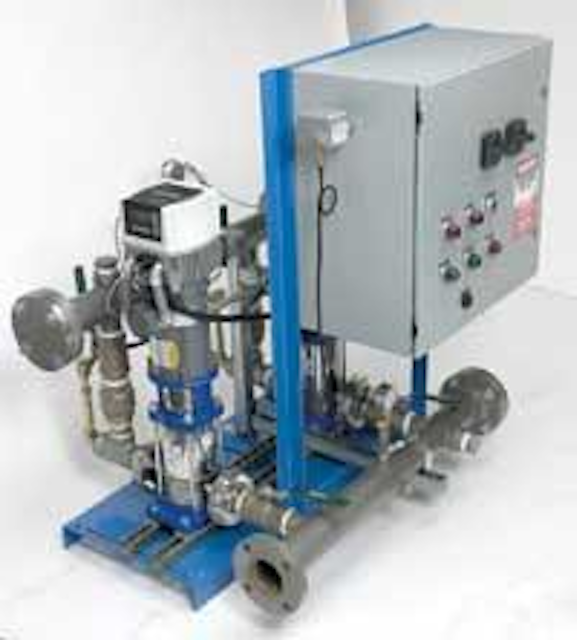 Click here to enlarge image
Goulds Pumps' G&L Series AquaForce™ is a standard line of pre-fabricated variable speed pressure booster systems (pump stations) that couples the company's G&L Series stainless steel pumps with the Aquavar® pump controller for use in constant pressure boosting applications. These systems are pre-configured in a fully integrated package.
Goulds Pumps, ITT Industries
Seneca Falls, NY Tel: 315-568-7123 Web: www.goulds.com
Booth 2606
Meter testing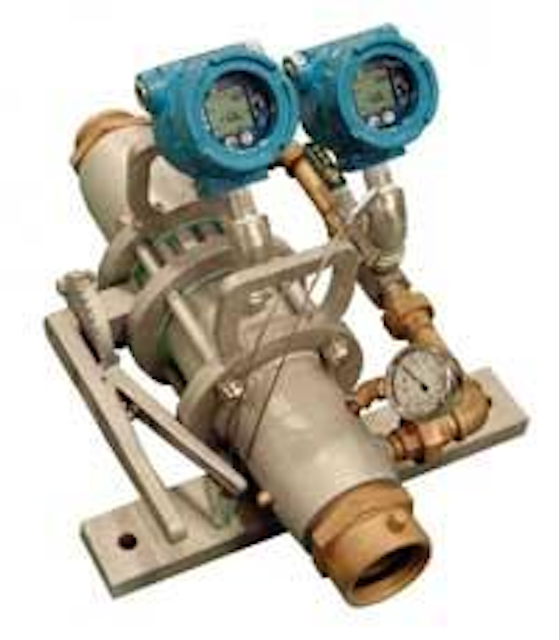 Click here to enlarge image
The portable Mars MUN-4 meter testing system delivers meter-shop quality for testing turbine and compound meters in the field. Flow ranges are from 0.5 gpm to 750 gpm. Accuracy exceeds AWWA standards with 1/10th of 1% repeatability. The system offers 10-point linearization for maximum accuracy at any flow rate without the need for a correction card.
Mars Co.
Ocala, FL
Tel: 800-782-5268
Web: www.marswater.com
Booth 731
Valve lock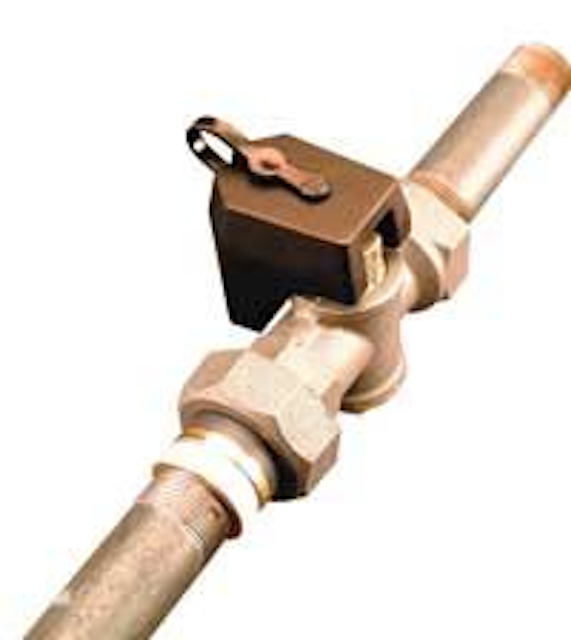 Click here to enlarge image
McGard Special Products Division introduces its Viper Lock™ to secure water shut off valves. The lock offers protection against water meter tampering and theft of service. No modifications are necessary to existing valve mechanisms. It can be installed within minutes while out in the field.
McGard Special Products Division
Orchard Park, NY
Tel: 888-888-9192
Web: www.mcgard.com
Booth 2407
Pipe gasket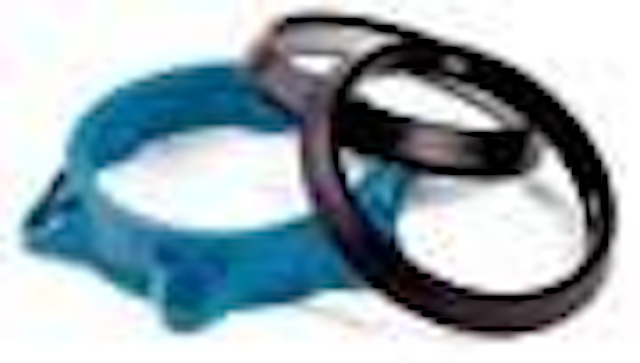 Click here to enlarge image
The MJ Field LOK® Gasket and MJ Field LOK™ Gland form a joint restraint system for mechanical joint fitting connections. Available in Series DI for Ductile Iron pipe and Series PV for PVC pipe, the gasket both seals and provides joint restraint.
U.S. Pipe and Foundry Co.
Birmingham, AL
Tel: 866-347-7473
Web: www.mjfieldlok.com
Booth 1707
Chemical dosing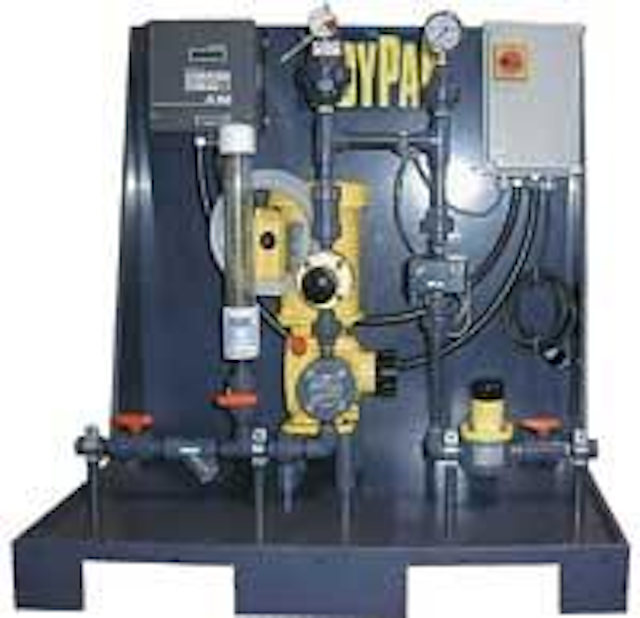 Click here to enlarge image
The RoyPak Family of pre-engineered systems packages from Milton Roy provides any water plant with a wide range of off-the-shelf bundled solutions to chemical dosing in water treatment applications. The three-tier product approach. The first tier is a basic configuration to operate chemical dosing. The second tier provides for open-loop control from a signaling apparatus.
Milton Roy
Ivyland, PA Tel: 215-441-0800 Web: www.miltonroy.com
Booth 1743
Ozone generators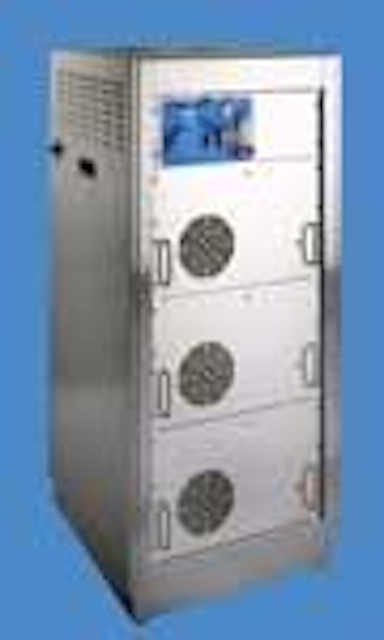 Click here to enlarge image
The Pacific Ozone's M Series - the world's largest air-cooled ozone generators - employ modular redundant technology. The stainless steel chassis houses ceramic and titanium patented floating plate technology™ reactor cells. The generators are powered by a high-frequency - pulse modulated PID controlled power supply with amplitude modulation.
Pacific Ozone Technology
Benicia, CA Tel: 707-747-9600 Web: www.pacificozone.com
Booth 1740
Packaged water treatment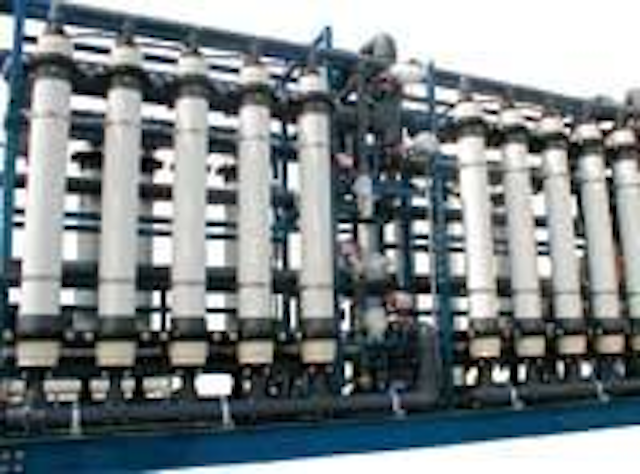 Click here to enlarge image
A new line of packaged water treatment plants from Aquious - PCI Membrane Systems employs ultrafiltration (UF) membrane modules to treat a wide range of feed waters and yield water quality that surpasses that of more conventional processes. The turnkey plants offer a filtration solution to suit a range of treatment applications. Aquious is the advanced liquid separation unit of ITT Industries. Standard packages minimize cost, combining all necessary pumps, instruments and valves in a single unit that is fully assembled and tested prior to delivery.
Aquious - PCI Membrane Systems Inc.
Milford, OH
Tel: 513-575-3500
Web: www.aquious.itt.com
Booth 2607
Storage, brine tanks
The Bryneer™ is a bulk salt storage and brine-making unit, which is used extensively in water softening processes and in on-site sodium hypochlorite generation systems. The tanks are certified by NSF International to conform to the requirements of NSF/ANSI Standard 61 - Drinking Water System Components - Health Effects. The bulk storage brinemaker is designed and manufactured by Plas-Tanks Industries Inc., a fiberglass reinforced plastic (FRP) fabricator. The company has the capability to customize systems to fit particular requirements for a given installation.
Plas-Tanks Industries, Inc.
Hamilton, OH
Tel: 513-942-3800
Web: www.plastanks.com
Booth 740
Epoxy coating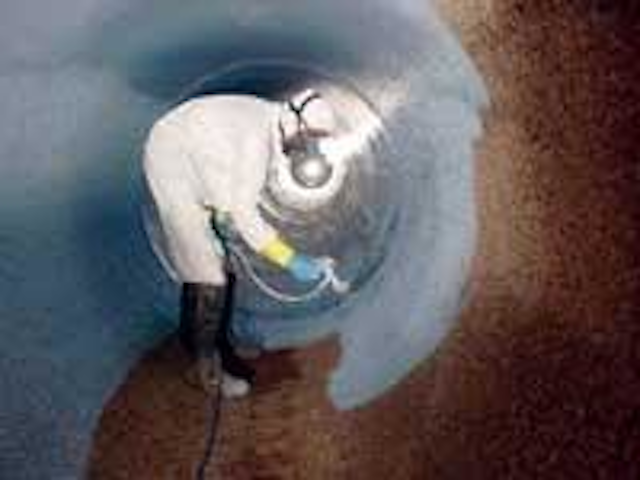 Click here to enlarge image
AquataPoxy A-61, available from Raven Lining Systems, is a solvent-free epoxy certified to meet the potable water requirements of ANSI/NSF Standard 61 and IAPMO IGC 189-2003. The coating boasts a five hour potable water return-to-service certification. The 100% solids epoxy coating was formulated for superior adhesion and low permeability, and is for immersion duty. Unique 10-1000 mil application thickness certification allows thin mil, single coat applications of A-61 to new steel -- and thick single coat applications to rough corroded pipes and tanks. Thicker applications can also provide structural enhancement of deteriorated host structures.
Raven Lining Systems
Tulsa, OK Tel: 800-324-2810
Booth 1945
Tapping, line stopping
Shutdowns or pipe freezing for repairs, valve change outs and pressure testing of water and wastewater lines now can be eliminated with Severn Trent Services' new Jr. Hydra-Stopper line stopping system. The newest addition to the line tapping and stopping Hydra-Stop® family of products, Jr. Hydra-Stopper is used to make pressure taps and line stops on water and wastewater lines, ensuring fire protection and continued service.
Severn Trent Services
Alsip, IL
Tel: 708-389-5111
Web: www.severntrentservices.com
Booth 1414
Aluminum covers
Ultraflote designs, manufactures and installs aluminum covers for the water and wastewater industry. Its Ultradome™ roof is custom engineered for specific design requirements. The self-supporting dome allows for maximum overhead space and provides interference free operation for equipment. The Quad-Seal™ flat cover, for both rectangular and round tanks, consists of individual, interlocking panels made of reinforced extruded aluminum planks. The Quad-Seal™ covers become a strong yet lightweight, corrosion resistant structure.
Ultraflote Corporation
Houston, TX
Tel: 713-461-2100
Web: www.ultraflote.com
Booth 917
Valve operator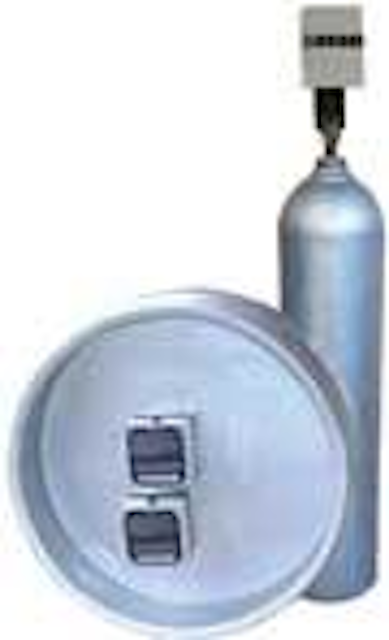 Click here to enlarge image
Robo-Control® will display the Model RC at the AWWA show. The remote control valve operator weighs less than 6 pounds, has valve position indication, and mounts to the valve without tools. The company manufactures battery-operated actuators to remotely open and close hazardous gas cylinder and container valves such as chlorine and sulfur dioxide containers.
Robo-Control®
Bridge City, TX Tel: 409-697-2666 Web: www.robo-control.com
Booth 1942
Inclined plate separators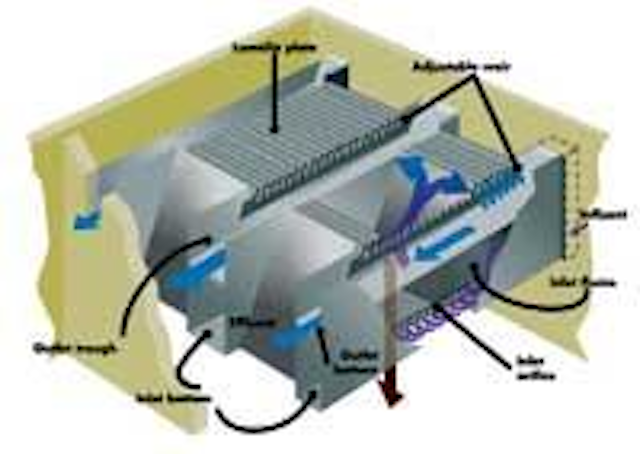 Click here to enlarge image
USFilter Zimpro now offers CSF - channel supported frameless - inclined plate separators, which offer several features to enhance the hydraulic flow and distribution through the plates and reduce basin depth requirements by eliminating the need for support beams under the plates. The separators use closely spaced parallel plates, set at an angle, to provide a vast amount of settling area in a compact space.
USFilter Zimpro Products
Rothschild, WI
Tel: 715-355-3351
E-mail: zimpro@usfilter.com
Booth 1523
Automated disinfection
Click here to enlarge image
The newest generation of vacuum driven chlorine dioxide generators are available from Sabre Oxidation Technologies. The generators feature a patented Tuned Reaction Column and Integral Component Block Mounted design. The Reaction Column is designed to eliminate the build-up of material in the reaction column that can lead to frequent flushing, disassembly and manual cleaning. The Integral Component Block Mounted designed generator is built from a block of chemically resistant Schedule 80 PVC plastic with most of the pipe connections, chemical feed lines, and reaction column bored into the block.
Sabre Oxidation Technologies Inc.
Odessa, TX
Tel: 432-368-4484
Web: www.sabretechnologies.com
Booth 944
Modeling software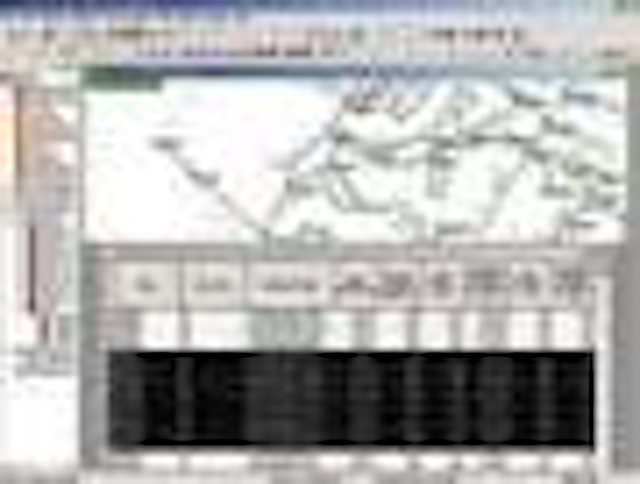 Click here to enlarge image
Visitors to the Wallingford Software booth at the AWWA show will be able to view the recently released latest versions of the company's core products: InfoWorks, InfoNet, and FloodWorks. Since the last AWWA ACE, the company has gone through two full product cycles delivering a host of new features. Additions to the latest releases of InfoWorks (v6.0 and v6.5) hydraulic modeling suite include the Inference Tools, Custom Reports, and the 3D Network Viewer.
Wallingford Software Inc.
Fort Worth, TX
Tel: 888-520-2224
Web: www.wallingfordsoftware.com
Booth 2637
Radionuclide removal system
Click here to enlarge image
Water Remediation Technology™ (WRT) has developed a water treatment process and proprietary treatment media for the removal of radium, uranium and other contaminants. On-site pilot testing is available, and services can be provided on a cost-per-gallons treated basis. The company's solution offers many advantages including: no chemicals added; no liquid waste stream generated and no backwash required; minimal maintenance and operation; no handling of radioactive materials, media or chemicals by utility staff; safe disposal of waste material to licensed facility by WRT and guaranteed process performance.
Water Remediation Technology, LLC
Arvada, CO
Tel: 303-424-5355
Web: www.wrtnet.com
Booth 2044
Single-jet meters
The Spectrum Single-Jet Meter from Metron Farnier is the widest range single measuring element meter available to US utilities. The meters have been designed to replace compound type and turbine type meters for commercial services. The meters feature a 1000:1 turndown ratio and superior low flow registration.
Metron Farnier Inc.
Boulder, CO
Tel: 800-763-8766
Web: www.metronfarnier.com
Booth 2023
VOC analysis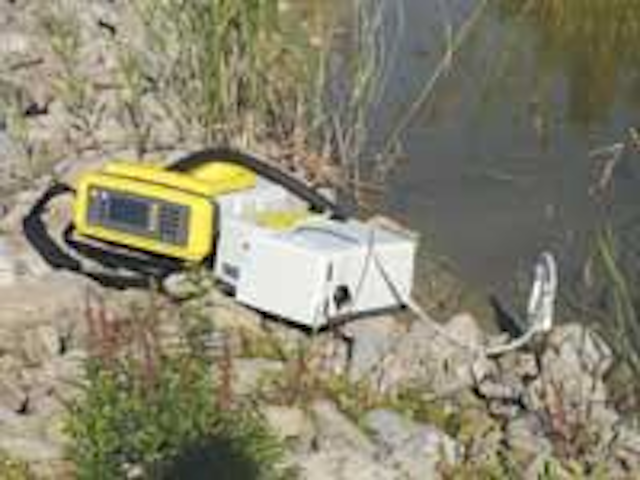 Click here to enlarge image
The INFICON Hapsite Smart SituProbe Purge and Trap GC/MS System is specially designed to provide on-scene analysis of volatile organic compounds (VOCs) in water. The system provides emergency response and environmental testing professionals with water analysis and confirmatory results, ease of use, and economy under the broad range of field conditions.
INFICON
East Syracuse, NY
Tel: 315-434-1100
Web: www.inficon.com
Booth 1346
Water quality software
The WaterTrax Utility Service gives water professionals a tool to manage water quality and operating information. The service consolidates, screens and reports drinking water, wastewater and stormwater records, saving time and money while improving workflow and due diligence. Utility staff enter operational and water quality records into an organized database.
WaterTrax
Seattle, WA
Tel: 866-812-2233
Web: www.watertrax.com
Booth 1340
Water pump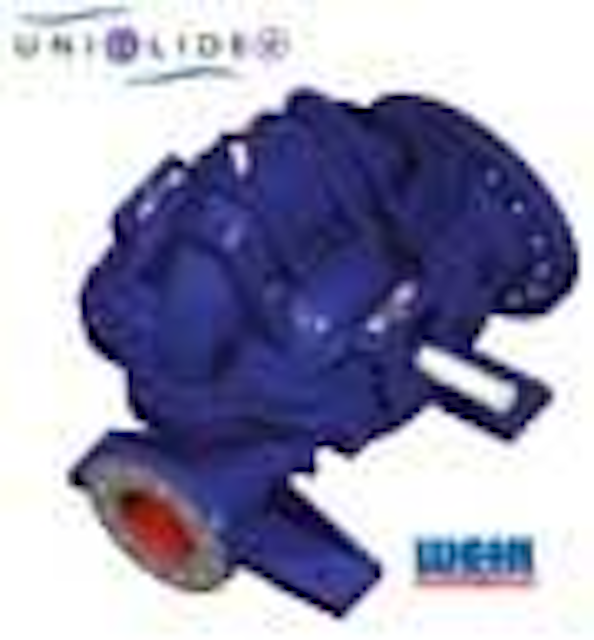 Click here to enlarge image
The Weir Uniglide-e is a new generation of axial split, double entry pumps. Designed to reduce life-cycle costs, this new pump will be easier to maintain, have a longer service life with lower operating costs. Applications for this pump include water supply and distribution, water treatment, and process duties in utilities, power and oil industries. The new water pump offers pump users up to a 10% reduction in life cycle costs and 70% reduction in bearing and seal replacement time.
Weir Specialty Pumps
Salt Lake City, UT
Tel: 801-530-7864
Web: www.weirsp.com
Booth 547
Emergency test kit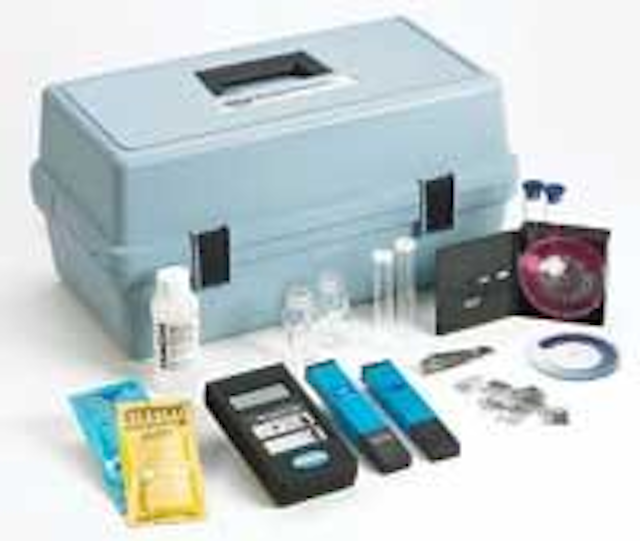 Click here to enlarge image
A new field kit from Hach Homeland Security Technologies closely models USEPA's December 2003 recommendations for a core field test kit for initial water site characterization and water contamination assessment. It includes a pocket-sized radiation detector for first-level field safety screening as well as on-site colorimetric tests for free chlorine and cyanide and Pocket Pal™ Testers for pH and conductivity.
Hach Homeland Security Technologies
Loveland, CO
Tel: 800-604-3493
Booth 1213
DE filters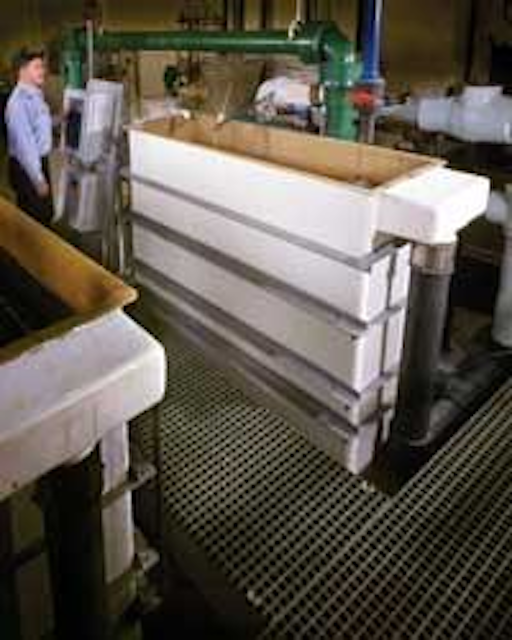 Click here to enlarge image
A full line of vacuum diatomaceous earth (DE) filters that use low-cost fiberglass tanks and provide filtration down to 2 mm is available from Westfall Manufacturing. The filters are fabricated from polyester fiberglass throughout and are supplied in segments that can be easily installed into tight spaces. Featuring open tank construction and vertically mounted flat leafs with filtering surfaces on both sides, they operate on the vacuum principle and provide filtration down to 2 mm.
Westfall Manufacturing Co.
Bristol, RI
Tel: 888-928-3747
Web: www.westfallmfg.com
Booth 1547
Leak noise correlator
The new LC-2500 Leak Noise Correlator from SubSurface Leak Detection is an improvement on its predecessor, the LC-2100. The new unit correlates four times faster, and the radio transmitters are four times more powerful, transmitting up to 3500 feet to the main processor unit and traveling over hills and around tall buildings. The main processor unit, which weighs less than 7 lbs., has a temperature-compensated LCD display to improve visibility in very cold and very hot temperatures.
SubSurface Leak Detection Inc.
San Jose, CA
Tel: 408-249-4673
Web: www.subsurfaceleak.com
Booth 2511
Turbidity monitor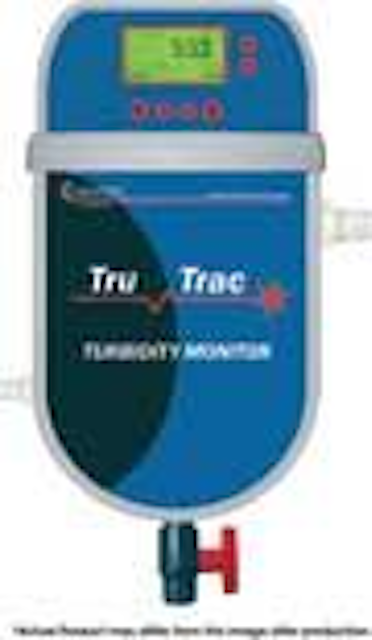 Click here to enlarge image
Celebrating 20 years of optimizing water treatment processes using charge measurement and particle detection, Chemtrac Systems has announced the release of a new line of turbidity meters including on-line and laboratory models. The company will market the turbidity meters under the TruTrac brand.
Chemtrac Systems Inc.
Norcross, GA
Tel: 800-442-8722
Web: www.chemtrac.com
Booth 2019
Tubing rerounders
Click here to enlarge image
Reed has added two new Rerounders to its Round It™ line of straigteners/rerounders for copper tubing. The tool grips the end of a coil so uncoiling is easy. It rerounds oval tubing or mild kinks anywhere. The new RCR3/4 and RCR1 offer longer handles for extra leverage.
Reed Manufacturing Co.
Erie, PA
Tel: 800-666-3691
Web: www.reedmfgco.com
Booth 1106
Automatic hydrant flushing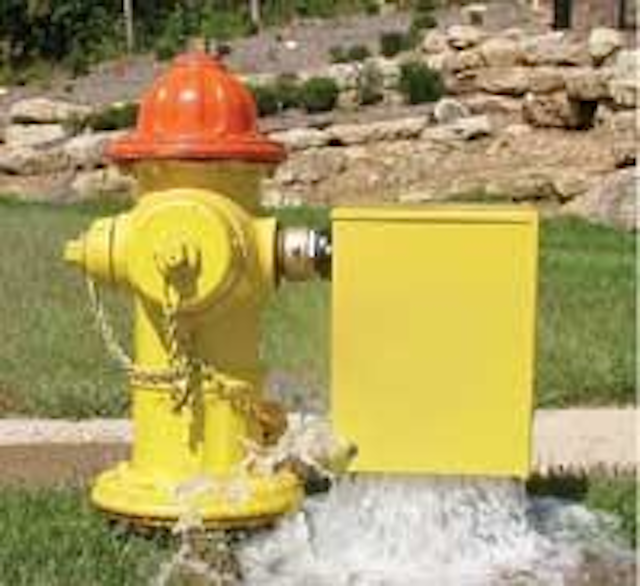 Click here to enlarge image
Kupferle Foundry will be exhibiting its #9700 Automatic Hydrant Flusher at this year's AWWA conference. The flusher attaches to any 2 1/2" NST nozzle, and then the flushing cycle can be selected, usually at night. Man-hour savings can be realized by flushing troublesome dead-ends without sending personnel.
Kupferle Foundry Co.
St. Louis, MO
Tel: 800-231-3990
Web: www.blow-offs.com
Booth 1830
Pumping systems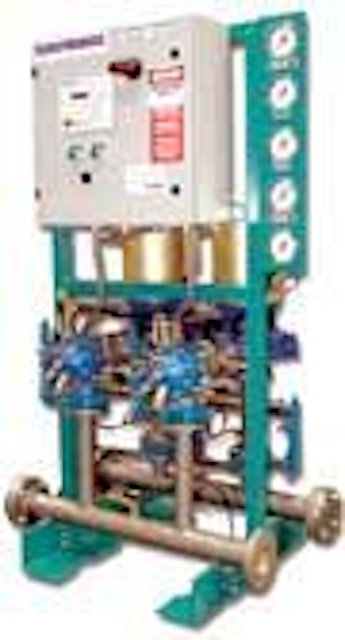 Click here to enlarge image
The Flowtronex JTC is a pre-engineered, completely assembled, factory flow-tested pumping system for water in municipal applications. Pre-manufactured subassemblies provide cost effective systems with unusually short lead times. Standard features include: UL Listed as a complete pumping system, high efficiency back pull-out end suction pumps and individual pump suction and discharge isolation valves.
Flowtronex PSI Inc.
Dallas, TX
Tel: 214-357-1320
Web: www.flowtronex.com
Booth 1108
Corrosion-resistant pressure switch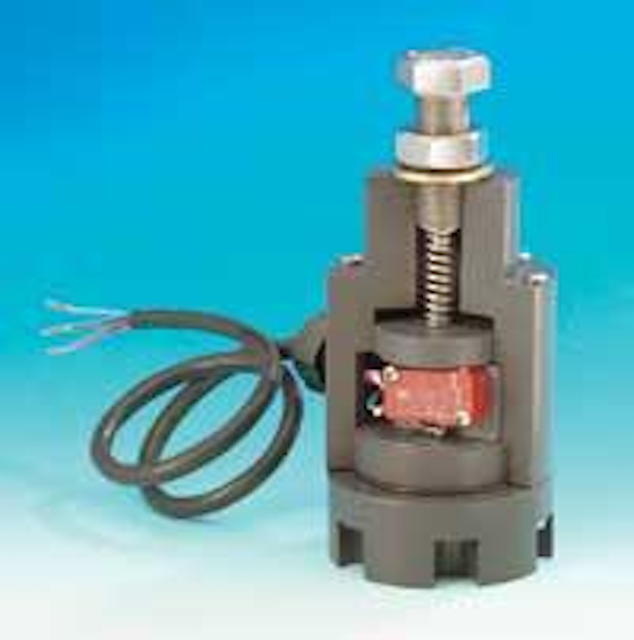 Click here to enlarge image
The Plast-O-Matic Series SWT Pressure Switch features a NEMA 4X all-plastic enclosure with no wetted metals or elastomers. The switch can be used to activate or de-activate equipment when pressure in a piping system either rises or falls to a set pressure. Liquid in the piping system acts against a PTFE diaphragm.
Plast-O-Matic Valves Inc.
Cedar Grove, NJ Tel: 973-256-3000 Web: www.plastomatic.com
Booth 2638
Metering system
Advanced Metering Data Systems (AMDS) will introduce a new secure water meter solution at the upcoming AWWA show. Reliability is achieved using a patented, FCC-licensed, long range fixed based wireless network and by overlapping receiver coverage of metering end-points, utilizing data/message redundancy and fail-over backup provisions.
Advanced Metering Data Systems
New Orleans, LA Tel: 800-770-7213 Web: www.amdswireless.com
Exhibitor
Automated meter reading
The InfiNet® system is a flexible and scalable for sale model of the Cellnet fixed automated meter reading (AMR) network. For the first time, Cellnet has combined its two direct sequencing and mesh network technologies into a single intelligent solution under the InfiNet system. The Cellnet UtiliNet® two-way frequency hopping mesh technology has been in the field for well over a decade.
Cellnet
Web: www.cellnet.com
Booth 2612
Multi-purpose controller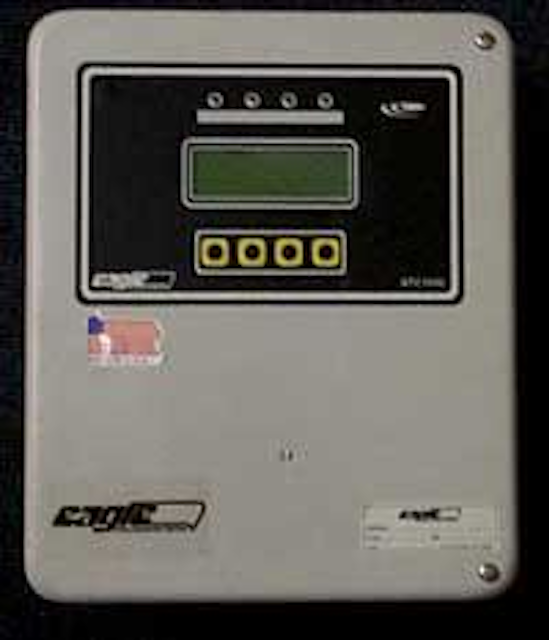 Click here to enlarge image
The new Eagle Microsystems ATC-1000 Multi-purpose Controller combines the ability to address a wide variety of process inputs with the ability to perform process control. The instrument is user configurable and provides up to four local LED status indicators. Process information is displayed on a 4-line x 20 character, backlit LCD display.
Eagle Microsystems Inc.
Pottstown, PA
Tel: 800-780-8636
Web: www.eaglemicrosystems.com
Booth 440
DO Sensor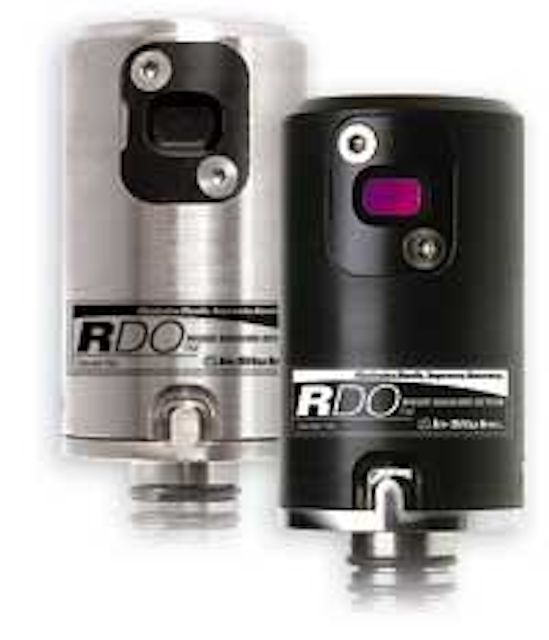 Click here to enlarge image
In-Situ's Rugged Dissolved Oxygen sensor (RDO™), exclusively for the Multi Parameter TROLL 9000 water quality probe, uses optical technology to provide stable and accurate readings while being virtually maintenance free. The sensor eliminates problems associated with traditional DO sensors by: eliminating the need for membranes, eliminating the need for stirring, and allowing deployment for many months without a need for re-calibration.
In-Situ Inc.
Fort Collins, CO
Tel: 800-446-7488
Web: www.in-situ.com
Booth 2831
AMR wireless RF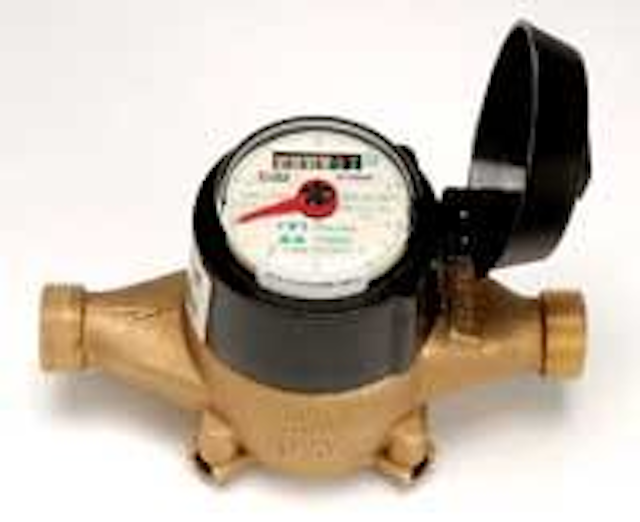 Click here to enlarge image
Master Meter's new Dialog DS Wireless RF™ Extended Drive-By System offers greater signal range. The system features data logging with field-programmable capacity of 7000 reads; leak, tampering and backflow detection; no external wires or antennas; and is self activated with the start of water flow.
Master Meter, Inc.
Mansfield, TX Tel: 800-765-6518 Web: www.mastermeter.com
Booth 1231
Meter test bench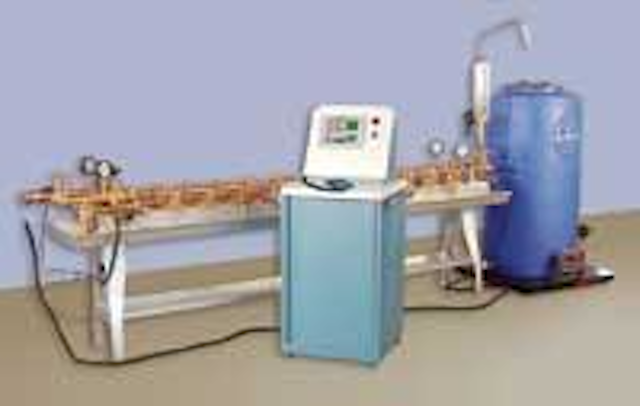 Click here to enlarge image
Ford Meter Box has announced the availability of the Automated Measuring System, AMS. The test bench for water meter testing is available for new or any existing Indianapolis Style or Standard Ford test bench. Consisting of modular components, the AMS combines the method of weighing metered water with computer automation to ensure accurate measurements.
Ford Meter Box Co.
Wabash, IN Tel: 260-563-3171
Booth 1322
UV disinfection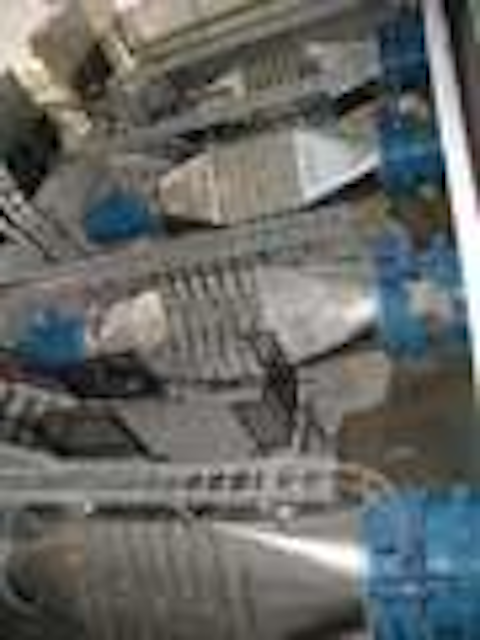 Click here to enlarge image
UV is widely recognized and used around the world in disinfecting potable water. Health authorities now recommend the use of technologies such as UV disinfection, which generate no harmful by-products. The WEDECO K Series UV disinfection systems provides inactivation of bacteria, viruses and parasites. The validated UV system is simple to install and operate. WEDECO, a recent acquisition of ITT Industries, is a manufacturer of ultraviolet disinfection and ozone oxidation systems worldwide for municipal drinking water and wastewater.
WEDECO, Inc.
Charlotte, NC
Tel: 704-716-7600
Web: www.wedeco.us
Booth 2607
Pilot plants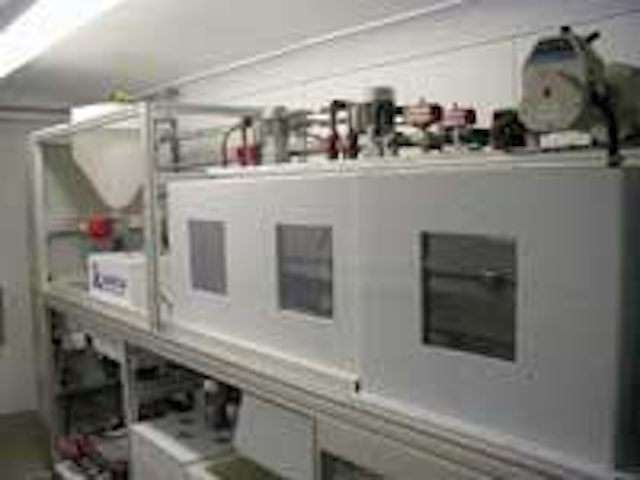 Click here to enlarge image
Orica Watercare has four recently upgraded pilot plants that can determine the optimum performance of MIEX® DOC resin in meeting the Disinfection By-product Standards for specific water supplies. Available pilot plants include: One skid-mounted 5 gpm pilot plant, two 5 gpm pilot plants in trailers, and one 25 gpm pilot plant in a trailer and designed to run in series with membrane pilot plants. These pilots are fully automated and can be remotely monitored to reduce operating needs.
Orica Watercare Inc.
Watkins, CO
Tel: 877-414-6439
Web: www.miexresin.com
Booth 1937
Heavy duty ratchet wrenches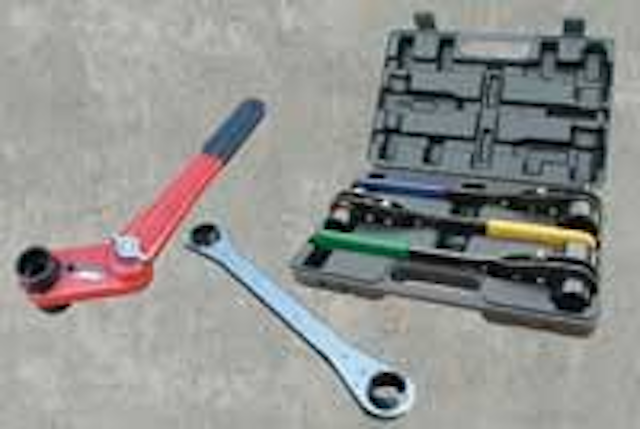 Click here to enlarge image
Trumbull offers three styles of wrenches to fit virtually every size required for clamps, couplings, saddles and mechanical joints; the newest version fits Hymax® & MaxiFit™ Couplings. All styles work on long bolts or all-thread. The red, 1 1/16" x 1 1/4", adjustable handle double socket wrench works in confined areas and features an enclosed mechanism that uses a reversing lever.
Trumbull Industries
Youngstown, OH
Tel: 330-799-3333
Web: www.trumbull-mfg.com
Booth 1220
Fixed network AMR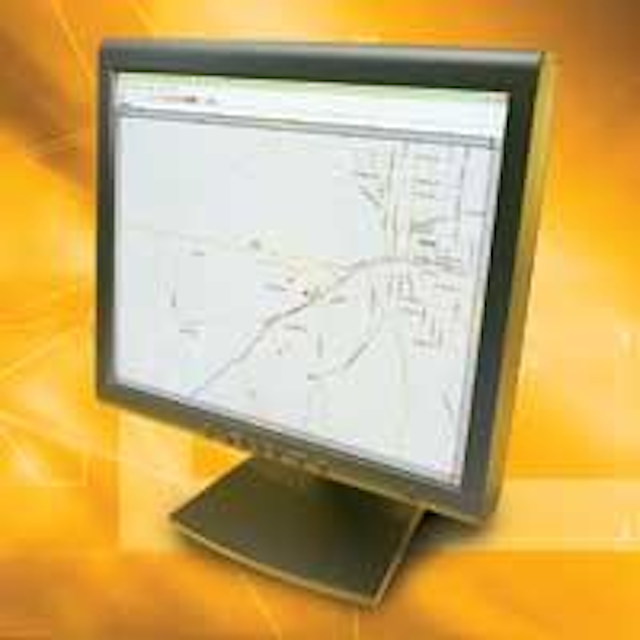 Click here to enlarge image
Itron's Water Fixed Network 2.5 automatic meter reading system features an innovative architecture and knowledge platform for increased efficiency, reducing costs, providing accurate billing, managing customer growth and conserving water resources. The system includes a high powered endpoint, and provides more advanced data collection.
Itron Inc.
Spokane, WA
Tel: 509-891-3422
Web: www.itron.com
Booth 923
Tube settlers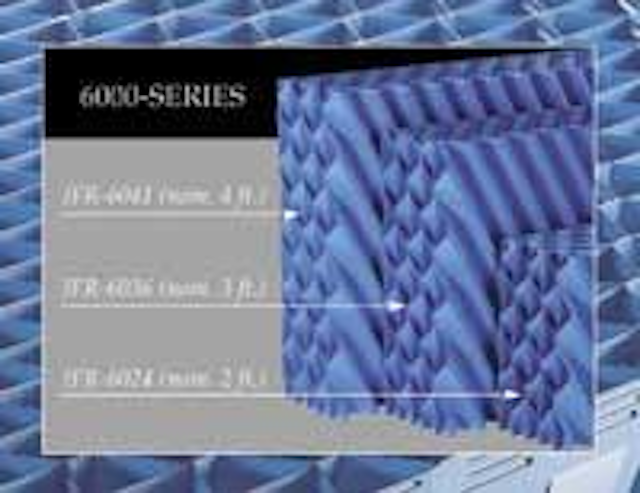 Click here to enlarge image
Brentwood Industries' exhibit will feature its line of IFR-6000 series tube settler modules. Available in NSF approved potable grade PVC in standard sizes 24, 36 and 41 inch height, tube settlers increase the allowable application rates in sedimentation tanks by increasing settling capacity and the solids removal rate in the settling basins.
Brentwood Industries, Inc.
Reading, PA Tel: 610-236-1141 Web: www.brentwoodprocess.com
Booth 1337
Membrane water treatment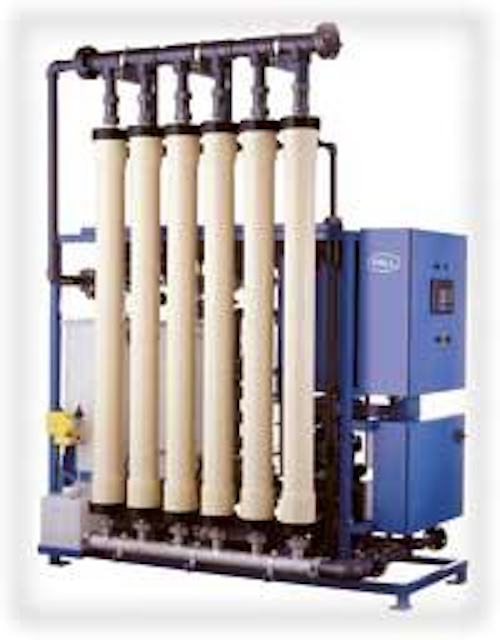 Click here to enlarge image
To meet or exceed EPA standards for safe drinking water, the Pall Aria™ water treatment system uses uniquely designed filtration modules in a hollow fiber configuration. The system has been used to reduce or remove turbidity, viruses, bacteria, cysts, oocysts, iron, manganese, arsenic and organics from surface and ground waters, secondary effluent and sea and brackish waters.
Pall Corp.
East Hills, NY
Tel: 888-873-7255
Web: www.pall.com/water
Booth 837
Thermoplastic pumps
The Vanton booth at the AWWA show will feature a wide range of thermoplastic pump designs, sizes and materials of construction. Technical data on comparative material selection for difficult applications and specific information on hundreds of actual installations also will be available. Vanton thermoplastic pumps are engineered for flows to 1450 gpm and heads to 400 feet, and for use in sumps as deep as 50 feet.
Vanton Pump & Equipment Corp.
Hillside, NJ
Tel: 908-688-4216
Web: www.vanton.com
Booth 1143
Restrained adapter couplings
The newest editions to the Star® Pipe family of products are the Star®Flange Restrained Adapter Couplings. Available for either ductile-iron (Series 3200) or PVC (Series 4200) pipe applications, the couplings provide a quick and simple way to make field connections between plain-end and flanged pipe. The company also offers the Split Stargrip, a mechanical joint, wedge-action restraint for ductile-iron pipe with the added convenience of a two-piece design.
Star Pipe Products
Houston, TX
Tel: 800-999-3009
Web: www.starpipeproducts.com
Booth 931
Arsenic removal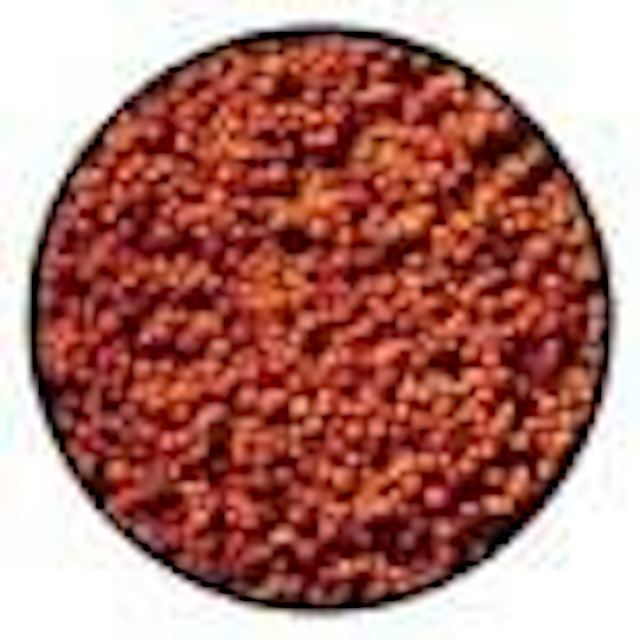 Click here to enlarge image
Purolite's new ArsenX-NP adsorptive media for arsenic uses a patent-pending process for deposition of nano-particles of iron within an ion exchange resin matrix. The product removes both trivalent and pentavalent arsenic and is suitable for municipal, community, POE and POU markets. No backwashing is needed during service, making it ideal for wellhead treatments in remote locations with minimum operator attention or in densely populated locations with limited footprint space.
Purolite Corp.
Bala Cynwyd, PA
Tel: 800-343-1500
Web: www.puroliteusa.com
Booth 219
Valve covers
The Debris Cap™, available from SW Services, is a simple solution to keeping pipes and valves dirt free. The caps are designed to protect water and gas valves from dirt, debris and damage. They reduce response time and property damage during emergency water line breaks or gas leaks and prevent unauthorized operation of valves. The caps are approved for OSHA Lockout compliance and can cut liability, insurance & maintenance costs.
SW Services Inc.
Phoenix, AZ
Tel: 800-462-2773
Web: www.debriscaps.com
Booth 2446
Testing, certification
NSF International provides testing and certification of drinking water treatment chemicals and drinking water system components to ensure that these products do not contribute contaminants to municipal drinking water that could cause adverse health effects. NSF/ANSI Standard 60 is the nationally recognized health effects standard for chemicals which are used to treat drinking water. NSF/ANSI Standard 61 is the nationally recognized health effects standard for all devices, components and materials which contact drinking water.
NSF International
Tel: 800-673-6275
Web: www.nsf.org
Booth 1121