PRODUCTS & SERVICES CORROSION CONTROL
May 1st, 2005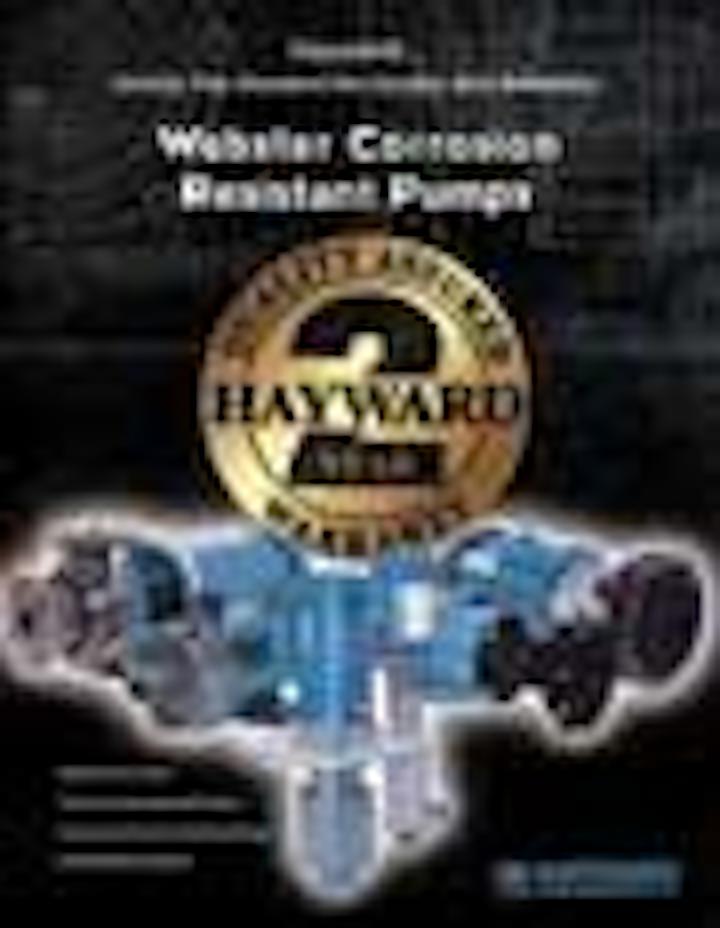 Urethane primer
Now available from Tnemec is a one-component version of the Series 91-H2O Hydro-Zinc, the first organic urethane zinc-rich primer to be ANSI/NSF Std. 61 certified for potable water. In addition to being a single component product, the new series 94-H2O Hydro-Zinc is low VOC and low in HAPS content, making it ideal for use in areas with strict environmental regulations.
Tnemec Co.
Kansas City, MO
Tel: 816-483-3400
Web: www.tnemec.com
Ball valve
Hayward's new plastic, corrosion resistant lateral three-way ball valves simplify piping system layouts by replacing conventional valve/tee connection combinations. The new valve can also be used to replace zero dead-leg valves. The valves are available from 1/2" to 6" made of PVC or CPVC with a choice of FPM or EPDM seals. The valves feature a specially designed ball that permits the flow to be diverted from the center port to either the left or right ports without a shutoff position.
Hayward Flow Control Systems
Clemmons, NC
Tel: 888-429-4635
Web: www.haywardindustrial.com
Mag drive pump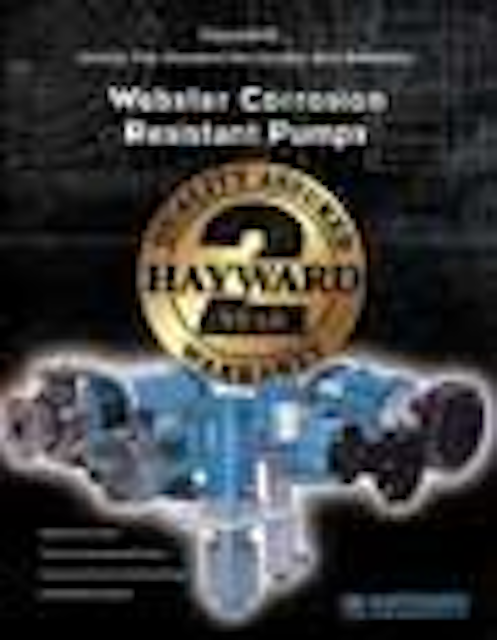 Click here to enlarge image
The Webster Series R Mag Drive Pumps from Hayward Industrial Products feature an all plastic construction. The process fluid never comes in contact with metal. This means that the pump will never fail due to rust or corrosion. The pumps have been designed to stand up in the most aggressive applications in the municipal and wastewater treatment industries, including chemical handling.
Hayward Ind. Products
Elizabeth, NJ
Tel: 888-429-4635
Web: www.haywardindustrial.com
Concrete waterproofing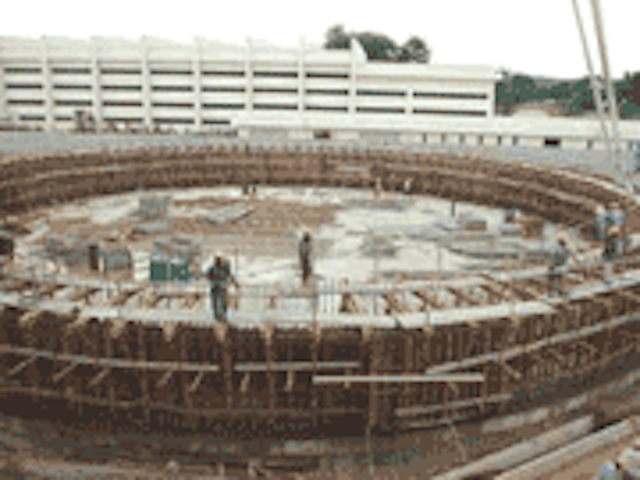 Click here to enlarge image
Krystol Internal Membrane™ (KIM™) is an advanced crystalline concrete waterproofing admixture based on Kryton International's proprietary Krystol™ technology. KIM turns concrete into a waterproof barrier, providing protection against steel reinforcement corrosion.
Kryton International
Vancouver, B.C.
Tel:800-267-8280
Web: www.kryton.com
Corrosion resistant doors
Special-Lite entrance products are designed to withstand the high humidity and corrosive environment present in water and wastewater treatment plants. The company's Aluminum Flush and Fiberglass Reinforced Polyester (FRP) Flush doors are both constructed of aluminum and composite materials that will never rust or corrode. The seamless face sheets of the FRP Flush Door (model SL-17) will not rust, corrode, crack, split, peel or rot, and they are fade resistant.
Special-Lite Inc.
Decatur, MI
Tel: 800-821-6531
Web: www.special-lite.com
Anti-microbial coating
Madison Chemical Industries has announced that its polyurethane coatings and linings for the water and wastewater market are available in enhanced versions that contain an EPA registered Anti-Microbial agent. The AM modified version of the company's 100% solids polyurethane coating for potable water applications has been tested and approved as per ANSI/NSF 61. In wastewater environments, the Anti-Microbial agent in the polyurethane system has been proven to enhance the coating's effectiveness in protecting substrates from the destructive effects of Microbiologically Induced Corrosion (MIC).
Madison Chemical Industries Inc.
Milton, Ontario
Tel: 905-878-8863
Web: www.madisonchemical.com
Block-style pump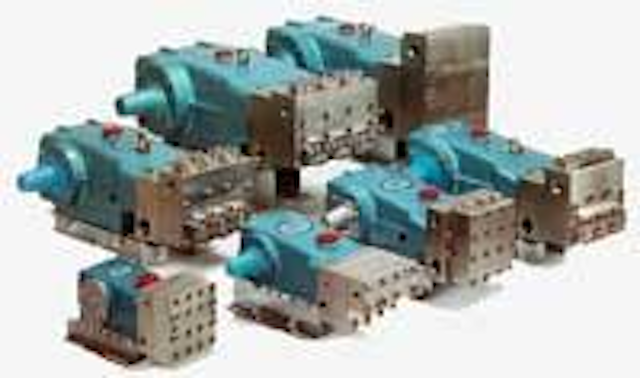 Click here to enlarge image
Cat Pumps' Block-Style triplex reciprocating plunger pump models are designed for special applications such as wastewater re-injection and seawater desalination systems requiring corrosion-resistant construction. Several models are available providing flows from 1 to 70 gpm and pressures up to 5000 PSI. The Block-Style models feature a machined 316 SSL head and valve assemblies for corrosion resistance.
Cat Pumps
Minneapolis, MN
Tel: 763-780-5440
Web: www.catpumps.com
Polymer mortar pipe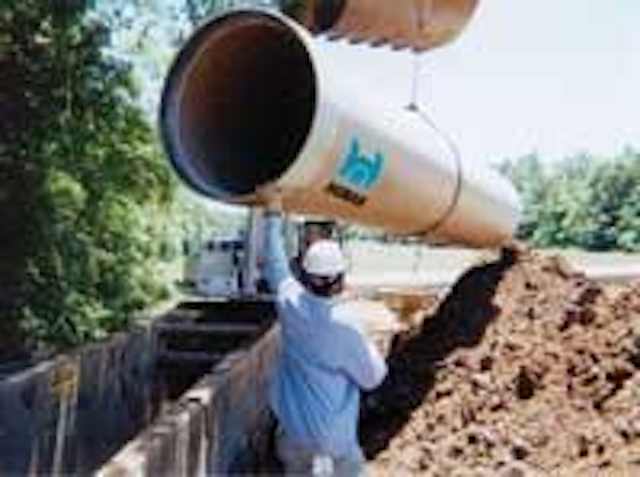 Click here to enlarge image
Many U.S. municipalities have installed Hobas pipe in new construction and rehab for critical applications, and its use is growing. The pipe is ideal for open cut, sliplining, jacking, microtunneling and above ground installation. The centrifugally cast, fiberglass-reinforced, polymer mortar pipe is inherently corrosion resistant.
Hobas Pipe USA
Houston, TX
Tel: 800-856-7473
Web: www.hobaspipe.com
Odor control
Altivia offers Nitrazyme™ Plus, a proprietary (Patent pending) blend containing sodium nitrate. The product is a safe, natural biological approach to controlling odors and corrosion produced from reduced sulfur compounds in wastewater. Nitrate provides a source of bound oxygen (nitrate-oxygen) to naturally occurring facultative anaerobic denitrifying bacteria present in wastewater, which these bacteria metabolize preferentially over alternative sources of oxygen such as sulfate, preventing the formation of H2S gas.
Altivia Corp.
Houston, TX
Tel: 866-258-4842
Web: www.altivia.com
Joint restraints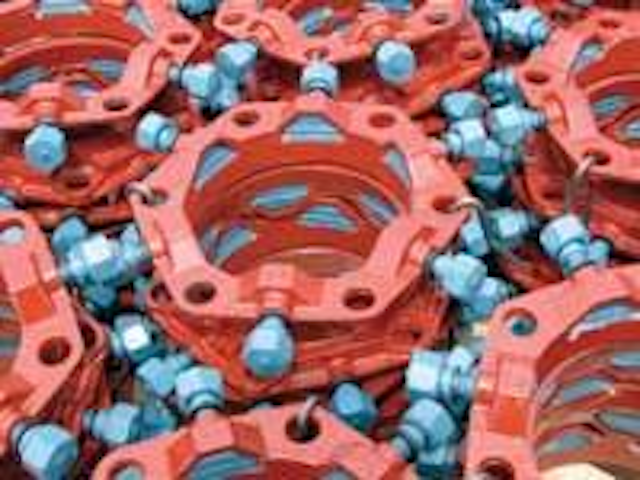 Click here to enlarge image
Mega-Bond®, a dual-process coating system for improved corrosion and impact resistance, is now standard on joint restraints from EBAA Iron. Restraint bodies receive a specially formulated powder coating (blue for PVC applications, black for ductile iron), electrostatically applied and heat cured. Gripping wedge assemblies receive two coats of fastener class liquid Xylan® coating in blue, heat cured after each coat.
EBAA Iron Sales Inc.
Tel: 800-433-1716
Web: www.ebaa.com